Published: 2015-02-13
Girl Scout Cookies are here! To celebrate the season and the Girl Scouts of the USA being able to sell their famous cookies online, we've added new editors' picks (including a pairing for Trios, the new gluten-free cookies) to the collection of cookie-and-beer pairings we compiled from around the web.
Editors' Picks 2015
Toffee-tastic
These gluten-free butter cookies, offered only in select areas, are loaded with bits of toffee, and beer lovers can bring out those toffee flavors even more by pairing them with Epic Brewing's Glutenator, which is gluten-free. For contrast, choose Brasserie Dupont Foret Libre (gluten-reduced), which nicely harmonizes with the bread and toffee flavors of the cookie.
Trios
These gluten-free whole-grain cookies are made with oats, chocolate chips, and peanut butter. Pair these with a gluten-free beer such as the Glutenberg Red which is made with roasted chestnuts (and without sorghum) and shines with notes of toast and caramel. For contrast, pair with Stone Brewing Company's Delicious IPA, a gluten-reduced beer with huge citrus notes and a bitter finish.

Caramel de-Lites /Samoas
The rich maltiness and aromas of oak and vanilla from Sucaba, Firestone Walker's barrel-aged barleywine complements the toasted coconut of these cookies wonderfully. Schlafly's Bière de Garde has toffee notes and a subtle spice from the farmhouse ale yeast that pairs nicely with the caramel and chocolate in the Samoas. Make sure to let these beers warm up a little for maximum intensity.
Tagalongs/Peanut Butter Patties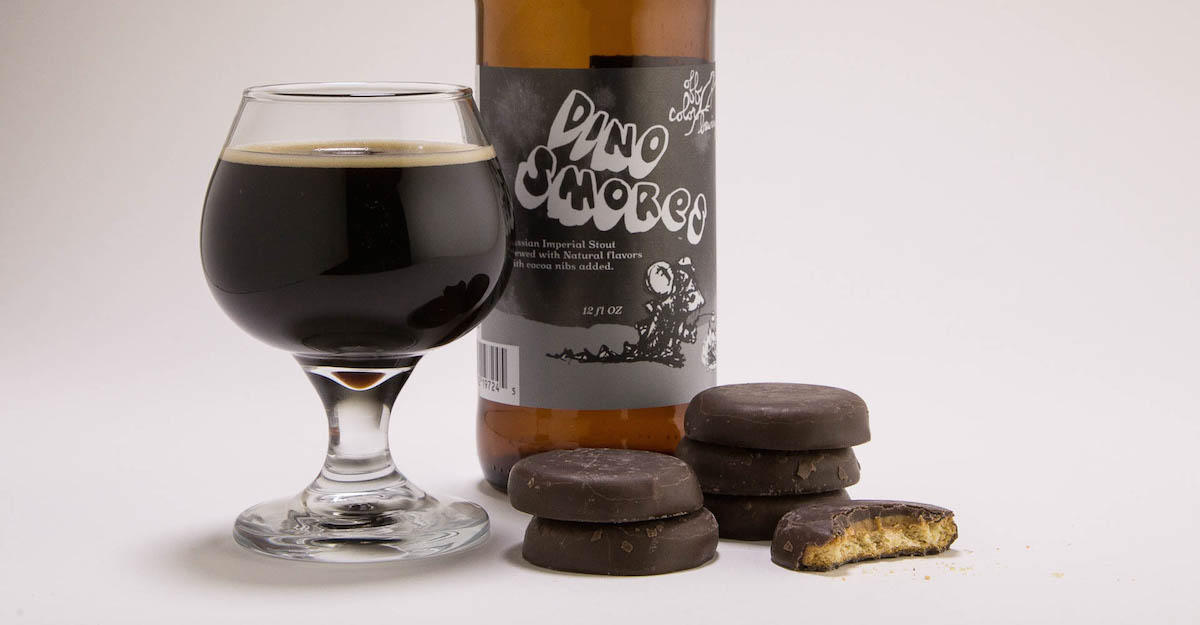 Dino Smores is a stout from Off Color Brewing made with vanilla, cocoa nibs, and marshmallow fluff. The insanity of the beer is only heightened with the vanilla, chocolate, and peanut butter flavors from the Tagalongs. If you want to go another route, try a big fruit-forward beer such as Big Lushious from Founders Brewing Company.
Thin Mints
Made with generous amounts of cacao nibs and tons of chocolate malt with notes of fresh mint, 17 Mint Chocolate Stout from Perennial Artisan Ales is about as close to a thin-mint-flavored beer as you can get. Alesmith Brewing Company's Speedway Stout is also a fantastic companion to Thin Mints. Dark coffee and chocolate on the nose with caramel toastiness from the malts deliver a mouth-feel that pairs well with the crisp, minty crunch of the wafer cookie (especially if you keep your Thin Mints in the freezer). Consider yourself warned, though, as these beers range from 10—12 percent ABV and you'll likely find yourself reaching for a second sleeve of cookies in record time.
Lemonades
The shortbread texture of the cookies and lemon flavors in the icing make an excellent contrasting duo for a citrusy IPA such as Ballast Point's Sculpin IPA. Drake's Hefeweizen is also a great pairing, where notes of banana and clove from this unfiltered wheat beer add depth and balance to the flavors of the cookie with its citric zing.
Shortbread/Trefoil Cookies
Stick with tradition by pairing these classic cookies with traditional beer styles such as the cheek-warming Baltic Porter from Smuttynose Brewing Company with notes of dark fruits and coffee or a Scottish ale such as Oskar Blues Old Chub with notes of cocoa and coffee and a dash of smoke. Alternative pairing: Choose your favorite IPA to contrast with the buttery biscuit-y goodness of these cookies.
Do-Si-Dos/Peanut Butter Sandwich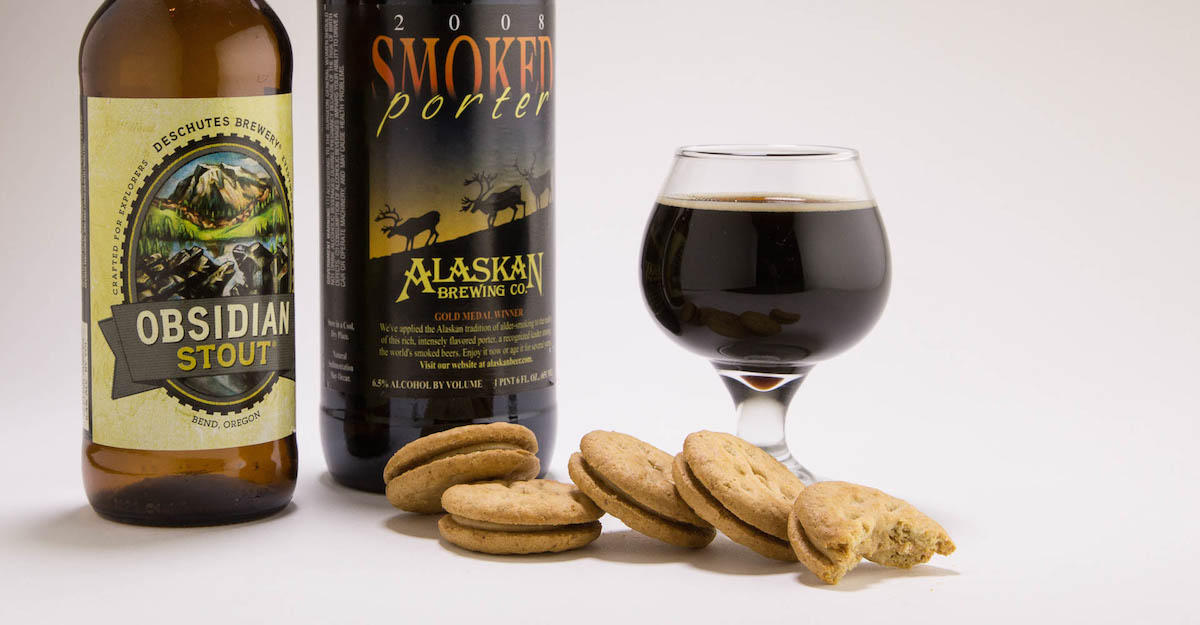 Let the flavors of the Do-Si-Dos dance with the balance and rich texture of Alaskan Brewing's Smoked Porter. Pair with Obsidian Stout from Deschutes Brewing Company for stronger notes of espresso and a light bitterness that balances with the chocolate and peanut butter. Hint: Either of these pairs even can work quite well at breakfast.
Savannah Smiles
Push aside that lemon wedge you occasionally put in your beer and, if you must add a wedge, consider accenting your beer with the Savannah Smile instead. The lemon-flavored cookie wedges have been dusted with powder sugar and pair well with Westbrook Brewing Company's White Thai witbier with notes of lemongrass and ginger or Jester King's Bière de Miel made with wildflower honey.
Cranberry Citrus Crisps
This crisp cookie has been inundated with cranberry bits and pairs well with a sour farmhouse saison such as Crooked Stave's Vielle with its lovely notes of lemon and a slight soft-cheese funk. Or play off the cranberry with a dark beer such as the smooth Chocolate Stout from Fort Collins Brewery.
Rah Rah Raisins
You'll definitely be cheering when you pair these oatmeal cookies loaded with raisins and Greek-yogurt-flavored chunks with either the complementary Expedition Stout from Bell's Brewery or the contrasting La Folie Sour Brown Ale from New Belgium Brewing Company.
Thanks-A-Lot
These shortbread cookies have had one side dunked in chocolate fudge. Keep the two-faced theme going by pairing with a contrasting beer such as Odell Brewing Company's Myrcenary Imperial IPA or reinforce the cookie flavors with the roasted goodness and creamy mouthfeel of Left Hand's Nitro Milk Stout.
Toffee-tastic
These butter cookies are loaded with bits of toffee, and beer lovers can bring out those toffee flavors even more by pairing them with a Hog Heaven Barleywine from Avery Brewing Company. For contrast, choose a Belgian IPA such as Le Freak from Green Flash Brewing Company, which nicely harmonizes with the bread and toffee flavors of the cookie.

Suggestions from The Beer Chicks include these pairings:
Central Track's Melissa Mackaly suggests these pairings:
Suggestions from the Brooklyn Brewshop include these pairings:
And finally, Flying Dog Brewery includes the following pairings with its own beers:
Trefoils with Pearl Necklace Oyster Stout
Do-Si-Dos with Lucky SOB Irish Red Ale
Samoas with Raging Bitch Belgian-Style IPA
Tagalongs with Gonzo Imperial Porter
Thin Mints with Kujo Imperial Coffee Stout
Find a Girl Scout, order some cookies, and let us know which beer you pair with your favorites. Like Craft Beer & Brewing on Facebook to stay up to date with all of the latest in beer & brewing.