Odds are that you've enjoyed a beer brewed in San Diego, even if you weren't aware of it. Since the 1990s, this Southern California brewing stronghold has built a worldwide reputation for great beer, anchored by now-classic craft brewers such as Stone, Lost Abbey/Port Brewing, Green Flash, Ballast Point, AleSmith, Karl Strauss, and others. But in addition to these widely distributed powerhouses, San Diego County has also cultivated one of the strongest local beer scenes around, with eighty-seven licensed breweries and brewpubs, plus another thirty-three in planning.
To the uninitiated, this sounds like an enormous, and unsustainable, number. But one visit to San Diego and it all makes sense—the city loves craft beer; the breweries reach different customers in a variety of areas with individual specialties; and self-respecting beer tourists could entertain themselves for days without drinking the same beer (or brewery, for that matter) twice.
Drink Alpine, or Go To Bed
The fundamental question every beer traveler visiting San Diego must answer is whether to trek out to Alpine Beer Co., located roughly forty-five minutes east of downtown San Diego in the town of Alpine. But let us make the answer easy for you—yes, go. On our recent visit, a line out the door had already formed just after their noon opening, and some of our queued compatriots made the ninety-mile drive down from Orange County every month to restock on Pure Hoppiness double IPA, Duet IPA, and more. Grab lunch and a flight of samplers from their pub on the far side of the building, then hit the tap room for bottles and growlers to go. It's worth the drive and worth the wait.
North Park/Normal Heights
San Diego's breweries are best enjoyed neighborhood by neighborhood, and North Park is a great place to start for a number of great beer options within walking distance of each other. Start at Mike Hess Brewing's North Park location, where the gleaming brewhouse and fermentors are on display below as you enter the tasting room through a catwalk. Try their World Beer Cup gold-winning Habitus Rye IPA and grab a spot at one of the communal tables. When you're ready for some food, amble over to the nearby Waypoint Public. The quality of the food from Executive Chef Amanda Baumgarten (a former _Top Chef _contestant) is matched only by the depth of their beer list, curated by Bottlecraft Owner Brian Jensen.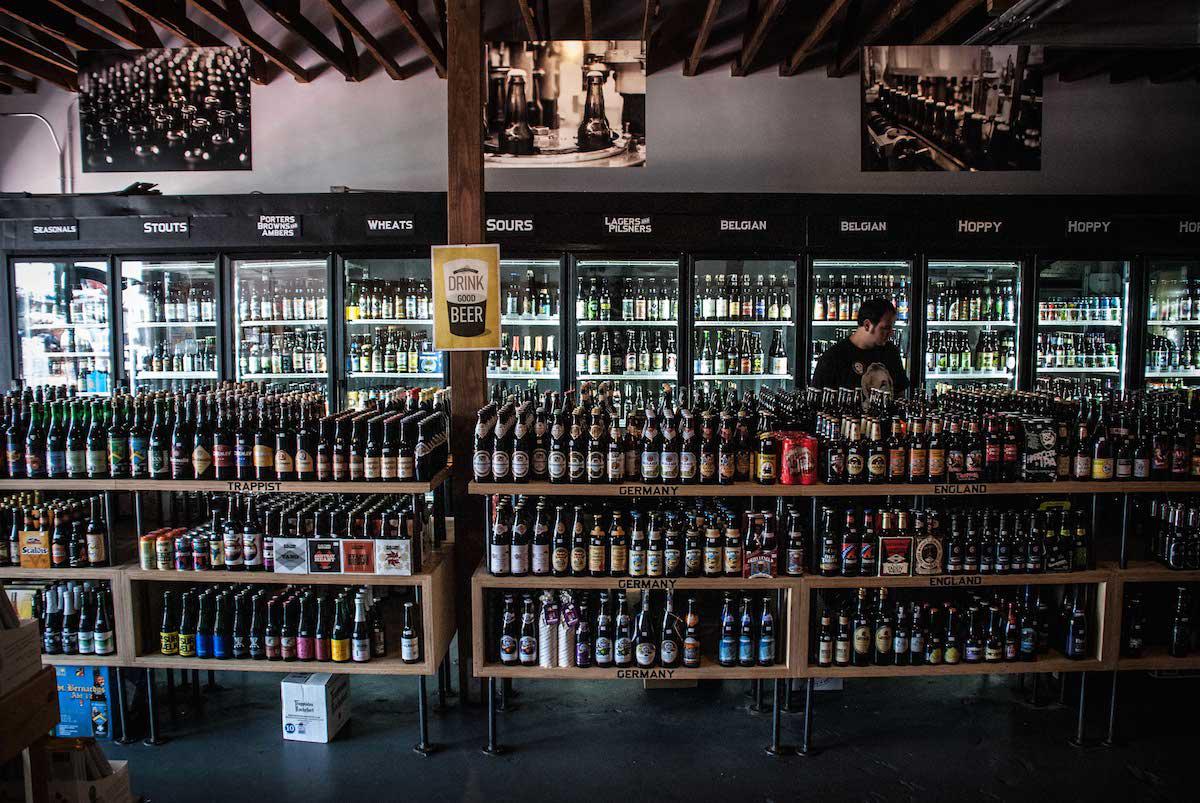 Bottlecraft's North Park retail location (above) is only a block away and is a perfect after-dinner stop. Their cold cases are atypically arranged by beer style and offer a tempting selection of some of the best beers available in California.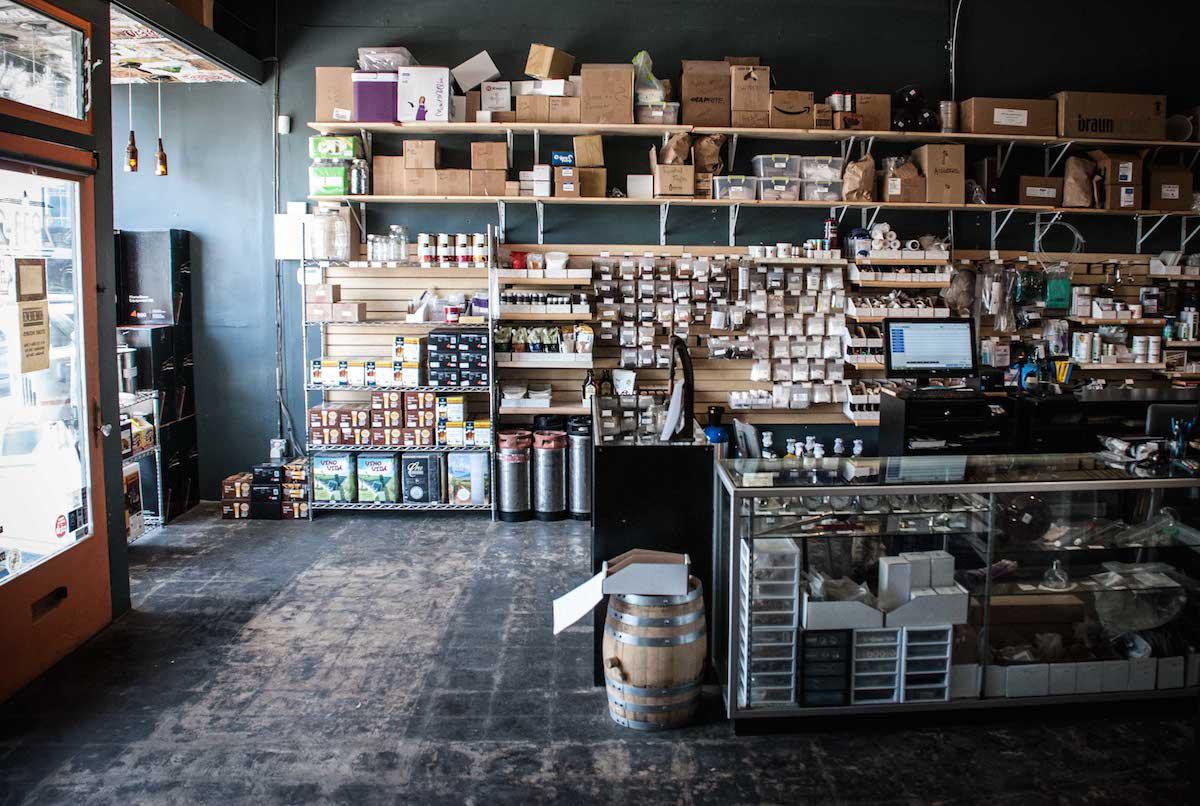 From there, walk north on 30th Street, grab a pint at Toronado, and continue up to The Homebrewer (above), a well-designed supply and resource shop with helpful staff focused on great customer service. They're building out a test brewery in the space next to the shop and plan to open late summer or early fall, with split batches for experiments with brewing techniques and ingredients.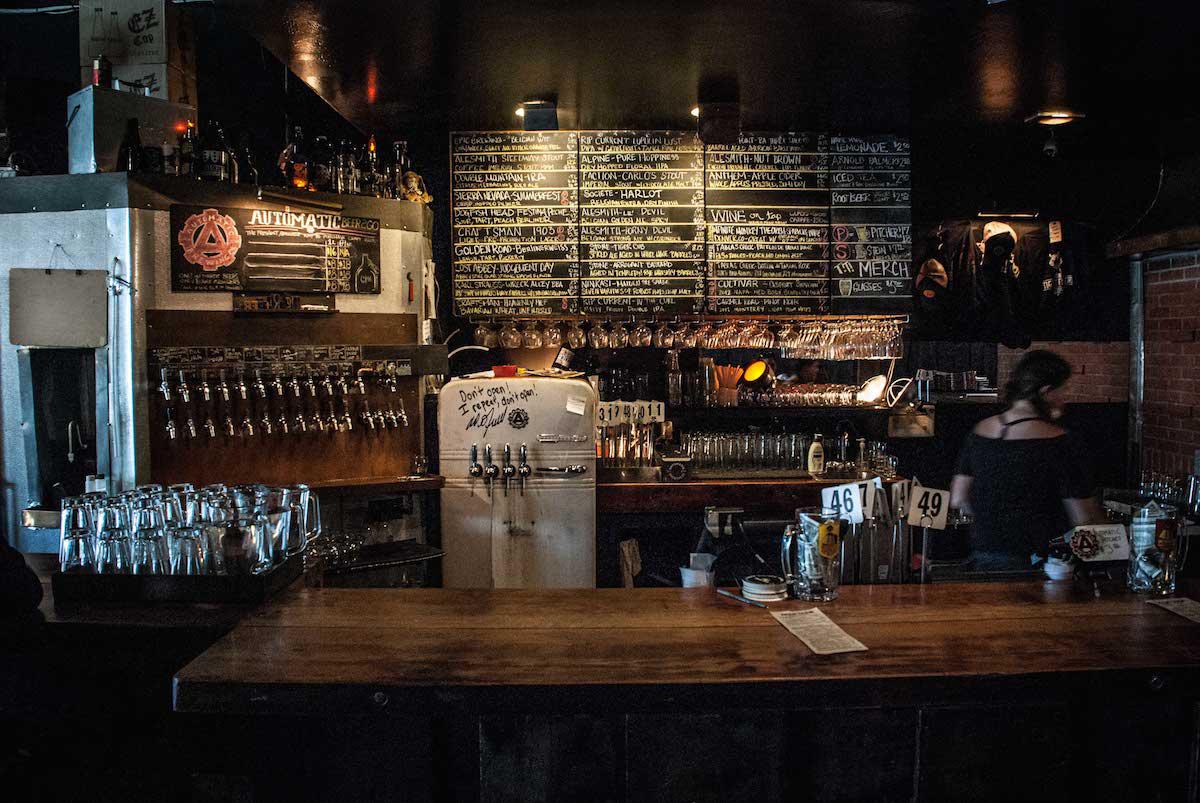 For another quick drink or local bite, Tiger! Tiger! (above) is only a block away, with a tap list and menu that has rightfully earned it spots on others' top beer bars lists (no surprise, as it's co-owned by a former brewer for Stone Brewing Co.). If you're limited for time, it's a great place to sample everything from Societe's The Harlot to Alpine's Pure Hoppiness.
Up in Normal Heights, Tiger! Tiger!'s sister bar, the Blind Lady Ale House, features yet another phenomenal tap list and an eclectic interior.
On the south end of North Park, Modern Times Brewing's North Park Flavordome offers a walkable remote taproom for their Point Loma brewery. Fortunate Islands hoppy wheat beer makes for a perfectly sessionable and flavorful afternoon beer.
Heading North
Next stop on the must-visit list as you head north is Benchmark Brewing (pictured at top), where former AleSmith Head Brewer (and QUAFF Homebrew club member) Matt Akin and his wife, Rachel, have been brewing up very tasty and sessionable brews for the past year. Their Belgian-style table beer delivers on flavor at a very modest 4 percent ABV, and their oatmeal stout is rich and full-bodied while only clocking in at 4.5 percent ABV.
A few miles north in Kearny Mesa, Societe Brewing has carved out an enormous taproom, brewery, and barrel cellar and is quickly building an impeccable reputation for its hoppy, Belgian-inspired, and dark beers. Their The Pugilist Irish Dry Stout won silver at this year's World Beer Cup, and The Pupil West-Coast-style IPA and The Harlot Belgian-style pale are frequent guests on the tap lists of serious beer bars around San Diego.
From Societe, it's a short walk over to the newly opened Council Brewing. This three-barrel nanobrewery has hit the ground running, and their Gavel Drop IPA has quickly built a following—no small feat in a town known for its IPAs.
Find more great beercations in every issue of Craft Beer & Brewing Magazine®. Subscribe today!
Miramar
A short drive from San Diego proper puts you in what might very well be one of the greatest concentrations of brewers and beer-related businesses in the country. Start off at AleSmith for a glass of Speedway Stout (with any luck, they'll have one of their taproom-only variants, such as Speedway with Vietnamese Coffee, on tap). It's a quick hop over to Ballast Point, where the brewery taproom offers up a deep selection of classics as well as new experiments. If you enjoy your beer with a hefty dose of skateboarding, surfing, or snowboarding, pop into Saint Archer Brewing Co. for a taste of this rapidly growing brand, and you just might find yourself drinking next to one of the many alternative sports stars they count among their investors and supporters.
Homebrewers won't want to miss the White Labs tasting room, where the in-house brewery splits batches and serves taster trays of the same recipe pitched with different yeasts. If their thirty-two taps of experiments with yeast and souring bacteria don't keep you busy until closing time, it's only a few minutes over to Green Flash, where you'll find thirty taps filled with everything from its classic West Coast IPA to barrel-aged Belgian-style beers and special one-offs from its "Genius Lab."
Escondido/San Marcos
No trip to San Diego would be complete without experiencing the Stone Brewing Co. phenomenon. The World Bistro & Gardens provides a memorable, albeit crowded, experience with a hidden grotto entrance that opens to a sprawling restaurant. Growler fills and merchandise are available in the gift shop, which has a decidedly more "corporate" feel than one might expect from this iconoclastic brewery.
If the crowd scares you off (or if you failed to make reservations at the restaurant and face a three-hour wait for a table), Lost Abbey/Port Brewing's tasting room is only a couple miles down the road. With Lost Abbey dedicated to Belgian-styles, sours, and the like and the Port brand focusing heavily on hoppy styles, most beer fans will find something to rave about.
Cap off this cluster of breweries with a visit to Rip Current Brewing and enjoy one of their highly rated IPAs (such as the Lupulin Lust) or go for something darker, such as their Vanilla Storm imperial porter. Fans are eagerly awaiting the opening of their satellite taproom in North Park.
Getting Around
The traffic in Southern California has earned its reputation for gridlock, and with the wide geographic spread of San Diego, it's best to plan visits neighborhood by neighborhood. Thankfully, the scale of the beer scene has spawned a few tour companies that specialize in brewery tours, and a custom-itinerary tour from brewhop.com or one of the other tour companies will let you enjoy the beer without driving.
You could spend weeks exploring all of the great beer options San Diego has to offer, and the area has earned its reputation for everything from incubating creative nanobreweries to packaging huge volumes of craft beer shipped around the world. The county's craft-beer scene is a perfect rebuttal to the critics who claim we've passed "peak craft beer," as San Diego residents simply say, "I'll have another."