SPONSORED CONTENT
The next time you're checking your phone in the bathr … in your down time, you could also be checking on the progress of your latest batch of beer. After thorough development with brewers and a team of photonic experts, AccuBrew has brought its fermentation monitoring system to market, giving brewers a secure, precise, real-time window into what's happening inside their tanks.
We'll get to their story in a second, but first, let's look at what AccuBrew actually does, and what makes it completely different from other testing tools. The setup is pretty simple: a monitoring device roughly the size of a hammer—and almost as tough—is secured through a tank's 1.5" tri-clamp port, providing live updates to the user's online portal via wifi.
Using light-based measurement methods, the device monitors progress and creates a Fermentation Profile—a deeply-informative picture of yeast activity and health—as well as clarity and temperature profiles. Brewers and their teams can login to the secure portal from anywhere using a computer, tablet, or smartphone to monitor the fermentation process.
The benefits, besides the obvious, are threefold:
First, AccuBrew includes what is called a "Brew Book," which allows brewers to save every batch's records and yeast activity digitally, with the ability to compare batches against each other. The Brew Book and Brewer's Notes give users a powerful tool to help improve consistency by storing critical details in a secure and convenient historical record.
Secondly, the AccuBrew portal gives brewers the ability to set temperature alerts. Brewers will be notified by text or email if the temperature inside the tank goes above or below the parameters they set. As Dissent Craft Brewing in St. Petersburg, Florida, discovered, faulty glycol systems can take you offline in a hurry. However, because of the alert from AccuBrew, every batch in the brewery was saved thanks to quick action.
Third—and this is the big one—it's a time saver. And in this world, time is money. We all know how long we expect fermentation to take, but AccuBrew can show you up to the minute how much sugar the yeast is still converting. The live graphs, visible from anywhere through the portal, show when yeast activity is slowing (and eventually finishing). The end result: You turn tanks faster. You get that beer from tank to tap as quickly as possible, and you make room for the next batch in line.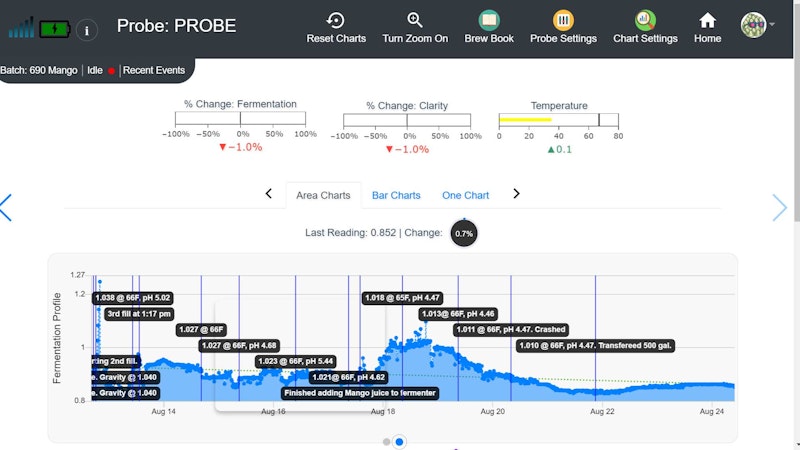 Get info on the liquid without a physical sample!
The inspiration for AccuBrew, like all good ideas, came after a few good pints of beer. Before AccuBrew came along, a group of friends and thinkers at Gulf Photonics were producing cutting-edge photonic devices and equipment for everyone from medical professionals to astronauts. A member of the team was also a homebrewer, and one day it struck him: "Hey, we could use this technology on beer." After building a prototype, he discovered the theory was right.
Once mounted inside the tank, the AccuBrew device uses visible light to measure the wavelengths reflected—and not reflected—within the liquid. By tracking the absence or return of specific colors, AccuBrew is able to build a picture of what is and isn't in the tank. By taking constant measurements, AccuBrew monitors changes over time as the fermentation process advances and flocculation eventually occurs.
A good example of this is sugar conversion. On its first readout, the device will recognize tons of fermentable sugars. However, over the days—or weeks, you lager lovers—it will see less and less sugar as the yeast converts it into alcohol. AccuBrew measures this conversion and shows brewers the pace of the action in real time, so they know when things are really heating up, and they know when it's time to send that baby to the brite tank.
So, uh, what's Fermentation Profile?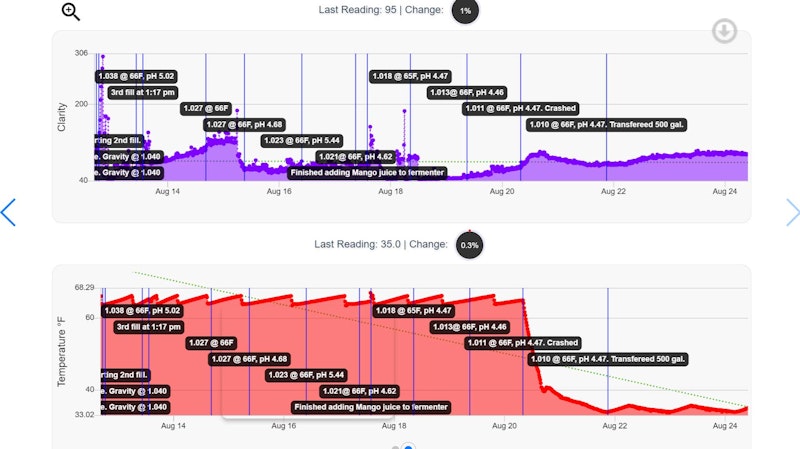 We all know brewing is serious science, but this discovery from AccuBrew takes it to the next level. Fermentation Profile is a completely new measurement of fermentation activity. With this new tool, brewers are able to see live fermentation chemistry in action.
Using light-based measurement methods, the Fermentation Profile tracks fermentation activity in real time as it consumes sugars and produces alcohol. Users are able to monitor all the action through the AccuBrew portal on their web connected devices.
Brewers can use this system to see when fermentation has slowed and flocculation has begun, allowing them to turn tanks faster by knowing when fermentation has finished and the batch is ready for the next step. With an accurate and up-to-the-minute clarity reading, brewers have unprecedented levels of insight to each batch.
Perhaps the most helpful part of the Fermentation Profile is that each batch is saved, meaning that brewers can compare their gold-standard batch to the current run, to confirm that fermentation is progressing as expected.
Dorky? For sure. Wildly insightful and helpful? Without question.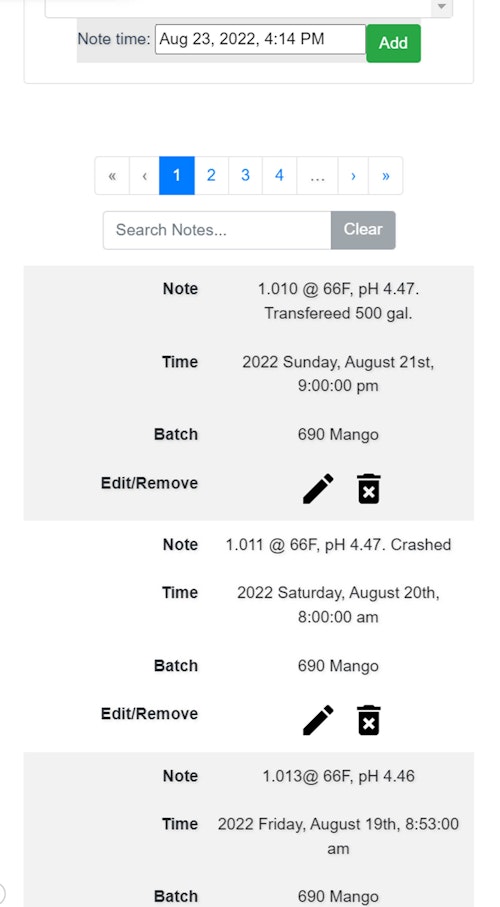 Easy-to-use integration gets AccuBrew online.
Of course, the biggest hurdle with so many services is the actual integration. Will this thing get in the way? Is it complicated to use? What if we lose power or something else goes wrong?
Save the worrying for the sales team. Thanks to its size, digital portal, and straightforward design, AccuBrew is remarkably hassle-free from setup to Brew Book. The CIP-ready sensor mounts into your fermentation tank's 1.5" sanitary fitting and simply needs a tri-clamp to secure it in place. (Using a different size? The sensor can be adapted to larger ports if needed.)
From there, the device has the same two needs as anyone stuck in an airport: access to power, and the WiFi password. Plug the food-grade cable into any nearby outlet and into the sensor—the sensor connector is rated, don't worry about getting it wet—then just connect the sensor to the internet. Boom, you're in. And anyone on your team with the password can begin checking batches to their heart's desire.
Learn more about AccuBrew, and see more information on pricing and product specs, at accubrew.io.
SPONSORED CONTENT