For our yearly take on the most noteworthy beers, we assembled an all-star squad—including contributors Kate Bernot, Stan Hieronymus, and Patrick Dawson—to consider our blind review panel's top scorers from the past year and to taste new submissions. After a few days of blind tasting and lively discussion, we narrowed more than 1,000 beers down to these 20 that reflect different dimensions on the year's best.
Here is the roll of honor.
Arizona Wilderness Jitterbug Perfume
(Gilbert, Arizona)
The first thing you see is the color—you can't miss it. The clear bottle broadcasts the captivating intensity of magenta, courtesy of a hefty beet addition. This trend of packaging lightly funky, colorfully fruited, low-hopped beers in clear bottles is a vivid way to connect them with the emerging cohort of natural-wine drinkers. It's also encouraging to see more brewers expand their horizons with beautiful-looking beers that connect with a different audience.
But the beer itself? You can read our reviewers' thoughts toward the back of this issue. But when we revisited Jitterbug Perfume in our Best in Beer tasting, the decision was unanimous. The dynamic push-pull between the earthy, bitter, fruity flavors of the beets and the tart citrus, offering a lifting freshness and a light touch of flinty fermentation funk, creates vivid yet unexpected contrast. The color itself suggests berry-like sweetness that isn't there—a clever sleight-of-hand that creates spaces filled by our brains. It's full yet artfully defined, juicy yet dry, with just the right amount of acidic twang. Faint oaky notes hang around the aromatic margins, offering just a touch of vanilla-like softness. It's a masterfully deft handling of strong and challenging ingredients, with a vibrant energy that defies its age. And it's another beautiful example of the creativity possible in mixed-culture beermaking.
Finback Headspace
(New York City)
It's a curious situation when a brewery finds itself with two potential Best in Beer contenders, but that's the case for Finback. Our blind-review panel gave top marks for this West Coast–style IPA as well as their dry-hopped Crispy Town pilsner (for which we have the recipe here). When you're hot, you're hot, and Finback continues to prove that they're not just creative but consistent, with nine beers that have scored 95 and above with our judges over the past several years. Their breadth is equally impressive: Those beers span styles from barrel-aged stout to modern lager, hazy IPA, and now West Coast IPA, too.
We long ago disabused ourselves of any notion that the geographic origin of styles should dictate who is good at brewing them. However, the team at Finback is particularly adept at processing evolving trends and personalizing them. With Headspace, they've again found ways to take this curious corner of IPA flavor—driven by pink lemonade, peach, and pomegranate notes, and underpinned by subtle dankness—and support it with lean malt and an endearing bitterness that's playful and satisfying. It's a beautiful beer—lively and sunny, more invigorating than rigorous—that showcases creativity and restraint in equal measure.
Templin Family Granary Kellerbier
(Salt Lake City)
Parsing quality among the number of well-made lagers we taste becomes a finer and finer exercise every year. (North American lager brewing has come a long, long way over the past decade.) But in the scope of our Summer lager issue this year, Templin Family's Granary Kellerbier stood out for what it was, and not for an overly reductive idea of what it wasn't. As the cult of "crispy boi" continues to find more acolytes among craft brewers, it's too easy to think of lager as an exercise in minimalism. However, Templin's unfiltered German-style pilsner is anything but minimal—it's an embrace of elegantly refined hops with floral and lemon notes, light bready malt, the soft touch of a gentle lager fermentation, and drinkability that doesn't sacrifice aroma and flavor.
With notes of bread dough and floral hops and a light touch of lemon zest, the aroma feels familiar and comfortable in a choose-your-own-adventure way. Your next thought could be, "I want to explore this beer more," or it could be, "This is nice. I'm just going to drink it and focus on this conversation." A light hop bitterness and carbonic jolt at the front of the sip tighten up any bready malt sweetness, and that light-hearted breadiness and subtle bitterness toe the line right into the dry finish. If you're looking for proof that light-and-drinkable doesn't have to mean minimal and flavorless, here's your beer.
New Image 9505
(Wheat Ridge, Colorado)
In our previous Winter issue, our reviewers scored the first release of this English-style barleywine an impressive 99. The initial release was a sublime achievement that we described in heavy spice terms—cinnamon, allspice, clove—alongside chocolate and vanilla notes with the familiar dark fruits.
Since then, New Image released another bottling—the same brew with more barrel time—and submitted it for our Best in Beer panel to consider (blindly, of course). This longer-aged version feels like an even more refined take on that beautiful original, where those cinnamon-spice notes take on deeper resonance, Amburana-like, while the body feels more concentrated and silky. As Stan writes in his tasting notes, "It's like falling into a black hole with dark fruits, toffee, dark chocolate, and sherry. It's so well integrated that it's hard to pick out individual flavors."
The strong alcohol note on the nose immediately sets the tone, with amaretto and dark and milk chocolates. The barrel comes through in the sip with oaky bourbon notes, the body full while the flavor lands between sweet and dry, accented by a strong, lingering note of cinnamon-roasted nuts. It feels impossibly deep yet accessible, boozy yet nimble, indulgent yet concise. This is a thoughtful and refined beer that could hold its own among the best examples of wines and spirits. Stan's view: "99 is too low."
Weathered Souls Gud Mawnin' Mon
(San Antonio)
Lest we forget, Marcus Baskerville first made Texas noise with his big, richly flavored barrel-aged stouts—and it's not as if the guy's been resting on his laurels. Experiencing the liquid itself is the surest way to remember why fellow brewers and stout enthusiasts knew very well who Baskerville was long before Black Is Beautiful took on a life of its own.
Among many blockbuster barrel-aged dessert stouts in our blind tasting, this was the clear standout. It's inevitably sweet yet immeasurably deep: Higher notes from bulk-aisle scoops full of cacao nibs, coconut shreds, hazelnuts, and vanilla get baritone thrum from Jamaican Blue Mountain beans and their suggestion of chile. Viscous and leggy in the glass, it's of that modern style that maximizes body and character at the expense of foam, but the payoff is bountiful: Dark-roast mocha cuppa infused with dark-chocolate drizzle in the nose; bonbons get grownup perspective from maple and woodspice, while the bourbon adds warmth and its own kind of sweetness. Dried-berry esters are restrained, as the mocha-coffee and malt-chocolate meld beautifully, cohabitating within back-porch view of stout country, even if some Raisinet-like notes linger with that long, smooth, rich coffee tail.
BKS Pivo Project Bohemian-Style Pilsner
(Kansas City, Missouri)
Ten days in Czechia earlier this year helped refine our collective tastes in světlý ležák, and this Bohemian-style pils from Kansas City's BKS hits all the right notes. Our review panel remarked on its spicy, grassy aroma and on the striking hop and malt flavors that melded into "chewiness." Ultimately, it was the quality and refinement of the hop character and the harmony of malt and hop expression that drove its score of 99.
Often, in American expressions of Czech-style lager, brewers assign the style based on origin of ingredients rather than how the beer presents. (Saaz hops? Must be Czech.) BKS, however, nails the malty heft in the sip that's crucial to supporting the strong hop loads inherent to the style. It's full, yet it finishes dry—often a function of the double decoction, though there are other ways to get there—and that tension produces the prized drinkability.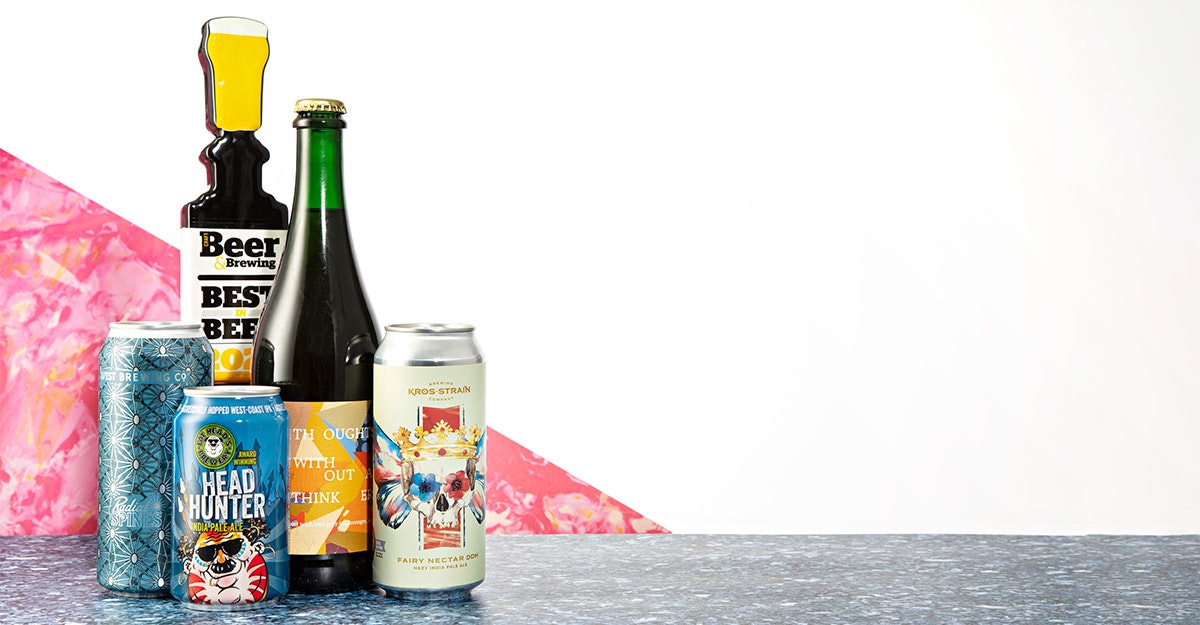 Keeping Together Thoughts Without a Thinker
(Santa Fe, New Mexico)
True expressionists are rare in brewing, even if that kind of creative thinking lured many of us to the idea of craft in the first place. It still draws many to the beers of Belgium. However, we don't know any brewer in North America who can connect the dots between the emotions and memories she wants to evoke and the various technical paths to achieve that goal, in highly drinkable form, better than Averie Swanson. So, when we learned that this delicate, bright, and comforting saison—infused with black tea, re-fermented with orange juice and zest, and gently spiced with saffron—was hers, none of us were surprised. In blind-panel tastings for this issue, it scored a 99, and then it was a no-doubter among the editorial team.
In the aroma, bright citrus peels and white wine couple with cool stone-cellar floor and the faint whiff of walking past a tea shop. The flavor delivers a full-spectrum citrus hit—tart and juicy yet dry—with a low, dusty bitterness and high effervescence that sparkles the juice away into cobwebs. Brunchtime mimosas with better bubbles come easily to mind. Or, as Kate writes in her notes, "The Earl Grey is like a sweater that wraps up the rest of the beer. Orange hits first and washes swiftly away. The combination of the two is a very nostalgic moment of drinking tea after dinner in an armchair."
Fat Head's Head Hunter
(Middleburg Heights, Ohio)
Listen, we didn't have to put this beer here. It's won its share of accolades, including several medals at the World Beer Cup and the Great American Beer Festival going back to 2010. Its most recent was GABF gold, just a few days before it appeared before us in a blind tasting. We already had top-scoring nominees from our Spring IPA issue—and, as Jamie says, "We've already reviewed IPAs, so if you send IPA, it'll have almost no chance." This beer had almost no chance.
Yet it was a consensus pick among our editors. Its profile is classic, but it feels bright and fresh for today's drinkers: Luminescent gold with robust foam and lace, the aroma offers Sunkist orange candies, lemon drops, candied citrus peels, and drops of pear. On the palate, that round juiciness gets a fleeting moment in the sun—the clean malt sweetness provides the picnic blanket—before it all quickly morphs into nostalgic, shady-pines bitterness. Some resin lingers, but not so roughly as to prevent you from going back to that sunny glass for more.
Fat Head's calls it "West Coast–style," which can be code for "not hazy." Does the style we once knew as "American IPA" still matter? We could argue that this brilliant beer has been charging into the hazy mists waving that flag for years, though we'll listen to arguments that there are differences in the hinterlands.
Midwest Coast, represent.
Kros Strain Fairy Nectar DDH
(La Vista, Nebraska)
Hazy IPA finds itself at an interesting crossroads in 2023, as the push for sweetness appears to have peaked (for now) in contrast to the increasingly lean and dry approaches to the West Coast style that's regaining favor.
Gone are the days when brewers could expect an extra bottle cap on Untappd for every degree Plato that they pushed the finishing gravity. Bitterness, drinkability, and balance are finding their way back into hazy IPA like never before—but Fairy Nectar has been mapping this territory for more than six years, so it's no surprise our judges celebrated Kros Strain's approach and continued refinement with the top score among hazy IPAs earlier this year.
The softness of body is a key feature here, feeling full and satisfying without resorting to heavy sweetness. The pinpoint bitterness is surgical, and a citrus-zest quality integrates beautifully with tropical guava and mango notes in both the aroma and flavor. Granted, we spend a lot of time thinking about IPA trends, but there's an unflagging optimism here and a lack of irony in Fairy Nectar's honest expression that ultimately makes it so catchy. The excitement is contagious.
12 West Radial Spines
(Gilbert, Arizona)
We couldn't be more excited about the recent evolution of hop-forward lager, and this is the second year in a row now that one has landed in our Best 20. The intersectionality of the style is its strength, taking the conceptual framework of pilsner—lager fermentation, subtlety and nuance, great drinkability, and regionally available ingredients—and marrying that to contemporary hops. Whether you call it "West Coast," "California," or "New Zealand" pils, or even if you call it "cold pale ale," the effect is the same—lean beers with ultra-pale malt bodies designed to showcase hops without the overt intensity of IPA.
Radial Spines does exactly this, melding typically spicy-herbal pils hops with oranges, zest, and a bit of tropical floral—but it keeps the levels down to a range that never fatigues, and at that more polite volume, more detail becomes apparent. American brewers aren't typically known for their restraint, but the hops here are measured, supported by the medium body, and the effect is perfect balance. Capturing this level of sophisticated hop character in a 5 percent ABV beer—and we could drink quarts of it—is an accomplishment, and it doesn't take much imagination to foresee a future where beers like this become a focus of social-drinking spaces.
Plus: Be sure to check out the print edition, out now, for a Radial Spines recipe.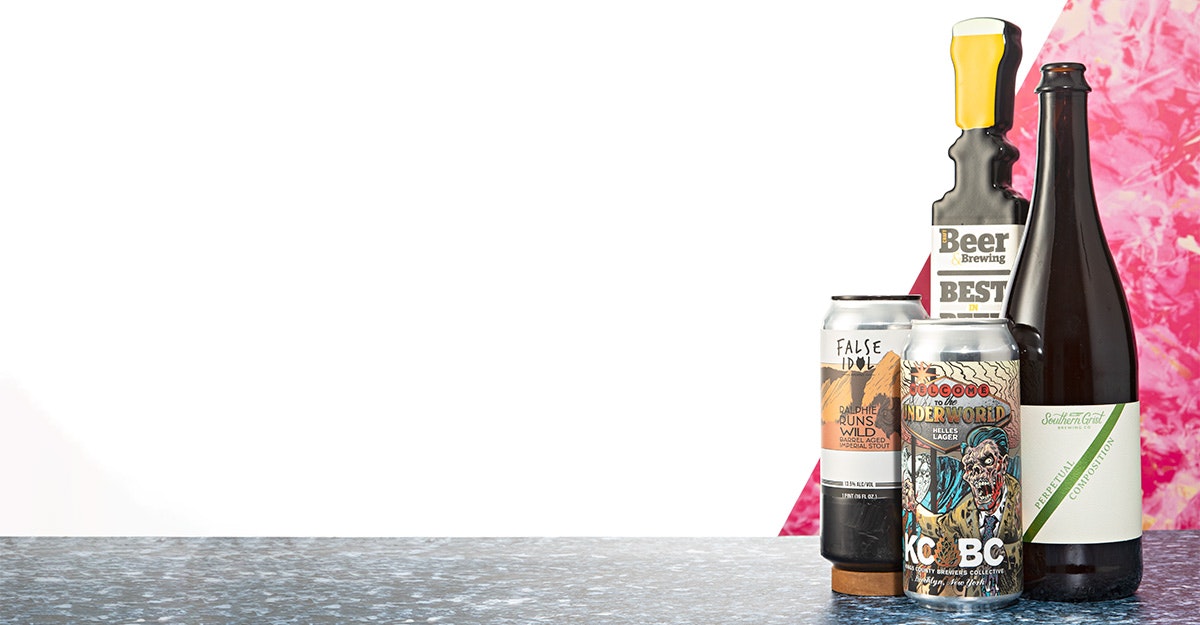 Southern Grist Gin Barrel–Aged Perpetual Composition
(Nashville, Tennessee)
Aging beer in gin barrels used to be a dodgy niche. In recent years, however, some beautifully refined examples—particularly in the mixed-culture realm—have widened our views entirely. Sapwood Cellars Neologism landed here last year, gin-barreled and dry-hopped. Now it's Southern Grist's deeply impressive hybrid creation, which spent nine months in a Bordeaux foeder and eight more in gin casks.
In this iteration of the solera-style Perpetual Composition, we get the best of gin's botanicals with no pine needles or spiky heat. The nose leads with bright, classy lemon-floral notes, plus soft juniper, mint, and berries. The flavor is gently tart and faintly saline—a suggestion of the sea—with hints of creamy biscuit and earthy bitterness to provide structure. The mouthfeel is almost fluffy, with a surprising fullness to the body, yet it all floats away to dryness. Throughout, minty juniper finds a balance with judicious acidity—not an easy balance to strike.
It all works so beautifully that it's easy to envision more brewers trying something like this in the years to come, whatever the sales prospects may be for mixed-culture, booze-barrel beers. (Narrator: "The prospects were not great...")
KCBC Welcome to the Underworld
(Brooklyn, New York)
Done well, helles provides an ideal yet unforgiving platform for pure malt expression, and KCBC didn't shy away from that challenge in this beautifully compelling, immaculate, and ultimately easygoing rendition. In the aroma, that sweet-brioche malt is fresh and vibrant yet subtle and slightly nutty, while lemony hops shift the key even higher.
The beer itself is uncomplicated—simple, even. Yet to get that ingredient expression and have it drink so effortlessly is, paradoxically, a product of great effort. There are more paradoxes: It's full yet weightless, hopped but not bitter, substantial yet nimble. It avoids the minimalist space of today's crispier lagers by embracing freshness in flavor. But here's scale that really matters: This is a beer designed for drinking more than one. It's through that sequential experience that the beer truly unfolds—three deep, you notice just how polished those flavor edges really are and the beautiful work that KCBC has done to capture such beauty in simplicity.
False Idol Ralphie Runs Wild
(North Richland Hills, Texas)
"Need to learn more about vanilla," Stan writes in his notes from our tasting. "This is the path these beers can lead you down." So, if our Hops Insider evolves into the Vanilla Insider over the next couple of years, we can all blame the team at False Idol. In this case, the vanilla is Ugandan, and the medium is a 14 percent ABV stout that spent 17 months in Stranahan's whiskey barrels from Colorado—hence the reference to CU's Ralphie the Buffalo, which Patrick had to patiently explain to the rest of us.
Thick, leggy onyx in the glass, your olfactory walks into clouds of vanilla over cherry-cordial and dark-fruit compote; the experience evokes mincemeat pie lightly dusted in cocoa and dolloped with whipped cream. The dark chocolate is there, supported by vanilla and whiskey-spice, maintaining some beer-like flavors in the Christmas pudding. On the palate, the sauce is thick and warming, with more of that tangy dark fruit that manages to keep the sweetness in perspective. It's all mitigated and spaced out by marshmallowy body. Meanwhile, the pleasantly numbing whiskey edges and barrel-tannin whisper assurances: Ssshh, it's okay, you're adulting. Throughout, however, the vanilla keeps the party rolling, without ever overstaying its welcome.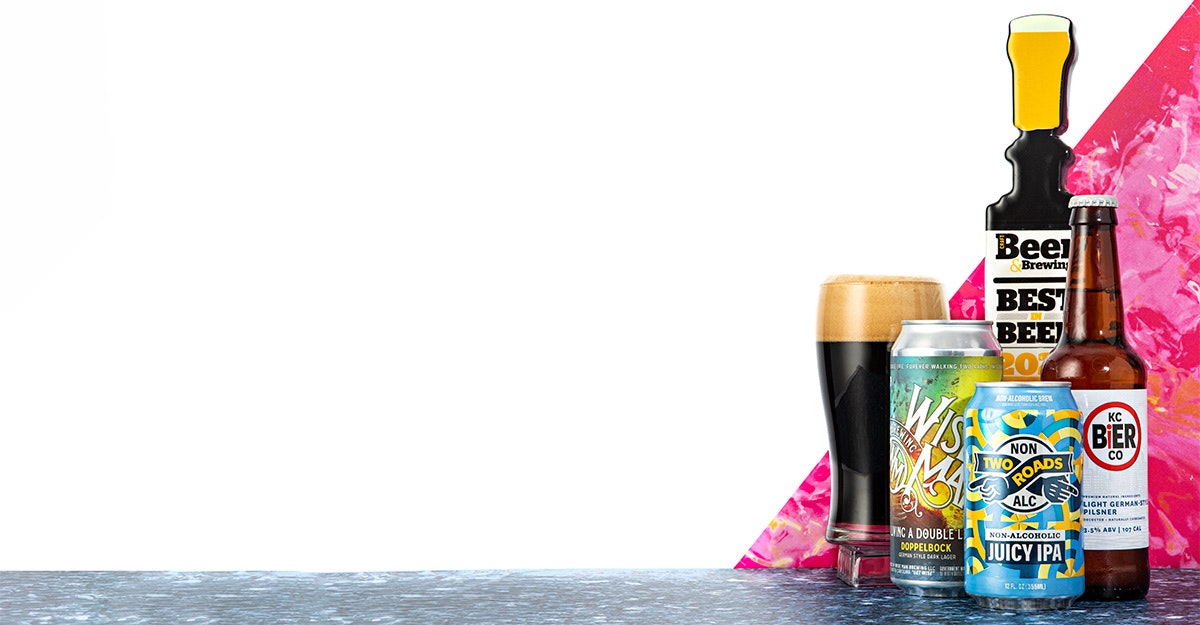 Bartlett Hall Powell Street Porter
(San Francisco)
Sometimes—or only once—it happens like this: You're wandering around San Francisco, your dawgs are tired, and you see a bar that seems to shimmer like an oasis in the desert. Oh, in fact, it's a brewpub. Oh, in fact, it's Bartlett Hall—haven't they won a couple of medals? So, you grab a stool, rest your feet, and order the porter (GABF silver in 2019, gold in 2022), and it blows you away. You jot some notes. Later in the year, looking over those notes, the fond memory returns. And you reach out to the brewer and explain: "That beer was one of the best things I tasted all year. Would you want to submit some for blind tasting? Odds are always slim, but it could do well."
Reader, it did well.
At 6.4 percent ABV, it's robust and characterful, but it's also unadorned—in a real way, it's competing for attention with hugely flavored, barrel-aged, time-intensive creations. Yet class has a way of showing through. Aromatically, midrange caramel notes and berry esters fill out the roasty espresso shot, hinting at the depth to come. On the palate, in fact, you could spend all day picking apart the flavors—it's bitter and sweetish and roasted and dry, yet it's skillfully woven and never pokes out far in any direction. An integral piece is the mouthfeel, full and near-creamy but nimble, not heavy. It provides a sense of indulgence where so many others these days take indulgence to exponential degrees of absurdity. Those, however, are meant for sipping and tasting.
This one is meant for drinking.
Wise Man Living a Double Life
(Winston-Salem, North Carolina)
Given Incendiary's presence on this list (see below), at what point do we suggest that Winston-Salem could become a mecca for lovers of great dark lager? Oh, the locals will keep drinking IPA, no doubt—but the accolades are going to the cold and the brown. (And the red—Wise Man has twice won GABF gold for its Irish-style red ale.)
At 8.5 percent ABV, this is a bruiser even for a doppelbock, yet it offers the balanced breadth of flavor and drying finish that has you ordering a second and then a third half-liter, and soon all sensible judgment is eroded. After you take a moment to appreciate that mahogany color and sturdy foam, it begins with an understated aroma that does classical-guitar complexity at easy-listening volume: stewed plums, toasted muffin, dried oak leaves, and more. The flavor is rich yet smooth and round, with malt-derived dark-fruit notes; it deftly avoids pronounced sweetness. The bitterness, meanwhile, is restrained but perfectly tuned, with soft woody-herbal notes kicking in on a drying finish.
Look, we're not saying that the world's malty-beer enthusiasts are all going to converge on Winston-Salem to see what the fuss is about. But we might.
KC Bier Light
(Kansas City, Missouri)
This leichtbier got its first foothold in our Summer issue, when it scored 95 among German-style pilsners—exceptional for a light lager of 3.5 percent ABV. So, Jamie dropped it into our Best in Beer tasting, where it easily won over our editorial team. "I want to hear Joe talk about the bitterness," Kate writes in her notes, taken when we tasted this blind.
Welp, Kate, you asked for it.
There are many beautiful things about this beer, as you'd expect from a featherweight lager that becomes one of our best of the year. Precision has no flavor, but you can taste it anyway—just as you can taste the good judgment to adorn a delicate frame with plenty of personality. That personality includes malt, of course, including notes of honey on bread dough, and a low sweetness that binds the whole frame. That personality also includes pleasant and prominent floral-herbal hop aroma throughout—the structure is adorned with flowers. Yet the structure remains lean, defined by that firm bitterness, which is working in tandem with that dry finish to keep you drinking more. Is this beer or is it architecture? Either way, you can crush it.
Few will pay so much attention to it, of course, but that's the art: getting us to drink another and another without always knowing why—even when close observation is rewarding.
Two Roads Non-Alcoholic Juicy IPA
(Stratford, Connecticut)
As our top-scoring nonalcoholic beer this year, this IPA achieved a particular feat: It scored a full four points higher than the next-highest NA beer, and it was one of the first we've tasted to break the 90-point threshold.
We're interested in this category for many reasons—health, accessibility, new occasions, and more—but in terms of flavor, it's clearly still in its early stages. The brewing techniques necessary to make great NA beers—whether it's alcohol removal, nonalcoholic fermentations, arrested fermentations, or something else—are evolving quickly, and brewers are beginning to find ways to accomplish the end goal while still producing what we prize: great-tasting beer. Anything less defeats the purpose.
It's no surprise to us that the Two Roads team, led by brewmaster Phil Markowski, are among the first to push this innovation in a way that makes for such compelling NA beer. Their Two Juicy double IPA earned Best in Beer honors in 2017, while their H2Roads was our top-scoring hard seltzer in 2021. For someone arguably best known as the author of a book about farmhouse brewing, Markowski has always embraced the challenge of new beer styles and beverage categories.
The beer itself? Grapefruit, tangerine, guava, and a bit of herbal tea offer a zesty, modern aroma that feels juice-adjacent and comfortable without going full plush—more Volvo XC90 than Cadillac Escalade. The mouthfeel is soft and comfortable without feeling flabby, as crackery malt and a bit of lime complement the light, herbal bitterness. It finishes dry with a bit of a tart citrus and herbal-hop linger, but the overall effect is fresh and light. There is no malt graininess that seems to plague other NA beers, and a reasonable body supports the spicy, juicy hop notes. When the situation calls for a beer without alcohol, this is the first we can recommend without any reservations.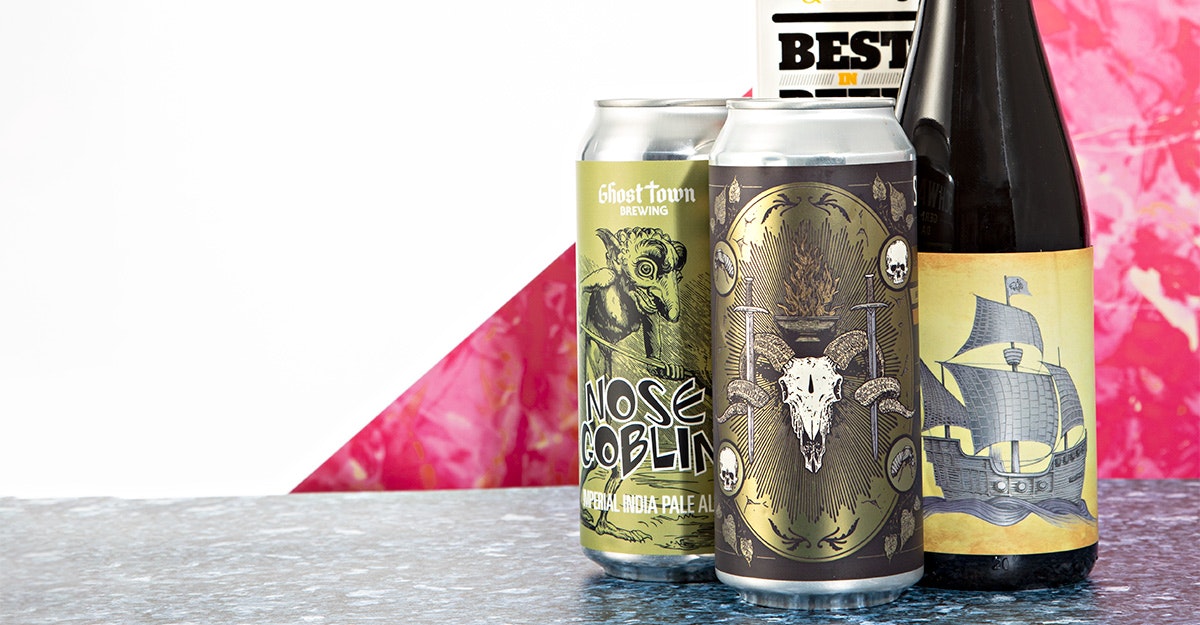 Ghost Town Nose Goblin
(Oakland, California)
It needs no introduction—after back-to-back GABF gold medals in 2021 and 2022, this West Coast double IPA's bona fides are assured. But we deeply enjoyed tapping into head brewer Justin Burdt's brewing brain a few times this year—he shared the homebrew recipe in our Spring IPA issue, and in Episode 310 of the Craft Beer & Brewing Podcast, he drills down into the smallest details that define Ghost Town's approach.
Still, it was in our blind tasting for this Best in Beer issue that the beer ultimately shone—despite our resolve to not add more IPAs to our annual list, unless they absolutely forced the argument. Stan notes how the alcohol amplifies the malt richness, pushing an alcohol sweetness that amplifies the citrus, passion fruit, and rhubarb while tucking just enough tropical fruit–peel bitterness into the finish. Kate loved the brioche undertones and the big, juicy rush of lime leaf, juniper, and botanicals that culminate in the spry hop bite in the finish.
Is it Burdt's embrace of certain hop qualities during selection—including some that other brewers avoid—that makes these beers great? Maybe that's part of it, but there's a lean intensity and alcohol-driven saturation that underscores the bigness while maintaining incredible drinkability. It's hard not to love that, as well as the tight release in the dry finish, with lingering echoes of tropical fruit providing an inescapable lure for the next sip.
Incendiary Schwarzbier
(Winston-Salem, North Carolina)
This top scorer in our Summer issue—earning 99 in a style that doesn't often wow judges—really didn't need any more vindication from us, also having taken home gold from the World Beer Cup just a few weeks earlier. And it's not just their dark lager that's killing it—their Brown Porter also won gold (see pages 38–39 in the print edition for more on their approach to that beer, plus a recipe). In short, the team at Incendiary has had a good year.
Let's just pile on then, shall we?
The mark of a great schwarzbier is an understated malt character that belies its dramatic red-black color. Sure, there will be flavors of roast and dark caramel, but if it doesn't drink like a German lager—that is to say, easily—then it might be dark and it might be a lager, but it ain't a schwarzbier. Here, the aroma is smooth like cold-brew coffee, lightly sweet and enticing. Likewise, the flavor is a demonstration of agility, as soft notes of chocolate and dark caramel suggest sweetness without ever being sweet and the light roast completes the whole picture of balance and restraint. Dryish and gently bitterish, it finishes light and clean.
Incendiary brewer and QC manager Adam Goetz wrote about this beer in our Summer issue, with more details to be found there, plus a homebrew recipe. To those who've tasted it, his words demonstrate how well they nailed their target: "To me, a great schwarzbier is all about subtlety. All of my favorite schwarzbiers have been just as crushable as a classic pils or a helles lager, but with a delicate addition of roasted malt character that adds just a little bit of extra complexity."
Benchtop Old Wooden Ship
(Norfolk, Virginia)
We can't really define the Platonic ideal of a barleywine. We can only bring in our fuzzy collective memories of those we've tasted and loved before, maybe some overlapping semblances of what various style guidelines say, and extra baggage from reading some iffy brewing history. Even so, identifying that ideal may be something like Justice Potter Stewart's attempt to define pornography: We know it when we taste it.
This one spent a year in Heaven Hill bourbon barrels, but that fact is almost incidental—the barrels and the time had their influence, no doubt, but that influence was behind the curtain, pulling strings, whispering suggestions, shaping outcomes, but always allowing the beer to take the spotlight. (It even has foam.) The nose is big and pleasant and rounded, as caramel, liqueur-soaked figs, poached pears, milk chocolate, herbal hops, and a whiskey kiss all merge into a cohesive whole, free of liminal spaces. On the tongue, it's hefty, rich, and unapologetically sweet—yet far from simple, finding interest in tangy dark fruit, deep toffee, and burnt sugar, though some finishing bitterness arrives to gamely try to dry things up and reset the palate.
The sherry-like oxidation also works to signal barleywine to our beer-nerd lizard brains, a confirmation that this is what we think it is supposed to be. It also works as a strong suggestion that the Old Wooden Ship is likely to improve with time in the cellar.