The (probably surprising) results of our in-depth analysis of your favorite koozies
Have you ever wondered which koozies keep your beer coldest while maintaining your hand temperature? Ever thought, I am going to sit out and have a beer; will a can, bottle, or glass stay coldest? Or, have you ever considered opening an Etsy shop that sells wooden koozies? Well, we have the answers for you.
The Results
We tested 10 different methods of maintaining your beer's temperature over a 60-minute period, taking readings every 5 minutes. Here are the results (ambient environment was indoors at 73°F/23°C):
The Bum Bag Brown Paper Bag Koozie is the best at keeping your beers cool (but it is more suitable for a bottle based on drinkability).
Wooden koozies from Montana work surprisingly well.
Snap koozies should be banned (mostly because they are irritating to everyone around you while you keep playing with it).
A bottle will stay cooler longer than a can.
A pint glass loses temperature faster than a can or a bottle.
Zip-up koozies are more of a fashion statement than a functional one.
The funnier the saying on the koozie, the better it works at keeping your beer cold.
And putting a koozie on a bottle makes it warm up faster than having no koozie.
Here is the average temperature (Fahrenheit) increase per minute depending on the method of cooling used: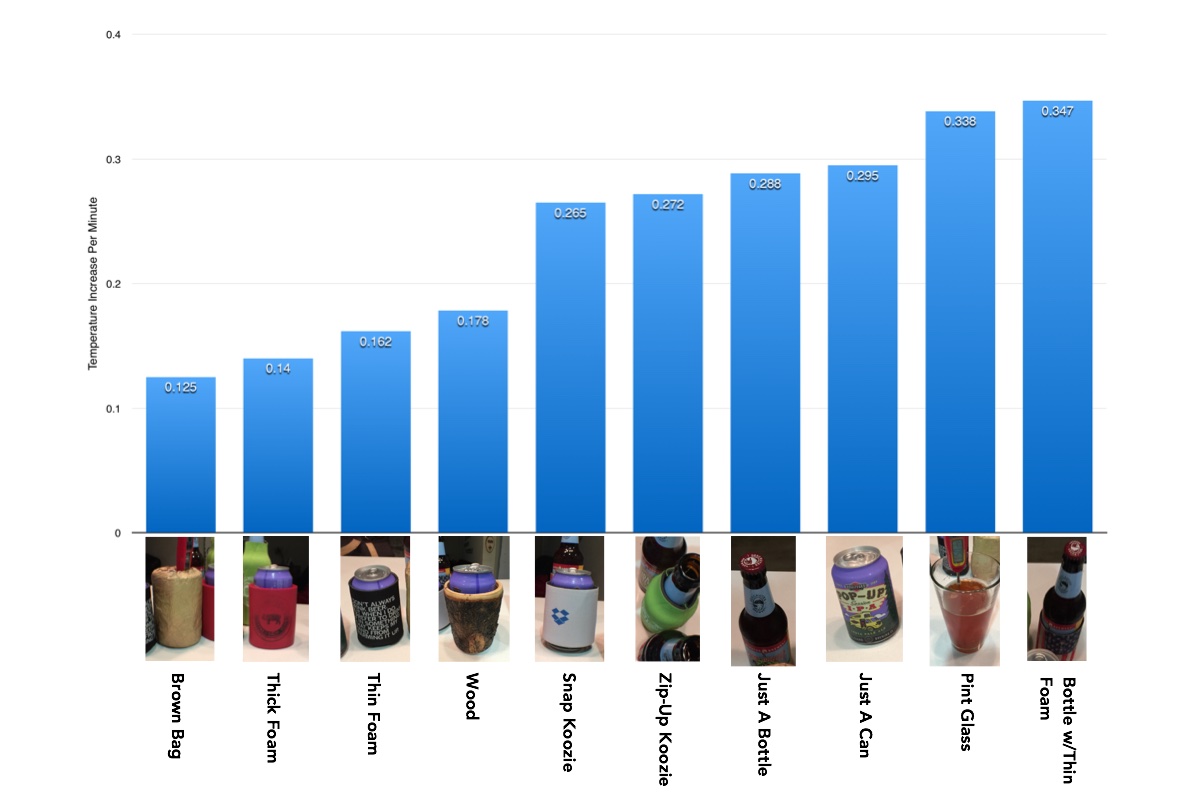 The following graph shows the temperature of each method over the 60-minute span, but first, our insight:
Temerature increase is pretty linear across all methods.
It looks like someone took a nice chug of the "Bottle w/Thin Foam" around minute 18.
The pint was probably being enjoyed over the testing period (larger temperature increase in later intervals).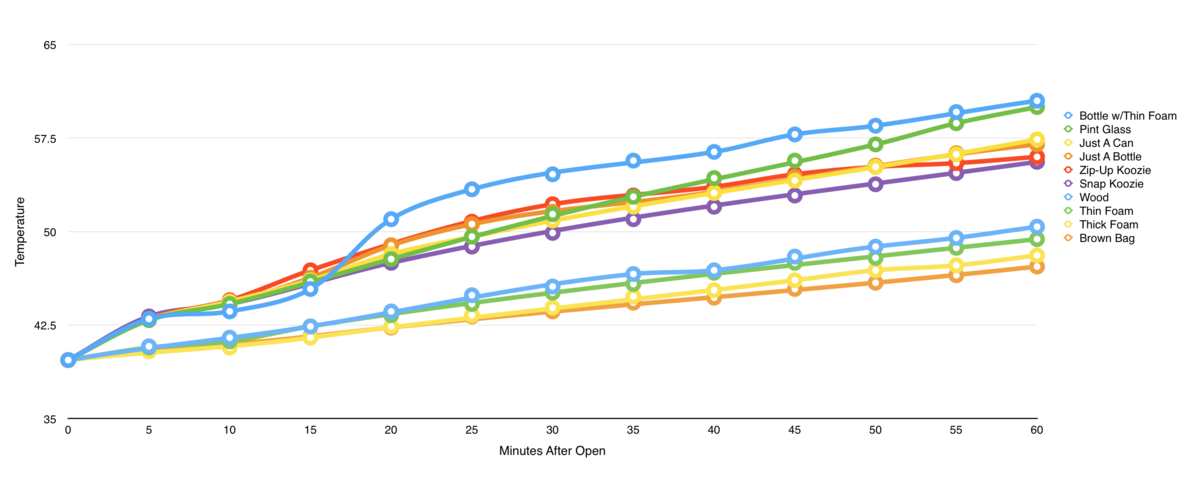 The Conclusion
Every method has its pros and cons, but when the factors of temperature, drinking comfort, koozie availability, and koozie portability are all weighed against one another, here are the winners:
Are you drinking out of a can at home? Grab a thick koozie with its extreme comfort and temperature consistency.
Are you drinking out of a bottle at home? Grab the brown bag. Its curl-over top inhibits mouthfeel on a can but works great on a bottle.
Are you going camping? Grab the wooden koozie; it's the coolest—just don't accidentally burn it.
Are you unsure of what the night holds? Slip a thin koozie into your pocket and be prepared.
Beer Lover | Writer @ Haze | COO @ CB&B
The Latest
Load More