The story of Vermont beer post-Prohibition can be traced to Burlington—more specifically, to the corner of College and St. Paul Streets, where homebrewer Greg Noonan and his then wife Nancy opened the Vermont Pub and Brewery in November 1988.
All these years later, the pub still brews and sells pints of Noonan's original Burly Irish Ale and Bombay Grab IPA while a culture of craft beer has sprouted around it. In Burlington, breweries such as Magic Hat, Switchback, and Zero Gravity have established the city as a beer destination, while another generation of brewers continues to write the story of Vermont beer.
Vermont Inspired
"We take so much passion and pride in making things with our hands up here," says Joe Lemnah, founder of Burlington Beer Company. "It's that New England spirit of, 'We can make it through any cold winter; it snows in April, no big deal, nothing to complain about; just scrape off the car, go to work, and make the best beer possible.'"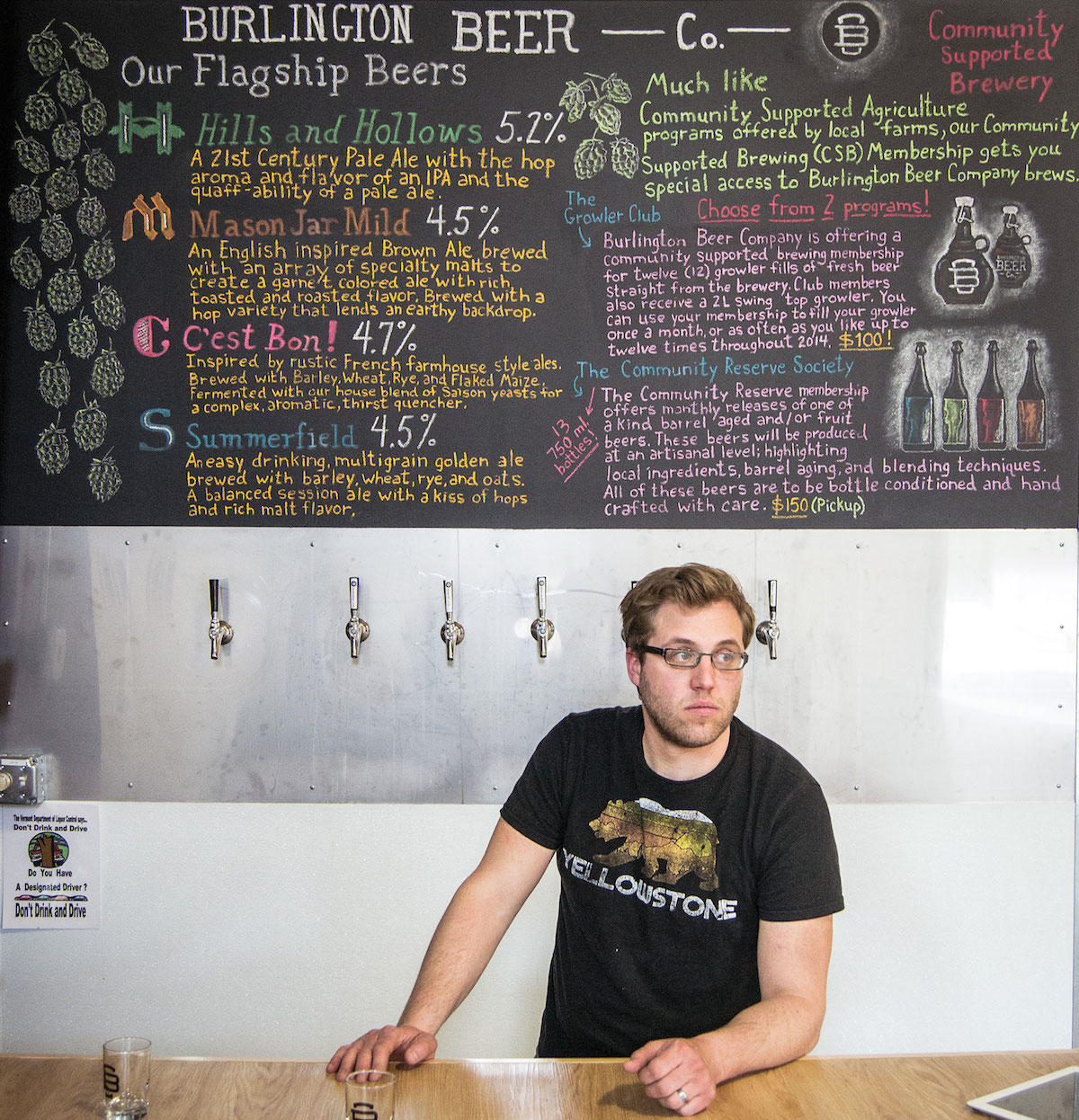 Lemnah, born in Burlington and raised in nearby Essex, brewed professionally at Olde Saratoga Brewing Co., Dogfish Head, and Evolution Craft Brewing Co., while continuing to homebrew after hours and tweak recipes. He returned here to open his own brewery with his wife Beth Boyd Lemnah and partner Jake Durell.
His farmers' market, seasonally inspired beers complement the lower-alcohol classic flagship offerings: a rich English-inspired brown ale, a rustic French-style farmhouse ale, a bright pale ale, and an easy drinking golden ale.
The 4,700-square-foot brewery, which houses a 15-barrel brewhouse, a small bar and taproom space, eight wooden barrels, and a ping-pong table, also offers plenty of room to grow: more tanks, more barrels, and more beer.
A New Kind of Industry
On Pine Street in Burlington's South End, a beer, cider, and chocolate and food hub is forming. First, a stop at a former U-Haul storage facility where Citizen Cider (pictured at top), founded in 2011 by Kris Nelson, Justin Heilenbach, and Bryan Holmes, opened a spacious new tasting room and production facility in April 2014.
Nelson pours me eight samples of their ciders, which range from the refreshing flagship, Unified Press, made from a blend of about ten different varieties of Vermont-grown apples, to the Wit's Up, fermented with a Belgian yeast strain, to the Full Nelson, dry-hopped with Nelson Sauvin hops.
"Cider is in its infancy, and we're trying to grow with the direction that cider is going," says Nelson, referring to the relatively new market of American cider drinkers and makers.
Just a few minutes' drive down the street from Citizen, Burlington's beloved Lake Champlain Chocolates established a bean-to-bar chocolate company called Blue Bandana and the space of a second brewery and tasting room for Zero Gravity Craft Brewery, which has been open inside the American Flatbread restaurant in downtown Burlington since 2004.
And in an industrial park across the street, Queen City Brewery has been pouring traditional beers such as an English-style porter and an Antwerp-style blonde ale since it opened in May 2014. The brewery has an old-school vibe that harkens to the industrial past of Burlington and Pine Street, says Head Brewer Paul Hale, who founded Queen City with longtime homebrewing friends Paul Held, Phil Kaszuba, and Maarten van Ryckevorsel.
"There is this heritage. It may not be real pretty, but it is the heritage of Burlington. We're just not an upscale craft beer place. There really is more of a gritty, underlying history here and we want to honor that."
A 1963 photo of Burlington's main drag of Church Street hangs on the wall in the tasting room, and resting high on top of the cold storage room is a 1951 Ford International truck named Ethyl. It certainly does feel industrial, with traditional beers to match.
Burlington's Brooklyn
Across the Winooski River from Burlington, the 1.5-square-mile city of Winooski is, as locals will half-seriously tell you, the Brooklyn to Burlington's Manhattan. A traffic circle plays town common, with a lineup of cozy and hip, yet unpretentious restaurants and bars, such as Misery Loves Company, The Monkey House, and Mule Bar, located around the perimeter.
Opened by the owners of Three Penny Taproom and The Mad Taco in Montpelier, Mule Bar offers sixteen draft lines, which always include a cider, a non-alcoholic ginger soda, a house cocktail, a witbier, and a gose. Beyond that it's fair game, says bartender Paul Landry, with the frequently rotating drafts ranging from Allagash to AleSmith along with a small and expertly curated bottle selection and far above-average bar food.
The city now also has its own brewery—Four Quarters Brewing, which opened in March 2014 next to a motorcycle shop on the more residential West Canal Street. Brewer Brian Eckert will focus on American and Belgian-inspired ales such as a rustic farmhouse ale brewed with Vermont-grown white wine grapes and chamomile and a traditional Belgian abbey Patersbier fermented with wild yeast.
Vermont visitors can also make a beeline to Winooski Beverage Warehouse, where a banner out front boasts of the largest beer and wine selection in Vermont and helpful employees make recommendations and field phone calls about Heady Topper, delivered every Tuesday and Thursday.
Back to the Roots
Finally, a beer trip to Burlington is not complete without a stop at The Farmhouse Tap and Grill. While open for only a few years, the farm-to-table gastropub and beer bar feels like a downtown institution. "We try to be a showcase for the best of the best in Vermont and present those beers in conversation with the best beers from around the world," says bar manager Jeff Baker.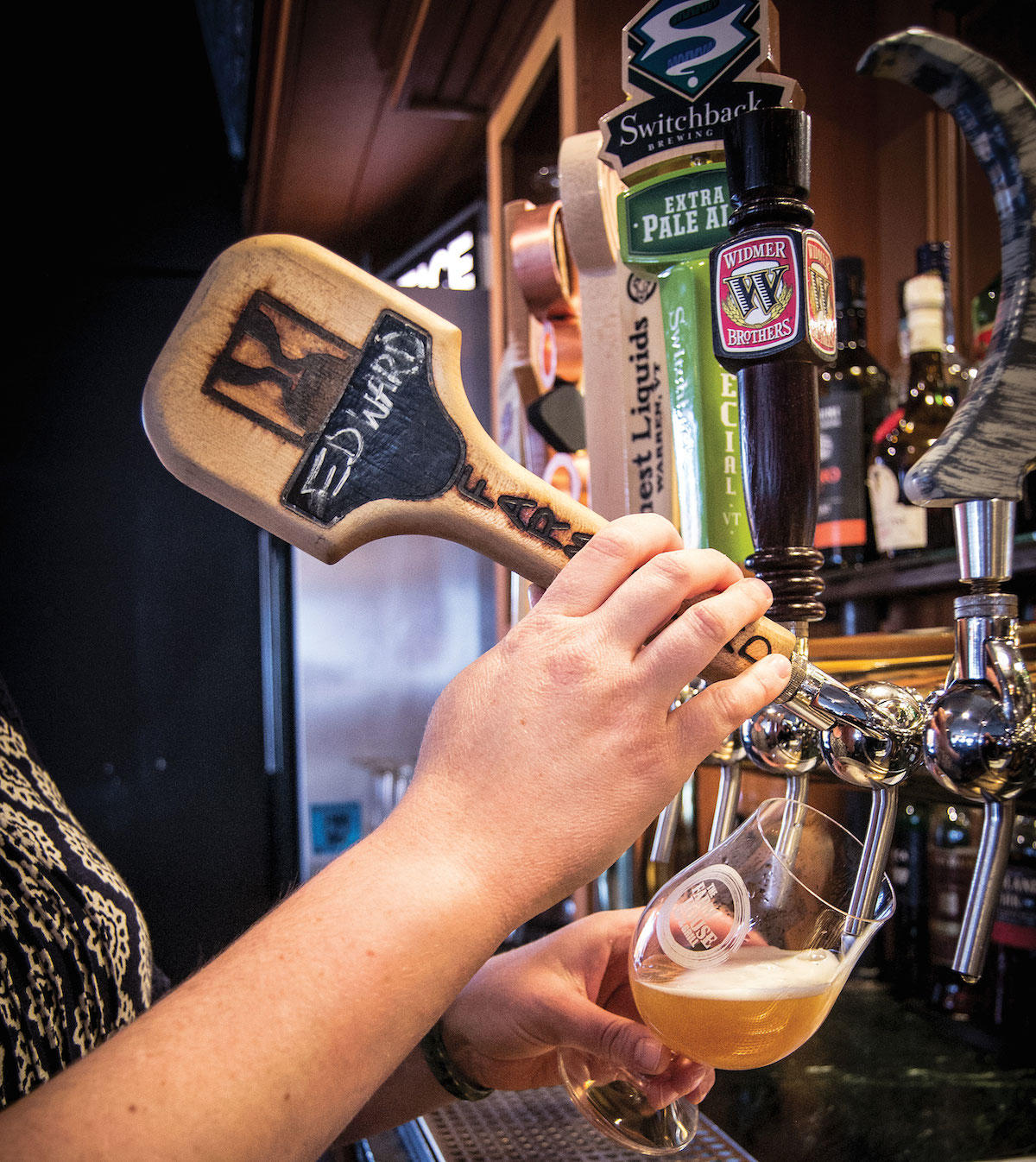 They dedicate one third of their twenty-four draft lines to Vermont beers, says Baker, which has been easy to do with world-class selections from Morrisville's Lost Nation Brewing, Hill Farmstead, Zero Gravity, and beyond.
"It's been really incredible to see people who are willing to drive across the country to consume our beer; it's just wild," says Baker of Vermont beer's allure. "Here, we consider it food: it's consumable, it's a handmade product from agricultural ingredients."
A Little Farther Afield
With the second-most breweries per-capita in the country (6.2 breweries per 100,000 21-plus adults), Vermont is rich with craft beer destinations and breweries to tour. Here are five outside of Burlington to put on your road trip agenda.
Fiddlehead Brewing Co.
Shelburne
Take a short and scenic drive from Burlington down Route 7 to fill up on Fiddlehead's flagship IPA, then take your growler next door to pair with a wood-fired Neapolitan-style pizza from Folino's.
Lost Nation Brewing
Morrisville
The brewery and taproom in Morrisville serves flights, full-pours, and growlers to-go (the 4.5 percent ABV Gose is a local favorite, but it's hard to go wrong with any) and offers a small but hearty menu of cheese and charcuterie, sandwiches, and soup.
Hill Farmstead Brewery
Greensboro Bend
Hill Farmstead's farmhouse ales, IPAs, and barrel-aged stouts have drawn recognition worldwide, and a visit to the tranquil brewery on the hill has become a pilgrimage for beer lovers. The lines to buy and taste beer may be long, but as many will profess, they are worth the wait.
The Alchemist
Waterbury & Stowe
The town of Waterbury, home of Heady Topper, is its own beer destination. The Waterbury brewery is not open to the public. However, they distribute a portion of Heady Topper to their Stowe brewery and Visitor's Center where you can stop by for a taster or some beer to take home.
Trapp Lager Brewery
Stowe
Located on the Trapp Family Lodge mountain resort, the Trapp Lager Brewery is the perfect place to relax on the deck with a view of Mount Mansfield and a mug of Golden Helles or Dunkel Lager in hand.