It doesn't take long for anyone with the slightest interest in good craft beer and the great outdoors to fall head over hiking boots for Bend, Oregon. Spend a few days in the small Central Oregon town framed by the Cascades and you'll end up hearing the same story—of passersby who came to visit for a weekend or a week and never wanted to leave—so they didn't.
After a weekend (or even one day) in town, the draw is clear: Bend is a beer-and-outdoors utopia. Also often described as a "Disneyland for adults," the city has the most breweries per capita in Oregon, with one brewery for every 4,500 people. And it is an outdoor playground for about every sport and outdoor activity, from hiking to climbing to running to mountain biking.
The wild Deschutes River runs through the heart of the town, and its namesake Deschutes Brewery, founded in 1988 by Gary Fish, is at the heart of the brewing scene. The downtown brewpub on Bond Street serves classics like their Obsidian Stout; Bond Street Series favorites like Hop Trip and Chasin' Freshies; and pub specials like a New Zealand hopped pilsner-pale ale hybrid. The production brewery overlooking the river offers free tours. The brewery has embedded itself in Bend's outdoors scene by sponsoring and holding races, and its influence has also spread as former brewers branch out.
I think, as you go around to the breweries in town, almost every single one of them has somebody who used to work at Deschutes. That's not the only reason that Bend is so beer-centric, but it sure helped the process," says Paul Arney, founder of The Ale Apothecary, during a tour of his boutique brewery in Bend.
Find more great "beercations" in every issue of Craft Beer & Brewing Magazine™. Subscribe today!
Arney also cites the outdoors-driven lifestyle of locals who want to support breweries, the tourist traffic, and . . . the water. "The water is incredible," he says. "I think it's actually pretty difficult to make bad beer with the water. It's really, really soft and very forgiving."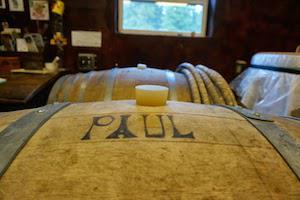 Arney is a 15-year veteran Deschutes brewer himself who left to found The Ale Apothecary (at left) where he brews process-driven, complex, and often funky beers from his small brewery in the woods. When I stop by (the brewery doesn't have a tasting room, but you can email ahead to try to set up a time), he pours the group samples of his interpretation of a Finnish Sahti. Called Sahati, its brewing process involves separating the wort from the mash by filtering it through a hollowed out Spruce tree, called a kuurna, filled with Spruce branches. The finished, tree-infused beer evokes Arney's mission—to brew beer that tastes like it came from this place.
The 10 Barrel Brewing Co. also feels evocative of the spirit of Bend. On a Friday night, the outdoor bar and patio (pictured at top) is packed with flannel-clad drinkers and their dogs gathered around the outdoor fire pit drinking 10 Barrel's hearty ales, like their popular S1nist0r Schwarzbier and an Oatmeal Stout on Nitro. It also makes for a perfect pit stop on the way back from a hike at Tumalo Falls, a 97-foot stunning waterfall with hiking and mountain biking trails running behind it (above).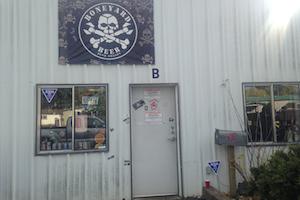 Talk to any Bend local about their favorite brewery, and Crux Fermentation Project will be named in no time. The spacious tasting room offers an impressive range of styles, like the sneaky (and tasty) 10 percent ABV Imperial Mosaic IPA that drinks like it's 7 percent ABV and below or the River Trail Sour Ale, a blend of their Impasse Saison and a barrel-aged golden sour. It also has excellent and creative lunch and dinner menus. And down the street, the garage brewers at Boneyard Beer (above, left) have established themselves as another can't-miss Bend brewery pouring hops-hefty ales in a stickered-out, laidback space.
As for must-hit outdoor attractions, they are seemingly limitless. The Deschutes River Trail is perfect for an easy run or bike ride downtown, while Shevlin Park, about a 10-minute drive from downtown, attracts trail runners and casual hikers. Smith Rock State Park (at right) in Terrebonne is where local climbers spend all of their free time and offers stunning hikes around and up the rocks. Then, come winter, snowboarders and skiers can make the short 30-minute drive to Mount Bachelor's slopes.
There are, of course, even more outdoor attractions and many more breweries to visit in Bend. Enough maybe, that you could justify moving there in order to see them all.