The first step in Phillip McLamb's business plan was convincing his dad to move out. Freshly freed from a finance job, Phillip and his wife, Amanda McLamb, wanted to open Resident Culture Brewing Company in a building Ed McLamb had owned since 1982.
The chance to keep the property in the family while building something new was appealing; Ed McLamb agreed not only to move his printing company out but to invest in the brewery as well. Located in the heart of Charlotte, North Carolina's booming Plaza Midwood neighborhood, the McLambs had the perfect building for a brewery. Now, they just needed a brewer.
They found one in Chris Tropeano, who was brewing at Russian River Brewing Co. but longing to return to North Carolina (Tropeano, or Tropes as many call him, went to school at Wake Forest University in Winston-Salem).
They were soon building out a brewery with an emphasis on lagers, mixed- fermentation beers, and West Coast IPAs, plenty of which Tropeano brewed during his time at Russian River. A year and a half in, they've mostly stuck to that formula, though much of their success has come from hazy IPAs—which Tropeano never brewed while on the West Coast.
And oddly enough, that might explain why the brewery has made such a name for itself despite being open for just a year and a half.
"I sort of view that as an advantage," says Phillip McLamb. "You have no preconceived notions of how to brew it, and you're more willing to adapt and learn new processes."
For Tropeano, that meant tirelessly experimenting with his ingredients and processes until he landed on recipes that resonated not only with his own palate but also with drinkers in the taproom. For the most part, Tropeano says his tastes and those of the taproom visitors are in alignment.
"I think with hazy IPAs, most people are looking for something that's smooth, not astringent, that drinks soft and not very bitter, and that's very fruit-forward," says Tropeano.
To achieve that kind of profile in beers such as Laelaps (a hazy IPA) or Human Potential (a hazy triple IPA), Tropeano experimented with a variety of yeasts and adjusted the water profile in favor of a high chloride content while regulating the amount of calcium. When exploring new hops, Tropeano works them in gradually with brewery favorites, such as Citra. Perhaps not surprisingly, one of the biggest improvements as far as his hazy IPAs goes has centered on hops selection.
"I think the thing we've learned that has most affected the beer is the hops that we use," says Tropeano. "Especially in the dry hop, we're very careful about our hops these days. We'll never dry hop from an open bag of hops. Peter, the other brewer, and I will give a good smell before we dry hop. We basically just make sure that the hops we dry hop with are up to our standards. Sometimes that means not using some really expensive hops, which can be painful, but we've learned the hard way that it's not worth it."
Being picky pays off. Can releases are well attended, with locals lining up alongside out-of-towners who are visiting just to grab the latest 4-pack of cans. The brewery has quickly become a favorite among its peers as well, having collaborated with Perennial Artisan Ales (St. Louis, Missouri), Southern Grist Brewing Co. (Nashville, Tennessee), Outer Range Brewing Co. (Frisco, Colorado), and many others. The collaborations are both personally and professionally rewarding for the crew at Resident Culture.
They get to spend time with friends while witnessing firsthand how another brewery handles its brewing processes, taproom management, distribution, and more. Tropeano has several collaborations lined up over the coming months and will no doubt continue collaborating, but he does have one stipulation.
"I have an unwritten rule of not collaborating with someone whose number isn't in my phone," says Tropeano.
For Tropeano and the McLambs, relationships are the key to almost every aspect of the business. That extends not just to their fellow brewers, but also to customers and their employees as well. They are quick to credit much of their success to their seventeen employees, including their bartenders and Maryssa Pickett, whose hand-drawn illustrations bring a unique aesthetic to the brewery's cans.
"We want to do our best so that they keep working here," says Phillip McLamb. "We've basically had no turnover in a year and a half. That's one of our proudest things. People like working here, and I hope they feel we treat them well. That's really important to us."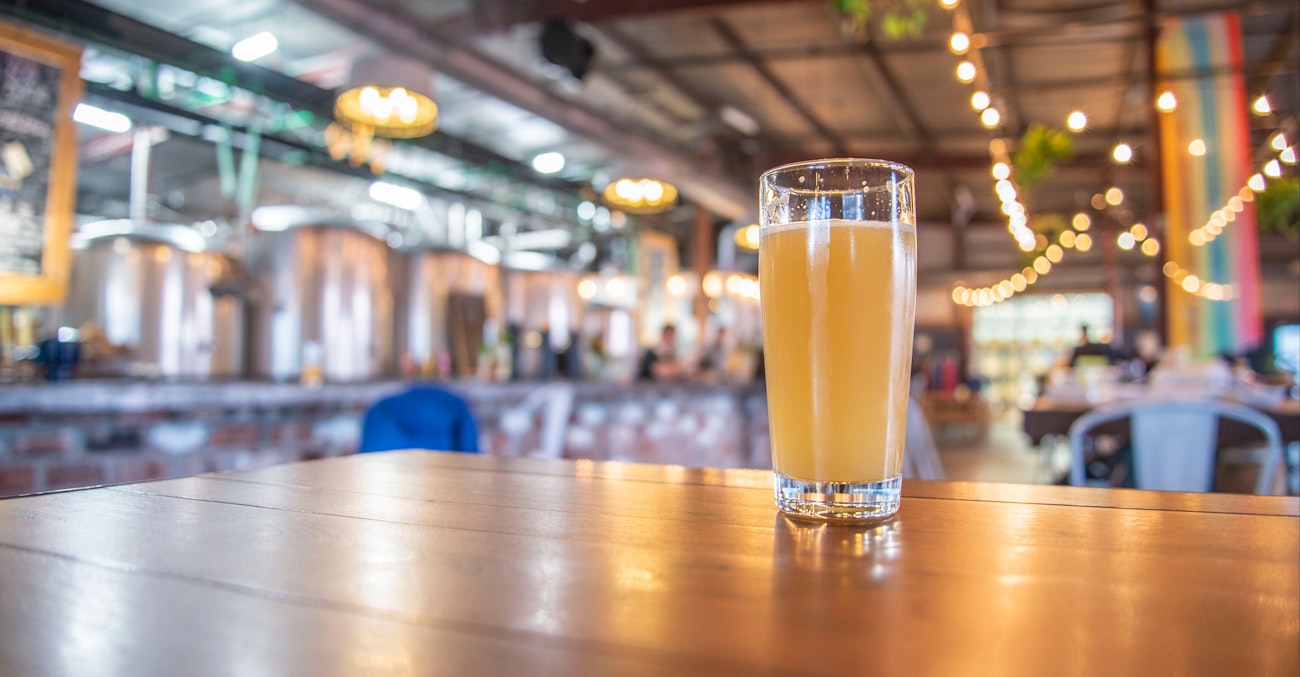 Lager Love
Friendships with people such as Ryan Witter-Merithew of Casita Cerveceria have led them to pour at festivals across the country. While the brewery's big stouts and hazy IPAs are popular at these events, it is lagers that have led them to strike up friendships with other brewers.
"I think that's part of why we've built such great relationships with other brewers," notes Amanda McLamb. "We'll go to these festivals where everyone is pouring these great high-gravity beers and huge flavor bombs, which are great and awesome to try, but you hit that 2-hour mark, and some festival goers are looking for something more refreshing or a palate cleanser. And a lot of brewers are looking to have a lager."
On any given weekend, usually one of the three will be on the road with lagers often in tow. Back home in Charlotte, the brewery's can releases regularly feature lagers alongside hazy IPAs. Like so many breweries around the country, Resident Culture's most popular and best-selling beers fall under the hazy IPA umbrella—but the brewery's lagers place second.
While Tropeano had never brewed a hazy IPA before opening Resident Culture, he had brewed plenty of lagers. Russian River is known for beers such as Pliny the Elder and Blind Pig IPA, but STS Pils is also a brewpub favorite for many.
"To this day, STS is still one of my favorite Pilsners," Tropeano says. "Vinnie [Cilurzo] has a way with hops and selecting hops. It's just a beautiful beer—super hops-forward, which is true to his style. It's just the perfect beer in so many ways." Perfect though it may be to Tropeano, he didn't want to simply replicate STS Pils in his home market. "I was looking to make more sessionable lagers, less bitter and a little more drinkable over the course of three or four beers," Tropeano says. "I also have a secret affinity for light lagers. We've been doing a pretty decent job at keeping our light lager on tap. And the Pils that we just brewed is hops-forward, but still not overly bitter."
Tropeano considers lagers as much a pleasure to brew as to drink but notes that tank capacity, lagering time, and aligning releases with other beers have presented challenges. Two new fermentors should help.
"Luckily, the demand seems to be there for lagers in Charlotte," Tropeano says. "We have a really knowledgeable community of regulars who come here, and they're all big supporters of our lagers. They're not ever going to line up for 2 hours to get a can of Pilsner, but they definitely appreciate lagers more than I expected."
Many of these lagers hew closely to tradition, but not all. The brewery has a Brett lager currently conditioning, and they also open-fermented a lager in the brewery's coolship before racking it into a "funky fermentor" usually meant for mixed-culture beers.
Tropeano's time at Russian River, where he brewed the base beer for Beatification (one of Russian River's wild, spontaneously fermented, barrel-aged beers), planted the idea for the coolship. The first in Charlotte, it can be seen through large windows in the taproom.
"It was kind of uncharted territory and also went along with our brand with Resident Culture," says Tropeano. "We're trying to represent our neighborhood through the literal culture we try to promote at the brewery, but it's also the yeast culture we use in the beer. Making a product that's true to the place is super important."
Place informs many of the beers at Resident Culture, where Tropeano has employed local fruits and harvested local yeast for the brewery's farmhouse and sour beers. But while they play with ingredients close to home, they take just as much inspiration from their time on the road.
"We're looking to the market on an international level of folks that we look up to, then nationwide, then Charlotte," says Amanda McLamb. "How do we continue pushing the envelope and fulfilling our mission as a company and as a brewery? Is this a Charlotte obstacle that we're trying to deal with? Is it omnipresent in breweries in America, or has someone found a really cool solution for it?"
That often means bringing things they've learned or seen back to Charlotte. After pouring lagers at festivals all across the nation, they now plan to host a lager festival of their own later this summer in collaboration with Witter-Merithew of Casita Cerveceria.
As for Ed McLamb? As an owner of the brewery, he can still be found in the building, which looks much different now than it used to. When the brewery first opened its doors, he was amazed to see the crowds of people filing into what was once a nondescript building, now turned taproom and beer garden.
"There isn't a harder working human than Phillip's father," says Amanda McLamb.
"Everybody who works here sees him passing through. He's always attending to something, 7 days a week. It's been so incredibly fun to watch them as father and son, to get to take a look at what this space means to both of them, and to have Phillip's dad see what this place is growing into. It's got this incredible sense of family and history and belonging. It's been an honor to be a part of that and to make this place hopefully last for another generation."