At their Hadley, Massachusetts, malt house called Valley Malt, Andrea and Christian Stanley malt between 5 and 6 tons of grain per week, between their 4-ton malting system and the floor malting operation, for breweries and distilleries in New England and beyond. They also farm about 100 acres of grain and other crops, such as black beans and popcorn, in Hadley and Northampton, Massachusetts, on their Slow Tractor Farm.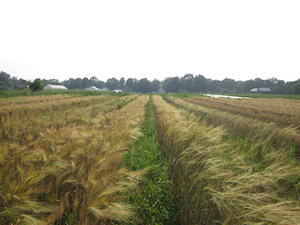 As maltsters, they serve as an inherent link between farmers and brewers, and now for the third year running, they are bringing farmers, brewers, and maltsters together for an immersive weekend of learning, brain-picking, and discussion at the Farmer Brewer Winter Weekend, taking place January 17 and 18, 2015, in Amherst, Massachusetts.
The conference is about trying to bring farmers and brewers together, as well as anyone who's interested in "what's going on in grain-to-glass," explains Andrea Stanley. This year's stacked line-up of speakers includes malting and grain scientists and professionals, farmers, and brewers, but all share a broader perspective on brewing, farming, and malting, says Stanley. "I don't think any of the people that are there are operating in a bubble. They're the people who see it in a holistic point of view; they connect the dots."
Read more about malt (the soul of beer) in Issue 3 (Fall 2014) of Craft Beer & Brewing Magazine™.
That means people like Patrick Hayes, Ph.D., a barley breeder and crop and soil scientist at Oregon State University who is interested in breeding barley varieties for craft brewers, has worked on barley flavor research with Sierra Nevada, and is well educated on farming and management practices to grow better barley, says Stanley.
John Mallett, the production manager at Bell's Brewery and author of the soon-to-be-released book, Malt: A Practical Guide from Field to Brewhouse, will be joining Stanley for a Malt Nerd's History Tour on the history of malting and brewing. He'll also be sitting on a brewers round table along with local Massachusetts brewers from Cambridge Brewing Company, Notch Brewing, Wormtown Brewery, and High Horse Brewing. The roundtable topic is practical brewing and "how to make it all actually work" in the brewhouse.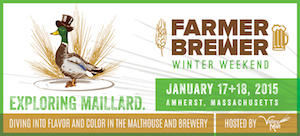 The conference is ValleyMaltFBWW.jpgdivided into an introductory and more advanced track, and this year's theme is exploring the Maillard Reaction, a browning reaction between amino acids and reducing sugars that can produce caramelization and charring in cooking and baking and adds flavor and color in malting and brewing. It will be incorporated in the speakers' talks and in the beers sampled throughout the weekend and at the conference dinner Saturday night, where they'll serve forty locally raised ducks (a play on the word Maillard) and dishes that can develop browning and caramelization.
Attendees are typically a mix of brewers, both amateur and professional, folks interested in starting a malting operation or a farm brewery and anybody who wants to learn more about any of the above. Stanley says she would like to see even more brewers attend in the spirit of a "malt school" experience.
I'd love to see more craft brewers come to the event who want to learn about malt and farming and become more acquainted . . . with those raw materials that they use."
The conference is January 17-18 in Amherst, Massachusetts, and costs $550 including Saturday night accommodations. Learn more at Valley Malt's website.