It was a sweltering day in Bozeman, Montana, when the trucks showed up to the construction site for Bunkhouse Brewery's new location. On board was a used brewing system that would be the center of the tasting room, and the gear had made a long overland journey from Destihl Brewery in Normal, Illinois. However, the toughest part of the journey would prove to be the last few meters across the parking lot.
"It took some creative rigging," Bunkhouse head brewer Alex Chocholousek says, "but we got it off the truck." The 30-foot-long mass of stainless steel was difficult to maneuver, and it began to sink into the sun-softened asphalt of the parking lot. After hours of finesse, the brewhouse trundled through the roll-up door with just an inch to spare.
That was only the most recent stop for the 10-hectoliter brewhouse that had been built at Beraplan in Munich, Germany, almost 30 years earlier.
The brewery had traveled halfway around the world and seen three decades of service. Retooled by resourceful brewers at each stop on its journey, the venerable gear has plenty of life left in it. Made largely from stainless steel, brewing vessels are durable by design. There are no junkyards filled with moldering brew kettles and disused conical fermentation vessels.
"That's the great thing about stainless," says Peter Zien, CEO and co-owner of AleSmith Brewing in San Diego. "It lives forever."
When the brewing industry is growing, there's demand for used gear. Brewers, of course, are inveterate problem-solvers, and customizing breweries is normal. Adapting business practices is just as essential to keep those brewhouses turning.
There's a friction there—between what the brewer wants to make and what the business demands be made; between the vision of the recipe and the limitations of the equipment; between the intention and the results. This friction can overwhelm a brewery, burning through capital and employees. Or, it can kindle the kind of innovation or artistry that will grow to define a brand.
It's the kind of tension that makes for good stories. Get a brewer talking about the trusty ol' brewhouse that's seen a few decades worth of brew days, and they may get downright lyrical recounting previous brewmasters and the medals they earned sweating on the same deck. Some vintage vessels seem as storied as the artifacts of Greek myth.
20,000 Leagues Around the World
Like so many brewery owners, Matt Potts of Destihl is sometimes kept awake at night by the vagaries of the beer business. Other times, the business wakes him up from a dead sleep with a problem—or a solution—that strikes like lightning. In February of 2021, Potts had one of these "4 a.m. epiphanies."
"I need to move the system out of the brewpub before the patio gets built," he remembers thinking that night in the small hours.
The system at issue was a 10-hectoliter brewery that Potts had purchased from Japan in 2006. A Japanese brewpub called Owari, near the city of Nagoya, was the brewery's first home. (I found little information about the operation, which may have folded about the time Potts found it.)
"It took up a lot of space," Potts says. Yet the setup was feature-packed. "The grain rakes are kind of what sold me on it."
The skid-mounted setup featured a combination mash mixer and kettle, a dedicated whirlpool vessel, a lauter tun, a hot-liquor tank, and a specialized cereal-cooker vessel to facilitate complex decoction mashes.
This brewhouse fueled Destihl's growth for several years before the company built a larger production facility nearby. Then the coronavirus pandemic temporarily shuttered the brewpub and changed the beer market. Post-lockdown, however, the brewpub made a comeback and was thriving. Also, the liquor laws in Illinois had changed—now, unlike before, the pub could serve the beer made at Destihl's production brewery. Potts also wanted to expand the outdoor seating with a larger patio. Moving the brewhouse out also would mean more space for indoor seating.
That's when he awoke with the realization that the only way to get the brewhouse out of the building was to take down a section of the building's wall, and that he'd have to do it before the patio was built. That realization expedited the globe-trotting brewhouse's next move, 1,300 miles away to Bozeman, Montana.
"We found it on ProBrewer," Chocholousek says. "Matt's description was telling. You could sense how much he loved it."
It took a few months to finish construction of the new Bunkhouse taproom, but by spring of 2022 the venerable brewhouse was running again. The documentation may largely be in Japanese—along with the labels for many of the switches and buttons on the control panel—but thanks to the pathfinding (and some selective translations) done at Destihl, the new-to-Bunkhouse system unlocks many possibilities.
"It is an over-engineered brewpub system with all the bells and whistles," Chocholousek says, "and now we've got it running like a top."
It's also a system designed to brew lager. Chocholousek's own preferences lean toward lagers and Old World styles, and he hopes the new location will give him the opportunity to explore these beers and all the decoctions they require. "I want to unlock the mystery of German malt character," he says.
Chocholousek is working to write new standard operating procedures for the brewery, with a focus on improving the quality and repeatability of his brews. While the brewhouse is more complex to run, he says it's actually easier to train new brewers on how to use. "It sets you up for success," he says.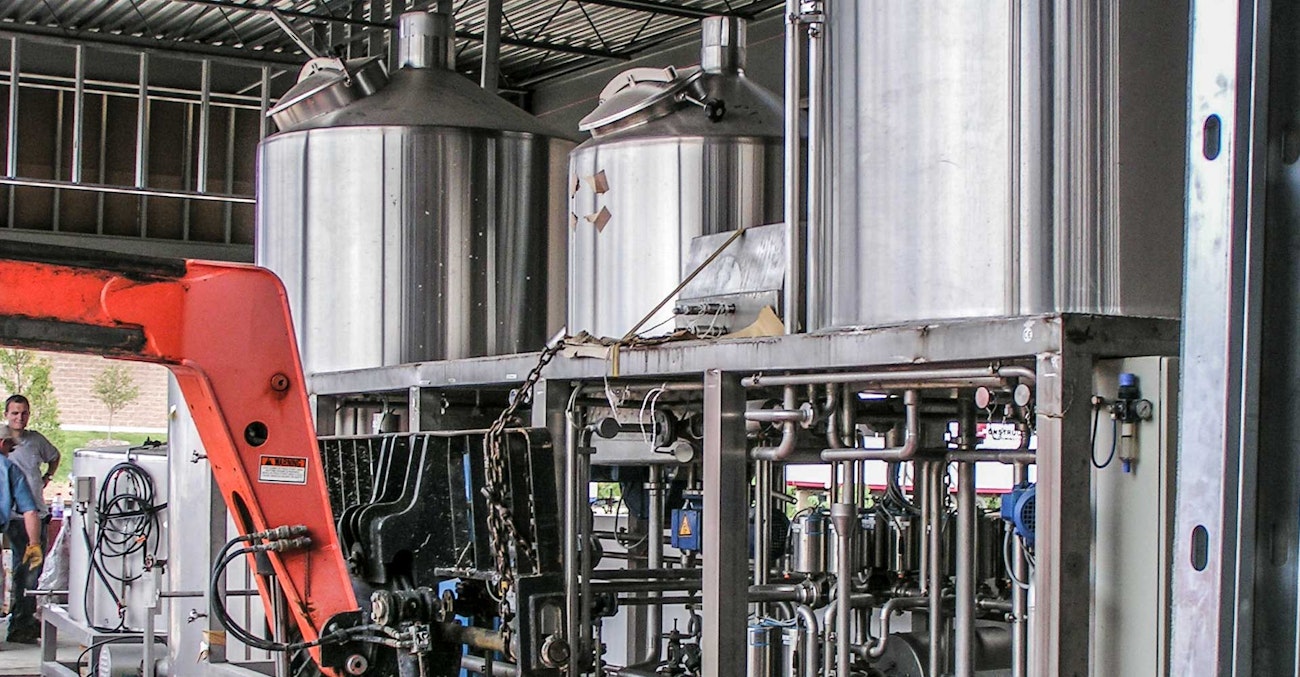 If It Ain't Broke
"If I don't make good beer, at least I'll know it isn't the equipment's fault." Those were Jeremy Raub's thoughts, he says, while he was writing a check to buy the original brewing system from San Diego's seminal AleSmith Brewing.
That was 2008, when there were no craft breweries operating within the sprawling Los Angeles city limits. Raub was ready to go from homebrewer to pro and work to open Eagle Rock Brewery in Northeast L.A.
He was buying a system cobbled together in the mid-'90s from modified dairy equipment, an invention of necessity at a time when new brewing equipment was hard to find. "There were a lot of breweries opening in 1995," says Skip Virgilio, AleSmith's cofounder. That meant long lead times for new brewing equipment. "We found a brewery in Denver that used modified dairy tanks, and we modeled our system after theirs," he says.
Sourced and modified by Dairy Engineering in Denver and customized by Virgilio and his partner Ted Newcomb, the brewery used a dairy pasteurizer as the kettle and open-topped bulk storage tanks for the mash tun and fermentation vessels. It was very DIY, very manual, and very home-brewery inspired. Yet AleSmith used that system to help define the San Diego scene. Highly accomplished homebrewer Peter Zien bought AleSmith from Virgilio and Newcomb in 2002, and he learned to leverage the system's quirks to amplify AleSmith's signature "hand-forged ales." Later, in 2008, he upgraded the brewery to a 30-barrel system made by Premier Stainless Systems.
"That old kettle was the secret to some of our most popular beers," Zien says.
The bottom of the repurposed steam-fired kettle could be preheated independently, allowing for some caramelization of the first runnings off the mash tun. The added complexity of the caramelized wort elevated certain styles. The Belgian-inspired Horny Devil was an obvious candidate for the extra Maillard reaction, but classics such as Speedway Stout and even Anvil ESB benefitted from the added depth—and they were hits with drinkers and competition judges. After the AleSmith brewhouse upgrade, Zien says he found it "hard to get some of the signature beers dialed [in]" without the added caramelization.
AleSmith ran the dairy-tank setup for 13 years before sending it north to Los Angeles, and Eagle Rock is still turning out batches with that mash tun and kettle—another 13 years later—with no plans to upgrade. It fits Eagle Rock's family-business, neighborhood-brewery feel.
"It isn't much different from mashing in an Igloo cooler," Raub says. "It's single-infusion only; we can't do decoction or involved mash schedules. It forces us to simplify our approach."
Former Eagle Rock head brewer Erick Garcia says he doesn't miss how hands-on the system was—especially during grain out—but all that manual brewing fostered good brewing habits.
"You have to focus on the process," Garcia says. Find the shortcomings and challenges of the system, develop ways to address them, and then document the procedures.
In 2014, the AleSmith crew had the chance to revisit the old system when Eagle Rock hosted them for a collab brew day when they made—what else?—a milk stout called Dairy Tank.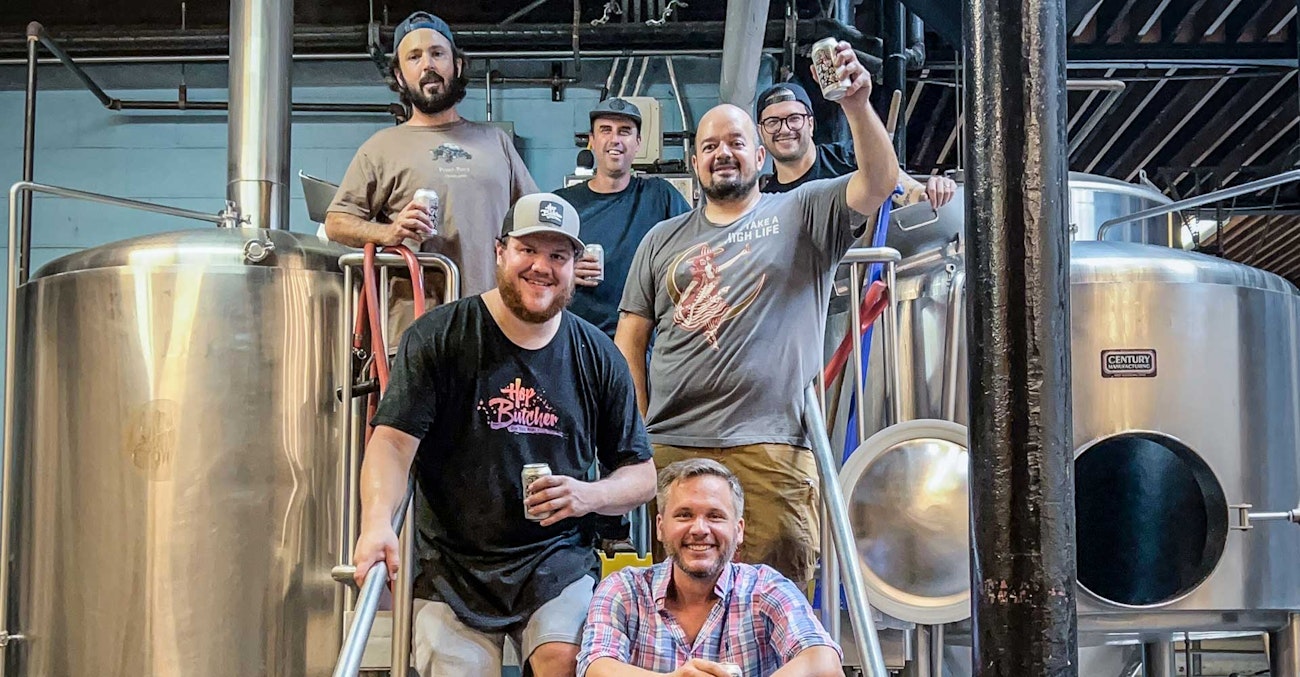 The Workhorse
Sometimes, a brewhouse doesn't change locations when it changes hands, as is the case with Chicago's Hop Butcher For The World and the 30-year-old kit at the heart of their Lincoln Avenue tasting room.
Launched in 2015, Hop Butcher started by contract brewing or renting fermentation space at Chicagoland breweries. As the trendy, hop-focused brews caught on with the locals, cofounder Jeremiah Zimmer started looking for a home base.
In 2020, the production facility of 5 Rabbit Cervecería—one of Hop Butcher's partners in an alternating proprietorship—hit the market, and Zimmer pounced. Meanwhile, Chicagoland luminaries Half Acre decided to move on from their original brewpub to consolidate production at their larger facility a couple of miles north. The opportunity to showcase the Hop Butcher brews at their own taproom was irresistible, and Zimmer found himself closing on two new acquisitions almost simultaneously.
The 15-barrel brewhouse, built by the now-defunct Century Brewing Systems in the early '90s, was first operated by Utah's Uinta Brewing. I couldn't confirm details about the gear's history in Utah, but after almost a decade of service there, the Century system found its way to Ska Brewing in Durango, Colorado, in 2002.
Ska cofounder Dave Thibodeau calls the brewery a "workhorse" that they pushed hard for six years. "We probably did four or five turns a day on it," he says. "Twenty turns a week for six years means we brewed 5,000 batches on it." In 2008, Ska moved into a larger production facility and decided to resell the Century brewery.
Word got out. "I don't remember how we found out about Ska's brewhouse," says Gabriel Magliaro, cofounder of Half Acre, "but we jumped on it." In August of 2008, a crew of brewers from Half Acre turned up in Durango to get a quick lesson on the brewery and help decommission it and pack it for shipping. "It was a lot of work, but a lot of fun to hang with the Ska guys and drink beers and talk about brewing."
These two breweries would recapture that spirit of camaraderie a few years later, when the Ska team visited Chicago for a collaboration brew. Celebrating the 25th anniversary of the Century brewery's manufacture date, the Old Century imperial nut brown ale was an up-sized version of Buster Nut Brown Ale—an old Ska favorite that had been brewed hundreds of times on the system.
Like Thibodeau, Magliaro also calls the setup "a workhorse," and Half Acre didn't let up on Ska's furious brewing pace. "Ska put a lot of miles on it, and we put a lot of miles on it. We made a crazy amount of beer on that 15-barrel brewhouse." He estimates that Half Acre made more than 5,000 batches at Lincoln Avenue before pandemic lockdowns led Half Acre to move all its brewing to their larger, more automated production facility.
Hop Butcher hasn't hit their production stride on the system yet. When I speak with Zimmer, he's preparing for just the third brew at the rebranded Lincoln Avenue tasting room. "It was basically turnkey," Zimmer says, regarding the learning curve, "and the Half Acre guys have been really helpful." Half Acre head brewer Matt Gallagher was present for the first brew day, and his team also helped Hop Butcher adjust their recipes for brewing on the three-decade-old brewhouse.
"The market expects Hop Butcher to push boundaries, and the [taproom] gives us the opportunity to take a lot of swings, and to take bigger risks," Zimmer says.
Vessels Filled with Stories
The gear at each of these brewhouses has been tweaked and adjusted by all the brewers who've worked those decks, and each brewery is influenced by the capabilities and idiosyncrasies of the unique equipment. It's a feedback loop that brings something indefinable to the beer made on these distinguished systems.
And there are countless examples of these stories of symbiosis and the artistry that results from constraints, and each story leads to a better understanding (and appreciation) for the final product.
Next time you're on a brewery tour, ask about the equipment's provenance and see if you can't hear the echoes in the beer.