The "Love Handles" department in Craft Beer & Brewing Magazine® is devoted to great beer bars. Here are the 15 beer bars where you'll find local classics and some great bottle lists.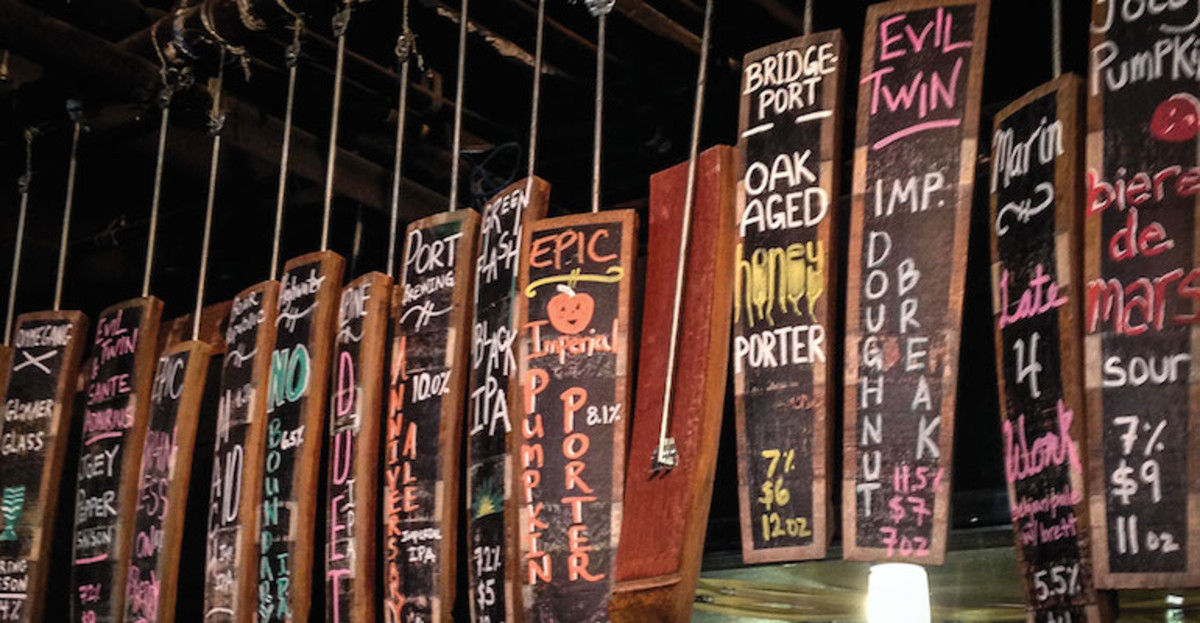 City Beer Store (San Francisco, California)
A world-class selection of craft beer that you can mix and match in a six-pack and a friendly taproom with alluring beers.
What it is: As lovers of fine food and fine beer, the founders of City Beer Store, Craig and Beth Wathen, often wondered about the lack of a beer-specific retail store and tasting bar in their much-loved city of San Francisco. City Beer Store opened in May 2006. The Wathen's vision was to create a friendly community gathering spot to sip a beer while you browse the shelves. They believe that each customer deserves a unique individual shopping encounter, and they work closely with the staff to provide this experience. They continue to source and seek out the finest offerings for the City Beer Store community.
Why it's great: As you walk through the door of City Beer Store, you are struck by its unique approach to craft beer. There is a welcoming bar area with a friendly, laid-back vibe. That said, you are also drawn to the rare selection of bottled beers in the retail-store section. This store has a world-class selection of craft beer that would make the most geeky beer geek perk up with intrigue, while the taproom is equally alluring with beers such as Jolly Pumpkin Bière de Mars, Evil Twin Imperial Doughnut Break, and hard-to-find local brews such as Late for Work from Marin Brewing. — John Bolton
Hours: Noon–10 p.m. daily.
Address: 1168 Folsom St., Ste. 101, San Francisco, CA
Web: citybeerstore.com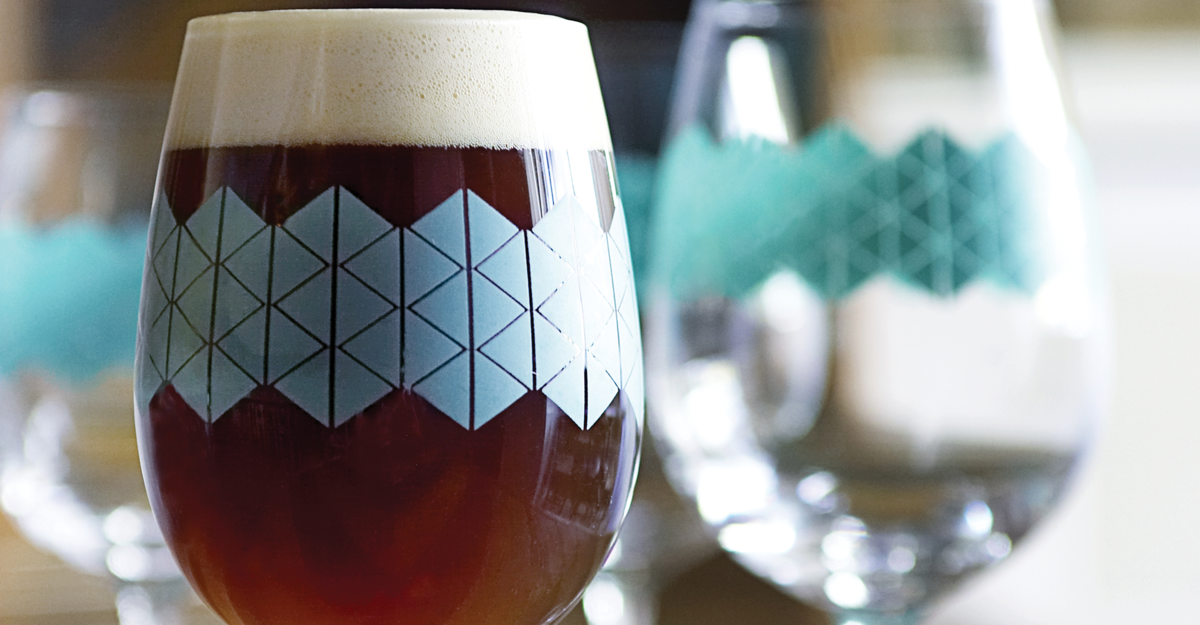 Tørst (Brooklyn, New York)
Creative tap list? Check. Gorgeous interior? Check. Friendly bartenders who love to guide your adventure in beer? Tørst delivers on all counts.
What it is: The brainchild of Evil Twin Brewing impressario Jeppe Jarnit-Bjergsø, this relative newcomer to the NYC beer scene has quickly established itself as one of the best places for hard-to-find craft beer in the United States. Located in perpetually up-and-coming Greenpoint, it's just far enough off the beaten tourist path to insulate it from gawkers, but only a quick walk from the L train in Williamsburg.
Why it's great: I've spent many nights in the city's best craft-beer haunts across the boroughs, but my first time in Tørst was eye-opening. Here's a bar that looks every bit as cool as the hippest TriBeCa lounges, but the bartenders are friendly and engaged, and the beer selection is remarkable and well-curated with a focus on the best U.S. and European artisans. On my last visit, bartender Fernelly Sarria offered a head-to-head sampling of Westbrook Gose on draft and in a can (the can won out in our blind tasting), and the bar's self-described accountant was pouring copious samples. It's cool without being alienating, with a tap list that you could only put together with Jeppe's rolodex. It's a must-visit whenever I'm back in NYC. _—Jamie Bogner _
Hours: Noon–midnight Sunday–Wednesday, noon–3 a.m. Thursday–Saturday.
Address: 615 Manhattan Ave, Brooklyn, NY
Web: torstnyc.com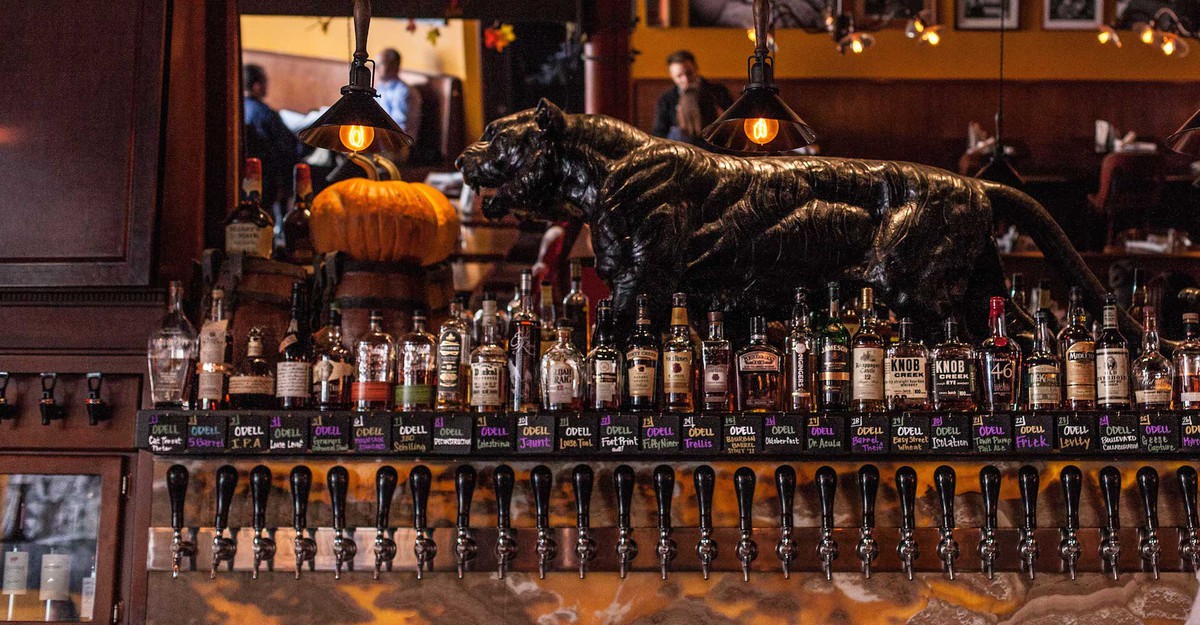 Bittercreek Alehouse (Boise, Idaho)
A super cellar in low-key Boise
What it is: Boise probably isn't the first place you think of when it comes to western U.S. beer cities, but this gastropub is making a convincing argument that it deserves consideration. With thirty-nine options on draft, a completely stacked cellar, and a thoughtful menu that includes the likes of duck confit poutine and käsespätzle, Bittercreek Alehouse checks all the boxes and then some.
Why it's great: One look at the expertly chosen draft and cellar lists at Bittercreek makes it obvious that Proprietor Dave Krick knows beer. In fact, most beer geeks will spend the majority of their time with their noses buried in the page-turner of a beer menu. While the draft list includes the one-two punch of Pacific Northwest and Rocky Mountain options (with the likes of Double Mountain and Odell barrel-aged obscurities), it also has a good representation of carefully selected offerings from the growing local brewing scene. But it's the cellar list that's the real draw. Not only is it super deep, but the laid back nature of the Boise crowd has allowed bottles such as 2010 Drie Fonteinen Gueze and various Batch #1 bottles from Anchorage Brewing Co. to still grace the pages—and at a fraction of the cost you'd expect. —Patrick Dawson
Hours: 11:00 a.m.–1:00 a.m. Monday–Thursday, 11:00 a.m.–2:00 a.m. Friday, 8:30 a.m.–2:00 a.m. Saturday–Sunday
Address: 246 N 8th St., Boise, ID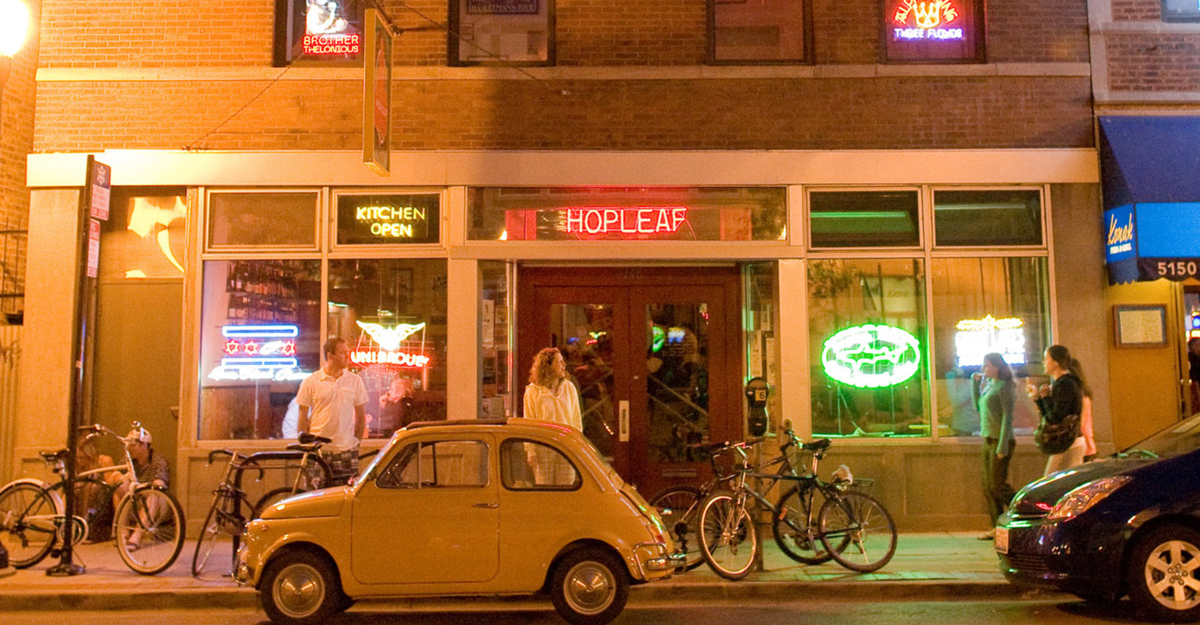 Hopleaf Bar (Chicago, Illinois)
A slice of Belgium in North Chicago. Get there early. Stay all night.
What it is: Known simply as Hopleaf, Michael and Louise's Hopleaf Bar is a legendary beer bar with a focus on Belgian beers and food. This outstanding gastro-pub is located in the Andersonville area of Chicago (north of downtown). Open late (3 a.m. on Saturdays), Hopleaf has more than forty beers on tap and more than 250 bottles from which to choose. Hopleaf opened in 1992 and started serving food in 2003, making it one of the first gastro-pubs in America.
Why it's great: Expect not to get your first beer for at least fifteen minutes because that's how long it's going to take you to choose from their massive selection of killer beers. Generally reliable for having Zombie Dust on tap, Hopleaf serves up many hard-to-find beers regularly. Despite its rapidly growing notoriety, Hopleaf has retained its local neighborhood vibe. With a charming beer garden and arguably the best steamed mussels in all of Chicago, Hopleaf has great ambience in addition to great Belgian food and world-class beers. Be warned, however—no kids allowed. —Steve Koenig
Hours: Bar is open 12 p.m.–2 a.m. Sunday–Friday, 12 p.m.–3 a.m. on Saturday. Lunch is served at noon. Dinner hours vary.
Address: 5148 North Clark St., Chicago, IL
Web: hopleafbar.com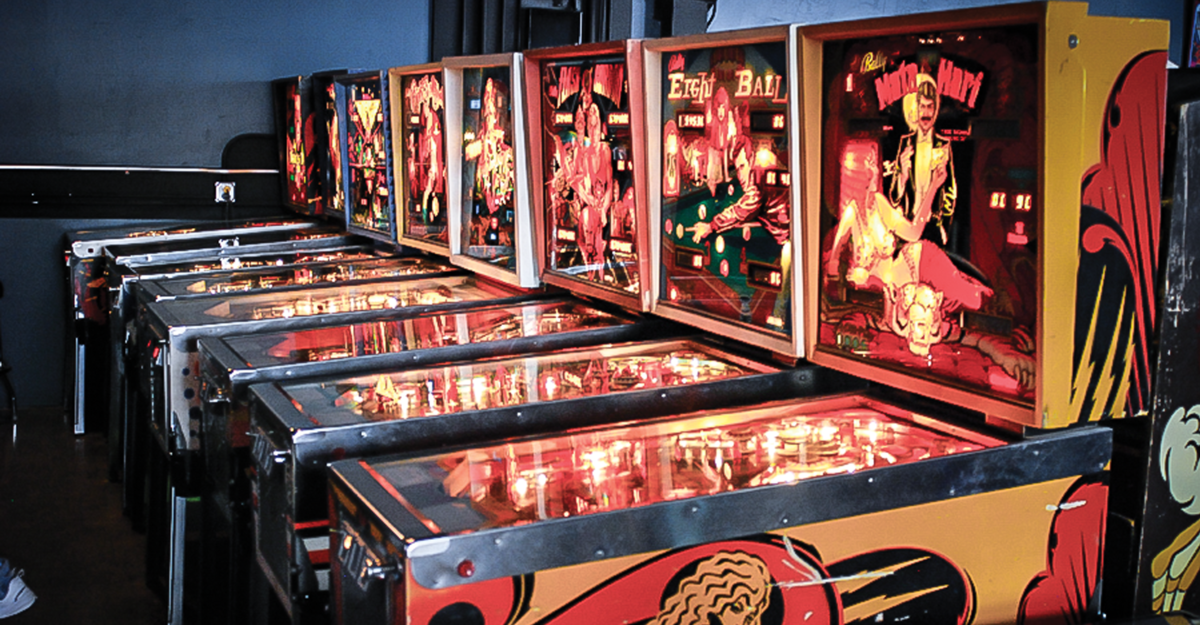 Blairally Vintage Arcade (Eugene, Oregon)
Vintage pinball arcade meets great craft beer tap list. What more could you ask?
What it is: Formerly the home of Ninkasi Brewing Company's studio for the Top Secret Records label, Blairally Vintage Arcade is a hidden gem of a beer bar tucked behind the brewery on Blair Boulevard in Eugene, Oregon. This spacious barcade, which is devoted to preserving, restoring, and sharing vintage gaming with the community, boasts one of the town's best tap lists, with selections from Oakshire Brewing, Hop Valley Brewing, and of course, Ninkasi, among many others.
Why it's great: Blairally offers craft beer without any fluff. Practically a dive bar, these darkened digs are a gamer's heaven with some seriously rare machines, such as Space Mission 1976, Strikes and Spares 1977, and Flash Gordon 1980. If, like me, you're more into the brews than the scores, you are bound to find a fellow craft-beer lover posted up by the taps. —Emily Hutto
Hours: 4 p.m.–2 a.m. Monday–Friday, 2 p.m.–2 a.m. Saturday–Sunday.
Address: 245 Blair Blvd., Eugene, OR
Web: blairally.com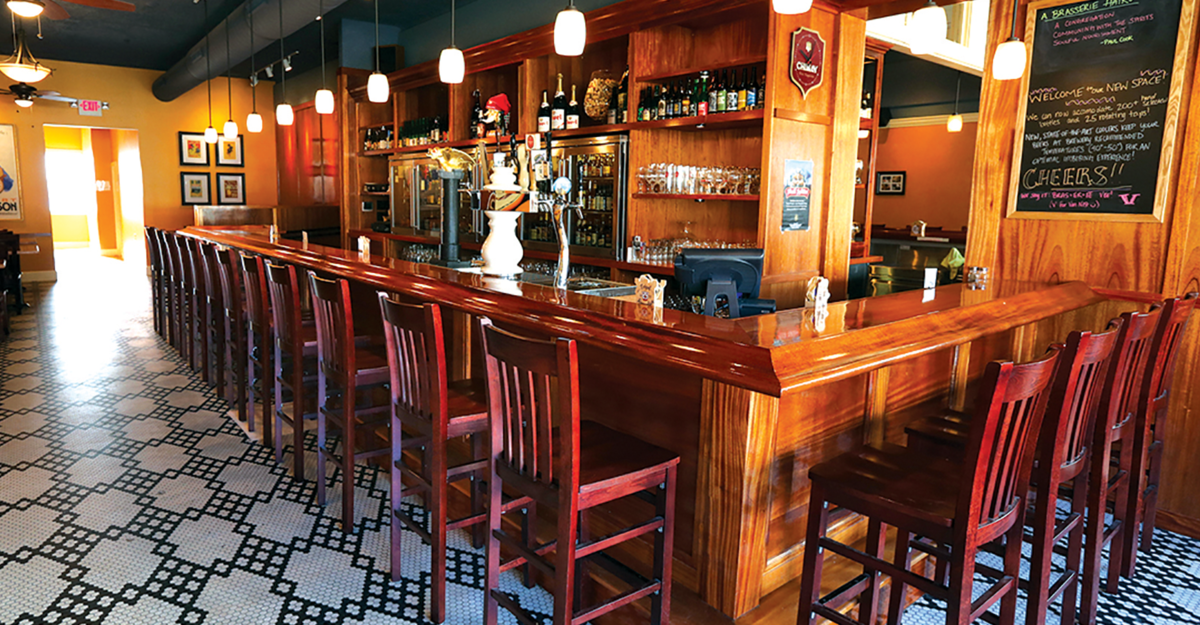 Brasserie V (Madison, Wisconsin)
The Badger State's ode to the Belgian brown café
What it is: The world's most fervent beer lovers are quite possibly Belgians and Wisconsinites, so it's no surprise that this cozy Madison-based Belgian bistro has been a huge hit with thirsty locals. With twenty-six constantly rotating taps and an ever-growing bottle list (and vintage cellar) to pair with Midwest-influenced Belgian cuisine, Brasserie V is becoming one of the top spots in this beer-drenched state.
Why it's great: From the spot-on moules et frites (mussels & fries) to the quaint checkered tile flooring, proprietors Matt and Andrea Van Ness have paid attention to every detail to achieve Brasserie V's unmistakable Belgian feel. The beer selection is Belgian-heavy, and a typical tap list may include selections from De Ranke, Dupont, St. Bernardus, and Val-Dieu, but there's also variety with top-notch American offerings such as Toppling Goliath and Stillwater. The bottle list hovers around 300 carefully chosen beers and like many Belgian brown cafés, offers Orval both fresh and one-year old. An extensive glassware selection maintains the authentic vibe and bottle coolers are kept at 46°F (8°C), letting patrons enjoy their beers right away. Only about thirty minutes away from New Glarus, Brasserie V is worth seeking out on your next Midwest trip. —Patrick Dawson
Hours: 11 a.m.–11 p.m. Monday–Thursday, 11 a.m.–midnight Friday–Saturday, 4 p.m.–10 p.m. Sunday
Address: 1923 Monroe St, Madison, WI
Web: brasseriev.com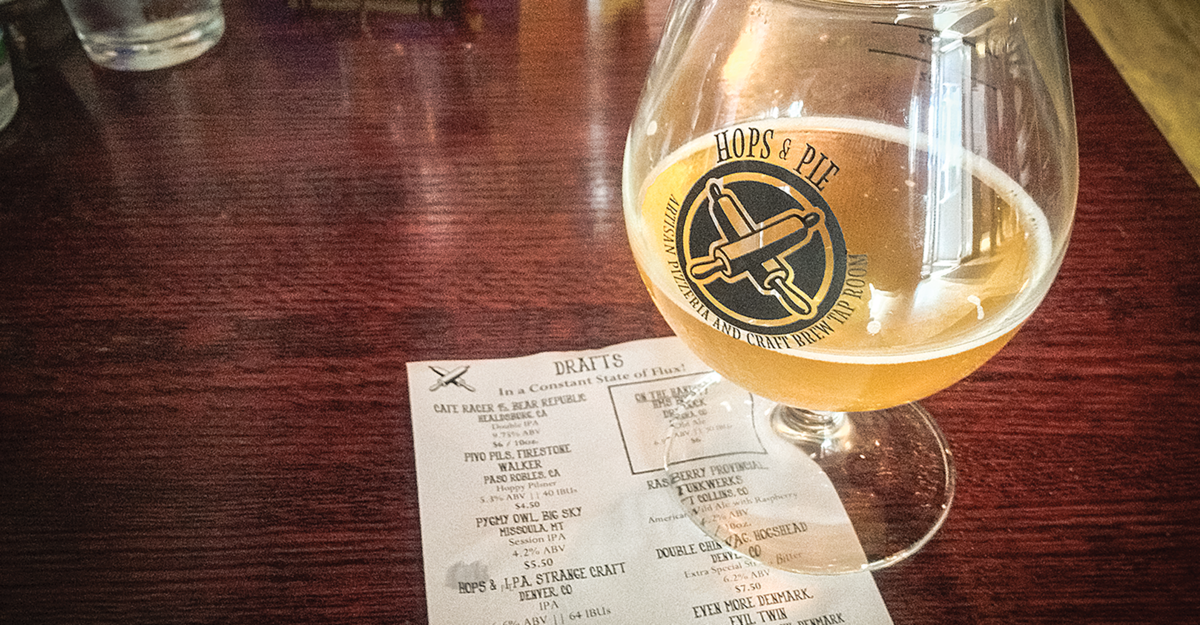 Hops & Pie (Denver, Colorado)
Denver's littlest big wild and sour beer bar
What it is: Hops & Pie is a neighborhood craft-beer and pizza joint that eschews huge tap lists for a tightly curated, but killer, lineup of some of the best beer available in Colorado. The pizza is creative and well priced (their pizza dough is made with beer), the beer list spans the craft spectrum, and the service is friendly and unpretentious. Its character changes from a casual family-friendly spot in the afternoons and early evenings to a serious beer bar as the night progresses.
Why it's great: You can find bigger tap lists in Denver, but you won't find another spot that routinely makes Denver critics' top beer and top pizza lists. The friendly neighborhood vibe carries through inside Hops & Pie, where they serve a world-class lineup on draft and in bottles. If the twenty or so taps don't include something you want, open up the "Beer Keeper" on your table and dive into the reserve list of hard-to-find, rare, and vintage beers. High volume means the beer is always fresh and constantly rotating, with new tappings announced on their Facebook page. Their tight relationships with brewers and distributors in Colorado ensure access to all of the hottest new releases (think Russian River, Prairie, Crooked Stave, Jolly Pumpkin, and the like). Hops & Pie is a must for beer fanatics visiting Denver. —Jamie Bogner
Hours: 11:30 a.m.–10 p.m. Tuesday–Thursday, 11:30 a.m.–11:00 p.m. Friday, 12 p.m.–11 p.m. Saturday, 2 p.m.–9 p.m. Sunday
Address: 3920 Tennyson St, Denver, CO
Web: hopsandpie.com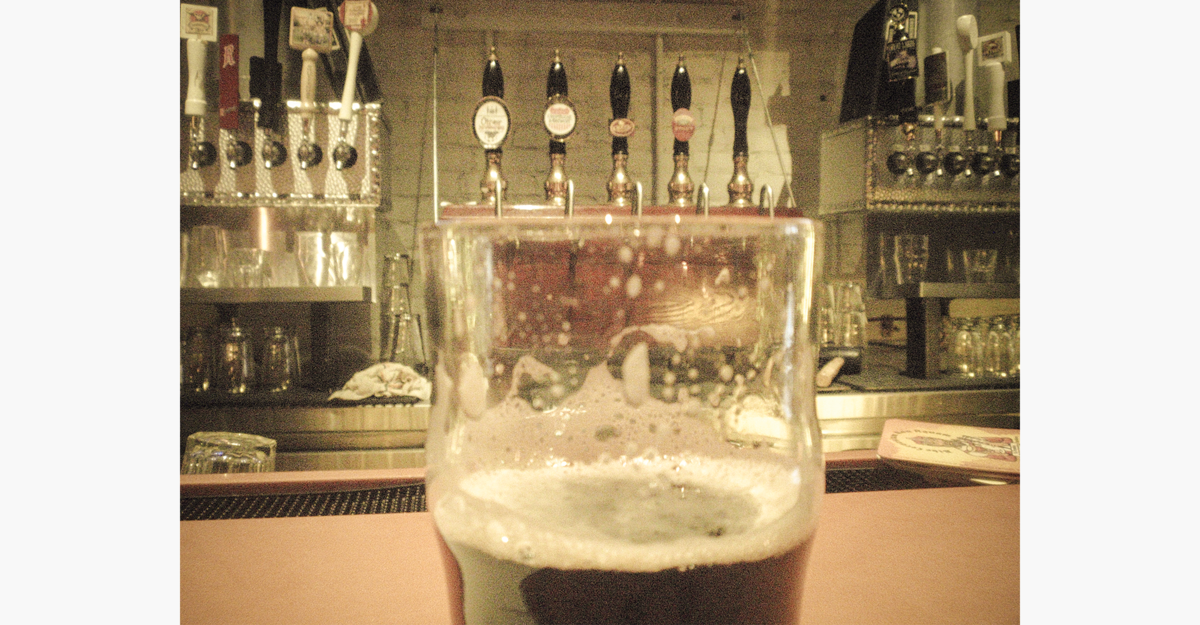 ChurchKey (Washington, D.C.)
The capital's monument to world-class beer curation
What it is: ChurchKey is a top-shelf beer bar whose selection rates among the best on the planet for maximizing the great and the unusual from around the world. ChurchKey and its downstairs restaurant, Birch & Barley, share a cellar of 500 bottles, but eyeballs first go to those fifty draft lines plus five cask handpulls. The menu organizes them by flavor category—Hop, Roast, Tart and Funky, and so on—with an eye toward pairing with the menu's chef-driven fare. High-quality but unpretentious bar snacks are available upstairs, with more involved multi-course beer-pairing life experiences possible in the dining room below.
Why it's great: Super-geek beer director Greg Engert has that rare combination of deep knowledge and a gift for explaining it in a way that anyone can understand, which is why Food & Wine magazine named him one of the country's top sommeliers. Notably, he also has the purchasing power to procure the strange and interesting. As partner in the D.C.-area's Neighborhood Restaurant Group, Engert is filling up the refrigerators of sixteen restaurants and bars, each with unique beer cards with the power to inspire envy. Both Engert and pastry chef Tiffany MacIsaac have been nominated for James Beard awards in recognition of their work at Birch & Barley. —Joe Stange
Hours: 4 p.m.–1 a.m. Monday–Thursday, 4 p.m.–2 a.m. Friday, 12 p.m.–2 a.m. Saturday, 12 p.m.–1 a.m. Sunday.
Address: 1337 14th St NW, Washington, D.C.
Web: churchkeydc.com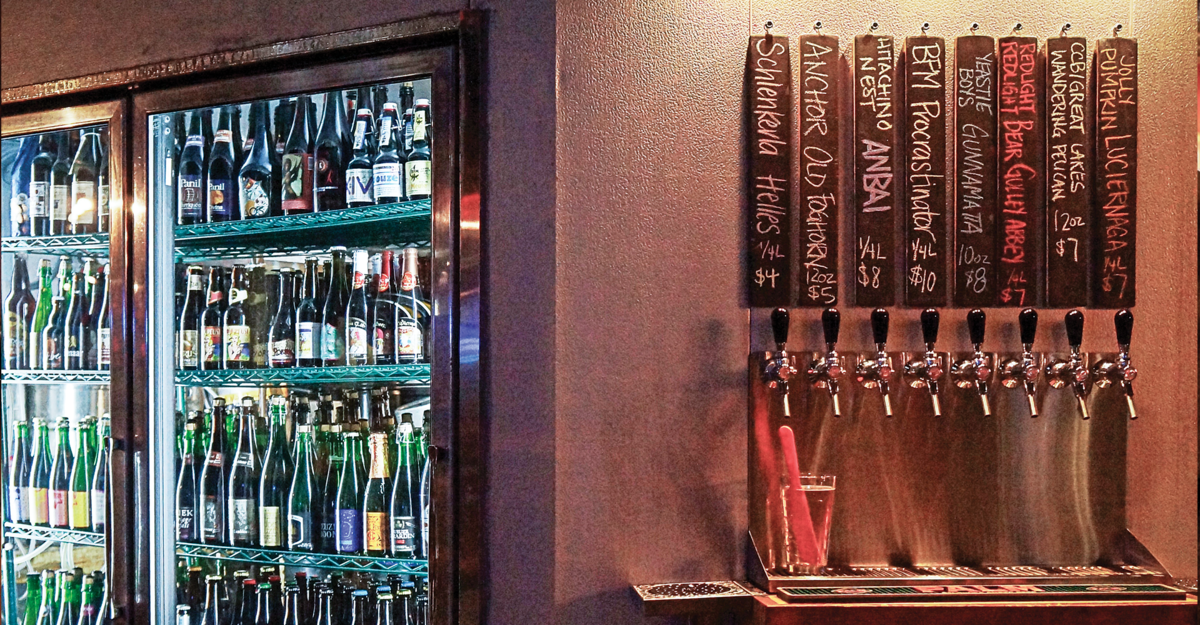 Redlight Redlight (Orlando, Florida)
A voluminous beer hall in the hip Audobon Park neighborhood that caters to locals and beer tourists alike.
What it is: Redlight Redlight is the place that beer fanatics from around Florida have gravitated to since 2005, thanks to its tremendous international tap list and exclusive beers from the growing Florida craft-beer scene. In addition, they've recently made the jump to brewing, with a nano-system on the mezzanine.
Why it's great: Redlight Redlight's tap list routinely includes names such as Boon, Kulmbacher, De Ranke, Weihenstephaner, Hitachino, and St. Bernardus in addition to Florida locals such as Cigar City, Funky Buddha, and Swamphead. Their extensive and well-curated bottle list includes hundreds of offerings, plus a growing list of cellared "vintage" beers (think older guezes, stouts, barleywines, etc). The staff knows beer and is happy to guide your selection without pretension, and they're open until 2 a.m. even on weeknights. On top of all that, they're part of a cluster of creative businesses, including Park Ave CDs and Stardust Video & Coffee, that make the neighborhood an interesting destination even for those just visiting. —Jamie Bogner
Hours: 5 p.m.–2 a.m. daily.
Address: 2810 Corrine Dr., Orlando, FL
Web: redlightredlightbeerparlour.com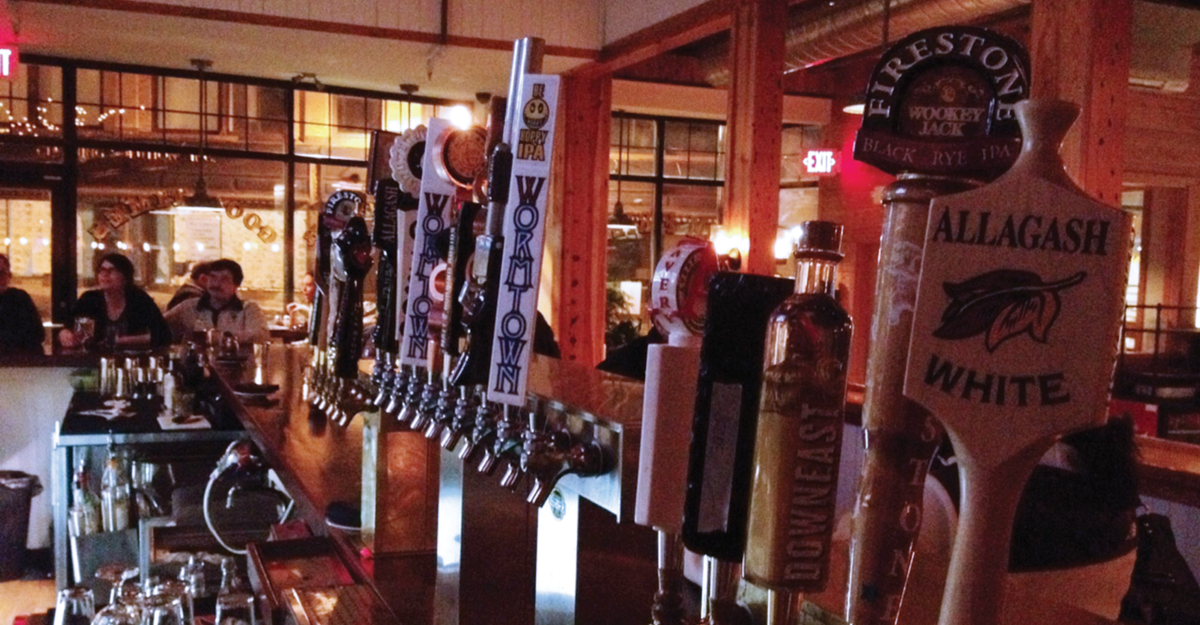 Rail Trail (Hudson, Massachusetts)
This cozy restaurant and bar in the Boston 'burbs is packed with locals there for the American fare and the top-tier tap list.
What it is: With a wood-fired oven pumping out flatbreads and a menu heavy on comfort food, Rail Trail could be confused with any number of run-of-the-mill suburban eateries, but the beer selection is part of the reason it remains packed even on weekday nights with a passionate crowd of smart craft-beer fans. Owners Michael Kasseris and Karim El-Gamal built that wood-fired oven with their own hands, and the same care and attention is paid to the thoughtful draft and bottle list.
Why it's great: It's a not-so-hidden gem in the sleepy suburb of Hudson, Massachusetts, but they take their craft beer seriously. My taste runs the gamut—from IPAs to sours, barleywines, and stouts—but no matter my mood I've always found a creative selection on tap and menu items that pair effortlessly. On a recent visit, I worked my way through pints of Tramp Stamp by Clown Shoes, Red Rocket Ale by Bear Republic Brewing Co, Black (2013) by Allagash Brewing Company, and Crooked Tree IPA by Dark Horse Brewing. On my visits to Massachusetts, I always create an excuse to meet friends for lunch, dinner, or just a few beers at Rail Trail. _—John Bolton _
Hours: 11 a.m.–11 p.m. Monday–Thursday, 11 a.m.–1 a.m. Friday–Saturday, 11 a.m.–10 p.m. Sunday.
Address: 33 Main St, Hudson, MA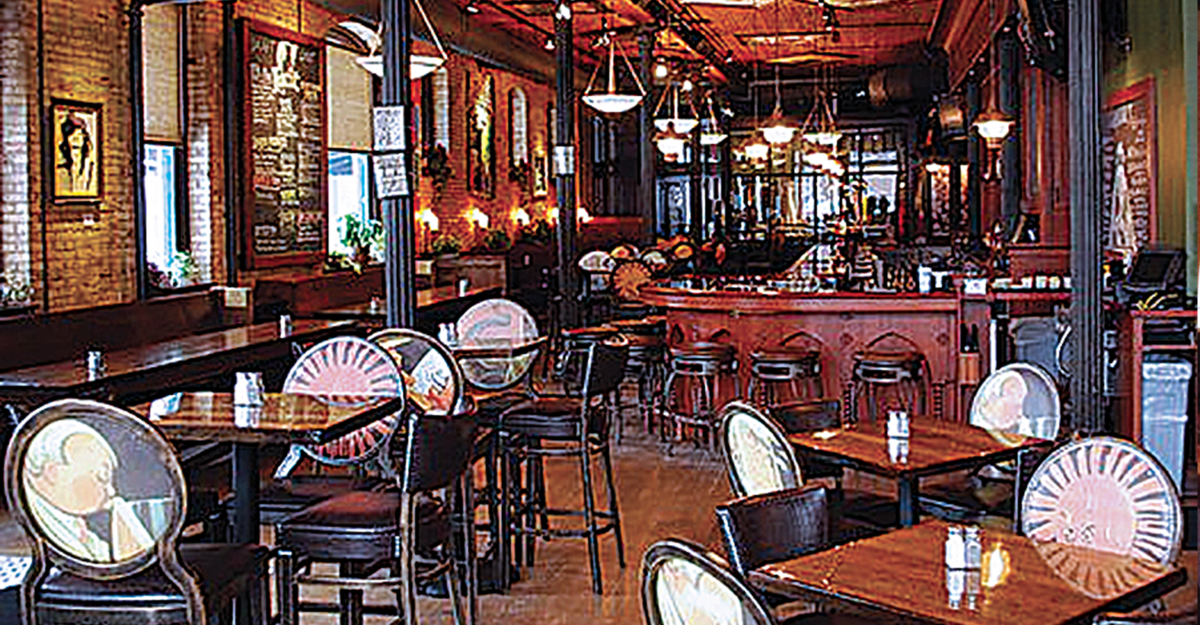 HopCat (Grand Rapids, Michigan)
This classic destination in 2013's Beer City USA is renowned for its expansive and exclusive tap list plus clever food pairings.
What it is: HopCat is one of the world's top-rated beer bars in one of America's preeminent brewing towns. Just a stone's throw from the brewing greatness of Founders Brewing Company and Brewery Vivant, HopCat offers a world-class selection of craft beers and brews up some pretty damn good beers of its own.
Why it's great: You might as well arrange a cab ride home before you even walk in the door. HopCat has about fifty handles running at a time and a bottle selection so seductive it makes me blush. The focus is on fresh, local craft beers, and a quick conversation with the expert staff will have you happily hoisting a phenomenal beer likely made just a few miles from your seat. The menu is also to die for, with dishes that are designed to be paired with craft beers of all styles and strengths. I recently had The Grand Royale—a huge sloppy joe, complete with jalapeños, smothered in beer cheese, and served with a steak knife because there's no way you can pick it up. To drink? A Dirty Bastard Scotch Ale draft from Founders. Giddy up. _—Stephen Koenig _
Hours: 11:30 a.m.–2 a.m. Monday–Saturday, 12 p.m.–2 a.m. Sunday.
Address: 25 Ionia Ave SW, Grand Rapids, MI
Web: hopcat.com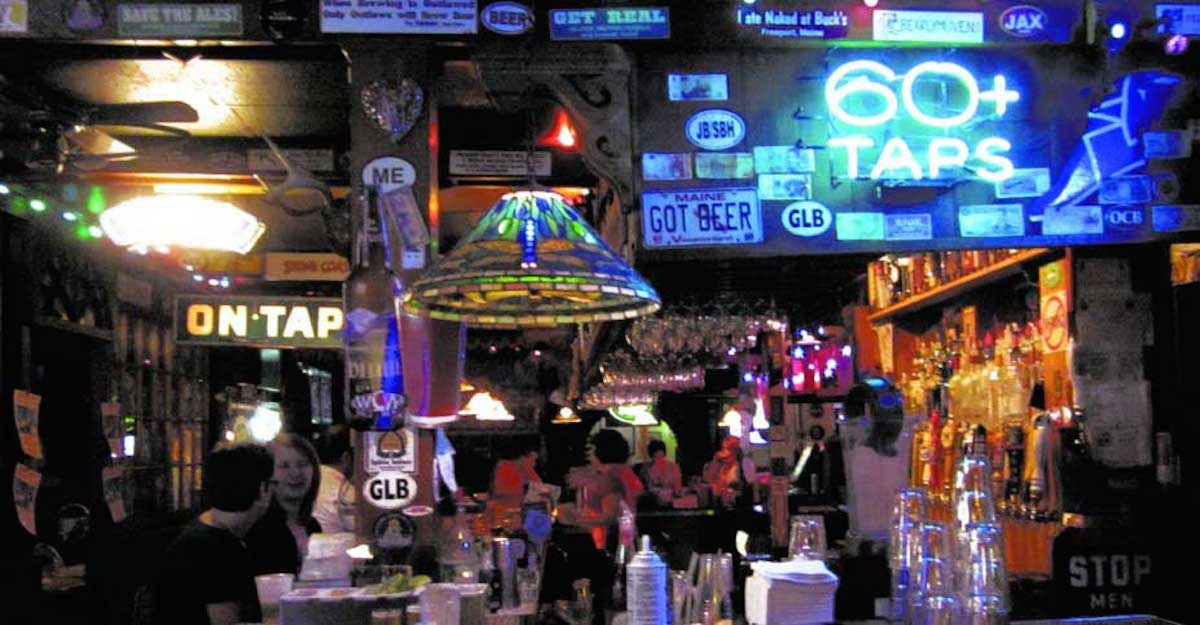 The Great Lost Bear (Portland, Maine)
An old-school beer bar with the best of Maine's beer scene on tap
What it is: The Great Lost Bear has been slinging beer since 1979, earning its reputation as a Portland institution and a haven for craft beer. Of the seventy-eight taps, most are pouring New England beers, and the highlights are from Maine's great brewers—from classics such as a Gritty McDuff's Black Fly Stout or an Allagash Curieux to the latest hoppy offering from the buzzed-about Bissell Brothers Brewing. The food menu is equally extensive and delicious; paper ephemera and old photographs hang throughout the spacious bar and dining room; and there's almost always a pint deal or special event going on any night of the week.
Why it's great: A trip to the Bear feels like seeing an old good friend with whom you haven't talked in years; you can pick up right where you left off without missing a beat, and first-timers and thirsty travelers will feel at home in no time. It's entirely unpretentious, but they take their beer seriously, and with their extensive and constantly rotating selection, it's the best spot in town to try a beer from a new brewery, make an unexpected discovery, or indulge in a hearty plate of nachos, a few rounds of Oxbow Farmhouse Pale Ale, and get pulled into conversation with the friendly, devoted locals. —Heather Vandenengel
Hours: 11:30 a.m.–11:30 p.m. Monday–Saturday, Noon–11 p.m. Sunday
Address: 540 Forest Ave., Portland, ME
Web: greatlostbear.com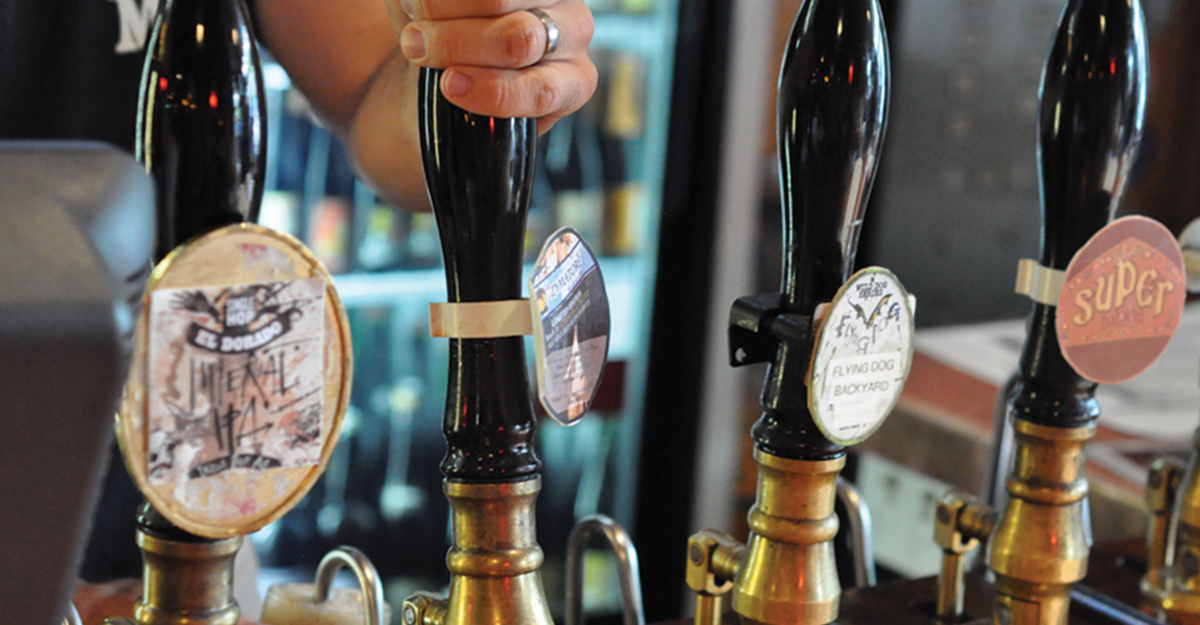 Max's Taphouse (Baltimore, Maryland)
In salty, pub-heavy Fell's Point, this taphouse was prolific before prolific was cool.
What it is: The Fell's Point waterfront area of Baltimore has a long history of catering to thirsty seafaring types, including the odd pirate. Today, it caters more to tourists, another thirsty type, still offering more pubs per block than anywhere else in the city. I wager it also has more taps per block, propelled mainly by Max's Taphouse, an internationally known institution. These days it seems like every city has a place with fifty-plus fonts. Max's was pouring from seventy of them a decade ago and currently has 140 plus five cask handpulls standing at attention down the long bar like shiny Marines. When those get boring (they won't), there are said to be 1,200 bottles in the cellar.
Why it's great: Putting 140 beers on tap is easy compared to keeping them interesting. Max's succeeds on that count, mixing unusual, international craft beers in with the locals and regionals. Its cellar is driven partly by hosting two of the country's most undersung beer events: Max's Belgian Beer Fest in February and its Italian Beer Fest in July. Judging solely by quality, breadth, and rarity of the beers offered, the Belgian event is arguably better than any festival in Belgium. —Joe Stange
Hours: 11 a.m.–2 a.m. daily.
Address: 737 S. Broadway, Baltimore, MD
Web: maxs.com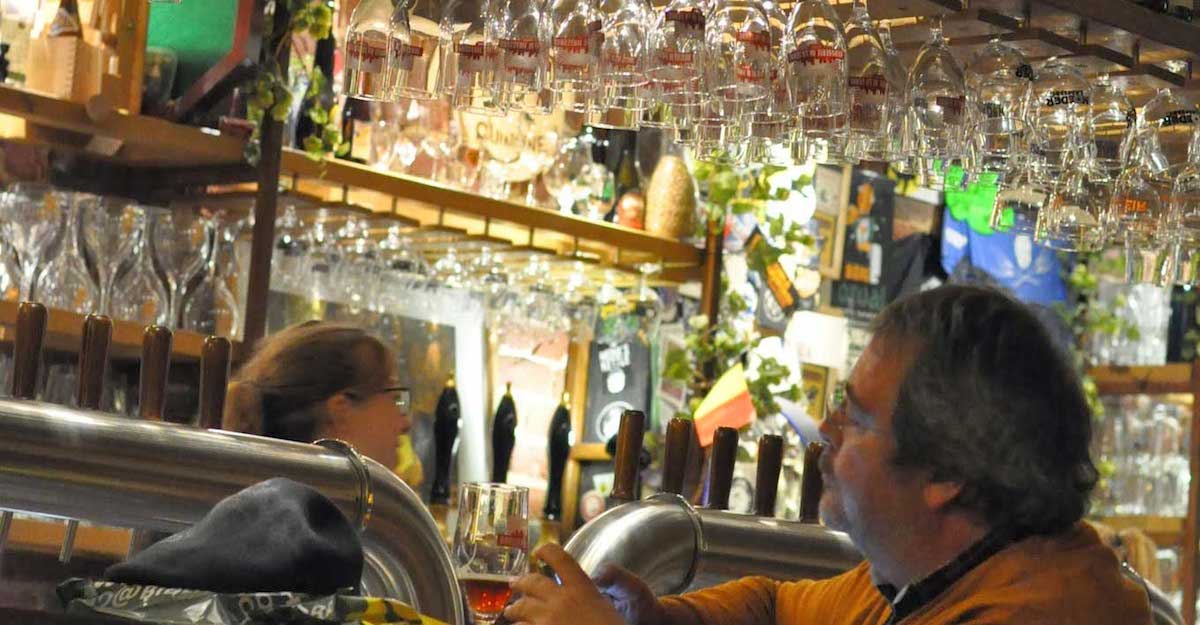 Moeder Lambic (Brussels, Belgium)
Confident curators of taste in the capital of "Beer Paradise"
What it is: Brussels has an array of great cafés, but sometimes beer geeks pass through town, between trains, and have time for only one. Moeder Lambic is the one they choose. They arrive to find an ample terrace beneath a wrought-iron Art Deco awning. Inside is a long, modern space with simple wooden booths and a bar with forty shiny taps whose offerings are scrawled overhead in chalk. Behind the bar are an additional six cask hand-pulls, most dedicated to pumping authentic lambics; sparklers on the fonts add froth for presentation. Bottled beers are virtually all 75cl, carefully chosen, and meant for cellaring and eventually sharing.
Why it's great: The staff knows its stuff and receives frequent training in the art of gentle education. Regular beers emphasize smaller Belgian breweries that make consistently characterful beers; local stars Cantillon and Senne get pride of place. Guest taps show the same choosiness but widen the map to feature Italy, Spain, Germany, and beyond. (U.S. beers are rare here because the staff can't vouch for their freshness after the boat ride.) They are picky so that customers need not be. It is theoretically possible to order a bad beer here, but it's difficult. It is even more difficult to leave—even when there's a train to catch. —Joe Stange
Hours: 11 a.m.–2 a.m. Friday & Saturday, 11 a.m.–1 a.m. Sunday–Thursday
Address: Place Fontainas 8, Brussels, Belgium
Web: moederlambic.com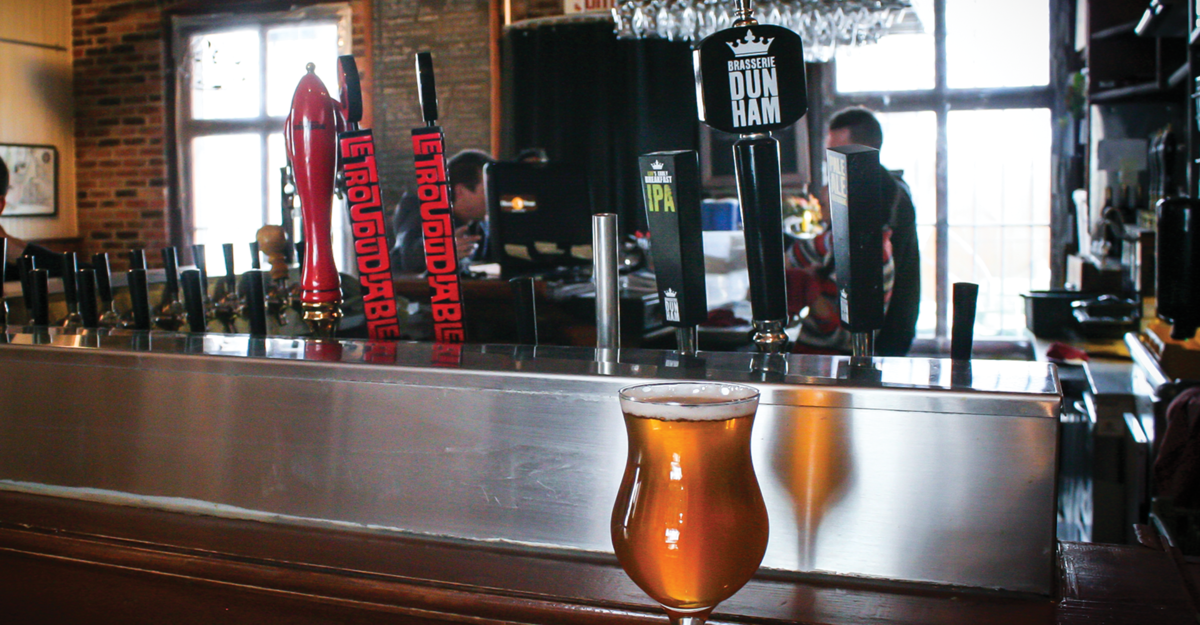 Vices & Versa (Montreal, Quebec)
An oasis of creative beer in Montreal's Little Italy, where the locals hang and visitors can try the best of Quebec's breweries.
What it is: Frequented by a mix of beer lovers, university students and professors, artists, and regulars, Vices & Versa hits that note of laid-back neighborhood bar and beer geek haunt. Since opening in 2004, it has become a Montreal beer destination, featuring thirty-two draft beers from great Quebec brewers such as Hopfenstark, Dieu du Ciel, and Brasserie Dunham, plus at least one or two casks tapped weekly.
Why it's great: The extensive and interesting selection of beers is an obvious draw, but it's also the informed and friendly staff; the unfussy, casual vibe; the luscious back patio; and live music nights that make Vices the kind of bar you wish was your local. I've spent weekday afternoons reading and sipping imperial pints of single malt and single hop IPA from Le Trou du Diable in their spacious, sunlit rooms and cozy Friday nights bellied up at the bar, trying tasters and half-pints (or verres as they are called en Français). The emphasis is on fresh and local, as they also offer wines and ciders made in the province—and yes, they have poutine as well as a solid menu of pub favorites and creative rotating daily specials. —Heather Vandenengel
Hours: 3 p.m.–3 a.m. Monday–Wednesday (changes to noon–3 a.m. on June 1), noon–3 a.m. Thursday–Sunday.
Address: 6631 Saint-Laurent Blvd., Montréal, Quebec
Web: vicesetversa.com
Find more great beer bars in every issue of Craft Beer & Brewing Magazine® Subscribe today.