James Book often says that he moved to Eugene, Oregon, to start a family and start brewing beer. Twenty years a touring musician out of Southern California, Book played bass and cowrote songs for The Flys, an alterna-rock, retro-sounding nineties band known for its top-five hit "Got You (Where I Want You)." Book joined the team at Ninkasi Brewing Company in 2009, bringing his record label Top Secret Records with him.
When Book joined Cofounders Nikos Ridge and Jamie Floyd, Ninkasi—named after the Sumerian goddess of fermentation—had been making beer since 2006. The brewery got started on a 15-barrel system in a leased space inside of a German restaurant in the nearby town of Springfield. It moved to its current location in Eugene's funky Whiteaker neighborhood in 2007.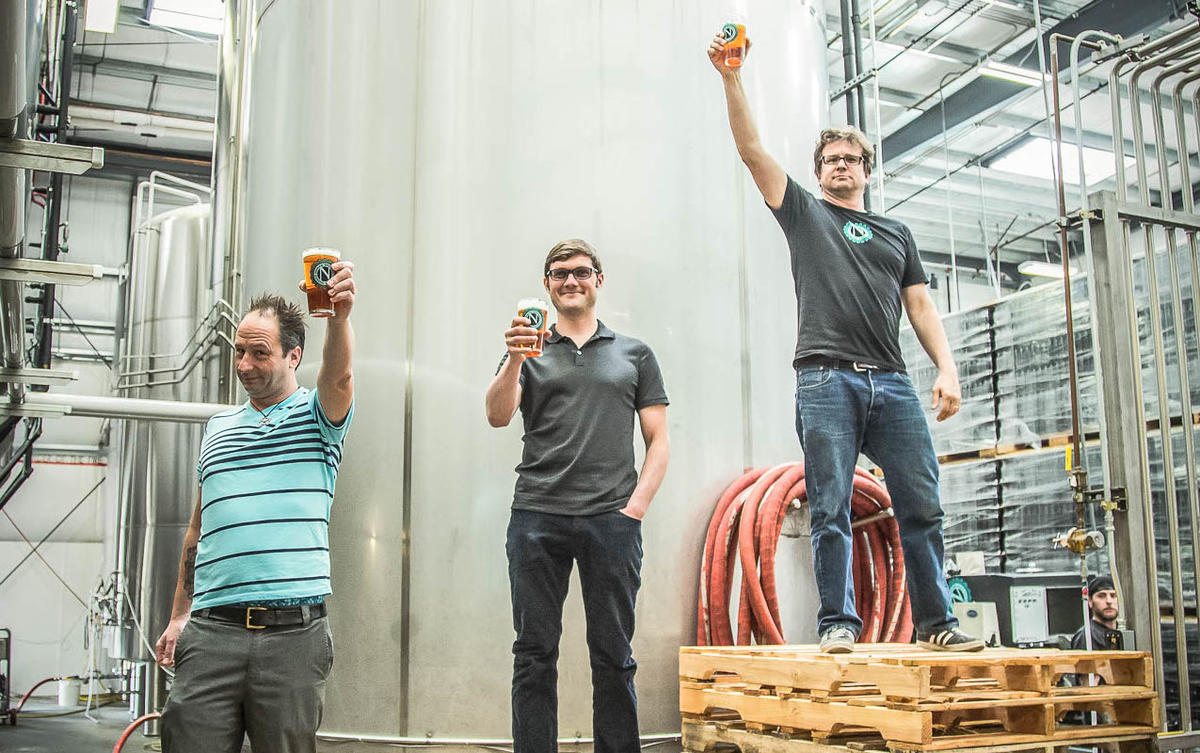 In its first few years, Ninkasi built its reputation with hops, presenting the market with a robust lineup of ales, including the 60 IBU Believer Double Red ale, brewed with Centennial and Summit hops, and the 100 IBU Tricerahops Double IPA, brewed with Chinook, Cascade, Summit, Centennial, and Palisade hops. The brewery's flagship Total Domination IPA abounds with citrusy, floral hops.
Although the Ninkasi beer lineup is characteristically bold and hoppy, the brewery has demonstrated its versatility with beers such as Spring Reign, an English-style session beer, and the Pravda Bohemian Pils, a spicy, medium-bodied pilsner. True to Ninkasi's signature brewing style, both beers showcase the bright hops varieties with which they are brewed—Spring Reign with Santiam, Simcoe, and Ahtanum hops and Pravda with noble Saaz hops.
Beer + Music
Ninkasi is known both for crafting a vibrant profile of beers and for cultivating a music community with its many partner artists. Book and crew built a music studio at the Blairally Vintage Arcade behind the brewery. It was at this location that Top Secret Records produced the album Oregonisms by Volifonix, the_ Sleep/Attack_ vinyl album by Rare Monk, and both of the Ninkasi Better Living Compilations, among many others. Ninkasi sponsors several of Top Secret Records' artists, sending them on tour with beer and swag to share.
In 2008, Ninkasi launched the elimination-style Last Band Standing competition for Northwest musicians in which the winning band scored studio time with Top Secret Records. What started as a shindig for neighborly competition has become one of the brewery's largest events, with different shows in six more cities—Bellingham, Spokane, Boise, Missoula, Bend, and Ashland.
Another capstone Ninkasi event that exponentially grew from small beginnings is The Whiteaker Block Party, an annual beer and music festival that keeps taking up more and more of Van Buren and surrounding streets. Last year's block party had twelve stages and more than fifty live performances by Top Secrets Record artists and friends of the brewery.
Get exclusive interviews and advice from world-class brewers and tips for getting the most out of your homebrew in every issue of Craft Beer & Brewing Magazine®. Subscribe today.
In 2013, Top Secret Records recorded and pressed a vinyl album for Black Beast Revival, a "dark, sexy rock and roll" band out of Bellingham, Washington; sponsored vinyl pressing for Portland bands Rare Monk and Shook Twins; and sponsored the north Portland artist Marv Ellis. All of these bands played Ninkasi-sponsored music showcases at SXSW.
For Book and the rest of the Ninkasi crew, the question was never why develop a recording studio alongside a brewery, it was Why not? The musical footprint that Ninkasi has created has been a natural by-product of the owners' passions, Book says. "A brand is just its people . . . and for our people, [music] is just what we're into."
More Brewing Ahead
That brand footprint is expanding across the street to a second brewing facility, attached to the original building via a beer bridge that crosses over Blair Boulevard. Ninkasi 2.0 will include a new administration building, a pilot brewing system for recipe development and experimental batches, a rock-climbing wall, and a new music studio with a vintage console, to create "old school sound, in music speak."
The pilot system, Book says, will yield a much more immersive beer and music experience. "When bands come in, we give them the brewery tour and sample beers. To be able to bring them into the brewing process for even one batch is next-level for engaging them. It gives them a sense of ownership on the beers, and there's a lot of time to socialize while you're waiting for the beers to boil."

And boil they will. The new brewery (above) will be home to nine combination brightening/fermentation tanks that are set and ready to help produce more beer, specifically lagers. The brewery launched a lager program a few years back, won a gold medal at the Great American Beer Festival for its Bohemian Pilsner in 2013, and announced that it will now make lagers year-round.
Also in store for Ninkasi is a redefinition of the idiom "the sky is the limit" as they plan to launch yeast into orbit. "We are literally making space beer," Book jokes. "We are all about taking a sideways approach to our craft and seeing where those roads can lead.
Liner Notes
Ninkasi brews + the bands that pair well with them
Total Domination IPA + Strange Vine
The floral, citrusy hops found in Ninkasi's Total Domination IPA are similar to this earthy, energetic band—bold and born in the Northwest. Strange Vine, a band from California's Sierra Nevada Mountains, fuses blues, psychedelic, and traditional American rock that's complex yet balanced, just like Total Domination.
Maiden In The Shade + Shook Twins
The summer seasonal Maiden In The Shade, a sessionable IPA for just about any occasion, is easy and breezy like the Portland, Oregon-dwelling identical twin duo Shook Twins, known for a quirky folk sound.
Oatis Oatmeal Stout + Vokab Kompany
A lot like the flavors in the Oatis Oatmeal Stout, the sound of San Diego's Vokab Kompany is multi-layered and robust, yet creamy soft. The group consists of two MC/singers backed by their four-piece band, including bass, drums, and a violin that combine to make smooth, sometimes dreamy, songs.
Believer Double Red Ale + Rare Monk
Liken the solid malt backbone of a beer to a band's bass and a plentiful presence of hops to a band's instruments and vocals, and you've got the Believer Double Red Ale and Rare Monk, a Portland, Oregon-based experimental indie rock band.
Tricerahops Double IPA + Volifonix
Ninkasi describes Tricerahops as "fiercely flavorful and guaranteed to satisfy." The same could be said about Volinix, the psychedelic funk-rock band out of Eugene, Oregon.
Availability of Ninkasi Brews
Alaska, British Columbia, California, Idaho, Montana, Oregon, Washington