It's one of those disorienting yet eye-opening beer experiences that makes it all worthwhile: seeing a beautifully bright, pale golden liquid, sticking your nose over it to take a whiff, and getting an enticing hit that evokes walking in the door of a local coffee shop that roasts its own beans … then taking a gently sweet yet balanced gulp that fully delivers on that promise.
That's Daybreak, a coffee-vanilla cream ale from Wolf's Ridge in Columbus, Ohio. Over the past couple of years, it's become the brewery's top seller and most-decorated award winner, gaining national attention.
Ohioans already knew about Wolf's Ridge. The restaurant and brewery had been winning local and state accolades for years. The bigger acclaim began with Great American Beer Festival silver in 2019 for Daybreak. Then things really broke open in 2020: Daybreak won GABF gold, the Buchenrauch smoked beer won GABF bronze, and we at Craft Beer & Brewing Magazine®—after the beer shone in multiple blind tastings—named their Double Chocolate Rum Barrel Dire Wolf one of our 20 Best Beers in 2020. (Yes, that means we liked it even better than Daybreak.)
Father and son cofounders Alan and Bob Szuter opened Wolf's Ridge in downtown Columbus in 2013; the elder Szuter, Alan, also was an avid homebrewer. From the start, it was a brewpub with ambitious food, bringing in CIA-trained Chef Seth Lassak—yet another longtime homebrewer—to run the kitchen. Steaks, burgers, mussels, and dishes such as a duck breast with miso-ginger glaze and fried shitake mushrooms keep Wolf's Ridge atop local best-restaurant lists.
What they sought was a brewer who could play with and perfect recipes the same way their chef did. They hired Chris Davison in 2014.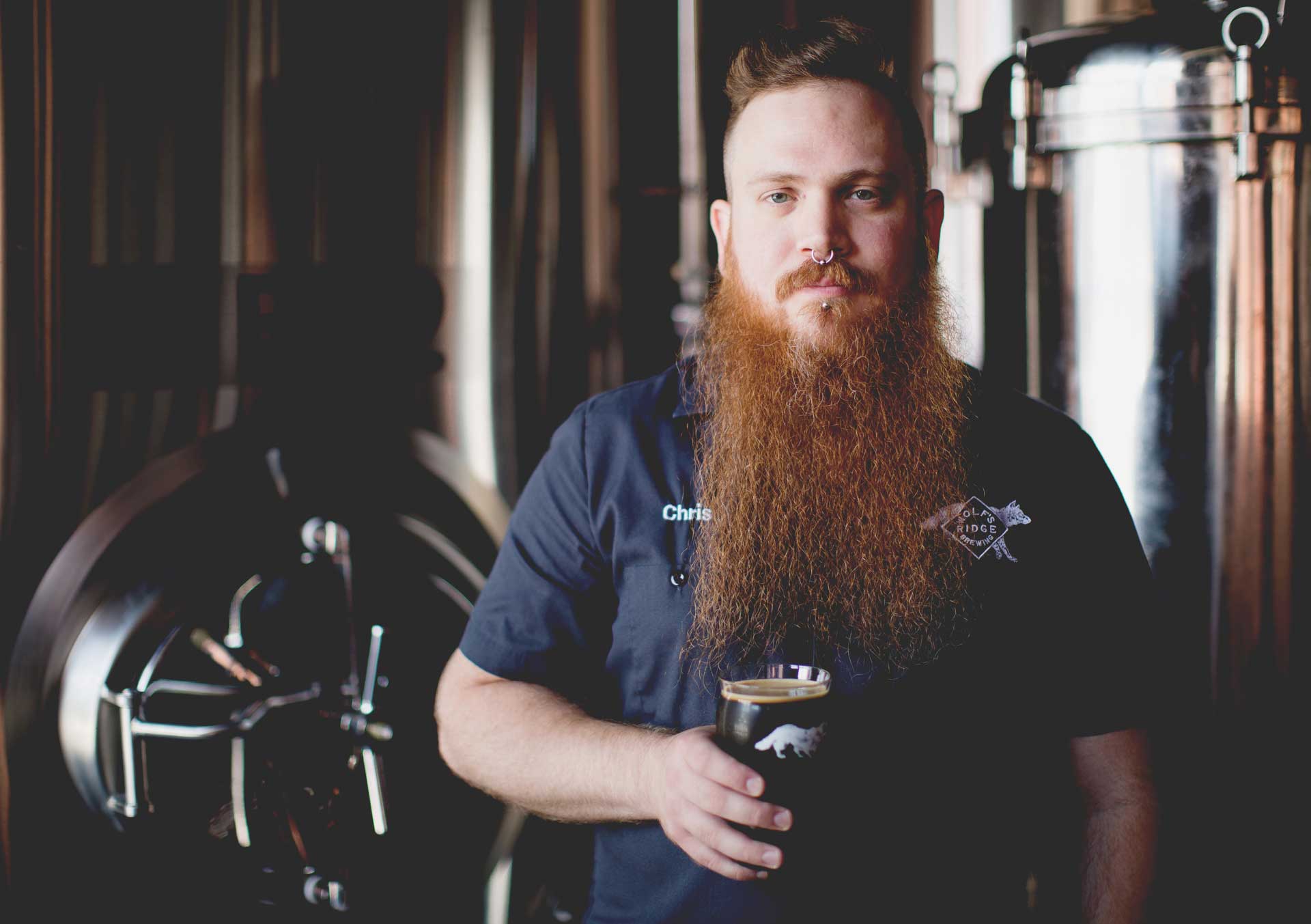 Filling Taps
Davison had acquired a taste for beer and brewing with his younger brother, who would bring him interesting Belgian ales and other imports. It broadened his palate, and before long he had become an avid reviewer on the BeerAdvocate site—a hobby that helped him identify the flavors and aromas he liked best. "I'd sit down and open one beer, take an hour or two, and really tease out all the flavors," Davison says. "I just taught myself how to describe beer."
Because of that practice, as a homebrewer and later as a pro, he was able to more clearly envision what he wanted to smell and taste in his beers—and then figure out ways to achieve that technically.
Davison's ambition to brew professionally led him to take a job washing kegs at Columbus Brewing Company. By his second year there, he was brewing six days a week. However, he yearned for a brewing job where he would have more creative control.
Then the Szuters hired him, and he found himself in charge of the brewpub's basement kit.
What would turn out to be a pivotal moment for Wolf's Ridge beer came in 2015, when they opened a new taproom with 20 additional taps, plus the 12 they already had in the dining room—more than anyone in town at that time. The Szuters wanted to know: Could Davison fill all those taps with different beers?
Why, yes. Yes, he could.
That was the first time Davison brewed the Dire Wolf imperial stout, to celebrate the taproom's opening. Seven of those 20 new taps were pouring Dire Wolf and its variants. There was Dire Wolf Coco Joy, with toasted coconut, vanilla, and cacao; there was Dire Wolf Pepper, with smoked chiles; there was Dire Wolf Canis Mexicanus, with vanilla, cinnamon, cacao, chiles, and coffee; and there were two rum barrel–aged versions, one infused with coffee.
"From there on, it became really difficult to fill all those [taps]," Davison says. "We were just constantly figuring out, 'How do we fill this?' Sometimes a keg would blow.… If I didn't have a new beer, I'd infuse something overnight. Then the next day, I'd rack it back into a keg and tap it." He would run to the Asian grocery to get Thai chiles, lemongrass, and lime leaves with which to infuse an IPA—or he would swipe coffee beans or grapefruit from the kitchen. "I was always stealing their citrus, to the point where, a couple of years later, they were telling me, 'You have to buy your own citrus because you're using all our citrus for your beer.'"
That experimentation and constant learning about what worked and what didn't with flavor infusions is how Daybreak first launched; it was a variation of Clear Sky Cream Ale. "Once Daybreak took off, the cream ale became that blank canvas that we used," Davison says. For special events, "we'd have five cream ales on tap, so you could get a flight of cream ales, and they'd all look the same—but they'd smell drastically different. That was always super fun."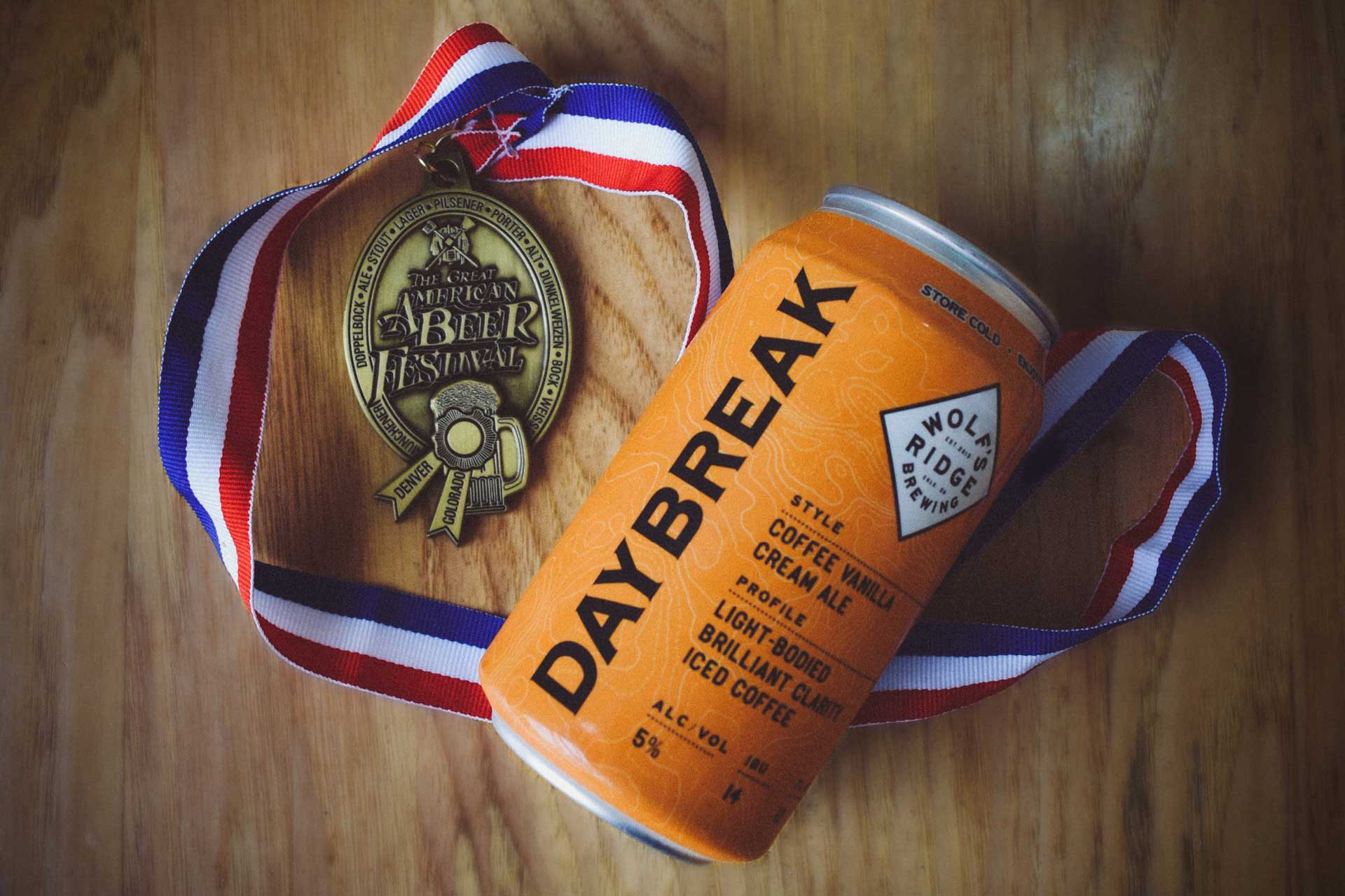 Balance
Dire Wolf, for its part, is not the super-heavy, lactose-laden, no-roast type of imperial stout that many brewers use as dessert vehicles these days. It's more old school, balancing roast and bitterness with malt-driven chocolate flavors. "Dire Wolf is an especially grain-heavy beer," Davison says. "We've got pale chocolate, chocolate rye, and chocolate wheat in there. So there's a lot of chocolate to be found, especially as that beer ages and the bitterness kind of wanes away."
For Double Chocolate Rum Barrel, the idea was to intensify that chocolate character with cacao nibs post-barrel. "I have learned over the years that when you're working with nibs, you need a lot," he says. "So every time I put nibs in a beer, at least for the first five or six years at Wolf's Ridge, I always felt like I needed more chocolate. We're finally at the point now where we're doubling what I used to put in a beer. For 15 barrels, you probably really want like 50 to 80 pounds of nibs in that tank, if you want a really chocolate-heavy beer."
Wolf's Ridge added a 25,000-square-foot production brewery in January 2020, getting cans onto shelves a few months before the pandemic made it imperative. The brewery produced about 4,000 barrels last year; Davison is hopeful for 5,500 barrels in 2021.
A good chunk of that will be a certain golden-colored yet coffee-forward ale.
"Pretty crazy to think about five years ago. The first time we made Daybreak was in a single sixth-barrel, just to fill a line in our pub," Davison says. "And now we're brewing 120 barrels of it in a month. It's crazy."