It's hard to think of a more universal pairing than pizza and beer. Both are celebrated for being good even when they're bad. Both are also beneficiaries of rabid fan cultures pushing innovation, tradition, and intense examination of nuance.
If you want to break out the gram scale and debate dough hydrations intensely, you can do that. If you'd rather kick back, order a pie, and tune in to see whether the giant robots can defeat the city-stomping monsters, you are having an equally excellent time with the form. It's the kind of public-friendly combo that also features deep and expansive rabbit holes into which you can fall and get lost at will. Honestly, it's the same kind of energy that drew a lot of us to beer in the first place.
You may not know why a pizza is one of the best you've ever had, but you know when it's happening. It's the same with the confrontational, labyrinthine, stunning flavors of Belgian ales. A matrix of checks and balances in the technique soars onto the palate with aromas, flavors, and body that demand a reaction.
Two great things that work beautifully together—as complex (or as simple) as you could want.
Let's Dough This!
Dough is the quantitative-science wing of the pizza-making craft. Protein and hydration are the message-board keywords that pizza enthusiasts use to signal to each other that, why yes, I do spend a lot of time pondering pizza, and no, the woodworking and genealogy hobbies didn't stick, thankyouverymuch. Weighted dough recipes across styles—yes, there are styles—can seem overwhelming at first, until you get comfortable tweaking your own recipes and realize it's a key to the universal pizza language. Measuring in grams might seem fussy or complicated, but it's the quickest route to consistently great pizza. No measuring cups, no sifting, textural concerns—just throw it all in a bowl and wait until the number hits right. And you're going to feel like an X-Man the first time you figure out exactly how much more water is going to turn that shaggy lump into a smooth, professional-looking ball of dough. But for now, a brief glossary:
Protein content indicates the strength of the gluten bonds a flour will form. All-purpose flours will range from 9 to 11 percent, bread flours 11 to 13 percent, and high-gluten flour can reach 14 percent and up.
Hydration is the proportion of water compared to the weight of the flour, expressed as a percentage.
Cold curing is placing rolled-out dough uncovered (or in parchment-separated layers) in the refrigerator overnight. It dries the dough out to achieve the crispy structure beloved of Midwestern pizza lovers.
Here are three crust options ranging from a fairly quick bar pie to several rises and a hunk of butter. We used a food processor with a dough blade to develop these, but stand mixers (or hand mixing) will achieve equally excellent results.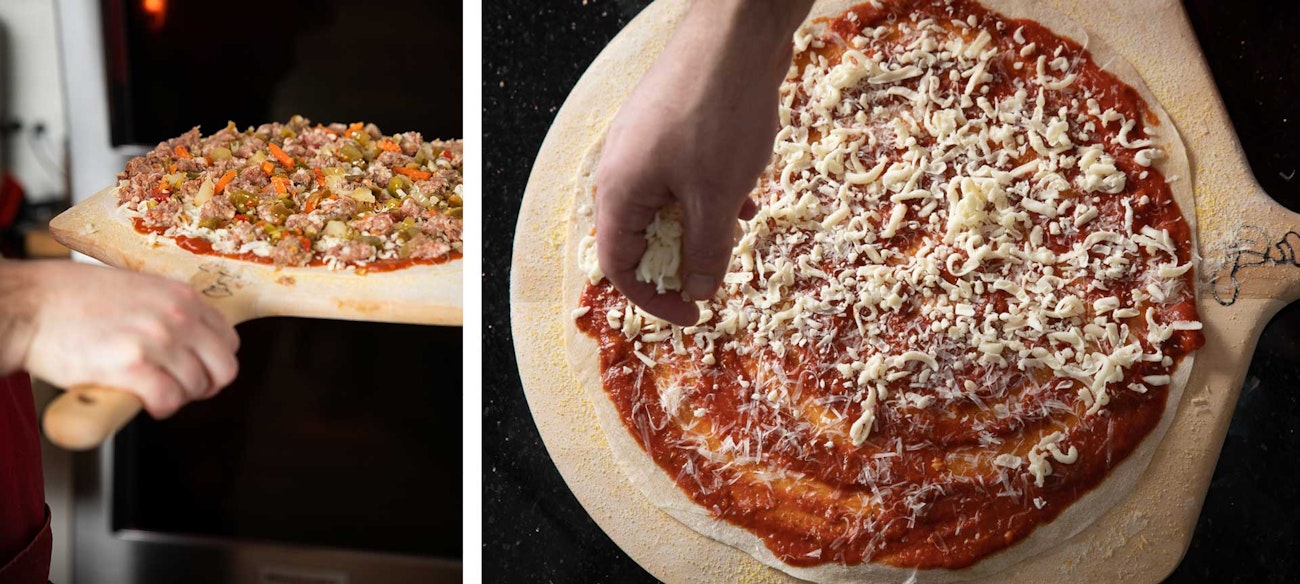 The Easy Bar Pie
19.4 oz (550 g) all-purpose flour
0.7 oz (20 g) salt
1 g instant yeast
12.5 oz (350 g) water
0.53 oz (15 g) olive oil, divided
Mix the dry ingredients and add the water. Process or knead until it comes together into a ball. Rest 10 minutes and process again until the dough is consistent and shiny. Place into a bowl oiled with olive oil, cover, and refrigerate overnight.
Divide the dough into four equal portions and coat the bottom of a 10-inch (25 cm) pizza pan with sides with olive oil. Place the dough in the pan and stretch gently (press, don't pull) until it reaches 0.25 inch (6.4 mm) up the sides of the pan.
Add toppings and bake in a 500°F (260°C) oven on a preheated stone or steel for 8 minutes. Briefly remove the pizza from the pan and put it on the stone/steel. Return to the oven to finish for 2 minutes. Remove and slice.
Cracker-Thin and Cold-Cured
25.6 oz (725 g) high-gluten flour
0.9 oz (25 g) cornmeal
0.4 oz (10 g) salt
0.4 oz (10 g) sugar
4 g instant yeast
13.1 oz (370 g) ice water
2.1 oz (60 g) olive oil, divided
Mix the flour, cornmeal, salt, sugar, and yeast. Add the water and process until the mass forms a ball and rides the blade or starts to pull away from the mixer bowl. Then count to 30 and stop. Rest for 25 minutes, then repeat for another 30 seconds. Divide into four equal portions, coat lightly with olive oil, and place into a 1-quart (946 ml) container. Keep in the refrigerator to cold ferment for at least 24 hours and up to 7 days. Remove the dough from the refrigerator 2 hours before rolling it out.
For a really excellent cracker-thin crunch, roll out the dough, dock—i.e., speckle with tiny dimples—with a docker (a small, spiky rolling pin attached to a small handle) or fork, place on nonstick parchment, and cold cure, uncovered, overnight in the refrigerator.
Preheat a baking stone or steel to 550°F (288°C) if possible, or 500°F (260°C) if that's the max for your oven, for at least 1 hour. Place the rolled-out dough on a cornmeal-dusted pizza peel, add toppings, and slide into the oven. Bake 9–11 minutes, depending on the toppings. Remove and cut into squares just like whatever the Great Lakes version of Poseidon intended.
You There! Bring Me My Butter-Grater!
This isn't deep-dish—perish the thought. But it carries that critical butter-crust element into a force that stands up to big toppings and reheats like a champ in the toaster oven.
37 oz (1,050 g) high-gluten flour
1.1 oz (30 g) salt
11 g instant yeast
24.7 oz (700 g) room-temperature water
1.8 oz (50 g) unsalted butter, melted
2.1 oz (60 g) unsalted butter, frozen and grated
Extra butter (or shortening) for the pan
Mix the dry ingredients, then add the water and melted butter and process or mix until a cohesive ball forms. Place in a bowl, cover, and let rise 30 minutes. After it has risen, fold in the cold butter, careful not to melt it with your hands or by over-mixing, then incorporate until smooth and shiny. Cover and let rise another 2 hours. Grease two 10" × 14" (25 × 36 cm) Detroit pizza pans (or 13" × 9"/33 × 23 cm sheet pans) with the butter or shortening, portion the dough into two balls, and place into the pans to relax. Cover and let sit 3 hours. Lift the relaxed dough to eliminate any air pockets, cover, and refrigerate 24–72 hours.
Remove the dough from the refrigerator 2 hours before baking. Preheat the oven to 400°F (204°C). Par-bake 10 minutes, add sauce and toppings, and finish the bake with another 20 minutes. Remove from the oven and place on a cooling rack—it'll get soggy if it steams in the pan—before slicing.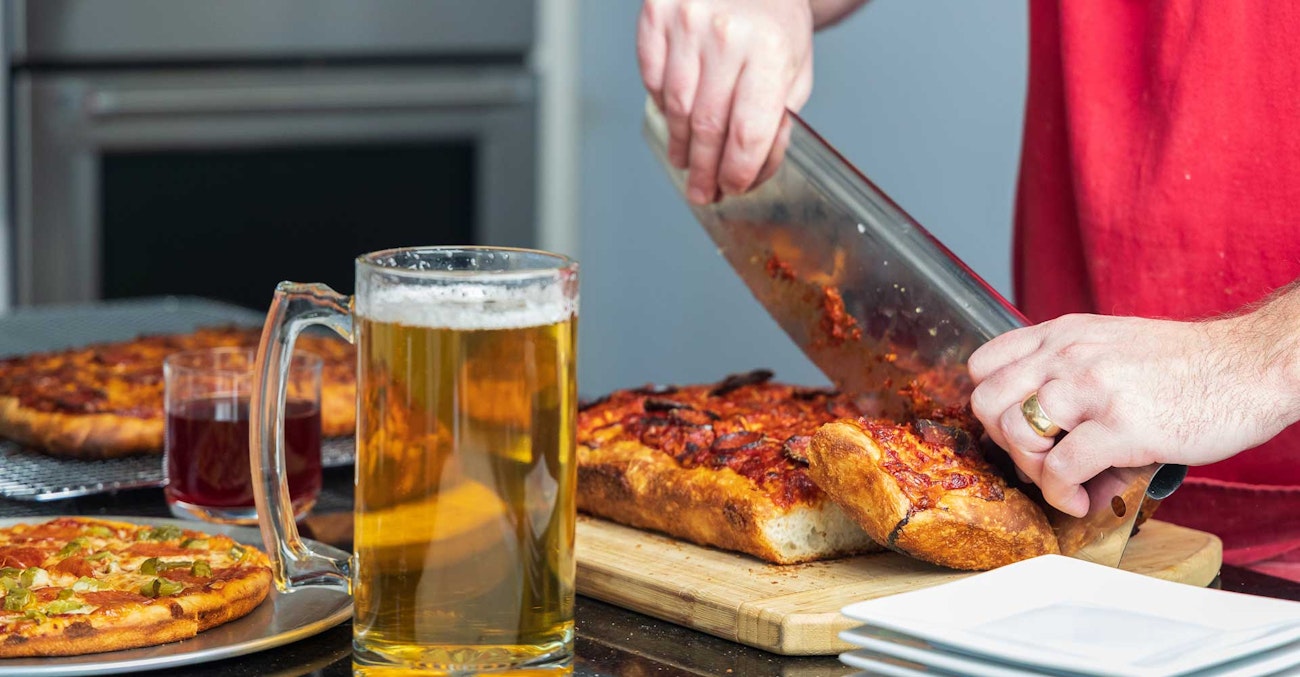 The Sauce
Now we move from classical to jazz. If the dough is the science part of pizza, then the sauce is art. Even the same ingredients, combined the same way, can express differently depending on the time of year, the climate, or a thousand other things. So, have confidence, remember the 600 pizzas you've already enjoyed up to this point in your life, and don't be afraid of tinkering with a little more salt, sugar, or acid. Quick, now! The Neapolitans aren't looking!
Quick & Easy
This sauce can be as fast as you and a blender. Just chuck some stuff together and let that be your first step into obsession. Here I include an optional splash of gueuze. (Hmm, what to do with the rest of the bottle?)
2 Tbs (30 ml) olive oil
28 oz (794 g) can whole tomatoes
½ tsp granulated garlic
½ tsp ground black pepper
¼ tsp dried basil
¼ tsp dried oregano
¼ tsp crushed red pepper
¼ cup (59 ml) oude gueuze
Blend it! Store in a glass jar for up to a week.
Slow-Cooked Complexity
Tomatoes take on a completely different character when cooked, and a long cook with multiple elements is the absolute best example of taste-taste-taste when you're in the kitchen. If you like it in the saucepan, you're going to love it on the pizza.
2 Tbs (30 ml) olive oil
2 Tbs (30 ml) unsalted butter
6 cloves garlic, peeled
6 oz (170 g) tomato paste
1 tsp dried basil
1 tsp dried oregano
1 tsp dried marjoram
28 oz (794 g) can whole tomatoes
1 Tbs (15 ml) fish sauce
1 Tbs (15 ml) red wine vinegar
Optional additions:
- Flemish red ale, such as Duchesse de Bourgogne
- 1 Tbs crushed red pepper
- Salt, to taste
- Sugar, to taste
Melt the oil and butter over medium-low heat and add the garlic. Cook 3–4 minutes until lightly golden, then add the tomato paste and herbs. Cook an additional minute until the paste darkens. Add the tomatoes, fish sauce, and red wine vinegar. Bring to a slow simmer and cook 40 minutes. Blend, taste for seasoning, and adjust with salt, sugar, and/or sherry or additional red wine vinegar. This tastes even better after an overnight stay in the fridge.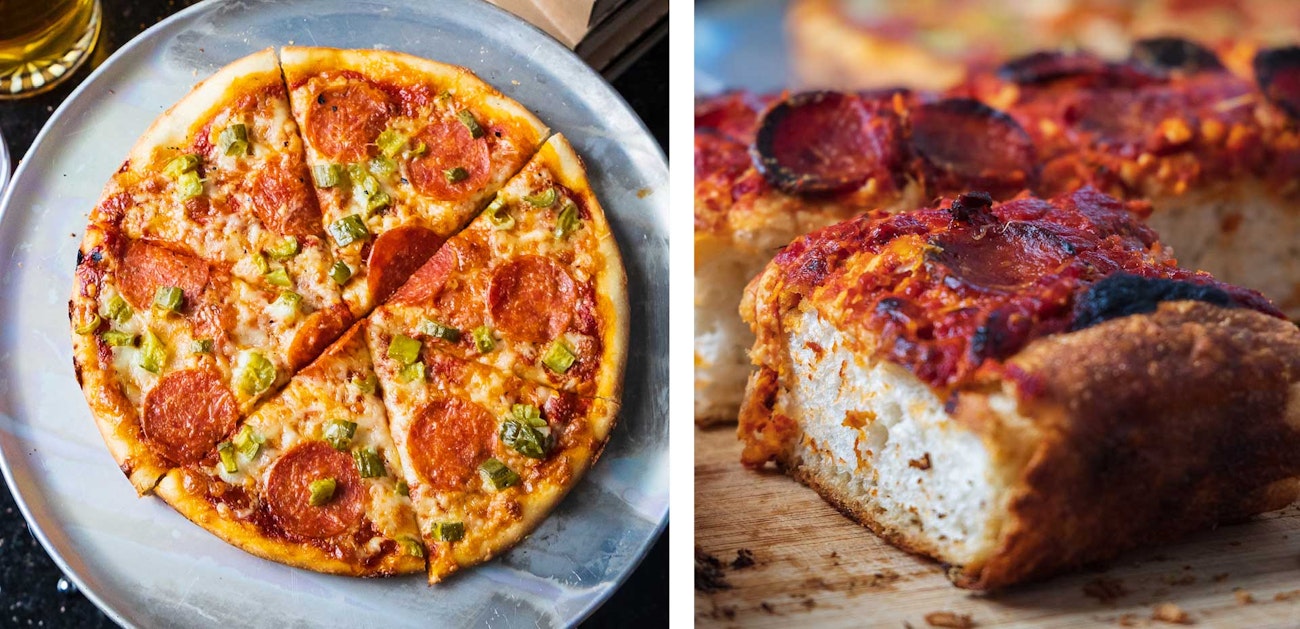 Thick & Rich
Save this for a focaccia, Sicilian-style sfincione, or the big ol' butter crust. Be brave with the onions and ye shall be rewarded for it, ye Allium Icarus. The addition of a big bruiser of a dark ale takes things that crucial step further. (Feel free to swap in a barrel-aged stout if you're feeling less Continental.)
¼ cup (59 ml) olive oil
½ white onion, diced
2 anchovies, chopped
28 oz (794 g) can whole tomatoes
½ cup (118 ml) Belgian dark strong ale (such as Rochefort 8)
Salt, to taste
Heat the olive oil in a wide pan over medium-low heat, add the onion, and cook, stirring frequently, for 15 minutes. Add the anchovies and stir, cooking another 2 minutes. Add the tomatoes and beer and cook, stirring frequently and breaking up the tomatoes, for 45 minutes. When it's thick and not-at-all liquid, it's ready for your pizza. Taste for seasoning and spread thick.
Top That!
Pizzas are yours to top as you like, and don't ever let anyone tell you otherwise. Our days in the sun are short in this life, and you don't want to live with the kind of regret caused by skipping bratwurst and sauerkraut for fear of social shame. These are the gentlest and most encouraging selections to get you on your pizza journey. Ingredients are scaled for a 14-inch (36 cm) pizza. Consider sauce, full-fat low-moisture mozzarella, and fresh-grated parmesan as givens …
Stupid Sexy Flanders
6 oz (170 g) shredded Flemish carbonnade (or any leftover beef stew)
2 oz (57 g) quick-pickled carrots, matchstick cut
½ oz (14 g) potato sticks
Chopped parsley, to garnish and to really '70s it up
Pineapple Is Life
3 cloves of garlic, sliced thin on a mandolin or like in Goodfellas, tossed in neutral oil and roasted in a pan for 10 minutes at 350°F (177°C), or until lightly brown and crispy
1 whole pineapple, crown removed and roasted on a pan for 2 hours at 375°F (190°F) before peeling and chopping
4 oz (113 g) smoked country ham, chopped
Hail Gritty
7 oz (198 g) Philly roast pork
6 oz (170 g) roasted broccoli rabe
3 cloves roasted garlic, chopped
Cowabunga
4 oz (113 g) natural-casing pepperoni, sliced thin (or cup-and-char pepperoni)
3 oz (85 g) dill pickles, drained and chopped