All Access Subscribers can download the Beersmith and BeerXML version of this recipe. Subscribe today.
The Southern rap group Nappy Roots are avid beer enthusiasts and homebrewers, going so far as to name their latest tour the Great American Beer Run. Along the way, they've been visiting various breweries for a series of collaborations.
One of those was with Arches Brewing in Hapeville, just south of Atlanta, where Nappy Roots is now based—though they're originally from Kentucky. The recipe below is a scaled-down version of their rich "chocolate-milk stout" meant to celebrate those Kentucky roots. It gets added character from a rich malt backbone and the addition of cocoa nibs and vanilla beans.
Arches is located near Atlanta's Hartsfield-Jackson International Airport. Founded in 2016 by five friends, their name comes from the brick arches under which they used to homebrew at Brewmaster Jamey Adams' house. They make a wide variety but specialize in a range of traditional European styles, including a series of seasonal lagers.
For more about Nappy Roots and their love of brewing and craft beer, check out the December-January Best in Beer 2019 issue of Craft Beer & Brewing Magazine®.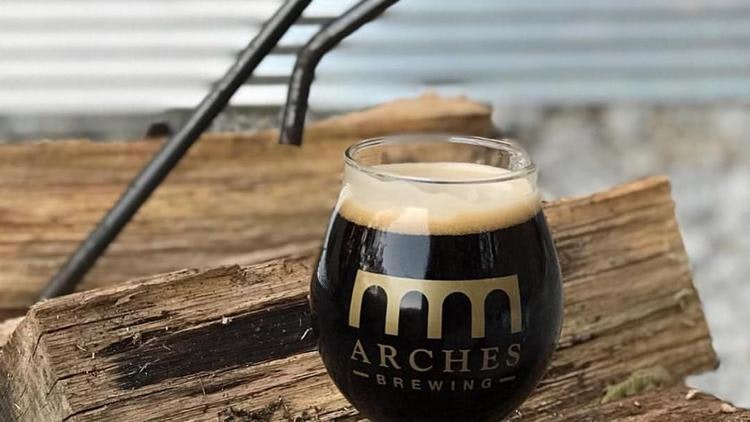 Make It
Kentucky Mud
ALL-GRAIN
Batch size: 5 gallons (19 liters)
Brewhouse efficiency: 72%
OG: 1.065
FG: 1.018
IBUs: 23
ABV: 6.6%
MALT/GRAIN BILL
9.3 lb (4.2 kg) Maris Otter
10 oz (283 g) biscuit malt
10 oz (283 g) flaked oats
10 oz (283 g) Special B
5 oz (142 g) Patagonia Dark Black Pearl
5 oz (142 g) Caramel/Crystal 60L
5 oz (142 g) Weyermann Chocolate Wheat
3 oz (85 g) roasted barley
HOPS & ADDITIONS SCHEDULE
0.6 oz (17 g) Nugget [13% AA] at 60 minutes
11 oz (283 g) lactose at 60 minutes
3.5 oz (99 g) cocoa nibs
1 vanilla bean, cut and pre-soaked in bourbon
YEAST
Omega OYL-007 British Ale II
DIRECTIONS
Mill the grains and mash at 149°F (65°C) for 60 minutes. Mash out, sparge, and boil for 90 minutes, adding the hops and lactose when there are 60 minutes left in the boil. After flame-out, chill to 68°F (20°C), pitch the yeast and ferment. Soak the vanilla beans and cocoa nibs in bourbon and add them to the beer after primary fermentation is complete.
BREWERS' NOTES
Arches places great emphasis on using the right water for the right beer style. For this stout, the brewers add baking soda, gypsum, and calcium chloride to the natural spring water from its well system. Here is their target water profile for Kentucky Mud, in parts per million (ppm): Ca 82, Na 94, Cl 55, Mg 6, SO4 92, and HCO3 200–250.
Head brewer Justin Ramirez: "Because our water is so soft, brewing beers this dark is a challenge for us. In regions where people have more residual alkalinity, they will have a much easier time. We prefer baking soda over chalk to hit our desired buffer capacity and only add this to the mash. We add salts both to the mash and kettle (rather than treating the sparge water directly)."
The original recipe called for 12 vanilla beans and 65 oz (1.8 kg) of cocoa nibs for a three-barrel (93-gallon/352-barrel) batch of beer. To prepare the vanilla beans, Ramirez says, "I cut them and soaked them in bourbon. Both those and the cocoa nibs went into the fermentor post-fermentation in a sanitized strainer bag and sat for five days prior to moving to brite tank."
Arches also carbonated the beer to 1.9–2.0 volumes and served it on a nitro tap.