On a rainy evening in March 2019, at a truck stop halfway between Coldwater, Michigan, and Toledo, Ohio, Kevin Mullan found himself covered in diesel fuel and questioning the dream he thought he'd realized.
"What I've learned as an entrepreneur is that you will have more doubts—about your idea, your business, and yourself—than you will ever have confidence," Mullan tells me. "To be successful, you can't dwell on your doubts. You have to lean into the confident moments."
Long before that night, Mullan had been struck by an idea that grew into an obsession. He wanted to build a mobile beer-service vehicle to take local craft brews to events around Toledo—and he wanted to base it on a fire truck. He spent years looking for decommissioned fire engines, and he lost so many eBay auctions that he almost gave up on his plan. Finally, he saw a Facebook Marketplace listing for a 1987 E-ONE Pumper truck that had fought fires in rural Michigan for more than 30 years. After some quick negotiations, Mullan soon found himself in a farmer's field, 100 miles from home, with the keys in his hand.
On the drive home, he noticed that the speedometer wasn't working. Not a major issue in itself—but if that gauge isn't working, he thought, what other gauges could he not trust? "Coldwater is only a couple of hours from Toledo, but in a fire truck it feels a lot longer," Mullan says.
Not wanting to run out of gas, he pulled off at a truck stop, and that's when reality crashed down. The pump nozzle wouldn't fit in the fuel tank. Mullan says more oily diesel ended up on him and around him than made it into the fire engine's tank. "I went from on top of the world to doubting my idea and doubting myself," he says. Yet his new fire engine made it back home on whatever fuel was in the tanks. (Soon, Mullan discovered his error: Fire trucks fill up with a standard diesel pump, not the high-flow pumps used to fuel tractor-trailer rigs.)
The next day, sobered by the realities of a mile-long to-do list and a 28-foot fire truck in the driveway, Mullan got to work on converting the old pumper into Ladder 419: a 10-tap cold room on wheels that delivers fresh craft beer to thirsty Toledoans.
Taking Beer to the People
While Ladder 419 is the only beer-serving fire truck that I could find, the idea of a draft system on wheels is nothing new. Distributors and brewers of all sizes have been adding taps to the sides of trucks and trailers for years, and these mobile brand extensions are regularly seen at beer festivals and special events. Today, there's rising demand for mobile beer service for parties and events—and a swell of entrepreneurs are angling to meet that demand with their own mobile-service solutions.
Hal Mooney is one such entrepreneur. Mooney and his L.A. Beer Hop tour buses have been a fixture on the Los Angeles beer scene for a decade. Unfortunately, the pandemic lockdown meant an end to booked buses and carousing tours around the county. In mid-2020, Mooney and team pivoted to subscription-based, curated beer deliveries and guided tastings via video conference. The positive response and surprising demand swiveled his whole business model. He sold the fleet of buses and, in 2021, launched Your Beer Friend to deliver boxes of chosen brews to subscribers. Now, Mooney hosts guided tastings for thirsty corporate clients.
However, he's also launched a new mobile taproom of his own based on a classic 1955 Aljoa camper trailer.
After more than 50 years under the California sun, the trailer was in rough shape when he purchased it. But now, after a frame-up rebuild, the mid-century jewel shaped like a canned ham sparkles again. Outfitted with six taps along the outside shell, a two-door keg fridge, and glycol-chilled draft lines to match, the trailer is no less a conversation piece than the beers it pours.
"The virtual beer tastings are great," Mooney says, "but what we do best is guided, on-site tastings. Beer tastes better with context, and the trailer lets us provide that context and make a personal connection."
I've taken Mooney's tours, and he has a knack for curating a tap list that showcases a breadth of flavors, making the tasting experience from the trailer even more enjoyable than the old beer-bus model. "It's so much fun," he says, "and I've never loved beer more."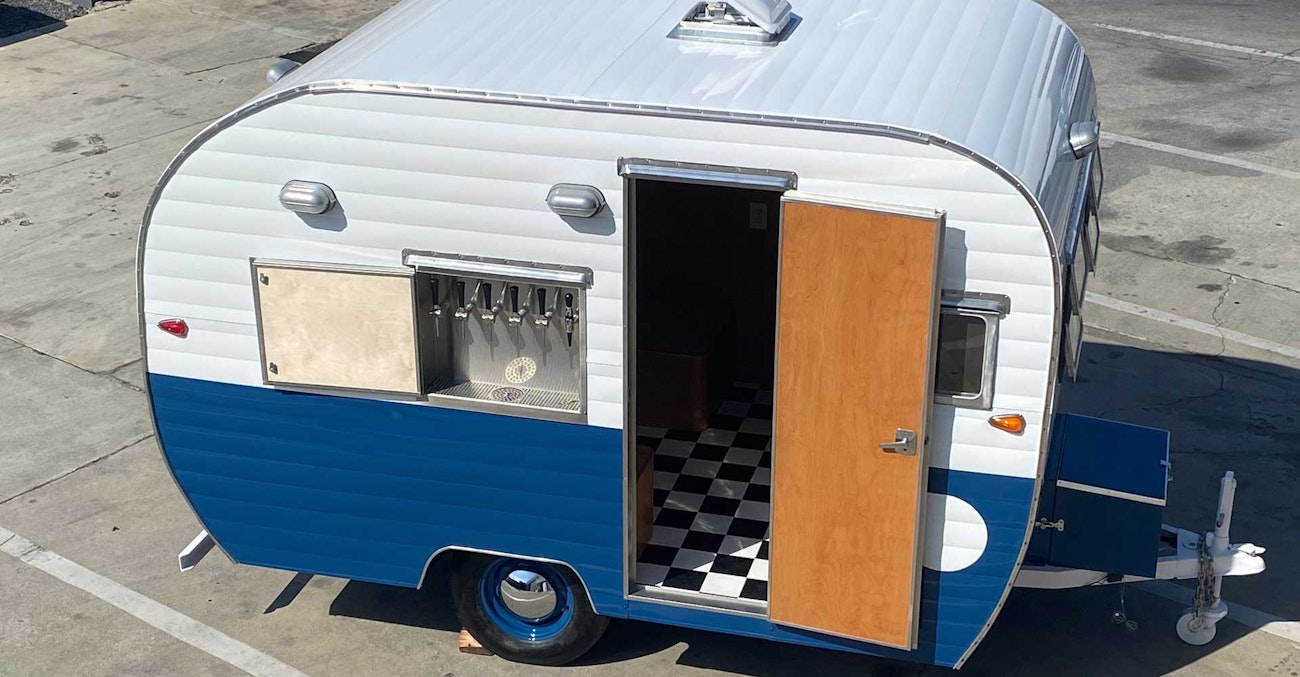 Hot Rods, Cold Beer
The recipe for creating a truck, trailer, or mobile draft system is as simple in concept as it is varied in execution: At the most basic level you need a vehicle, a draft system, and some kegs. Setups such as Mooney's trailer or Mullan's fire engine use onboard cooling systems to keep the kegs cold and the beer flowing, but simpler methods also work.
"The jockey box is king," says Corbin O'Reilly, founder and co-owner of the San Diego–based Tap Truck service. "It's proven, it's simple, and it's easy to troubleshoot," he says with characteristic enthusiasm. "Plus, all you need is ice—you don't need power."
O'Reilly is an experienced caterer who previously hauled his Santa Maria–style barbeque smoker behind a vintage 1969 Chevy pickup—and he loves bringing the party with him. In 2016 he partnered with lifelong friend Taylor Steers to launch Tap Truck. The idea of "a classic ride and craft brews" was a hit at parties, weddings, and events around San Diego.
The business took off, and a year later, they began licensing the brand to other entrepreneurs who wanted to operate a Tap Truck of their own. There are now more than 90 licensees across the United States, Canada, and the United Kingdom, including a dozen or more in Southern California.
The brand's TikTok feed is filled with videos of vintage vehicles going under the knife—or drill, rather—and emerging as fully wrapped, ready-to-pour beermobiles. The fleet is filled with cherry rides that make auto enthusiasts thirsty before the beer even starts pouring, from '30s-era panel trucks to hot-rodded mid-century Chevys and even a Volkswagen microbus. The oldest truck in the fleet is a 1918 Oldsmobile. O'Reilly says the "cool factor" outweighs any concerns about reliability or mechanical troubles.
"They're just that much cooler than a plain white trailer, and they put bigger smiles on people's faces," he says. O'Reilly says those smiles are the best part of the gig for him. A close second is having the chance to put a craft beer, usually from a brewery local to the event, in the hands of someone who wouldn't otherwise reach for one. "A lot of people [ask] for Modelo at weddings in San Diego," he says. "It's awesome to give them a local Mexican lager instead and open that door for them."
Spreading Joy
In Ohio, Mullan also enjoys those parts of showing up in the Ladder 419 truck. However, he says that working with local brewers is what he enjoys most, citing their creative energy and collaborative spirit.
Watching how the beer community came together during the pandemic also inspired him to give back in his own ways. He partnered with a local brewery to create a bespoke craft root beer, added a chest freezer to the truck's cold box, and now has served more than 3,000 free root-beer floats to hospital workers, first responders, and teachers during the pandemic.
Kids, of course, love to interact with the fire truck. So, Mullan dedicated one of the draft lines to nonalcoholic beverages, from sodas to lemonade or even hot cocoa. His original business plan estimated just a few rentals a year—it wasn't meant to become a full-time gig. Yet Ladder 419 is booked almost every weekend through 2022, and Mullan is building a second truck that will operate in the Baltimore area as Ladder 410.
"Every day I get to drive this thing is a gift, and that childlike joy has never worn off," he says. "It's better than being Santa Claus."
Third Place on Wheels
As we know, the COVID-19 pandemic changed the landscape in ways we're still discovering. My favorite neighborhood beer bar, the Blue Palms Brewhouse in Hollywood, California, shuttered in 2021, and it was like losing a friend. Beyond the newfound scarcity of banging tap lists and favorite comfort foods and losing touch with the team of bartenders and servers who made the tavern so special, it was all those impulsive conversations with folks on the next barstool over that I couldn't have again—and the friendships that would never blossom there—that hit me hardest.
Blue Palms was by no means unique. Countless other bars and restaurants across the country turned off their lights as well. The disease killed a million Americans and shattered our access to the "third spaces" where beer and sociability had thrived.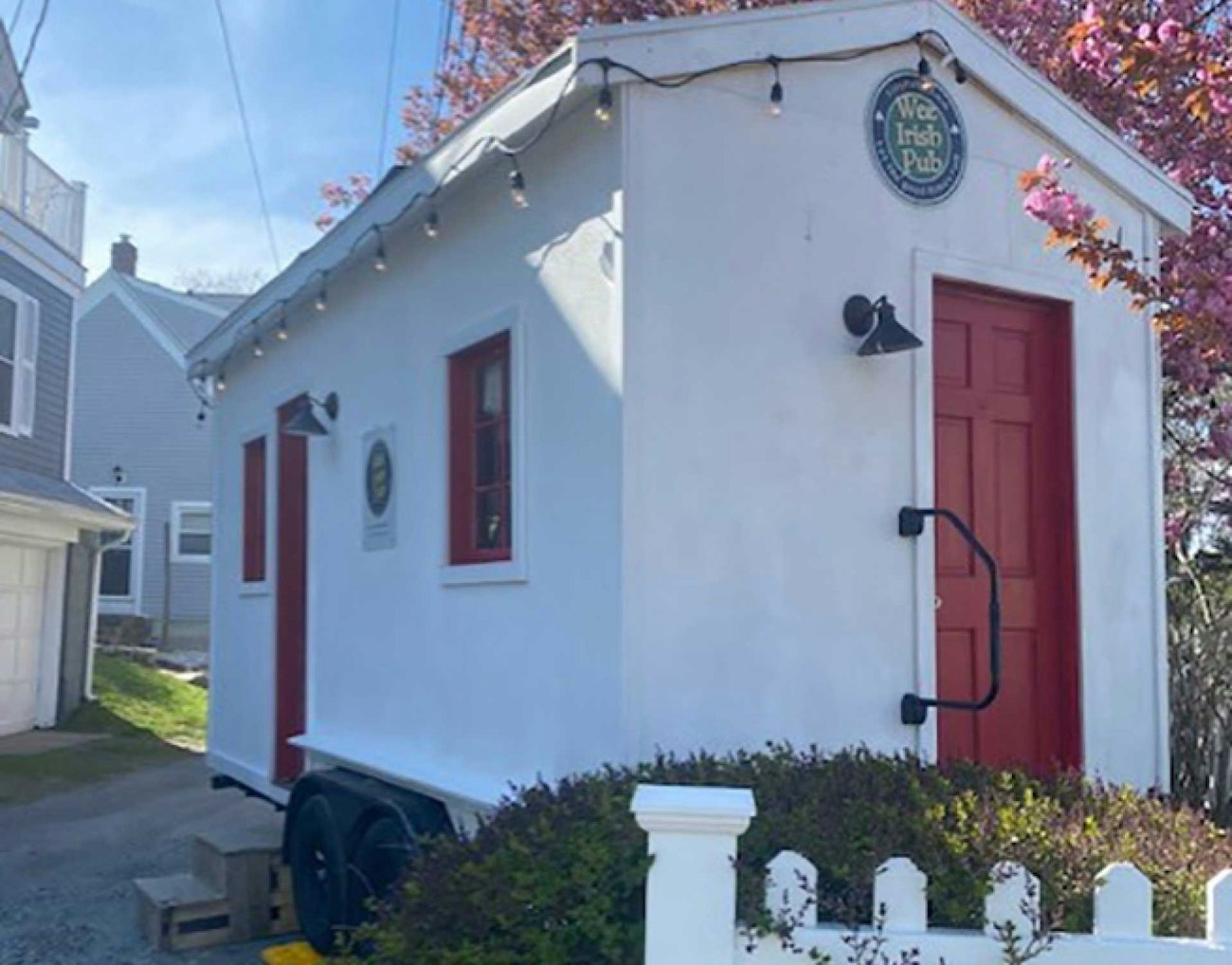 The sociological concept of the third space emerged in the 1980s, but such spaces—neither home nor workplace—are probably as old as civilization itself. If they weren't the pub, they may have been the river's edge or a forest clearing. The idea is that we thrive as individuals when we have a comfortable space to interact with strangers, have conversations, and share ideas—and maybe even find a sympathetic ear or shoulder to cry on.
A mobile-tap rig isn't a traditional third space, but it does result in that kind of serendipitous mingling, be it at a wedding or a music festival. It's something we all could have used more of during the depth of COVID isolation. These entrepreneurs all tell me that sense of connection—even when temporary—is a big part of why their business works.
For some business owners, the tap truck or trailer still doesn't quite hit that mark of sociability. Brothers Craig and Matt Taylor fall into this camp, and during the long dark winter of 2020 they just wanted a place as cozy as the Irish pubs they knew scattered around New England.
Lots of folks picked up new hobbies during the pandemic, and the brothers combined theirs—genealogy and carpentry—and decided to build their own pub. With no permanent place to build it, they decided to go mobile and build it on a trailer frame. The Wee Irish Pub is unassuming from the outside—a simple box trailer with few clues to the magic that awaits within.
"You walk through that door, and it's like you're transported to Ireland," Craig says. Inside is 128 square feet (12 square meters) of tavern, with two taps behind the bar, a booth, a few stools, and room for a dozen patrons. Plenty of decor and signature pieces help the trailer-pub feel authentic, from the Irish flag to a framed Easter Rebellion Proclamation.
The brothers tow the pub to houses around New England for private parties, bringing a taste of Ireland to people who can't go there. The deluxe package includes a custom pub sign, glassware, and maybe even some insight into the client's own genealogy. Taylor says helping people connect with their Irish roots in their own driveway is more rewarding than he'd ever imagined, and what started as a side hustle is now his full-time job. The Wee Irish Pub is booked solid, with at least three events a week throughout the summer. The brothers are also building and decorating a second mobile pub and looking for possible franchisees.
Given the apparent demand for these mobile solutions, it's perhaps inevitable that not everything is DIY. Even beyond the fully restored and outfitted vintage vehicles from Tap Truck, there are providers moving into this space with their own turnkey options.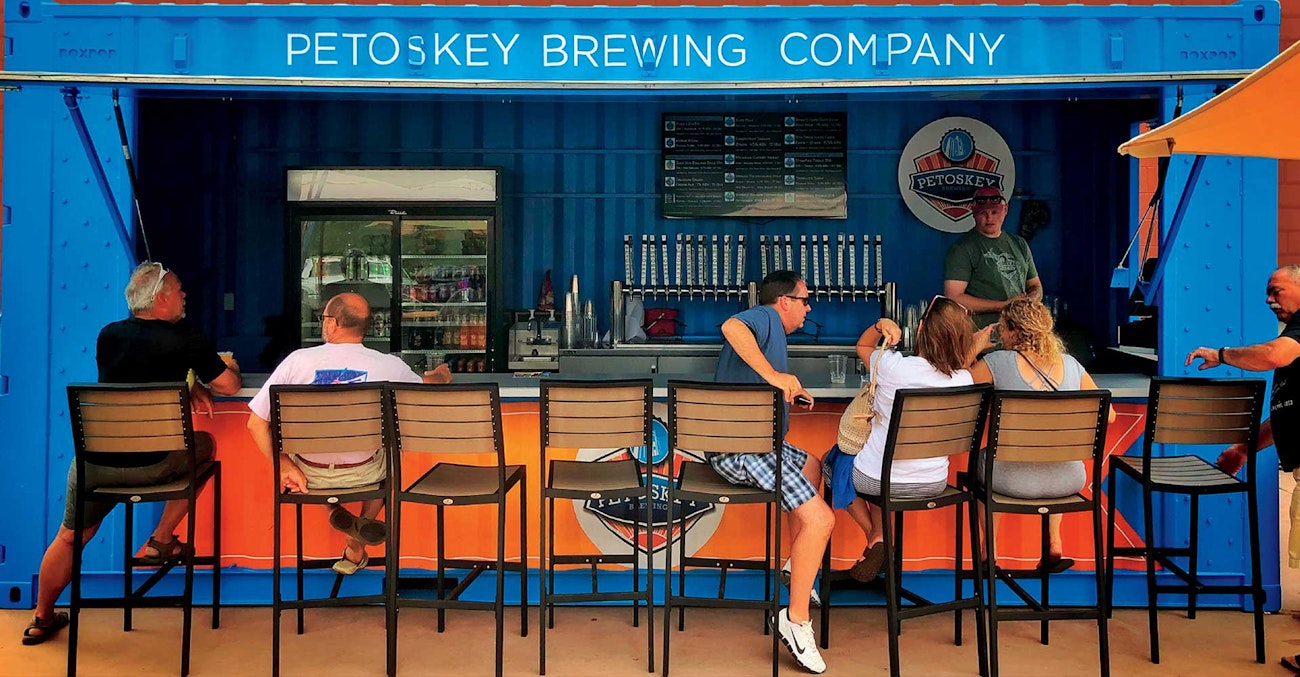 BoxPop is a firm whose offerings are based on shipping containers, be they permanent installations or temporary builds. Their new TrailerBox, for example, is a fully custom 14-foot trailer with a hydraulic system that can drop the trailer directly onto the ground.
"It isn't like ordering from a food truck," says Cam Penny, BoxPop's senior project manager. "You can pull up a stool and sit at a bar." Targeted at companies (including breweries) looking for a comprehensive solution to off-site events, the TrailerBox is all about ease of setup and teardown and about making connections with eye-catching designs and full-service capabilities.
Tapping New Markets
One thing that strikes me when talking to the people behind these rigs is the enthusiasm for connection with drinkers. Each different mobile-taproom setup provides an opportunity to showcase craft beer to those who've never experienced the beverages before.
After decades of growth, it would be easy to think there's no more untapped market for craft beer. Yet, there are many people who don't normally visit brewery tasting rooms or specialty beer bars. Maybe they're intimidated or overwhelmed by the options, or maybe they prefer the familiarity of bigger brands. For them, mobile taprooms reduce the barrier to discovery.
They bring the beer right to the people, and it's hard to not be interested and excited when a candy-red fire truck pulls up and starts pouring pints.