The Wine Check
$80, thewinecheck.com
Pros: If you've ever had to carry a 12-bottle shipper through an airport in your arms, you understand just how nice it is to have a soft-sided and lightweight piece of luggage with wheels to move your beer. The Wine Check is (relatively) inexpensive, solidly constructed, works with standard 12-bottle styrofoam shippers, and features handy nylon carrying straps for those times when you need to lift it. The best thing about it, however, is the packability. Since it works with standard shippers, you can fold it flat and place it in your regular luggage going out, then buy a regular shipper at your destination to bring beer back, saving the cost of checking dedicated luggage both ways.
Cons: Managing weight in the shipper can be a challenge. If you have empty spots, make sure they're on the handle side of the case and not closer to the wheels, or the case can get unbalanced and top-heavy. The detachable pull handle doesn't give you as firm control over the wheels as some may like.
The Verdict: It's a solid buy for those who regularly travel with shippers of beer (or wine) and who want the flexibility of not having to check luggage in one direction. It's more polished and attractive than a janky folding luggage cart (and doesn't require straps to hold the box down), plus it lets you maintain a certain degree of TSA-friendliness and avoid nasty surprises from opened boxes. If you're serious about traveling with beer, do yourself a favor and buy one.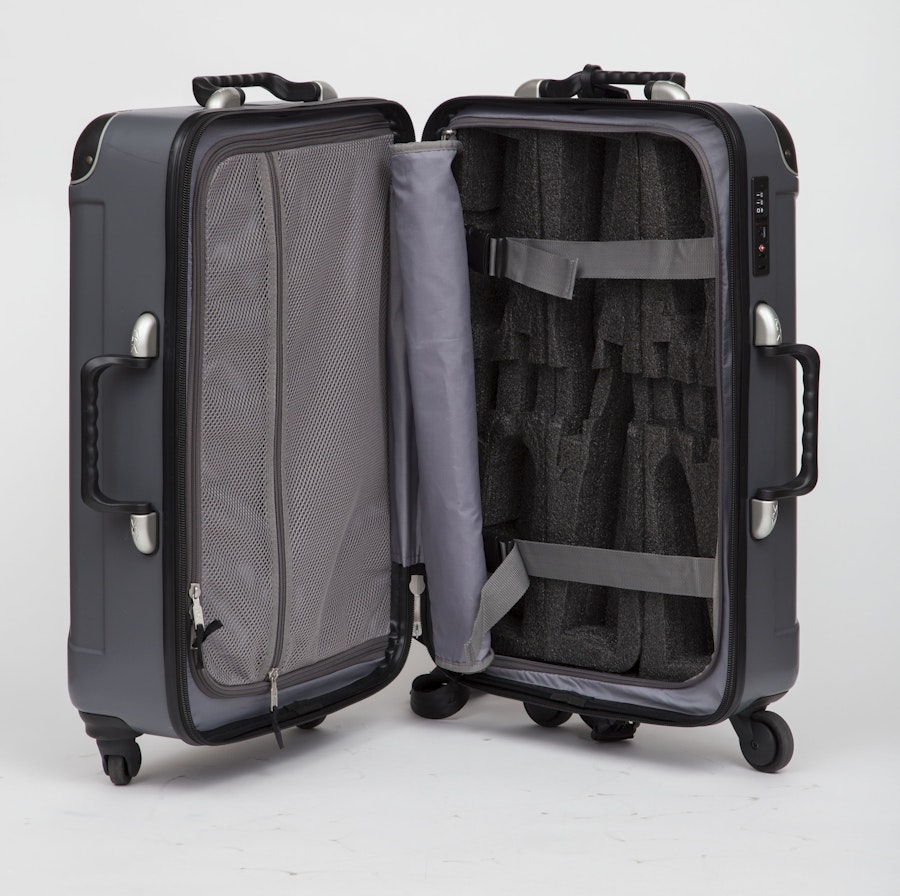 VinGardeValise
$299.99, vingardevalise.com
Pros: Every detail has been thoroughly examined, and this piece for serious wine and beer fanatics is unmatched in its thoughtfulness. Closed-cell foam padding throughout the suitcase keeps your beer (or wine) safe in transit, and added touches such as the nylon straps on each side of the case to hold down the foam panels are proof that this is much more than just an off-the-shelf hardshell suitcase with foam inserts for beer. The wine bottle–shaped cutouts do a pretty good job of accomodating most beer bottles, and the TSA-friendly lock keeps people out of your precious stash. The split handles are a beautiful touch and keep the suitcase balanced when you need to carry it.
Cons: Our testers noticed that bottles can shift in transit and slightly pop out of the foam padding around them. No bottles broke, but definitely use the middle foam insert between the two halves to eliminate any space for bottles to move inside the case. The external compression straps were the biggest weakness, with one buckle breaking on a trip while the other lost tension and slid off. After tightening on a second trip, the strap slipped again. But the case works fine without them.
The Verdict: It's a pricey piece, and while its function alone may not justify the expense, its form certainly will—for those who like to travel in style, at least. We hear that beer-specific inserts are on the way, which should also mitigate some of the issues with bottles moving in transit. If you appreciate good design, you'll find it worth the price.