Don't believe everything you hear about Los Angeles—it isn't all uncontrolled sprawl and traffic jams. After years of playing a supporting role to their neighbors to the south, LA brewers are stepping into the spotlight as the dynamic craft-beer scene joins the list of attractions that draw visitors from across the globe to the sun-soaked megacity.
While craft beer flourished for decades just a hundred miles south in San Diego, until the current decade Los Angeles remained a craft-beer desert of cocktails and mass-market brews. A few short years ago this story wouldn't be possible—despite an active homebrew community, commercial craft breweries were few and far between. Then came the recession of 2008, and in a plot line familiar to those who follow craft beer, some of these intrepid beer makers who were pushed out of the mainstream economy applied their DIY spirit to a new wave of brewery launches in Los Angeles. It didn't take long before the ever-thirsty populace began to take pride in its city's nascent craft-beer scene, and the region now sports more than three dozen breweries scattered throughout its infamous sprawl.
Los Angeles County comprises eighty-eight cities spread across almost 5,000 square miles—calling it a sprawl hardly does justice to the incredible patchwork of municipalities, neighborhoods, freeways, and hidden gems. The size has been one of the biggest obstacles to the development of L.A.'s beer culture, but as the scene has developed, three particular areas have become home to clusters of breweries, and there are enough other notable hot spots scattered between them to keep a dedicated beer tourist busy for days.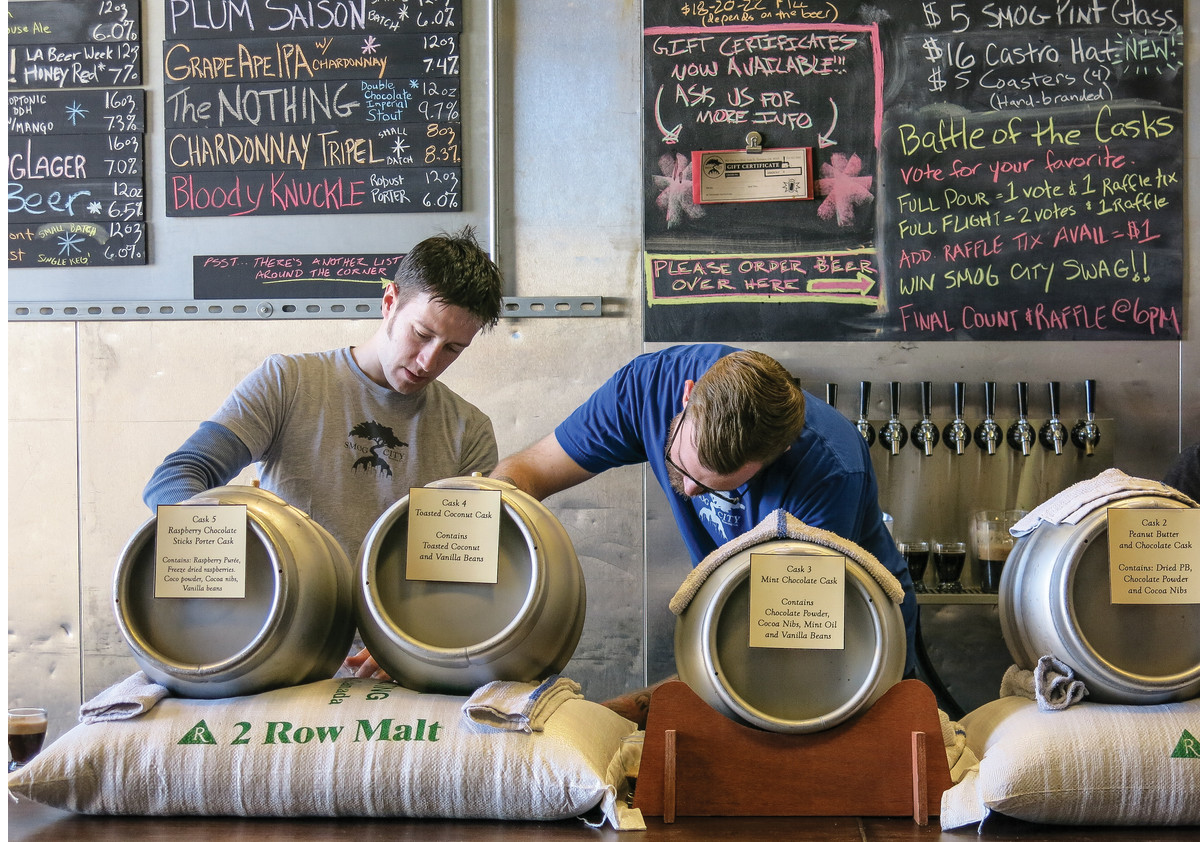 The South Bay
Stretching along the coast from the LAX airport almost to the Orange County line, the South Bay is the shining beacon of craft beer in the Southland. This is particularly true in the picturesque working-class city of Torrance, where a forward-looking city government welcomed the early craft entrepreneurs in Los Angeles. Strand Brewing was the first to open, and it quickly became a favorite with the laid-back beach community. In 2015, Strand expanded into a larger production facility with an expanded tasting room to meet demand. Smog City Brewery is perhaps the most talked about of the Torrance breweries, and with good reason—it does everything from drinkable pilsners to fruited saisons to decadent barrel-aged treats, and it's all excellent. Just a block away from Smog City is Monkish Brewing—a small operation that emphasizes the flavors of fermentation with a range of Belgian-inspired farmhouse ales that creatively use uncommon ingredients (such as Asian teas or pistachio nuts).
Nearby in Carson, the home of the LA Galaxy Major League Soccer (MLS) team, is Phantom Carriage. Part brewery, part beer bar, part barrel house, and part haunted mansion, Phantom Carriage drips with spooky atmosphere and serves frighteningly good wild ales. It's the spot to grab a fortifying snack and a few tasters during a long day of beer exploration.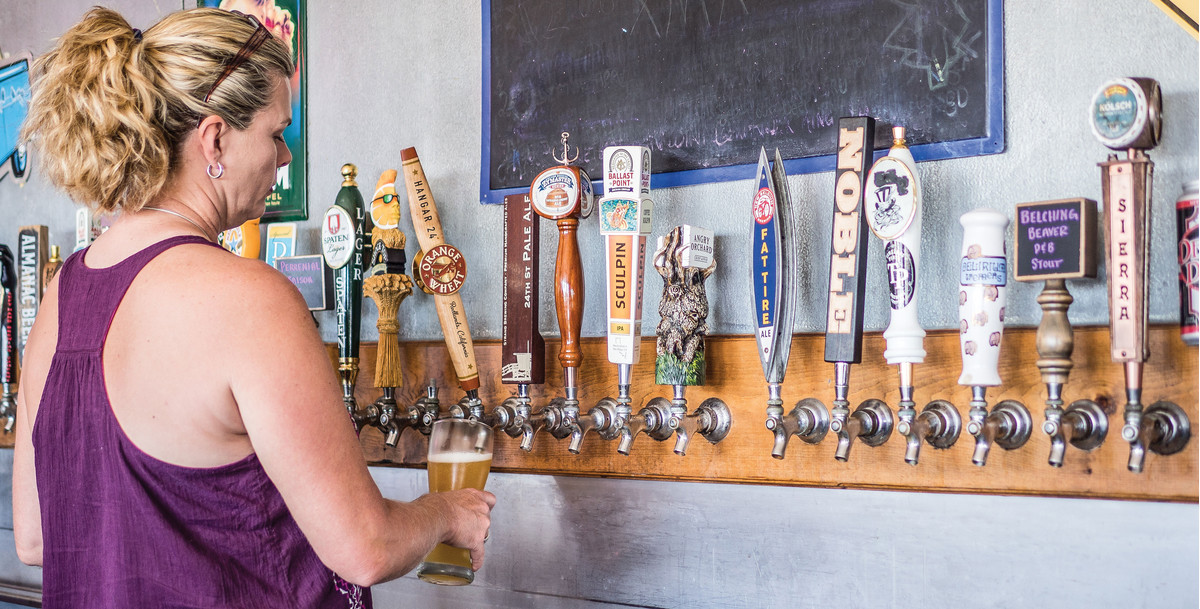 You can't visit Los Angeles without a trip to the beach, and the Redondo Beach International Boardwalk is a must for beer lovers. Among the moored boats and seafood eateries is one of the best seaside beer bars in the country—Naja's Place. The L.A. institution has more than seventy taps (with an emphasis on IPAs) and a crowd as colorful as the tap handles covering the ceiling. Just a few steps down the boardwalk is the cozy Waterfront Tasting Room of Redondo's King Harbor Brewery, where you can enjoy some beer made for the beach (and take a crowler—32-oz can growler—to go). If you need some bottles for the hotel room or Airbnb, stop in at Redondo Beach's combination bottle shop and bar—Select Beer Store.
Hop heads will want to spend some extra time at El Segundo Brewing Co., investigating their "boutique IPAs"—West Coast–style hops-bombs that focus on complex hops aroma over punishing bitterness. From the Mosaic-laden Mayberry to the dank tropical onslaught of Hammerland, the beers at ESBC give the best IPAs from San Diego a run for their money.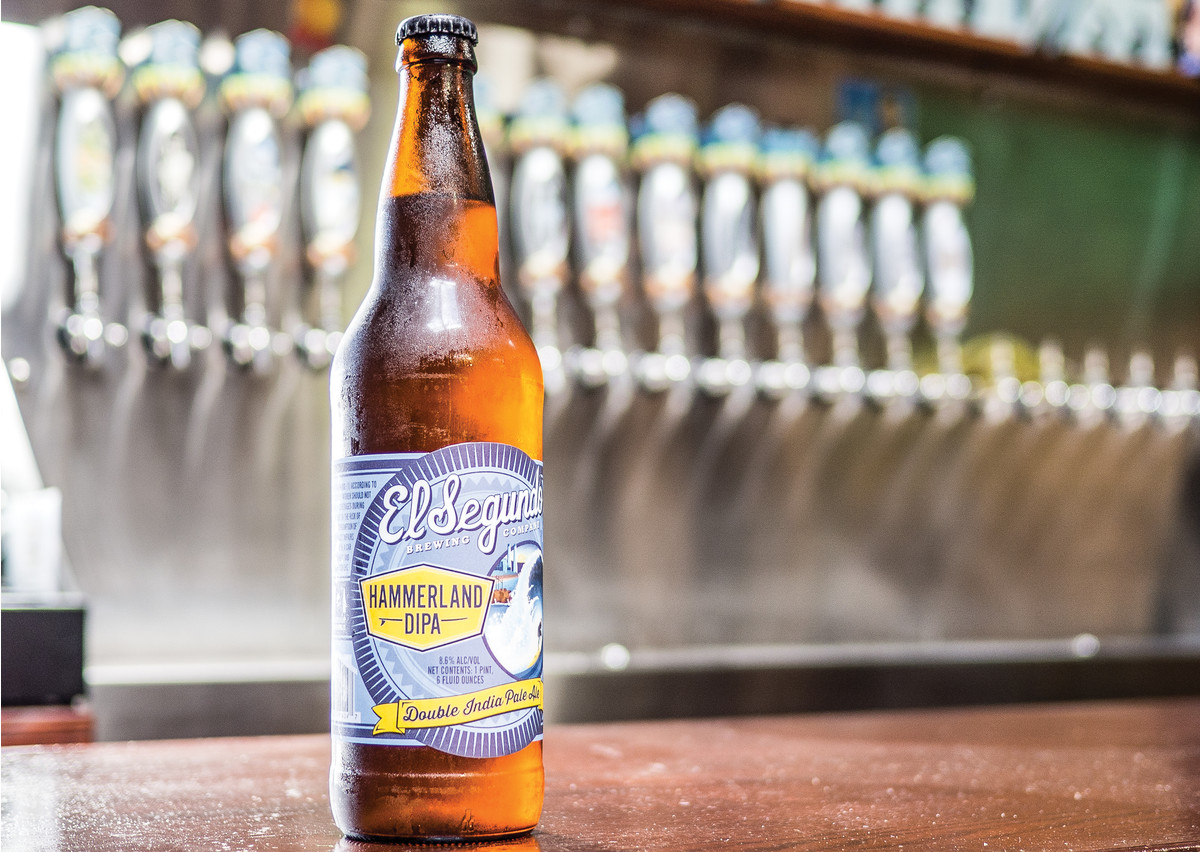 Northeast L.A.
Another early bastion of craft brewing in Los Angeles arose among the hip communities in the hills between Downtown and Pasadena. Some of L.A.'s biggest and best beer destinations are now found in these neighborhoods. Eagle Rock Brewery was the first production brewery to open within city limits in decades, and the small taproom in the Glassell Park neighborhood is a favorite hangout and beer-tour stop. In 2014, the team opened the Eagle Rock Brewery Public House restaurant not far from the brewery, and the kitchen turns out some fantastic upscale beer cuisine to complement the brewery's refined portfolio. (They also serve one of the best beer brunches in L.A.)
Bordering the wild enclave of Griffith Park is L.A.'s biggest craft producer Golden Road Brewing. Cans of Golden Road's drinkable Point the Way IPA and citrus-tinged Hefe are ubiquitous around town, and the pub's patio is a popular spot to relax with a pint (or pitcher)—especially for families. Mohawk Bend is the sister restaurant to Golden Road, and the destination gastropub in Echo Park offers seventy-two taps of brewed-in-California beers alongside a vegetarian- and vegan-friendly menu (don't pass up the Buffalo-style fried cauliflower). Another bar/bottle shop hybrid just up Sunset Blvd., Sunset Beer Co., stocks an incredible selection, has a lounge, and is walking distance to Dodger Stadium if you want to catch a game.
Highland Park might be a bit of a journey from the core of Los Angeles, but it's one that any serious beer lover should make. The neighborhood has enough cafes, bars, shops, and taco trucks to fill out a leisurely day of walking and imbibing, and the neighborhood brewery is the main attraction. Highland Park Brewery occupies a tiny space in back of the Hermosillo on York Boulevard. The once seedy dive has transformed into a lively wine and beer bar with a great menu and some incredible house beers. Brewer Bob Kunz is equally adept at the clean, hoppy ales that the locals demand and the funky, uncontrollable mixed-fermentation brews that he loves. Further up York Boulevard is Maximiliano—a laid-back pizza and pasta restaurant that's become the unofficial tasting room for Pasadena's Craftsman Brewery—the oldest production brewery in the region.
Find other beer destinations, dozens of beer reviews, and practical advice and tips for getting the most out of your brewing in every issue of _Craft Beer & Brewing Magazine®. _Subscribe today.
Downtown Los Angeles
The transformed downtown core of Los Angeles bustles with renewed commerce, and craft beer has taken root again. The Arts District neighborhood just west of the L.A. River is the epicenter, anchored by Angel City Brewery. This ambitious project from Boston Beer–backed Alchemy and Science pours a broad and creative lineup in their striking Art Deco taproom/art gallery/performance space. In 2015, Mumford Brewing and Boomtown Brewery opened nearby, and Arts District Brewery is planning to open in late 2015 headed by Devon Randall from the legendary Pizza Port Solana Beach brewpub.
The restaurant scene has also exploded in Downtown, and among the renowned fine-dining establishments and tony celebrity hangouts, there are some great beer-centered concepts. From Little Tokyo's Far Bar, which boasts an impressive selection of imported Japanese craft beers alongside local favorites, to the new Barrel Down gastropub near historic Pershing Square, you don't have to look hard to find good beer pouring in Downtown L.A. Blocks away from city hall, the refurbished and thriving Grand Central Market is a can't miss panoply of culinary delight. The vibrant, century-old marketplace houses fruit stands and butchers, ice cream parlors and cheese shops, some of the best tacos in town, and plenty of craft taps scattered among the many vendors. There's no better place to grab a pint and get a sense of L.A.'s spirit. If you're looking to score some bottles, Downtown's Buzz Wine Beer is close by, and the Ramirez Beverage Center across the river in Boyle Heights is an impressive emporium of booze.
The Sprawl
Beyond the notable clusters of craft-beer activity in Los Angeles are many other shining stars scattered among the grit, glitz, freeways, and neighborhoods of L.A. If you're visiting Hollywood, just steps off the Walk of Fame is Blue Palms Brewhouse—a superlative beer bar with twenty-four taps, a stellar bottle list, and some of the best pub food in the city. Beer Belly is a popular hangout in Koreatown; it's known for its madcap take on comfort food and a tightly curated twelve-tap beer list. If you find yourself in the San Fernando Valley, you'll want to visit MacLeod's Ale Company. This young brewery focuses on traditional British styles and serves all their beer hand-pumped from casks. Fancy a hike? Head into the hills that rise above Malibu and enjoy a post-trail meal at Ladyface Ale Companie. It's not your average brewpub, and the food is as excellent as the (often Belgian-style) beer. If you're on the west side, Library Ale House in Santa Monica or Father's Office in Culver City are where to go for chef-driven bites and the brews to pair with them.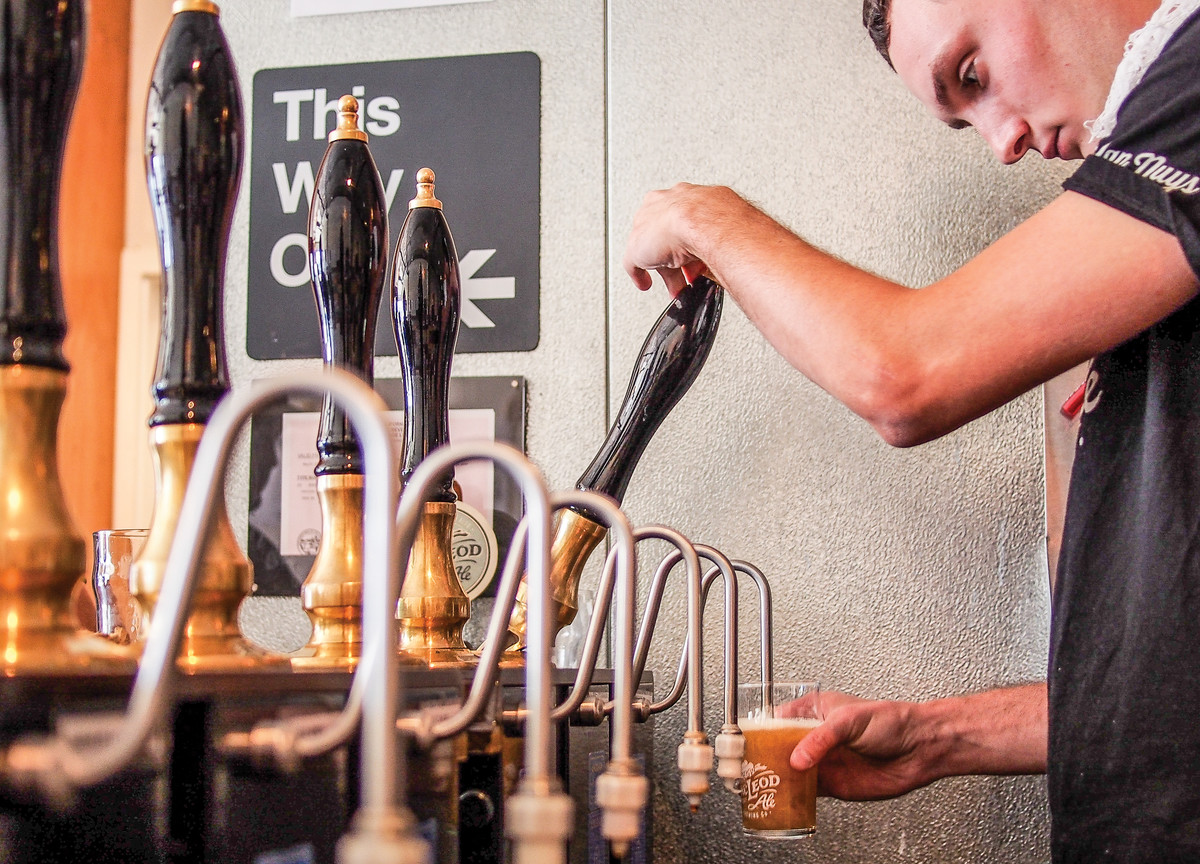 Finally, there's Beachwood BBQ and Brewing. At the far south end of the county in Long Beach, this brewpub has gained national attention, twice winning Brewpub of the Year at the Great American Beer Festival. The grub is California-influenced barbeque, and the house beers are some of the best brews in Los Angeles. Brewmaster and Co-owner Julian Shrago is renowned for his punchy hops-bombs, but his skill at brewing subtle Old World styles is equally impressive. Don't be swayed by the always incredible list of guest taps and don't be fooled by the irreverent names of the beers (Tart Simpson Berliner Weisse, Udder Love milk stout)—Beachwood makes some of L.A.'s best beer.
In years past, visitors to Los Angeles would have to travel to San Diego or Orange County to explore California craft-beer destinations, but L.A. has come into its own with a unique and surprisingly mature scene that shows off the creativity and passion for which Angelenos are known. From world-class IPAs, to rustic farmhouse and wild ales, to session-friendly pints, there's something for every intrepid beer tourist.
Don't Call It Los Angeles
Bordering Los Angeles County to the south is the equally sprawling but fiercely independent Orange County. Home to Disneyland, even more incredible beaches, and the confusingly named Los Angeles Angels of Anaheim baseball team, Orange County has a culture and beer scene distinct from its L.A. neighbors. Here are a few highlights to visit…
The Bruery is easily the most well known O.C. craft destination, and the bustling tasting room in Placentia is must-visit for traveling beer lovers. The popular brewery also plans to open a second tasting room dedicated to their Terreux brand in late 2015.
The nearby city of Anaheim has actively courted craft breweries, and several now operate in a fairly small area. Noble Ale Works is a local favorite known for their unbridled creativity, hops-bomb IPAs, and the Naughty Sauce (a golden coffee stout served on nitro that became a local phenomenon in 2014). Bottle Logic is another marquee Anaheim brewery that's garnering beer-geek accolades and plenty of trade board ISO posts. A couple of flights at the tasting room will show you what all the fuss is about.
The quaint Old Town district of Orange is filled with cafes and antique stores, and Provisions Market is the destination for any artisanal foods. From wine to coffee to craft beer to cheeses and sandwiches, this neighborhood boutique is a one-stop shop.
At the southern tip of Orange County, on the road to San Diego is the northernmost outpost of the famed Pizza Port chain of brewpubs. Pizza Port San Clemente is the spot to stop for a pie and a couple growlers on your way to or from beer nirvana in San Diego.
Other Resources
News and Events
Local brewspaper Beer Paper LA covers the scene in Los Angeles and surrounding areas and keeps a calendar of events updated at beerpaper.com/calendar.
Beer Tours
There's no escaping the spread-out nature of the beer scene in Los Angeles, but one of the best ways to overcome it is by booking a beer tour with a local company that provides transportation and guidance to the best L.A. has to offer. These beer buses are usually more relaxed and low key than the "party bus" vibe more common in San Diego.
LA Beer Hop
The LA Beer Hop operates several vans and buses, and they offer a variety of public and private tours that cross all the major Los Angeles beer destinations. The Beer Guides provide insights into the brewing process and the specific beers that are offered on the tour.
L.A. Craft Beer Tours
This is the longest running beer-tour business in Los Angeles, and the guys behind L.A. Craft Beer Tours know the scene inside and out. A variety of tours—most hitting three breweries—are offered every weekend.
SoCal Brew Bus
A new operation that began in the summer of 2015, the SoCal Brew Bus offers weekend tours of either the Downtown and Eastside or the South Bay hotspots. They also can design a private tour to meet your specific needs.
The Los Angeles County Brewers Guild
In 2014, the brewers responsible for the burgeoning scene in Los Angeles created a guild to help foster further growth. If you're planning a trip to the L.A. area, check out their Facebook page.
Caption: Beachwood BBQ and Brewing offers quantity and quality at their Long Beach tap room.