As an epicenter for nineteenth-century brewing, Philadelphia seized hard on this century's beer resurgence long before most East Coast cities had even caught a hops-scented whiff. Brewing pioneers such as Carol Stoudt of Stoudts, Rosemarie Certo of Dock Street, and Tom Kehoe of Yards Brewing still help set the pace for the Philadelphia region, which continues to set standards with its breweries, bars, and Belgian connections. As with everything, including their sports teams, Philadelphians do beer with intensity. Unlike with their sports teams, with their beer, they also add a wry sense of fun. You can walk into almost any bar on almost any corner and find at least one local knob and a "Citywide Special"—a shot of whiskey and a PBR chaser.
"Almost every section of Philly has a little brewery now, and there are so many more in planning," marvels Kehoe. Because it's so hard to wrap your lips around the breadth of beer in this region, it's practical to concentrate on a few walkable neighborhoods.
Northern Liberties and Fishtown
Said to be the bar that birthed the term "gastropub," Standard Tap (below) is dog friendly and beloved for its rooftop brunch and burgers. The Tap's local-beer-only policy first brought awareness to the native brewery scene and anchored the revival of Northern Liberties (NoLibs). "From day one we wanted this to be the neighborhood's unofficial town hall, the neighborhood's living room," says William Reed, who launched Standard Tap in 1999.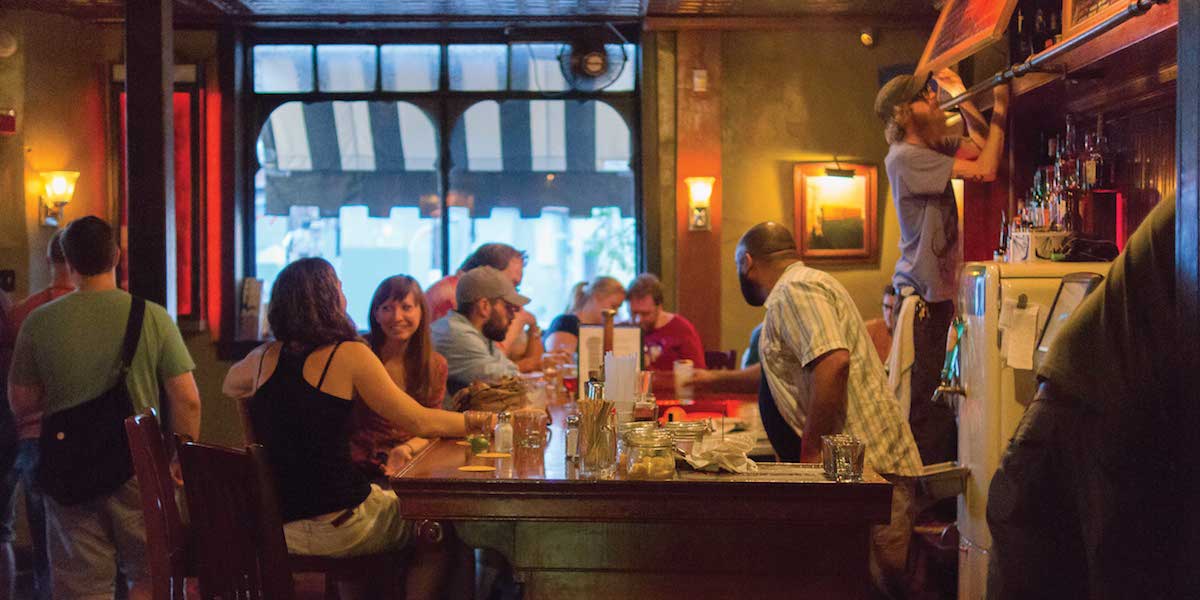 Jerry's Bar brings modern meaning to the "gastropub" label. Selections such as Bean Dream from Pizza Boy Brewing (Enola, Pennsylvania), Invasion from Cigar City (Tampa, Florida), and Sidra De Nava from Virtue Cider (Fennville, Michigan) line up next to an expert cocktail list and house-smoked meats to earn it the designation "best new gastropub of the year" from the city's most respected restaurant critic.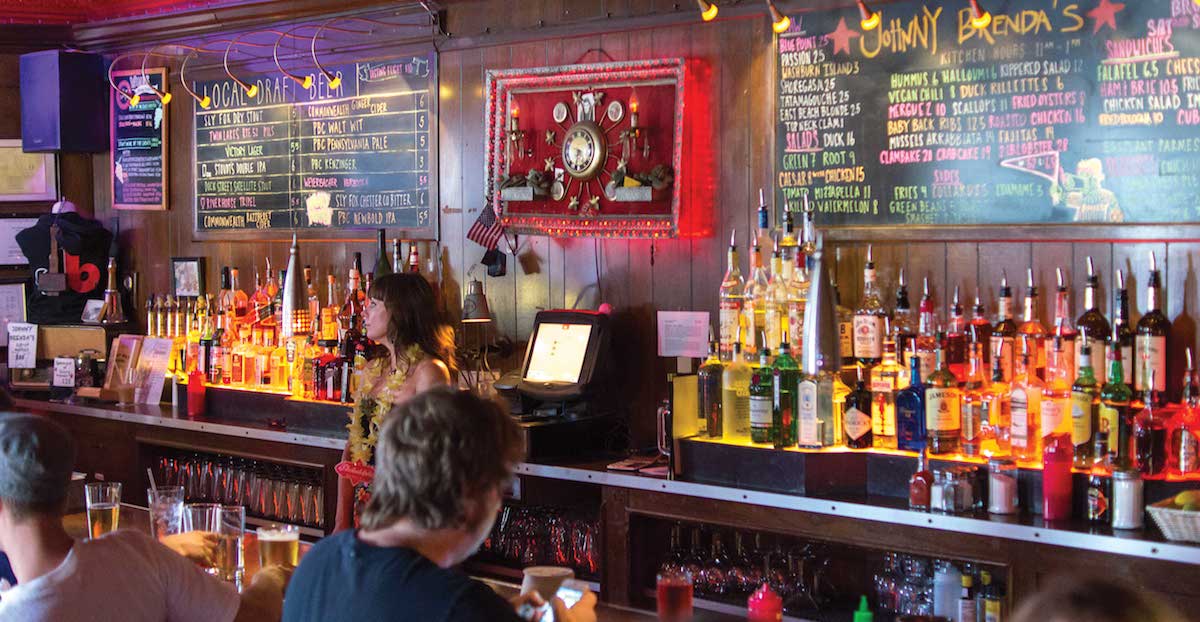 In Fishtown, entrepreneurs are adding bars seemingly by the month to the streets that once housed little more than Reed's intentionally grungy music venue, Johnny Brenda's (above). JB's still pounds out the tunes along with Reed's signature locals-only beer program, but now it's surrounded by other places of note. Barcade patrons play 1980s arcade games while they do battle with Victory's Golden Monkey and Troëgs Troëgenator, while drinkers at the Frankford Hall Biergarten drink enough Bell's (Kalamazoo, Michigan) Two Hearted—along with German specialties—to earn it recognition as a top Bell's account.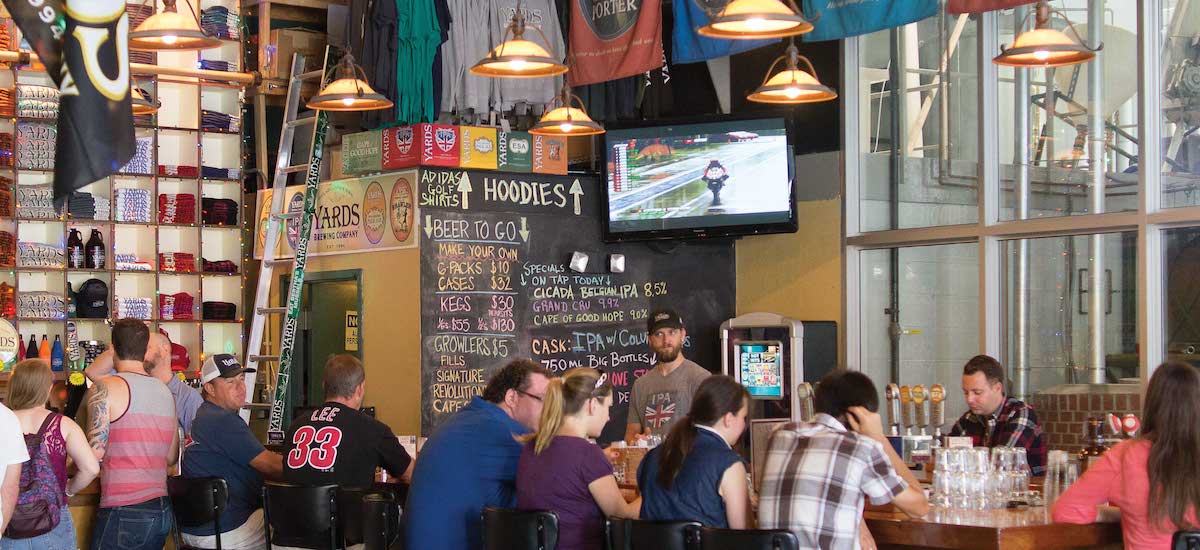 Yards Brewing Company (above) lies between Fishtown and the SugarHouse Casino. Try a flagship Philadelphia Pale Ale or the Ales of the Revolution series, modeled after recipes written by former Philly dwellers Benjamin Franklin, George Washington, and Thomas Jefferson.
While in NoLibs and Fishtown, stock up on bottles at The Foodery and Bottle Bar East. No thanks to Pennsylvania's "case" law, it's tough to find stores where you can buy by the single.
South Philly
For a taste of the old guard, eat brunch at the landmark South Philly Tap Room, then stop in at Pub on Passyunk East (one the nation's best La Chouffe—Brasserie d'Achouffe (Belgium)—accounts) before strolling for beers on East Passyunk Avenue. You can't go wrong eating at any of the acclaimed restaurants, but to plan your meal around beer, have a $5 burger followed by a Carton of Milk Stout (Carton Brewing, Atlantic Highlands, New Jersey) at the unassuming Franklin Porter or a small-batch domestic at Stateside.
Bring-your-own-bottle (BYOB) restaurants line the avenue, so prepare yourself with a bottle run to Brew—A Beer Boutique, which houses Ultimo Coffee, rated the country's best coffee shop by TheDailyMeal.com. Or skip the coffee and the hassle by staking out the stationary food truck at Garage, where a rotating cadre of guest chefs serve dishes to can-sipping swillers in a converted auto repair shop.
Off the avenue, gather with drinkers who worship craft beer and the servers who sell it to them at Devil's Den and The Industry, respectively. Its fireplace and homey atmosphere notwithstanding, Devil's Den's sour events and regular limited releases bring hard-core beer nerds in to worship at the temple of beer-bar-owning diva Erin Wallace. Drinking here saves you a trip to the suburbs if you want to taste Wallace's GABF-winning ales brewed at her new Barren Hill Tavern & Brewery. If you work in a restaurant or bar, bring your paystub to receive 20 percent off your bill at The Industry, a restaurant designed as an in-the-biz hangout where bottles of Russian River (Santa Rosa, California) and Brooklyn Brewery (Brooklyn, New York) Cuvée Noir are de rigueur.
Greater Center City
Monk's Café, once described by a national beer glossy as one of the top five places to drink a beer before you die, is why Philadelphia is a test market for Belgian beers, why Philadelphia consumes more Belgian beer than any city outside Brussels, and why four pairs of Philadelphians have won contests to brew at De Proefbrouwerij, Brasserie Dupont, Brasserie de la Senne, and Brouwerij Dilewyns. A member of the Belgian Knighthood of the Brewers' Mash, Tom Peters masterminded Monk's, and he hires educated and patient bartenders to help patrons decipher the names of 300 lofty brews, bound together in a thick leather menu. Try the mussels and a beer you can't pronounce.
"It's insane what you can get now," says Peters, who opened the cozy but crowded Monk's eighteen years ago, of Philly's selections. "It's an embarrassment of riches."
Near Monk's are two more early adopters. Good Dog Bar's burger has been rated one of the best in the United States, and you can usually find off-duty bartenders from other beer bars there nursing a Founders or a Firestone Walker. Jose Pistola's always has some of the hardest-to-find beers on tap to pair with cheap Mexican eats.
Rittenhouse Square, sparkling with luxury shopping, restaurants, and wine/cocktail bars, houses two prime beer spots. Tria Taproom builds on the impeccable reputation of its sister wine-and-cheese cafés to present an all-draft list of beer, wine, cider, and soda; and The Dandelion pours celebrity restaurateur Stephen Starr's acumen for ambiance and taste into an upscale British pub that serves three cask ales and small-batch British beers by the flight, half-pint, or Imperial pint.
Slightly farther afield are Strangelove's, with its deeply beer-reverent owners and polished café and bottle shop vibe; Varga Bar, whose ceiling beams down painted images of vintage pin-up girls that are only slightly more eye-catching than the Russian River–heavy bottle list; and funky-sophisticated Alla Spina, where you can spend the night eating pig tails and washing them down with beer cocktails and milkshakes and eight-year-old bottles of Nora and Al-Iksir from Birreria le Baladin (Piozzo, Italy).
Old City
Beer lovers should make a pilgrimage to Eulogy Belgian Tavern, which crams thirty taps and 400 bottles into the narrow rowhouse where jewelers founded Bailey, Banks & Biddle in 1832. Slurp mussels and try a sour Haandbakk from Haandbryggeriet (Drammen, Norway) or a cheese-and-chocolate-loving Chocarrubbica oatmeal stout from Grado Plato (Chieri, Italy).
Khyber Pass Pub (pictured at top) has been a dive bar since before dive bars were cool. It was also a beer bar before most people had heard the term. Special events bring knockouts such as Cantillon Iris Grand Cru (Anderlecht, Belgium) and Loverbeer Madamin (Marentino, Italy).
Opened recently, 2nd Story Brewing takes over a spacious post-industrial space to brew European and American styles. Desserts are decadent, especially the Colonial Porter Banana Cake and The Big and Boozey Adult Sundae, both of which feature ice cream made with the house stout at the historic Franklin Fountain around the corner.
West Philly and Graduate Hospital
West Philly's City Tap House boasts the most taps in the city (sixty), and you could cheerfully drink what's pouring from any one of them. If there's Russian River to be found on tap in the city, you can usually find it at Local 44. The bottle shop next door—also owned by Local 44's owners, who run Strangelove's and the ever-cherished Memphis Taproom in the Kensington neighborhood—offers a quieter place to drink from a few taps or bottles. Be sure to fill your bank account before you come—the selection is tightly edited to reflect only the most covetable (read: expensive) bottles.
In a historic firehouse, Rosemarie Certo decided to reopen Dock Street as a flatbread-focused brewpub after contract brewing the beer she created as the city's first "microbrew" in 1985. If you're lucky—or unlucky—you may stumble into a hidden stash of the infamous Walker, a pale American stout brewed with goat brains in honor of The Walking Dead TV series.
Graduate Hospital (G-Ho) lies on the fringes but supports enough beer bars to make it worth a trip. Philadelphians consistently vote Pub & Kitchen as the best bar in the city; The Sidecar Bar & Grille and Grace Tavern have carried the mantle for years; and a team comprised of a veteran bartender and chef has launched Devil's Pocket Food & Spirits with twelve taps.
"Beer in this town is like a pebble," says Peters. "You throw it in the water and it keeps generating more and more around it."
Find other beer destinations, dozens of beer reviews, and practical advice and tips for getting the most out of your brewing in every issue of _Craft Beer & Brewing Magazine®. _Subscribe today.
But Wait, There's More…
Notable Breweries Elsewhere in the City
Locals rate Philadelphia Brewing, located in a restored nineteenth-century Kensington brewhouse, as their favorite place to hang out following a brewery tour. It's never the same beer twice at Mt. Airy's Earth Bread + Brewery, known for its flatbreads, dizzying succession of beer recipes, and owners who founded New Jersey's much-missed Heavyweight Brewing in the 1990s. In Manayunk, try Manayunk Brewery's Schuylkill Punch mixed berry ale while relaxing on the waterfront deck.
Notable Breweries in the 'Burbs
Locals clamor to visit newcomers Tired Hands, Neshaminy Creek, and Springhouse, adorable Forest and Main, and Free Will's new-and-improved tasting room and extensive sour program. The GABF-winning Iron Hill brewpub chain constantly adds new locations. Two of the most popular lie at the end of a short ride into New Jersey, close to Flying Fish, maker of the famed Exit Series. To the west, Victory is opening a huge new production brewery and brewpub that can be visited (by reservation) on a bus trip that includes lunch and a tour of the existing brewhouse. German traditions continue far into the countryside at the mainstays of Troëgs (below) and Stoudts, and Belgian brewing reigns at Weyerbacher.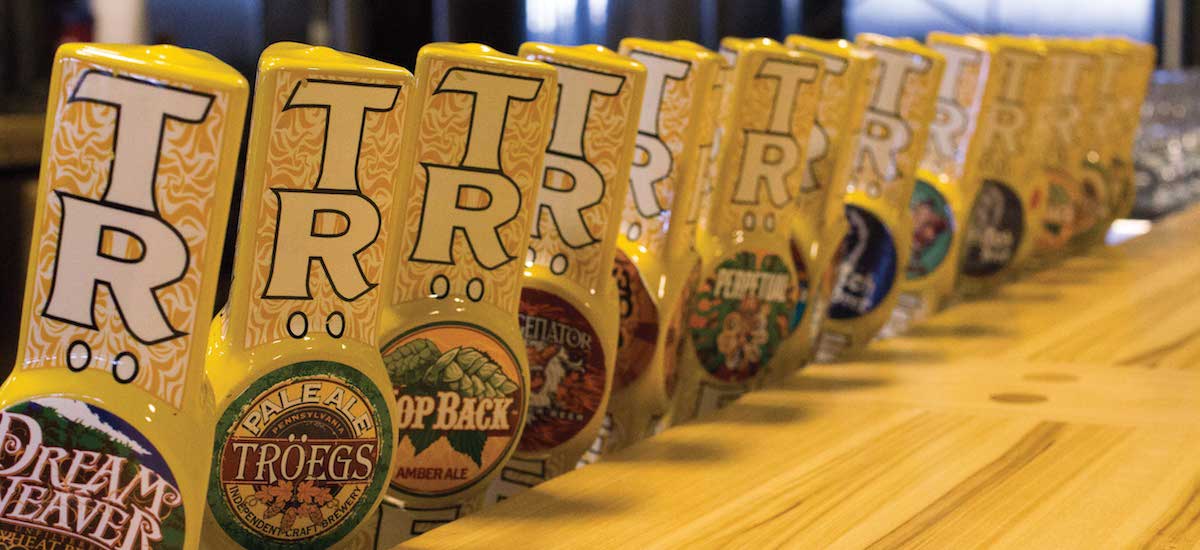 Notable Bars Elsewhere in the City
If there's one place to find a particular German beer, it's at Brauhaus Schmitz, on South Street, where dirndl-clad lasses serve steins to fans cheering on favorite teams in televised soccer matches. In the northeast, practically no week passes without Grey Lodge Pub owner Mike Scotese inventing some goofy holiday that gives him an excuse to don a costume and bring up good stuff from the cellar. And in the Loft District and Point Breeze, Prohibition Taproom and American Sardine Bar are considered among the most legit.
Notable Bars in the 'Burbs
We'll keep it basic and old school here. The five most influential suburban craft-beer bars are Teresa's Café (Wayne), Iron Abbey (Horsham), Capone's Restaurant, Bar, and Bottle Shop (Norristown), Hulmeville Inn (Hulmeville), and Isaac Newton's (Newtown).