It all started on a long drive to see friends in Oklahoma—well, really, it started the way any good brewery origin story does: with years of meticulous recipe testing at the homebrew scale. But that drive was important, too, because on that trip in 2012, the idea for what would become Kansas City's BKS Artisan Ales truly began to take shape.
At the time, Mary Rooney was a marketing manager at a logistics company, and Brian Rooney had an insurance job. However, as they tell it, Brian's homebrewing had "escalated" into more than a hobby, with many of his beers earning medals at regional competitions. So, after asking a number of probing questions from the passenger seat, Mary pulled out her laptop and started working on the beginnings of a business plan.
Looking back, the Rooneys say that finding a location was the most difficult part of the process—in part because they were determined to open a brewery in Brookside, the neighborhood they called home. (BKS is shorthand for Brookside.) After searching for a bit more than a year and spending close to another year building out the small production space and sparse yet inviting tasting room, the Rooneys launched BKS in December 2017. It required a city-ordinance change and the enthusiastic support of a local developer—who saw the potential in a former alcohol rehab center, of all places—but today their commute is a mere 15-minute walk.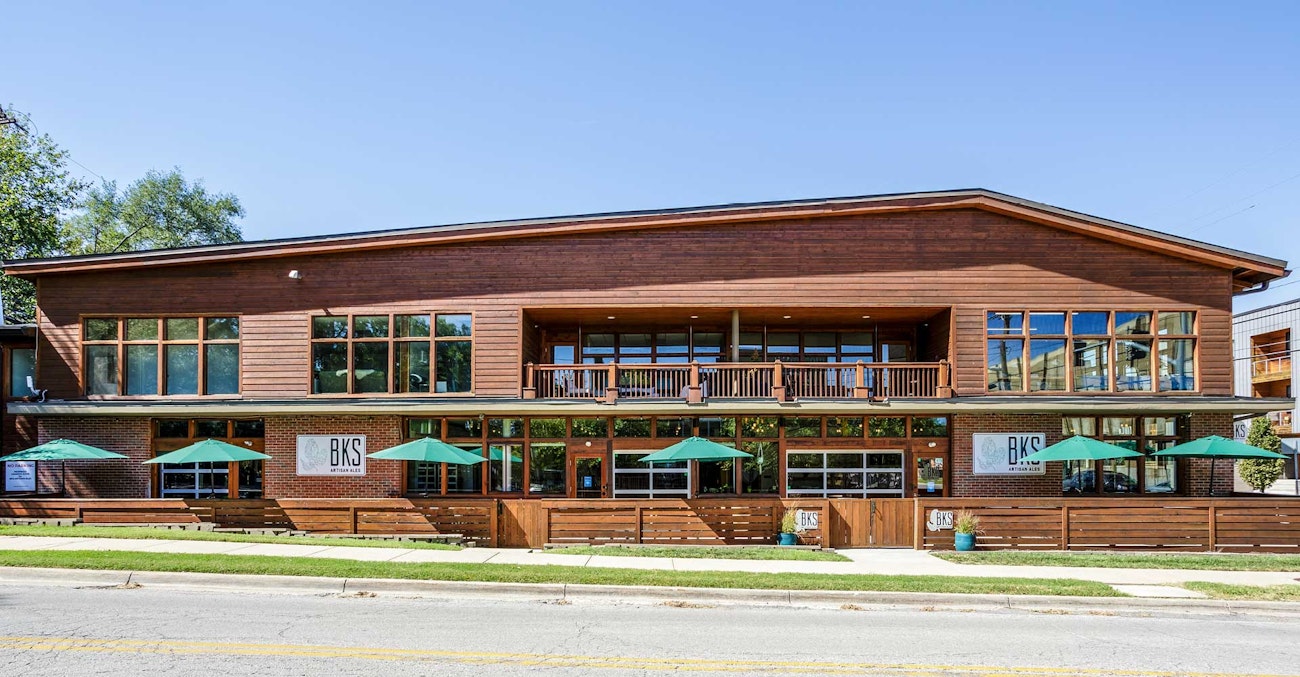 So Much for the Side Hustle
Initially, the plan was to run a little neighborhood beer company on the side, mostly for the fun of it. The taproom with its six rotating taps would be open only on Saturdays. Shortly after BKS welcomed its first customers, however, it quickly became clear that they had established an all-or-nothing business. The couple, who handled everything themselves in the early days, simply couldn't keep up with the demands of their purported side hustle. During the four-hour window the taproom was open each Saturday, the line to get in never disappeared.
Yet, even as the brewery's popularity took off faster than they expected, the Rooneys remained dedicated to three guiding principles: brew quality beer, build relevance locally, and pursue sustainable growth.
"The on-premise brewery model that really took shape in Vermont and New England in the mid- to late 2000s inspired some of our approach—we had never seen anything like that before," says Mary, reflecting on an earlier, eye-opening trip to the Northeast. "We were also inspired by what we saw happening in Chicago around 2012. Chicago, at that time, had smaller neighborhood-focused tasting rooms with hoppy beers that were soft and approachable for a larger audience to appreciate."
Both Brian and Mary left their corporate jobs within two months of opening BKS to devote their attention to the brewery. Mary, who handles finances, scheduling, and inventory while managing the tasting room, still works part time as a marketing consultant. Brian, meanwhile, has walked away from his previous career. He now stays busy with production, packaging, and creative elements.
"I don't think there's luck," Brian says, referring to the success BKS has found so far. "I think it's a lot of timing."
At the start, he brewed on a three-barrel system with just three fermentors of three barrels each. Today, the couple has a seven-barrel brewhouse and 86 barrels of tank capacity; they expect to brew about 1,200 barrels by the end of the 2022. For the fifth consecutive year, they will sell almost every drop of beer directly to their customers on premise.
"They're not trying to be bigger," says Katie Camlin, digital and social-media coordinator at nearby KC Bier. "They really care about the beer, and they prove it again and again. The quality of the beer is why I tell people to go there. It really is kind of like a little beer heaven."
The Artisan Ales
So, what might a visitor expect to find in beer heaven? Well, Clouds, for starters. Packaged in shiny, sky-blue cans, the brewery's popular New England–style double IPA went through numerous iterations over many years before finding its current identity. That dedication to excellence paid off: Last fall, Clouds won a silver medal at the Great American Beer Festival, beating 194 other entries in the Juicy or Hazy Imperial Pale Ale category. That was Mary and Brian's first time entering the competition.
Built on a foundation of white wheat, flaked oats, Maris Otter for a hint of nuttiness, dextrin malt, and pilsner malt for a lighter color, the Rooneys' Clouds leans heavily on Citra, with plenty of dry-hopping support from El Dorado, Mosaic, and Simcoe. It's a time-tested, customer-approved combination, but an award-winning beer is more than the sum of its parts. Brian places a lot of importance on unlocking the best possible water chemistry, believing that pH plays a role in haze stability and lifts the aromatics of hops. He also was careful to try different yeast strains as he honed the final recipe, landing on a commercial pitch from Jeff Mello's Nashville-based Bootleg Biology.
"His particular strain of Conan [yeast] I really love," Brian says. "It has a great stone-fruit character. But it still comes down to hop selection. The smell of a bag of hops can only really be found in these New England beers, and hops are an agricultural product. That creates so many variables."
As much as their hazy IPAs and double IPAs garner acclaim—besides helping to keep the lights on during the pandemic—Brian is especially proud of Rockhill & Locust, his English-style mild. The first beer brewed at BKS back in 2017, Rockhill & Locust is one he developed as a homebrewer and refers to as "possibly the best beer that we make." (Mary, meanwhile, is fond of Tiny Clouds, a Citra-heavy hoppy blonde ale at 4.5 percent ABV.)
From the outset, the Rooneys planned to offer a wide variety of styles in the taproom, but the focus has tightened somewhat. Nevertheless, the mild remains popular, appealing to a broad audience, even if they're not necessarily the same people who line up for a can release.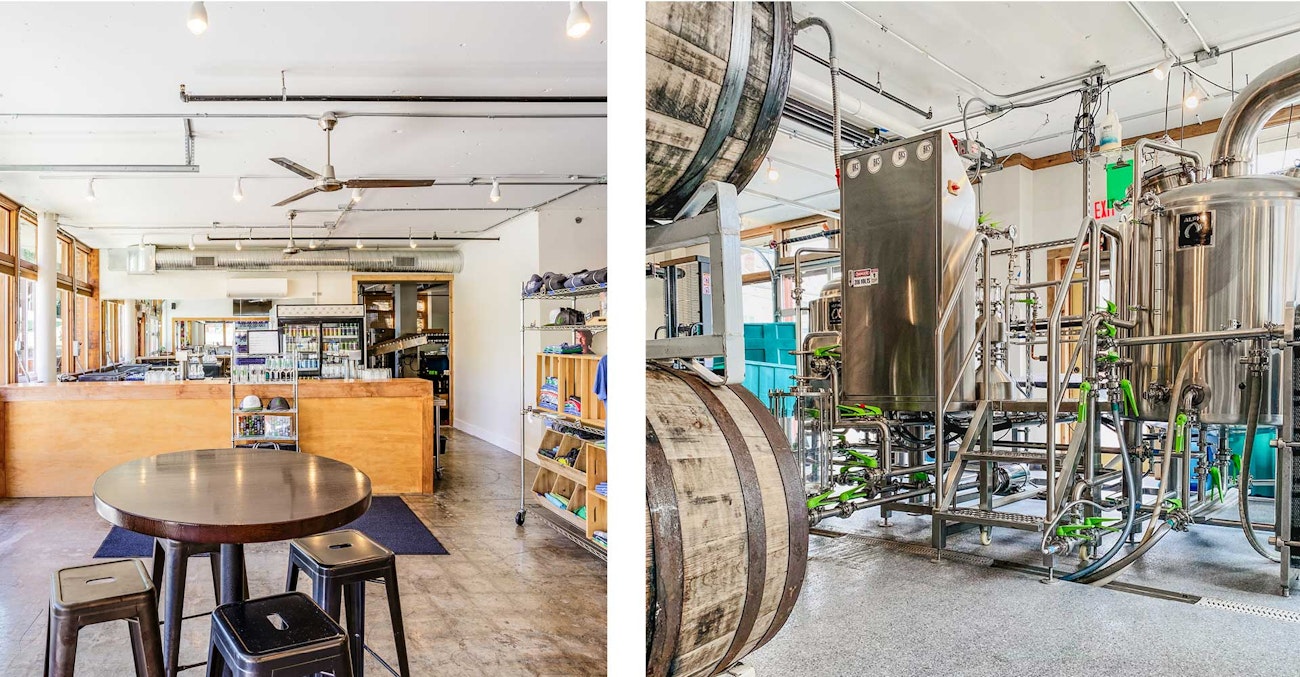 The Artisan … Lagers?
More recently, Mary and Brian's mission to produce quality beer across categories and to provide modern twists on traditional styles has led them into territory they never explored before opening BKS: cold fermentations.
"We are devoting a lot of time and effort to lager, and we are most excited about experimental and fusion concepts for lager," Mary says. "Ultimately, we are intrigued by all kinds of sessionable styles of beer."
It's a move that makes plenty of sense for a brewery like BKS. Addictive session beers and a welcoming gathering place can bring people back, week after week, as much as a hyped-up rarity. So, following one collaboration with Kansas City's Alma Mader—an unfiltered lager hopped with Nelson Sauvin and Huell Melon—and another with KC Bier—a "modern pilsner" dry-hopped with Citra, Hallertauer Blanc, and Riwaka—and after releasing a few pilsners of their own, the Rooneys have decided to firmly plant a flag in Lagerland.
There is one minor obstacle: the name they chose for their business, BKS Artisan Ales. After some thought, they settled on a solution, and in early March they launched a new line of lagers produced in the same Brookside facility but branded as Pivo Project beers.
The first release was a rice lager, brewed in collaboration with Perennial Artisan Ales of St. Louis. Loosely inspired by a saison that was made with pilsner malt and Carolina Gold rice and fermented with Perennial's house Belgian strain, Pivo Project's Heirloom Rice Lager relies instead on a Czech lager strain. The recipe includes German pilsner malt, Carolina Gold rice, a blend of German hops, and Motueka from New Zealand's Freestyle Hops. It sold out quickly. Two weeks later, BKS released its second Pivo Project beer, a New Zealand–style pilsner made with Pacifica and Wakatu hops and fermented with a German lager yeast.
Next in the Pivo Project pipeline: a light lager brewed with an heirloom Bohemian pilsner malt; a keller-style pilsner dry-hopped with Nelson Sauvin, Mosaic, Citra, and Saaz; and another light lager brewed with Missouri-grown organic white corn.
"I always feel a little weird making lager," Brian says. "In fact, I'd never made one before opening. But it's fun for us. Part of this is to stay inspired."
Midwest Coast
Their intention is to package about two lagers a month. With just four fermentors and a single lagering tank dedicated to the Pivo Project, they're already at capacity.
Yet that fact doesn't lead to any lost sleep. Their goal is the same: grow slowly and organically, concentrate on quality, and take a modern approach to the larger notion of what lager (or any beer) can be.
"Growth at a small size has allowed us to be nimble," Mary says. "Within Kansas City, there's nothing quite like what we're doing. We're in the Midwest, but sometimes it feels like we're more of a coastal brewery."