It was a different time in New Mexico's beer history when Bow & Arrow Brewing Co. opened three years ago. Cofounder Shyla Sheppard was ready to shake things up. She, too, was at a crossroads professionally. Having worked in finance, she was completing a 10-year stint as a social impact investor and was trying to decide whether she had another decade to commit to that career.
Her thoughts went back to her college days when she was introduced to craft beer through pints at a Gordon Biersch restaurant in California. At the time, glasses of hefeweizen were a revelation, and soon she began learning about other styles, ingredients, and processes. Vacations were spent visiting breweries and learning about the industry.
"I was fortunate that after 10 years of taking other people's money and turning it into other people's dreams, I had learned a lot about passionate entrepreneurs," Sheppard says. "I saw firsthand a lot of the takeaways that come with startups and what it takes to get through the rough times and those long days of grinding it out at all hours. I took that to heart when I thought about the brewery, but when I saw the beer environment in New Mexico, I thought I could bring something unique and different."
From the beginning, Sheppard says the main focus of the brewery was talking about the beer and trying to get it into people's hands. She didn't highlight her background as a Native American because she didn't want that to be the focus of the interactions—something that is still true today.
"We just didn't highlight who we were. There aren't many Native American folks in beer, and maybe it does add something unique and different. But we love beer, too, and at the end of the day, we want to be a part of this industry. That people have been embracing and welcoming us has been a great thing."
A year into opening, Sheppard and her wife, Missy Begay, who is also an owner of the brewery, hired Ted O'Hanlan as head brewer. They wanted to take the brewery in some new fermentation directions, and O'Hanlan, who previously worked at Fullsteam Brewery in Durham, North Carolina, and then Black Tooth Brewing Co. in Sheridan, Wyoming, was ready for the challenge and to spend some time in the desert.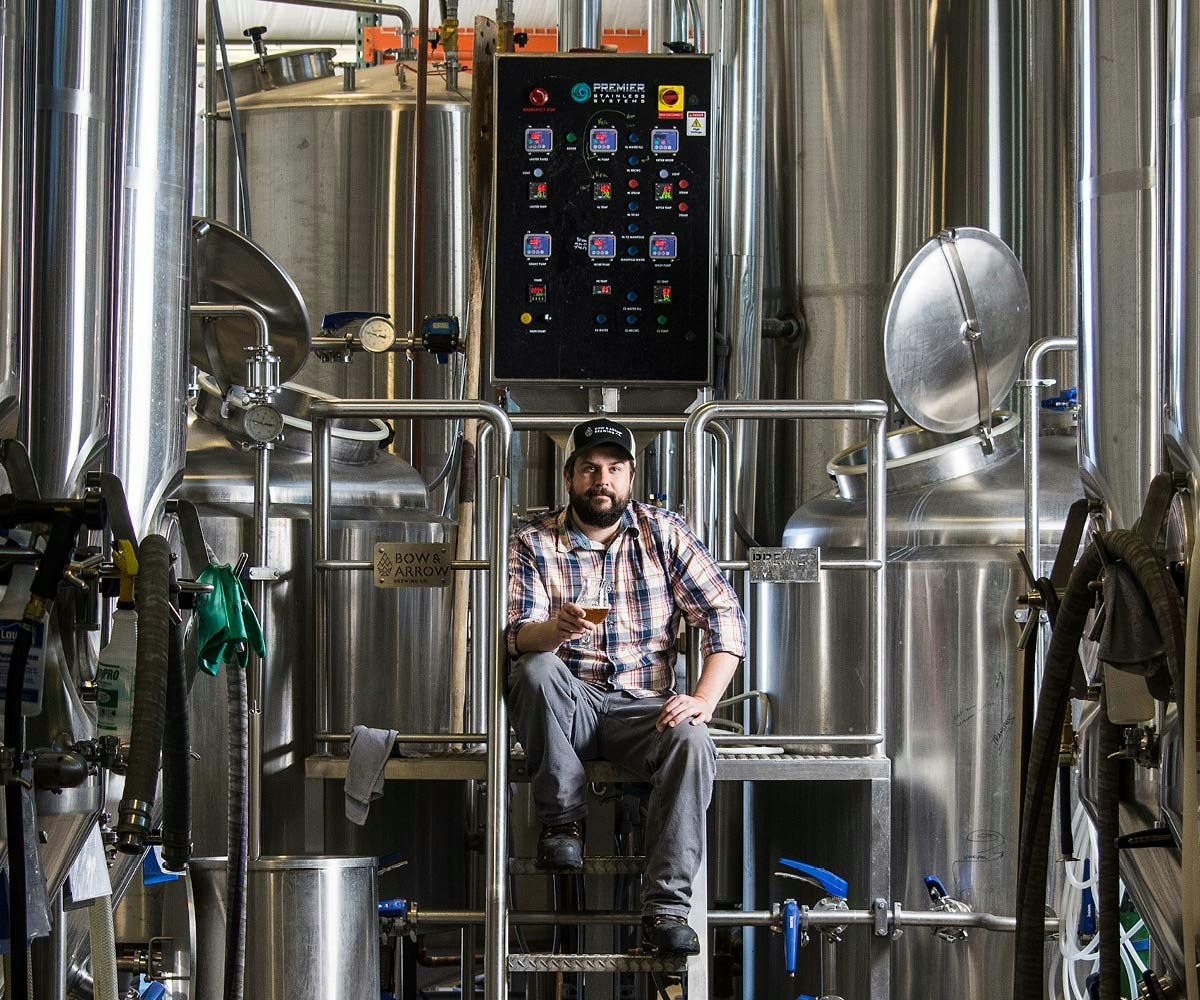 "I've always wanted to live out West, and I wanted to work at a brewery and with someone who wanted to make the kind of beer that I want to make," O'Hanlan says. "I was influenced early working for Sean Lilly Wilson, founder of Fullsteam, and using local ingredients. I wanted to do more of that and dive into wild cultures. That was what Shyla wanted, too, using ingredients from her culture and creating an identity around that."
Among the offerings on the menu are your standard IPAs and other ales, traditional saisons, and the occasional seasonal offering. The fun stuff that has both O'Hanlan and Sheppard excited is the sour program. Currently Bow & Arrow has more than seventy full barrels of different sours taking their time and letting the bugs do good things to the liquid.
Clearly it's working, and it's why you're likely to see the brewery featured at festivals around the country that celebrate wild and sour ales, such as Embrace the Funk, hosted by Yazoo Brewing Company in Nashville, Tennessee.
Bow & Arrow also dabbles in brewing with traditional Native American ingredients, such as Navajo tea (made from the plant Greenthread).
"It's been used a for a long time in this region. Typically we use it on the hot side, and the trick has been to figure out how much to use and how long to boil it. But, we've found that about 15 minutes gives us the flavors we want," O'Hanlan says.
Over the past 2 years, he has also set up yeast traps to try to isolate local wild strains. The brewery has one—currently banked with Bootleg Biology in Nashville, Tennessee—that has esters of moderate spice, grape must, and peach skin. It is usually co-pitched with the house saison yeast when creating mixed-fermentation beers, and then he lets the present Brettanomyces add character as well.
"We're working with some specialty malts as well, and it's the localness of the beer that makes it truly fun," O'Hanlan says.
Local is the key word. The brewery is small, and Sheppard says the best way to experience what they have to offer is to visit in person. A lot of thought went into the brewery's taproom to separate it from what existed in Albuquerque when they opened. It's not that anyone was doing anything wrong, she says, but things felt a little dated.
"The number one thing for me is that the taproom is clean and smells clean. It's amazing what a difference something so simple can make. We have a long narrow building, and you walk into an area where our production is, so there's this funneling effect. We wanted to make sure that it was warm and welcoming from the entryway all the way to the bar."
It's an experience that blends a brewery with the splendor of the outdoors.
"It's all designed to draw you in, from how we curate the music to what is on the two televisions to incorporating an image of Monument Valley on a whole wall," says Sheppard.
With wood tones, warm white lighting, and high ceilings with massive chandeliers, it's more than your average brewery decor that is prevalent today.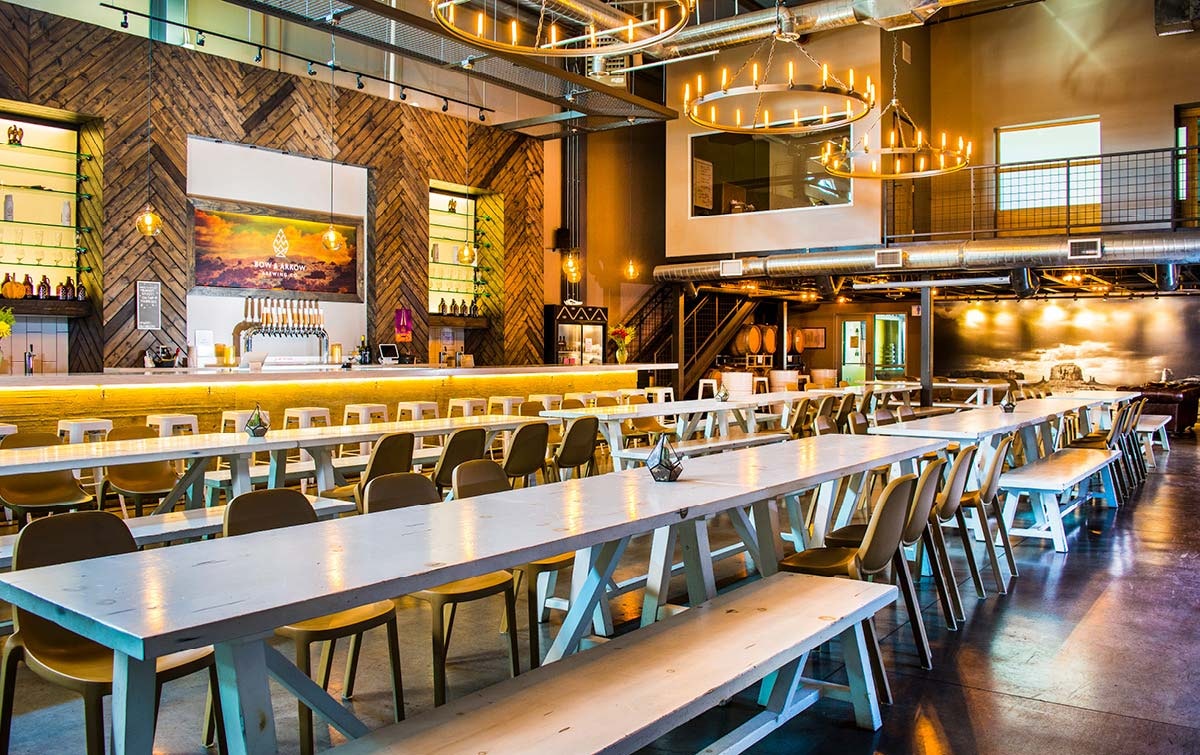 "You absolutely know you're in the Southwest. You can start to feel adventurous, and you're also going to feel appreciated as a customer," Sheppard says. "We wanted to incorporate items throughout the space, such as a buffalo head made out of precision-cut cardboard, and then there are things on the wall that are nods to our culture and meaningful to us. We're happy to share those stories with people if they ask. But ultimately, we want the feeling of quality to be in everything around you from what you see to what you're drinking because it's there. When you see the attention to detail, read our menus, and see our beer names, which are tongue-in-cheek nods to reservation subcultures, we hope it will be a memorable experience."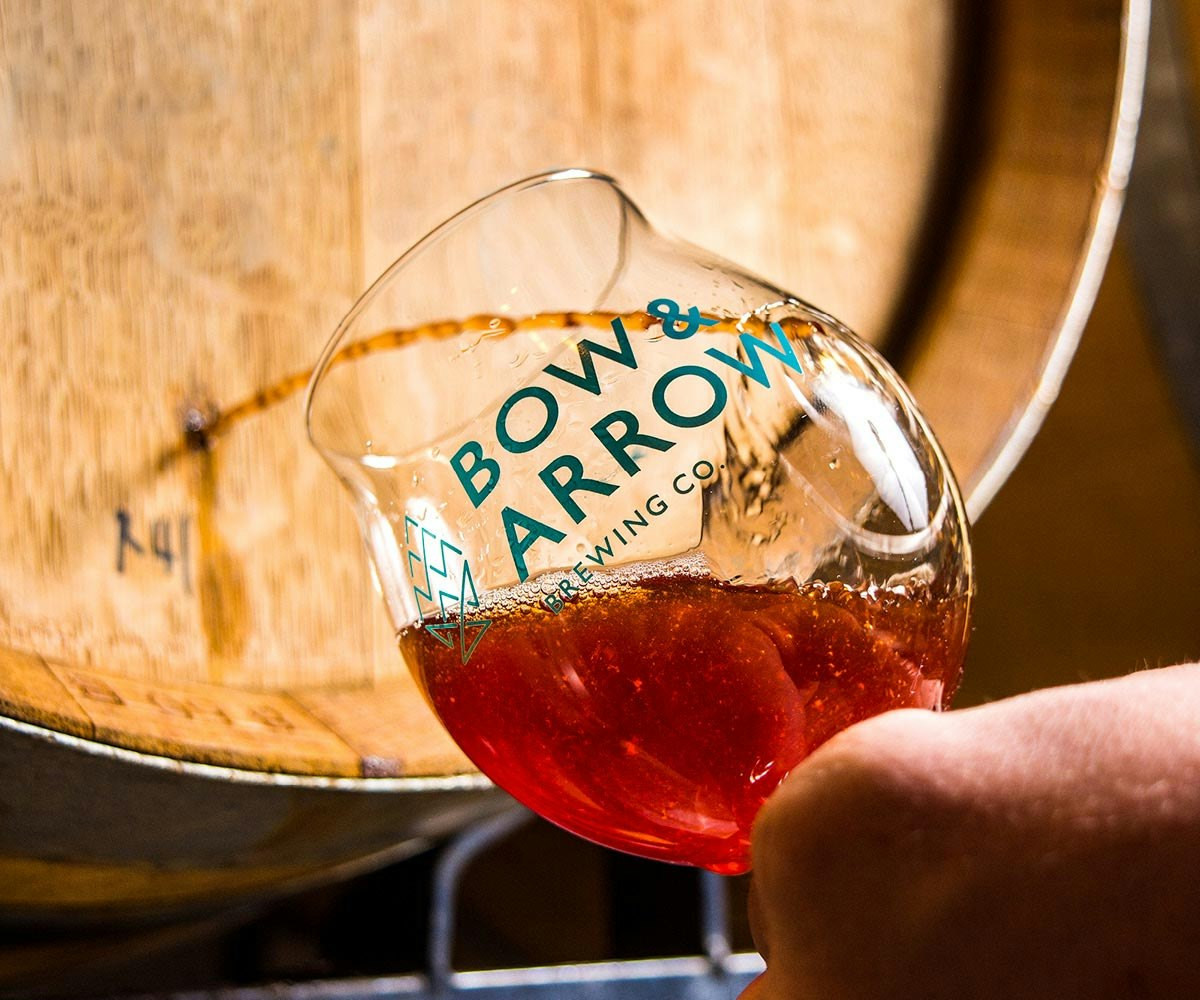 Brewing with Blue Corn
In an effort to brew with local ingredients, Ted O'Hanlan, the head brewer at Bow & Arrow Brewing, Co. (Albuquerque, New Mexico) has been using blue corn in his lagers and finding that a few steps early on in the process and some patience lead to great results.
The brewery brews a regular lager, Denim Tux, that uses about 10 percent blue corn in its grist. It also recently released Super Bien, a Mexican-style lager, that bumped up the blue corn to 20 percent.
"Blue corn is interesting to work with, and it definitely takes a leap of faith," O'Hanlan says. "If you use it, you need a willingness to take the time and do it right."
The first thing is getting the blue corn into a suitable state for brewing. O'Hanlan recommends getting the blue corn pre-cracked and milled to about 1/4-inch (6 mm) pieces, or even going with prepared posole. Making sure it's toasted or giving it a light toast to gelatinize the starches is important, he says.
"If you're going to do whole kernel, do a long cereal mash with just the corn ahead of time because it takes a really long time to hydrate blue corn," he says.
When using blue corn, expect your runoff to be pink, but by the end of the boil, it will be yellow. In the case of the Mexican lager, it was more golden in color, but that rosy hue doesn't appear in the finished product.
Denim Tux finishes dry, about 1.4°Plato (1.0054 SG), but the real key is patience. O'Hanlan leaves the beer in lagering tanks almost a month—longer when more blue corn is used—until the beer drops clear.
Blue corn brings a bit of earthiness to the beer, as well as a corn-chip (not creamed corn) flavor, and provides a bit more body as well.
"The aroma is intense," O'Hanlan says.
Photos: Courtesy Bow & Arrow Brewing Co.