"Tillamook, Oregon, isn't exactly the ideal place for our brewery tasting room," jokes Trevor Rogers, the co-owner at de Garde Brewing. The modest taproom may be right off Highway 101 and just a few blocks from the Oregon coast, but the closest craft beer market, Portland, is more than an hour away. After a tour of the town's Tillamook Cheese Factory, tourists seem to mirror the drinking habits of Tillamook's locals, Rogers says.
"This is lager territory," and de Garde brews everything but. Rogers and his fiancé Linsey Hamacher make a lineup of beers inspired by European farmhouse traditions that include a Berliner Weisse, a dark strong ale, a Belgian pale ale, and a porter, among many others. The beers at de Garde are aged in oak, bourbon, wine, and gin barrels, and are sometimes fermented with fruit. Although sessionable and refreshing (some beers come in as low as 3 percent ABV), de Garde's taproom is hardly satisfying the local demand for pilsner.
Tillamook might not have been the ideal place for de Garde's tasting room, but its climate is perfect for the brewery's coolship. "We're quite fond of the microbes and naturally occurring yeast on the Oregon coast," says Rogers. Through a process similar to Jester King's "mini-coolship," he and Hamacher collected yeast samples from various coastal areas and found the area between Pacific City and Tillamook to be particularly viable. "We liked the character in the yeast around here the best. The fermentation lifetime is much shorter here than in other coastal areas," Rogers explains.
Issue 7 (June/July 2015) of Craft Beer & Brewing Magazine® will feature wild and sour beers. Subscribe today and get dozens of sour/wild beer reviews and tips for homebrewing with "wild" yeasts and coolships.
Rogers and Hamacher moved to Tillamook from Pacific City, Oregon, where Rogers had been brewing at Pelican Brewery. They opened with a ten-barrel brewery and coolship, but they didn't plan to make much beer. "We're making about two batches per week, which is around fifteen barrels," Rogers says. "We wanted to be hands on in the process of nurturing wild yeast . . . and our product. We have to stay small to facilitate that."
Most breweries that use wild yeast tend to produce less beer, in part because the spontaneous fermentation process is such a lengthy one. No pun intended, Rogers says de Garde has wildly variable fermentation times. "If we wanted to do a 100 percent pilsner malt, highly fermentable, low mash, low ABV beer we could turn it around in a couple months, but it probably wouldn't taste very good," he jokes. The de Garde beer with the shortest fermentation time is the Berliner Weisse, at a range of three to nine months. Most of the brewery's beers ferment for a bare minimum of one year, and some, Rogers predicts, will ferment for up to four.
About half of the beers he and Hamacher brewed when first opening in 2013 are still fermenting. "You're at the mercy of yeast as opposed to trying to control it," he says. "What I've found in a lot of people who are doing truly wild fermentation, it's more of an intuitive science. So much more of what we do is by smell and by taste and feel than we do the numbers."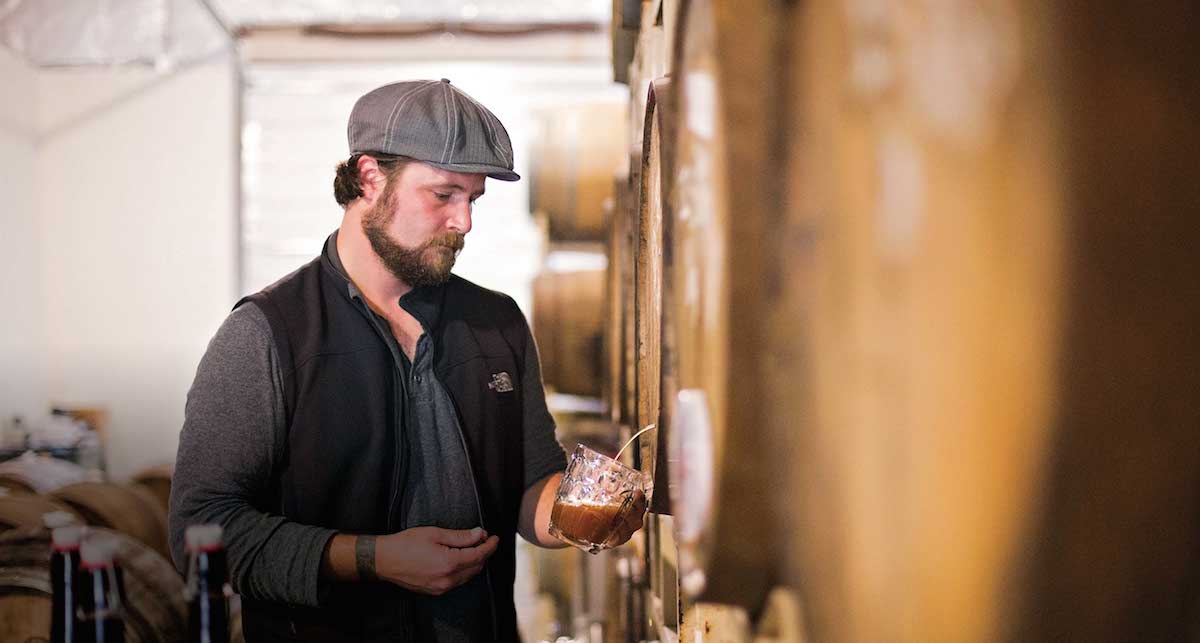 One number that is for sure at de Garde is 5. "We plan a bare minimum of 5 percent 'dumpage,'" Rogers says, accepting the risk involved in using native yeast. "We've dumped our fair share of barrels and we plan to dump more."
"But in all honesty," he adds, "I would be more terrified by aging a controlled Saccharomyces-fermented beer in wine or bourbon barrels. Infection is a very real possibility there. For us, if an extra Brettanomyces or Lactobacillus strain finds its way to a barrel, that's not such a bad thing."
Typical for a wild beer brewer, patience is Rogers's virtue. Named after the traditional French pale ale bière de garde, or "beer for keeping," de Garde is "a nod to the process of making something that won't mature or reach its full expression for at least a year," Rogers says proudly. "Plus we like the simplicity of referencing a European style and process representative of what we're doing."
Despite its location in lager town, de Garde has developed a local following that's almost as patient as Rogers and Hamacher themselves. It's the norm that the tiny taproom is down to its last keg of a particular beer or its last case of bottles on the shelf, and customers don't seem to care. Instead they are embracing the slow life and surprising flavors of de Garde's native beers. "Here we move quickly from Coors Light to Flanders Style," says Rogers. "To see someone sit down and enjoy a sour beer and enjoy himself or herself, that's a big jump in evolution of palate."
AVAILABILITY
Find de Garde beer in their Tillamook taproom and in a few select Oregon locations, such as Saraveza and Bailey's Taproom. They previously distributed most of their production in keg format, but since moving to bottle conditioning and opening their taproom, they haven't had the quantity of product to distribute outside the taproom except for the occasional event or stray keg or case of bottles. Co-owner Trevor Rogers says, "We may at some point be able to expand distribution again to reach out more regularly with some draft and bottles in Oregon, but right now we have to focus on providing for the folks who make the journey to visit us directly."
de Garde's Wild Beers
Loak Bean
11.4% ABV
A strong dark ale aged in bourbon barrels on Coava "Kochera" coffee beans, vanilla beans, and cacao nibs
Cran Bu Weisse
3.2% ABV
A Berliner Weisse-style ale aged in gin barrels on cranberries from the Oregon coast
Soleil d'Or
6.9% ABV
A cousin to Belgian pale ale, brewed with a hearty dose of rye and Nelson Sauvin hops, aged in oak barrels
Cornelio Nunez Porter
6.2% ABV
A 19th-century brown porter recipe aged in bourbon and red wine barrels on Coava "Cornelio Nunez" coffee beans
To Cellar Or Not?
Bière de garde is a style of beer made for the cellar, which begs the question: Is de Garde's beer made to be aged? Not exactly, Rogers says. "The short answer is . . . maybe?"
It's rare that a brewer puts a beer on the market that he or she doesn't think is ready to enjoy immediately, Rogers points out. "There's so much variable in aging beers. It comes down to storage conditions and the consumer palate."
If you can cellar beer year-round at a consistent temperature between 50° and 55°F (10° and 13°C) in no light whatsoever, then you can properly age beer, Rogers says. And even if you can create these conditions, only cellar a beer if you happen to have two bottles. His best advice is to enjoy one bottle fresh, and then save the second for your cellar. After all, if it's a de Garde Brewing beer, then you waited long enough for it to ferment in the first place.
PHOTOS: LESLIE MONTGOMERY