Steve Parker started homebrewing only about five years ago. Before that, he and his friends were intrepid enthusiasts, driving around the region to buzzworthy breweries—showing up early for releases, waiting in lines, the whole bit. The New England–style IPA was launching into space and lighting up palates—including theirs.
"I was just a beer fan," he says. "We'd go to Hill Farmstead, Tree House, Trillium. … I was like, 'How do they make this beer that tastes like that? … How do they do this?' And a buddy of mine is like, 'Yo, let's start homebrewing.'"
They built a half-barrel system in Parker's garage, and a sketch of that system still appears on many Fidens cans, shirts, and hats. "I made the first batch and—you know the old cliché—got bit by the bug, and that was it," he says. "I just dove in headfirst, trying to teach myself everything that I could."
Just a few years later, in late 2019, Parker and his partners opened Fidens in Colonie, New York, a suburb northwest of Albany. Soon, people were traveling and camping in line for Fidens' beers. "That was definitely a cool experience," Parker says, "because I was that guy. I used to go to Tree House three hours before open and hope they would drop King Julius, you know—just that fun anticipation.
"Then you just meet people in line—and that's what also really drew me to … this craft, just the people in the industry and people I would meet in line."
Going by Untappd ratings—inevitably a factor of hype as well as big, appealing character—Fidens has been a Top 10 U.S. brewery almost since the day it opened. Even as the brewery has gradually ramped up production, demand has remained high, and their IPAs have impressed discerning critics. When the famed ChurchKey bar in D.C. reopened earlier this year, after two years of pandemic closure, its first event was a Fidens tap takeover—an impressive endorsement for a tiny brewery whose beers rarely appear on draft.
"Fidens makes some of the most consistently outstanding hazy beer in the U.S. today," says Greg Engert, beer director at ChurchKey and the Neighborhood Restaurant Group. "Each batch promises focused tropical fruit aromatics, creamy haze, a rich and rounded mouthfeel with initial sweetness that dissolves into gentle and clean bitterness. Never cloying, no hop burn or boozy notes—just balanced, nuanced beer."
It's a profile that's the product of study. Parker has a clear idea of what he wants to drink, and he has taught himself exactly how to get there.
The Crash Course
While they occasionally branch into other styles, Fidens is primarily a hazy IPA brewery. "That's what we do, but we don't apologize for that," he says. "That's the style that we love."
The garage system they built was a three-vessel kit made from old kegs, complete with pumps and a HERMS coil for recirculating the mash water. "We modeled it after the Spike system, which was about seven grand—and we didn't have seven grand to spend on that," Parker says.
He started brewing frequently. While experimenting with process and recipe, he read any tips he could find from brewers whose beers he loved, including John Kimmich at The Alchemist, Shaun Hill at Hill Farmstead, J.C. Tetreault at Trillium, and Nate Lanier of Tree House. "Back in the day, [some of them would] go on BeerAdvocate, and they would drop these little nuggets in there," Parker says. "At first, I had no idea what they were talking about. And then the more educated I got, … it was like a light bulb. I started connecting all these dots and reading these books."
The most influential book for Parker was Scott Janish's The New IPA: Scientific Guide to Hop Aroma and Flavor. (That influence came full circle for Parker recently, when Janish came to Albany to brew with him. Their collab, called 3S4MP, was like an envelope-pushing Voltron mega­robot of experimental methods and products, including mash-hopping, Phantasm powder, HopBurst and HopShot extracts of Nelson Sauvin, and Omega's thiolized Cosmic Punch yeast.)
As a homebrewer, one of the first lessons Parker adopted—and has internalized as a professional—is that oxygen is a nemesis. After figuring out how to keep his tanks purged and conduct closed beer transfers, he says, "I noticed my beer was getting much better." Sharing growlers of fresh beer with friends and locals, Parker grew more assured in what he was doing.
Another influential book was Greg Noonan's Brewing Lager Beer. Fidens isn't a lager brewery, but the book's focus on water chemistry sent Parker down a path of constantly tweaking his water profile—another change that led to a jump in the quality of his beers. "Know your water," he says, when asked for his best advice for homebrewers who want to improve. "Get your water consistent, and then you can start tinkering from there."
As Parker's beers improved, he and his partners decided to make the leap. He got some necessary encouragement from his wife, Raquel. The couple met as elementary school teachers in Albany; now, they have three kids, ages 5 to 10. Getting the brewery started meant they both taught during the day, then he'd brew while she managed dinners and bedtimes. "She's the reason Fidens happened," Parker says, "because I wasn't going to do it if she didn't give me her blessing."
In fact, it was Raquel who found the name for the brewery. Fidens is Latin for confident or courageous. "You guys all have full-time jobs," she said, according to Steve, "and it takes courage to do what you guys are doing."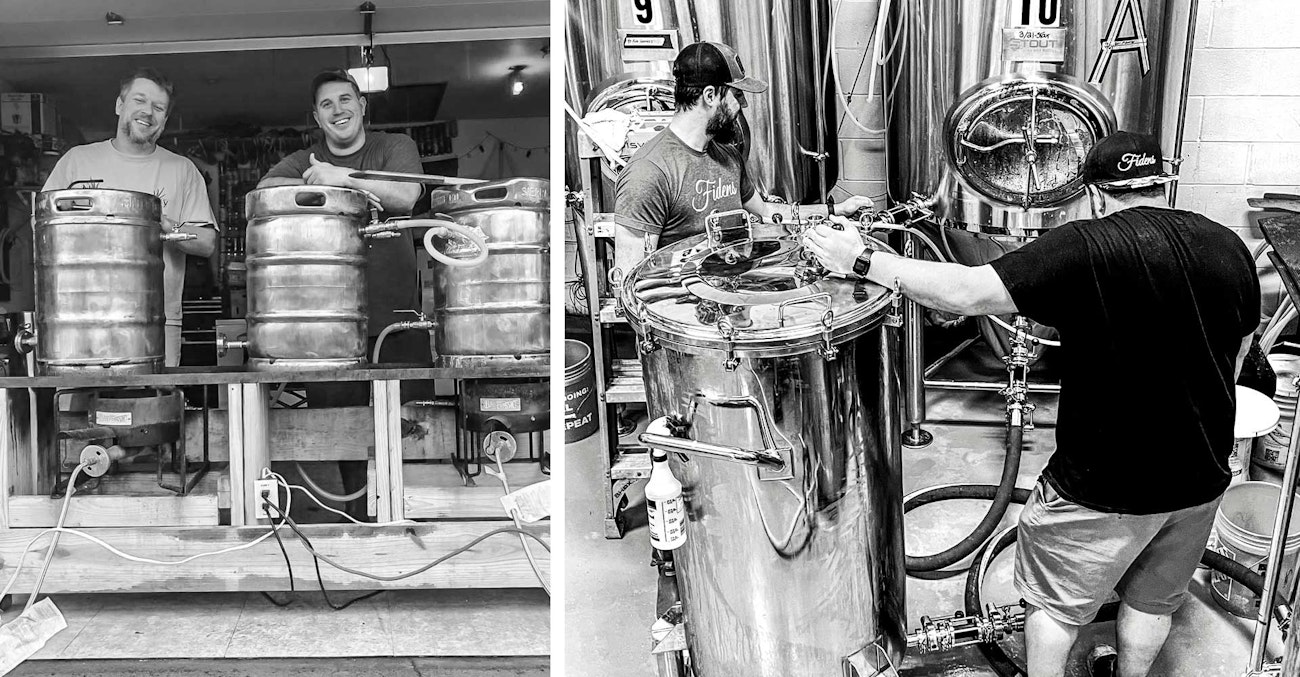 Advanced Studies
They started on a four-barrel system—small, yet still a jump from the 10-gallon batches he'd been brewing in the garage. "I had to … learn all over again," Parker says. "But at least at that level, it's a little bit easier to keep oxygen out. And you have better toys."
On that system, normally, they were able to produce about 21 barrels a week. It took only two or three hours to sell that much beer—hence the long lines on Saturday mornings, after word started getting out about their IPAs.
These days, they manage four times that production on a seven-barrel system. They brew two turns per day, six days a week. The lines are less of an issue now that they're open Wednesday through Saturday, with new beers dropping on different days. "We've been having more beer, and it's been great because we're seeing more people," Parker says.
One secret to the success of their hazy IPAs is a tad more bitterness than you'd normally find in the style. They get there the old-fashioned way, with a hop addition at the start of the boil to the tune of 15 or so IBUs. "I think it helps round the beer out," Parker says. "We do have a nice sweetness in our beer … but then there's that bitterness at the end to cleanse your palate. And that makes you want to go back for more."
Fidens brews everything from 5 percent ABV hazy pale ales up to 10 percent ABV triple IPAs, though Parker says he thinks their "sweet spot" is in the 8.5-ish percent double IPAs. They work with a variety of hops, but Parker has his favorites—Citra, Galaxy, Nelson Sauvin, and Strata. Lately he's been working with Freestyle Hops in New Zealand and Yakima Chief in Washington state; he says that the hops he's been getting from both companies have been "dynamite." He gets to select hops at harvest now, too, "and it definitely matters," he says.
Another recent adventure is a foray into West Coast–style IPA, inspired by a visit to North Park Beer in San Diego. "I've got a West Coast in the tank right now," Parker says. "Kelsey [McNair] just does a phenomenal job. His West Coasts are so good. … It's just clean hop deliciousness, and I fell in love with it. I picked his brain a little bit, and he was really generous to help me out."
For the hazies, Parker likes a simple grist—typically, 80 percent Rahr two-row and 20 percent oats. The mash temperature can range from 150–155°F (66–68°C). He tends to mash lower for the bigger triple IPAs, to get more fermentability for a lighter body and drier middle. "I'm not a big fan of really sweet triples," he says. "And ours, they're very drinkable. … There's so much sugar from the wort, I want the yeast to eat as much as it can."
Recipe tinkering is constant. For example, lately, Parker has been seeing what happens when he slightly adjusts the boil pH with lactic acid, one way or the other. For hazy IPA, he wants the pH of the finished beer to be no higher than 4.2–4.3, or the flavor can get "muddled," he says. That sharpness, in his view, helps its drinkability—"more expansive, more crisp, more flavorful"—in conjunction with that careful touch of bitterness and dryish finish.
Fidens usually only dry hops cool, after fermentation is done. Any biotransformation during fermentation comes from a hefty whirlpool addition. A few days after fermentation is complete, they'll "soft crash" down to about 60°F (16°C)—cool enough to arrest any enzymatic yeast activity that could lead to hop creep, but not so cold to drop everything out of suspension. They'll often divide the hop charge over two consecutive days because they've found they get better extraction that way. "I've tried dry hopping all through the process," Parker says. "I find we get best results after terminal gravity has been reached."
On Their Own Terms
Parker's partners today are cofounder Tim Pierce and Allen Willbrant, who was their first hire after the brewery opened. Pierce is a CPA whose experience and skill set are huge assets to the brewery, as is Willbrant's knack for marketing, Parker says. In total they have a team of about 10 people, including production and retail.
They haven't had an open taproom since the pandemic hit—their canning line needs that space now. When they eventually have space for hospitality again, it will be elsewhere. "As far as a taproom [here,] it's just not going to happen," Parker says. "But our business plan [was] always to grow at a rate where we knew we could sell the beer out the front door. So that day will come—when we have that big, beautiful production facility with a taproom and all that stuff. But it's going to be on our terms and when we're ready to make that move."
Here Parker quotes Peter Bissell, cofounder of Bissell Brothers in Maine, who says—in the context of running a small brewing business—that "there's always money in the lemonade stand." For now, the Fidens team is happy to keep their success going at a small and sustainable level.
"My partners and I put our own money into this," Parker says. "We've put all of the money into buying the best ingredients and best stuff that we could because we knew that the beer is what's going to drive the business. Not the flashy taproom. "You've got to have the product."