The road Luc Lafontaine took to running his own brewery was a bit different, and considerably longer, than that taken by most entrepreneurial homebrewers.
Rather than the tried-and-true "people liked my beer, so I turned pro" trajectory, Lafontaine brewed for himself for most of a decade, took two years off to travel the world, returned to advance gradually through the ranks at a Montreal brewpub, went to live in Japan for a couple of years, returned to Canada almost penniless, and finally opened the brewery that virtually nobody expected of him.
Further, it wasn't just any old Montreal brewpub he worked at—it was Dieu du Ciel, which after Sapporo-owned Unibroue is the most famous of Quebec's 240-odd breweries. And neither was he simply killing time in Japan; instead, he was helping to set up the brewing offshoot of pioneering Tokyo beer bar Ushitora.
As for the brewery no one expected—that's Godspeed.
Never a brewery to chase trends and accolades—its lineup is almost entirely traditional styles, plus a few twists with Japanese ingredients—respect and popularity have found Godspeed anyway. Although Lafontaine is generally dismissive of beer competitions, declining to enter any, almost any Canadian beer critic and many American ones place his brewery high among the country's best.
More locally, for Toronto's NOW Magazine, a panel of eight expert judges (disclosure: I was one of them) last year named Godspeed the best brewery in Ontario. We also named his fervently brewed Světlý Ležák Nefiltrovaný 12° the best lager in Toronto. (Likewise, Prague-based American beer writer Evan Rail declared it "one of the best—or more like 'most accurate'—I've tasted outside of the Czech Republic.")
Lauren Richard, an Advanced Cicerone and experienced Toronto beer judge, writes this about Lafontaine in *NOW: *"His passion in melding historical practices with fresh new concepts and ingredients is unique and stands firmly on its own. He manages to not conform to the restriction of style guidelines, while honoring and protecting the legacy of traditional methods—all while adding his own special Godspeed flair.
"His care and attention to detail [are] awe-inspiring."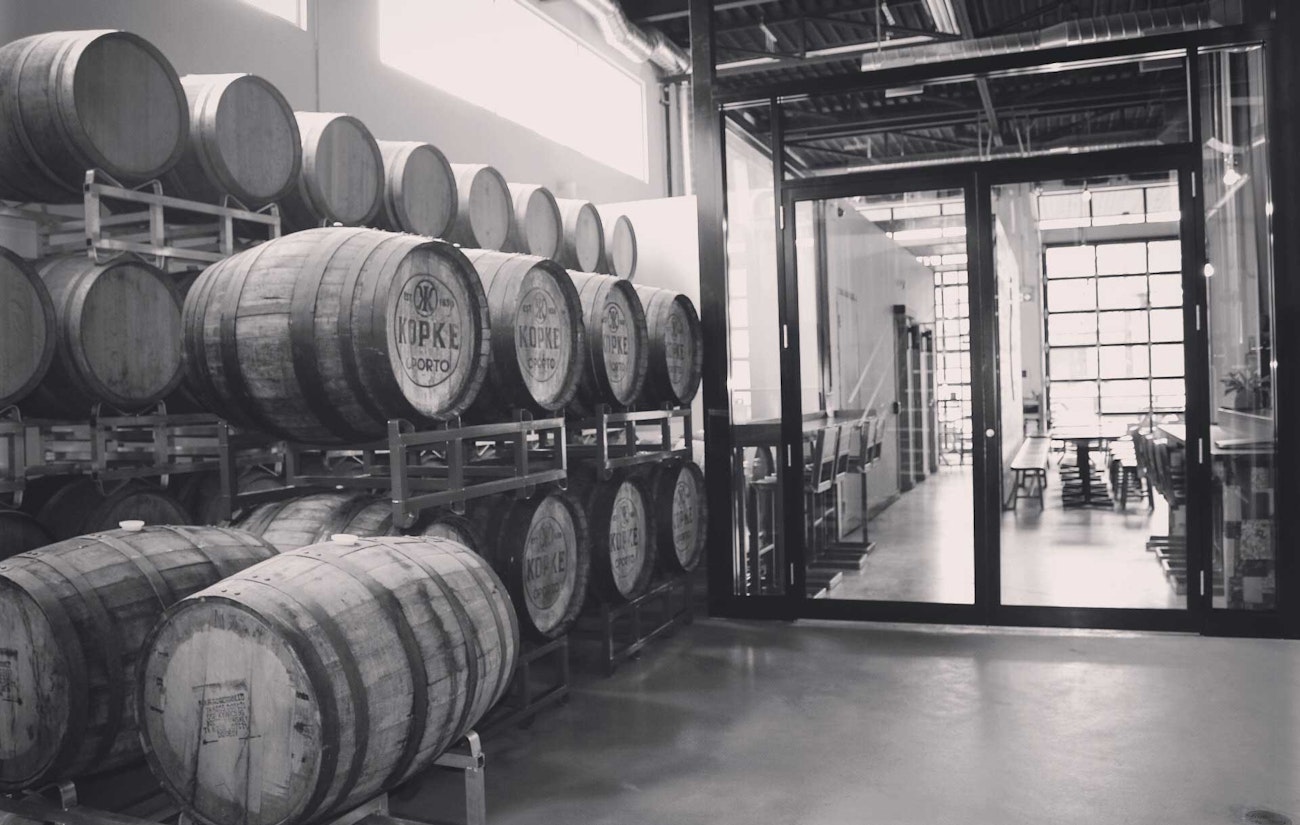 The Winding, Uphill Road to Godspeed
Rewind to 1998: A post-college Lafontaine was living and homebrewing in Montreal when he met Jean-François Gravel and Stéphane Ostiguy, founders of Dieu du Ciel, just a couple of weeks before they opened their landmark brewpub in the Plateau region of the city. The trio got along well, and just before Lafontaine left to globetrot a little more than a year later, he told Gravel that he would be working for him when he returned—and that's exactly what he did.
By 2007, with Dieu du Ciel expanding to a production facility north of the city, Lafontaine got a promotion to head brewer of the brewpub, and his reputation began to grow. However, it wasn't a reputation that necessarily coincided with what he was brewing there.
"What people didn't know was that all the crazy beers were J.F. [Gravel], and all the beers that balanced the menu—the low-ABV stuff—were me," Lafontaine says. "I'm all about sessionable beers, and I think a lot of people confused [what I brewed] with the punchy, high-strength styles that JF likes."
That misconception among local enthusiasts would return to color the startup of Godspeed years later. But before that could occur, there was the life-changing meeting of Lafontaine and his now-wife and business partner, Eri Kuramasu, in 2008. Then came the decision in 2011 to move to Japan and open a brewery there. The latter choice was—Lafontaine says, in hindsight—the start of the most difficult and challenging years of his life.
"I was in love with a beautiful lady and a country," he says, "But I was not a businessman."
Lafontaine and Kuramasu arrived in Japan in 2012 with no business contracts, no working visa, a minority position in the new company, and limited savings. The visa—which he was promised would be sorted within two months—wound up taking well over a year to arrange. Meanwhile, remaining in the country on a visitor visa rapidly depleted the couple's financial cushion.
When they found what was virtually a turnkey brewery to buy, Lafontaine and his partners, Shinsuke Yoshida and Akio Terasaki, had to scramble to find investors. Lafontaine says they eventually secured a meager $300,000—not anywhere near enough to get the operation up and running properly.
"We struggled, bit by bit, even missing some parts we needed to brew," he says, "which is why my advice for people who want to open breweries today is to gather the full amount you need before even starting because otherwise it's a nightmare."
It was during this time that Lafontaine decided that running the Japanese brewery was not how he wanted to spend his 40s. So, after consulting with Kuramasu and discussing his situation with brewing-industry friends and colleagues, he informed his partners in February 2014 that he would be returning to Canada at the end of the year. He agreed to keep brewing and train his replacement in the interim.
Seeing greater opportunity in what was then brewery-poor Toronto—as compared to relatively brewery-rich Montreal—the couple settled in the Ontario capital in early 2015, gathering investors, including Lafontaine's banker brother, and opening Godspeed Brewery in the city's East End in July 2017.
This time, Lafontaine was well-capitalized.
Beer as Autobiography
In the seven months it took to build the new brewery and restaurant—one year from the signing of the lease to the grand opening—word spread in Toronto beer circles of the new enterprise led by the ex-Dieu du Ciel brewer. Expectations were high, with fans of the Quebecois brewery anticipating clever imperial stouts, well-constructed IPAs, strong Belgian-inspired ales, and other beers of the sort upon which Dieu du Ciel had built its well-deserved reputation.
Instead, Godspeed opened with a flagship Dortmunder lager.
"In 1992, I was in Munich drinking weizens and helles, [and since then] Germany has been my favorite brewing country," he says. "So, in my mind, that's what I was always going to do. I knew that it wasn't maybe the best business decision, but I promised myself that I was going to build something that reflects who I am."
Since that opening, Godspeed has principally defined itself with that Dortmunder; a pair of beers that feature Japanese ingredients—Yuzu Citrus Saison and Ochame Green Tea IPA, the latter featuring tea from Lafontaine's own tea field in Japan—and, more recently, a seemingly endless series of Czech-inspired lagers.
Lafontaine says that his beer portfolio is "an autobiography," with a story behind each beer. In the case of the Dortmunder, the story begins with his father returning from a mid-construction beer run with a bag of cans of DAB Original. After that, Lafontaine recalls, it became the beer of the buildout. When he finally had to decide which beer to brew first, the choice seemed obvious.
On the question of using tea and yuzu in his beer, Lafontaine's advice could scarcely be simpler.
"Every time I use a different ingredient in a beer, I think about how I would use it in cooking," he says. "So how would you make tea? Would you boil it for 15 minutes? No. You'd find the right temperature for making your tea, and you'd infuse it at that temperature. People say, 'Do you put it in at the end of the boil?' No, it's too hot, you'll get astringency. You simply use it at the same temperature as you would for your tea."
The Czech Connection
In the fall of 2018, Lafontaine accepted an invitation to join a trade mission to the Czech Republic, a trip that would further change his brewing life.
"Even before the trip began, I knew that I would come back a changed brewer," he says. A passion for the Czech approach to brewing had been "sitting inside" of him since his visit to Pilsner Urquell in 2008, he says. But it was not until he visited hop growers, maltsters, and—pivotally—Budějovický Budvar, that he was gripped by the need to pivot toward Czech-style lagers.
"The Czechs are the old souls of brewing," Lafontaine says. "And I couldn't just start making their beers pretending that I knew what I was doing. Going back 10 years later, that's what opened me up to it."
Lafontaine's greatest revelations came from his interactions with Josef Tolar, the retired Budvar brewmaster, who helped him fully understand everything from Budvar's three months of lagering—Tolar took him through the cellar, sampling beers at different stages of maturity—to the importance of decoction mashing. "I felt a bit like a groupie," Lafontaine recalls with a laugh.
On the issue of decoction, a source of contention throughout the brewing world, Lafontaine is adamant. Noting that the relatively less-modified malt he is "lucky enough" to get from Raven Trading in the Czech Republic necessitates his use of decoction, he says that while decoction might not make much of a difference in the conversion of modified malts, it definitely makes a difference in the taste and mouthfeel.
Favoring double or even triple decoction, Lafontaine counsels that anyone with the ability to use it for their lagers should do so. "You don't need to use decoction if your malt is highly modified," he says, "But I think it's going to taste different if you do."
He adds: "You can't make a Czech-style lager without decoction."
Arguably, brewing traditional lagers and other classic styles doesn't leave the same room for creativity and personal expression as, say, a spiced and oak-aged stout or a uniquely fruited sour.
So, what would inspire a brewer to go down such a road?
"With lagers, there's nowhere to hide," Lafontaine says. "It's where I can show my talent in an unpretentious way. And then there's the love I give to my beers, being in the brewery every day, checking, touching, tasting. I think that gives them a unique taste."