Named for a local parakeet, the brewery's color palate is as neon-bright as its juicy-hopped flavor profiles. Many of its beer names end in exclamation points. Its cofounder and head brewer, Evan Price, laughs, smiles, and jokes frequently. These are all true facts that fit together neatly. Green Cheek is a brewery that belongs in its sunny place—the City of Orange, California, near Anaheim and Disneyland.
If the brewery didn't exist, someone would need to invent it—but it wouldn't need to be nearly as good as it is.
Founded in June 2017, Green Cheek is better known among fellow brewers than among drinkers beyond the brewery's radius. Price's reputation is for hop-wizardry and sterling IPAs, but also for a surprising streak of competitiveness when it comes to the big beer events.
"I'm only competitive when it comes to beer competitions," Price says. "And ping-pong."
That determination has led to high-profile wins. Before the brewery was a year old, Green Cheek took home a silver medal from the 2018 World Beer Cup for Radiant Beauty, a West Coast IPA packed with Citra, Mosaic, and Simcoe. Later in the year, it won two bronzes at the Great American Beer Festival—for the ironically named West Coast IPA Is Dead! and for Fools & Babies, a session-strength (4.5 percent ABV) nitro stout.
Then Price and his team topped all that in 2019, winning GABF gold for Australian for Pale—hopped with Galaxy, Motueka, and Nelson Sauvin—and yet another silver for Radiant Beauty.
While those medals have come for the crisp, the clear, and the classic, it's the bigger, juicier IPAs that have been lighting up Untappd and flying out of the brewery. Their Swim Test hazy triple IPA (at 10.2 percent ABV) thrilled our blind-panel judges, who scored it 99/100, while mostly-Citra hazy double IPA The Other Brian scored a 96.
Price attributes the success to an obsession with freshness, a clear idea of the kinds of beers he wants to drink, the use of high-quality ingredients, and a dedication to the sort of constant fine-tuning that allows beer to evolve in a positive direction.
However, it took a while to assemble all those pieces.
Cracking the Code
After about a year of what he swears were some terrible homebrew batches—"I kept dumping batch after batch"—Price's first brewing experience was in 2006 with the BJ's Brewhouse chain, where he started out washing kegs and eventually got to brew at different LA-area locations. The chain was going through consolidation, and there was frequent turnover; Price worked under five different brewmasters there. Every one of them, Price says, had a different idea about what was "the most important thing" about brewing.
"I ended up kind of having this moment of clarity," he says, "as they all continued to teach me what they felt was the most important thing. You know, one guy would be like, 'Oh, sanitation: the most important thing!' And I'd be like, 'Okay, cool, hey, thanks a lot.' And then the next guy would be like, 'The recipe! It's all about the recipe.' And I'd be like, 'Okay, cool, yeah, it's all about the recipe.' And then you end up realizing pretty quickly that each thing actually matters—and how the end-product truly matters."
From BJ's he went to Hangar 24 in Redlands, where he was one of the first hires. "I think there was a busboy guy there before me." The ownership there wanted the beers to be totally consistent—always the same, every time.
That led to a realization: "I would rather have an evolving beer, just like this is an evolving market," he says. "And I would rather continue to see the beer slowly evolve upward and continue to get better, rather than being this production brewery that continues to repeat the exact same—not necessarily mistakes, but just the exact same dullness every time. So, I feel like that was a valuable lesson."
A greater education awaited him at the next job—working with Victor Novak at TAPS Fish House and Brewery. Novak is now the brewmaster at nearby Golden Road. "Working for Victor at TAPS was totally monumental," Price says. "He's a guy that was all about the recipe. … It was all about using the best ingredients. All of the other breweries would say that they use the best ingredients, but they actually didn't really use the best ingredients. So this was the first time using real English malt and real German malt. And if we were making a beer from England, we were using all-English ingredients. And the same went for Germany, or whatever else. So I really respected that."
The other lesson that Price picked up from Novak is this: the critical importance of tinkering with recipe and process.
"I really respected how willing he was to change and fine-tune these beers," Price says. "Every time we would brew, whatever the beer was, we would reflect back on the notes that we took about the previous batch. Where it's like, 'Hey, we thought it was a little too lean,' or maybe, 'We thought the body was a little too big.' So continuing to make those adjustments from batch to batch is something that I do now, more than I would have ever done in the past."
That attention to fine-tuning also meant developing his experience with sensory evaluation—with judging the beers that they were brewing, so they could decide which tweaks were needed. "Just honing my palate," Price says, "to try to be able to smell and taste these beers the best that you can, so that you do know and understand how to change them when necessary."
After about two and a half years at TAPS, Price took the head brewer job at startup Noble Ale Works in Anaheim—his first time in charge of a brewing program. Price calls that challenge "an awakening" and a humbling experience. "With every step of my career, I always thought that I was better than I was," he says. "And each time instead, I've been sort of hit with reality and this humbleness that that's not the case. And I really appreciate that about brewing, about beer."
Suddenly he was responsible for details such as how the water was filtered or how the mill was set up. "You can continue to go down the list of all of these different things that you don't really give time or attention to, until you're finally on your own. And you're like, 'Oh, wait—I should look into this more.'"
Price says that he also learned more about building his own recipes. "I refused to take any recipes from these past breweries," he says. "Instead, I just wanted to learn from a flavor and aroma standpoint. … So going to Noble was a clean slate of just making brand-new beers from scratch, basically."
At first, that was yet another humbling experience, with some misses before the hits. "As I was starting to do this for the first time at Noble, it was embarrassing—making certain beers and then going, 'All right, I know I can make this way better. But it's like, I don't know how much crystal malt to use in a red ale' or a range of these other things. So it took a couple years to get things dialed in."
One of those self-taught lessons was more valuable than the rest: "It wasn't until I really learned about water chemistry that the beers really flipped," Price says. "And then I had to re-learn everything all over again because I was misdiagnosing all of these problems."
While he was still at TAPS with Novak, in 2010 and 2011, the company won GABF Brewpub Group of the Year two years running. "And I got this sort of unreasonable sort of attitude that I was also going to be able to carry that on."
At Noble, that didn't happen—not right away. At GABF, "we got blanked three years in a row." Then, finally, all of those lessons and fine-tuning began to pay off in a big way. It started with GABF bronze in 2015 for Nose Candy, a session IPA. The following year, it was GABF silver for the Nobility imperial IPA. But the bigger splash came on the global stage: At the 2016 World Beer Cup, Nobility won bronze, their gose won silver, and the I Love It! IPA won gold. That was enough to make Noble Ale Works and Price the WBC champion small brewery and brewmaster.
However, there were some investor-related issues at Noble that were rankling both Price and the brewery's CEO, Brian Rauso. "We'd already been in this spot of not being happy with the shareholders," Price says. "Like, we couldn't have disagreed with these people more. So it was a good move to get out of there."
That was in 2017, when Rauso and Price struck out on their own to start Green Cheek. For Price, it was another chance to start fresh on a brewing program and show what he could do. The results and the ongoing accolades speak for themselves.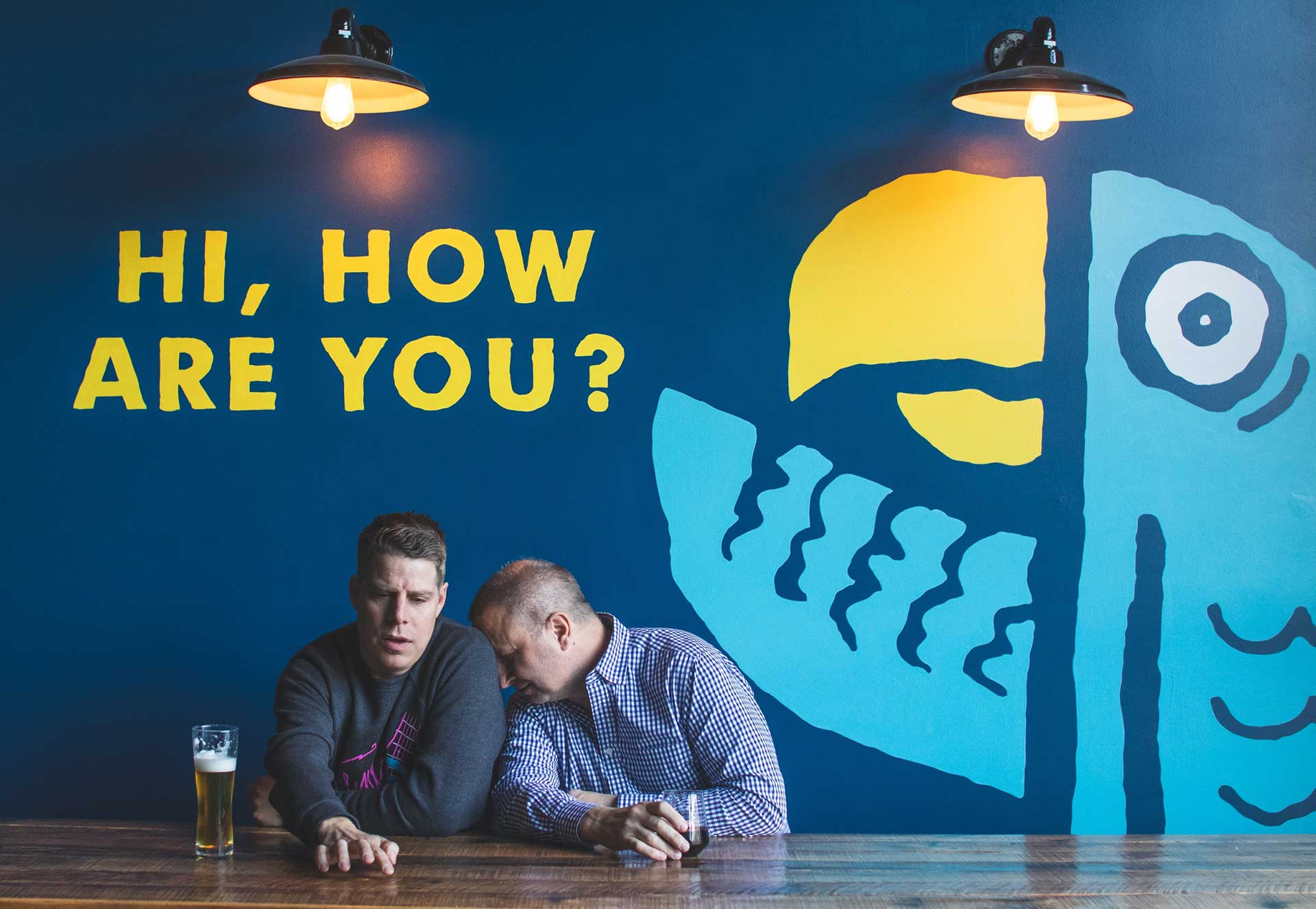 West Coast IPA Is Dead!
Lately, many of those accolades have been going toward Green Cheek's double-dry-hopped hazy triple IPAs, such as Swim Test. "We always have at least one in the tank," Price says. The things they brew the most of, however, are hazy double IPAs, such as The Other Brian. Those account for many of their can releases.
"And then right behind that is going to be West Coast IPA," Price says. "We've been able to have an audience for West Coast IPA since we started. And it's been really neat to see. I mean, I gravitate toward that style myself. And it's what I drink. For the most part, I want something dry and bitter. So it's been really neat to see that."
Green Cheek doesn't do flagships, but it does brew Radiant Beauty about four times a year. It's one of several that Price calls a "California IPA."
"I've tried to make this distinction between California IPA and West Coast IPA," he says "where West Coast IPA can have some maltiness to it—via Munich or caramel malt or whatever else—because those dudes in Washington and Oregon love that shit. … And we end up making a lot of IPAs of just 100 percent pilsner malt, and we don't really fuss with anything else. We'll change out the pilsner malt, depending on the beer. Sometimes we have Carafoam in some of those beers, for a little bit more body. Sometimes we have some corn sugar. But for the most part, it's just a really simple beer."
Speaking of beers that brewers like to drink, there are usually some lagers around, too. "We are almost always having a batch of helles or Italian pils coming down the line." A recent highlight was Short On Long Term Goals, a collab with Firestone Walker's Matt Brynildson. Hopped and dry-hopped with German-grown Callista—think stone fruit, oranges, herbs—it's bittered to 40 IBUs and gets a portion of spelt in the mash.
Like many breweries across the country, Green Cheek also has launched a line of flavored hard seltzers. So far, the Le Squawk brands come in passion fruit, lime, and tangerine flavors—dry, not back-sweetened. "They literally just drink like boozy Perrier," Price says. Developing them wasn't easy.
"It took us an entire year to figure out seltzer. And we dumped I don't know how many batches. … It was super fucked up—but also super fun to try to figure out. Because we'd make this batch, and it would just smell like farts. And it'd be like, 'All right, cool, that was a waste.'" They also had trouble getting the attenuation they wanted. For Price, it was another one of those humbling moments. "Like, 'Hey, man, I understand fermentation! I'm a brewer, I got this.' Then you've got to make something different, and it's like, 'Oh, yeah, I don't fucking understand that at all.'"
They're now confident enough in hard seltzers to push the envelope further with Skins & Stems, which at 10.5 percent ABV falls somewhere between seltzer and sparkling wine. They fermented the drink on fresh-pressed merlot skins and stems grown in Santa Ynez, near Santa Barbara. "I'm looking forward to doing more interesting things like that, instead trying to compete with, I don't know, White Claw," Price says. "Right? We can't compete with White Claw! There's no use in trying."

Bright, Sunny Future
In 2017, Price and Rauso got fairly lucky, winning their bid on a just-gone-out-of-business brewery, Valiant, that had almost everything they needed. It happened again when they bought the Barley Forge brewpub at the end of 2019. Their second location in Costa Mesa opened pretty much right in time for the pandemic to hit.
"The constant pivot of 2020 [was] absolutely insane," Price says. "'Adapt or die' has been the model for us and so many others. We luckily have kept this strong to-go model since the beginning of opening up Green Cheek, doing can releases, like so many other breweries, and that's been able to keep us keep us afloat."
Visitors to either location find a drive-through area marked by cones and staff with PPE. "We've just had to move from canning 10 percent of what we do, to now 100 percent of what we do, for the most part, is put in cans. So that's been another learning curve. But we're doing all right. We're in the black." The draft margins are gone, but the rise in demand was enough to grow production from 2,100 barrels in 2019 to about 3,000 in 2020.
The success appears likely to continue into 2021, as Price leans into what he's learned and trusts his palate. That's his strongest piece of advice for fellow brewers, too, whether it comes to brewing California IPAs or anything else.
"The kind of IPA that we make is … exactly the way that I want that beer," he says. "And that sounds like an egomaniac thing to say, but it ends up being exactly what I want. So, I think that's first and foremost, right?
"You need to be in love with the beer."