One of the most curiosity-stoking names in American beer didn't land on its moniker through any great stroke of inspiration. They grabbed a new name because they had to.
One day in 2016, the artists formerly known as the South Loop Brewing Company realized they had a problem: A pre-existing beer in Chicago was called South Loop Lager. There were no cease-and-desist letters, no legal kerfuffle, says Cofounder Jeremiah Zimmer. It was simply a choice to avoid future trademark disputes and protect what they had already built.
So they went literary. Looking for a unique name with local roots, they turned to the Carl Sandburg poem, "Chicago":
Hog Butcher for the World,
Tool Maker, Stacker of Wheat,
Player with Railroads and the Nation's Freight Handler;
Stormy, husky, brawling,
City of the Big Shoulders
So they became Hop Butcher for the World—more esoteric than South Loop, sure, but also more intriguing. It was one phrase among a stack they had brainstormed as future beer names. "I kept looking at it, and I was like, it's actually kind of a cool name for a brewery," Zimmer says. "And it speaks to the type of beers that we like to brew and drink."
At the time, changing their name didn't feel like good news. "We had no idea," Zimmer says. "But it was one of the best decisions we made, because it felt—on this end, looking back—it was true to who we were. It got us more excited about our own beers. We almost tell you what to expect out of our beers ahead of time."
About those beers: The reputation they have built is for the juiciest sort of hazy IPAs, squeezing the most out of a changing selection of hops. Our own blind- review panel has found some Hop Butcher gems. Their Halogen Farm IPA scored a 98 out of 100, while their Neon Green Relish and The Jewels double IPAs both scored 97s. If there are common threads running through those, they include an intensely juicy character that is nonetheless balanced—yes they're sweet, but round, and bitterness is not forgotten—and an embrace of unconventional hops such as Vic Secret or Sabro, which provide surprise notes such as cucumber, herbs, juniper, or coconut. These are not the same-old tropical juice bombs.
They occasionally brew a beer that is malt-forward—such as Milkstachio, a milk stout with cocoa nibs and pistachios. But for the most part they've found their wheelhouse in the big, juicy-hopped beers of the sort that they also prefer to drink.
They're also known for open and frequent communication with local drinkers (and bars and shops) about exactly when the freshest batches hit the market. Most of the beers are upward of 8 percent ABV—in fact, Zimmer says, about 85 percent of what they brew is some sort of double IPA—with the particular hop varieties listed right on the front of the can.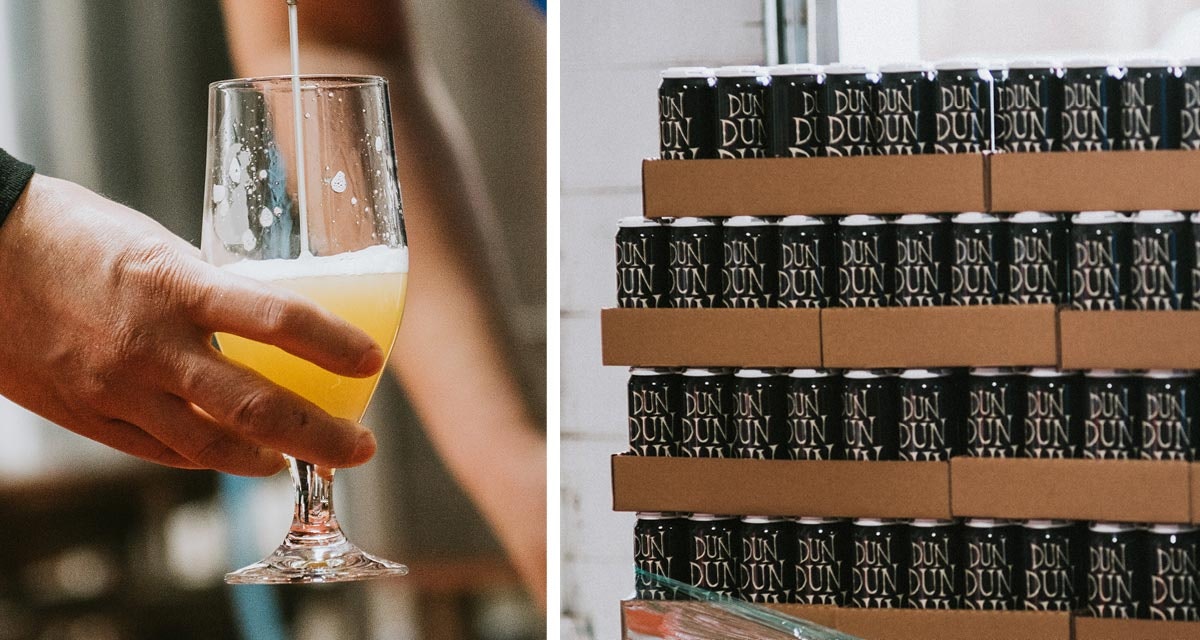 This is a brewery for hopivores.
On the shelf, it's not only the brewery's name that catches the eye. The cans feature striking images from Dan Grzeca, a Chicago artist with a distinctive style. "He is as Chicago as Chicago gets," Zimmer says. He's a good human. And his work is just rad. And he gives us that aesthetic that I think sets our cans apart from a lot of the other artwork that can sometimes get lost in a sea of craft-beer artwork."
Getting Grzeca for their art goes alongside choosing the Hop Butcher name—and getting obsessed with New England–style IPAs—as one of the best decisions they have ever made, Zimmer says.
First, however, it started with a friendship.
Jude La Rose and Zimmer first met about 12 years ago. Both in their late twenties, they worked as sales reps for the Chicago Rush, a team in the now-defunct Arena Football League. They were acquaintances but not yet good friends. They got married the same year—now they each have three kids, roughly the same ages—but it wasn't until they both started getting into beer that their friendship blossomed.
They connected via Twitter and soon found themselves in a beer-tasting group, trying everything they could get their hands on. That led, eventually, to backyard homebrewing—"Black IPAs were all the rage back then," Zimmer says—and they found that they liked what they were brewing as much as some of the things that they could buy. Their wheels began to turn. Both had studied business and worked in sales.
"We met in the sports-and-event marketing industry," Zimmer says. "And when we both went full-time working on the brewery, it was a weird but very exciting adjustment. It wasn't like we'd met in manufacturing or we'd met as beer reps, you know, selling beer. It was a completely different industry."
They also appear to enjoy the business side of it—and the marketing, the conjuring up beer names, and engaging with customers via social media. "We enjoy the science part, the science and art of brewing, but you know, we find just as much enjoyment in the fact that you can make a beer that costs this, and you can sell it and make that."
One turning point for them, in the early days of Hop Butcher, was throwing a whole bunch of Galaxy into a beer. They strode right into the hazy/New England trend in its earliest days of spreading around the country and the world, just as they were starting to make a name for themselves locally. They wanted to try it with Galaxy. They had contracted for some, but they didn't want to wait a few more months for it. So they borrowed 44 pounds of it from a nearby brewer. They used Imperial's A24 Dry Hop yeast, and the tropical aroma burst out of the beer. That beer was Galaxy Bowl. It caught fire.
"That was our first crack at it," Zimmer says. "And we caught magic. I don't know how to accurately explain it, but literally, we didn't even know what we did. We knew how to build it, but we weren't pros at it from the get-go. Just some magic happened, and that specific beer raised the tide on all of the other beers that we had been making."
They had made only 15 barrels of that beer—about 100 cases—but people started paying attention. People talked about it on social media, and they hunted it down. "And every store that had a case of it, it disappeared," Zimmer says. "And we had no idea what the demand would be like for it. But it disappeared quickly. And then people were like, 'Wait a minute, who are these guys?'"
Galaxy Bowl gave them momentum. They began to look for more capacity. At that point, they were brewing and fermenting at Aquanaut Brewing in North Chicago, where they owned one fermentor. They would brew a beer, use their one tank to ferment it, package it, and then fill the tank up again right away with something else.
"Part of that was by necessity, right?" Zimmer says. "We had one tank. We had to crank it. And we had to make sure that it sold and moved, so we could kick out the next tank, the next month. And they were always different beers. We found very quickly, based on what we were doing—but also what we could see around us—that the beers we liked to drink happened to be the beers that we were also selling."
Within a year they had moved much of their brewing and fermentation to the Miskatonic brewery in the southwest suburb of Darien. They currently have a fermentation capacity of 465 barrels in two locations. They don't yet own a brewery of their own. That's the plan for 2020. A beer like Galaxy Bowl, Zimmer says, "it does what our name kind of states that we're going to do. Like, we're going to show you hops. We're going to introduce hops that you've never had before. We're going to mix them like you've never had them mixed before, and teach you what it does by listing the hops on the front of the can. We have tasting notes on the back. "And that's how we kind of went down that nerdy hop-scientist route but still kept an element of approachability."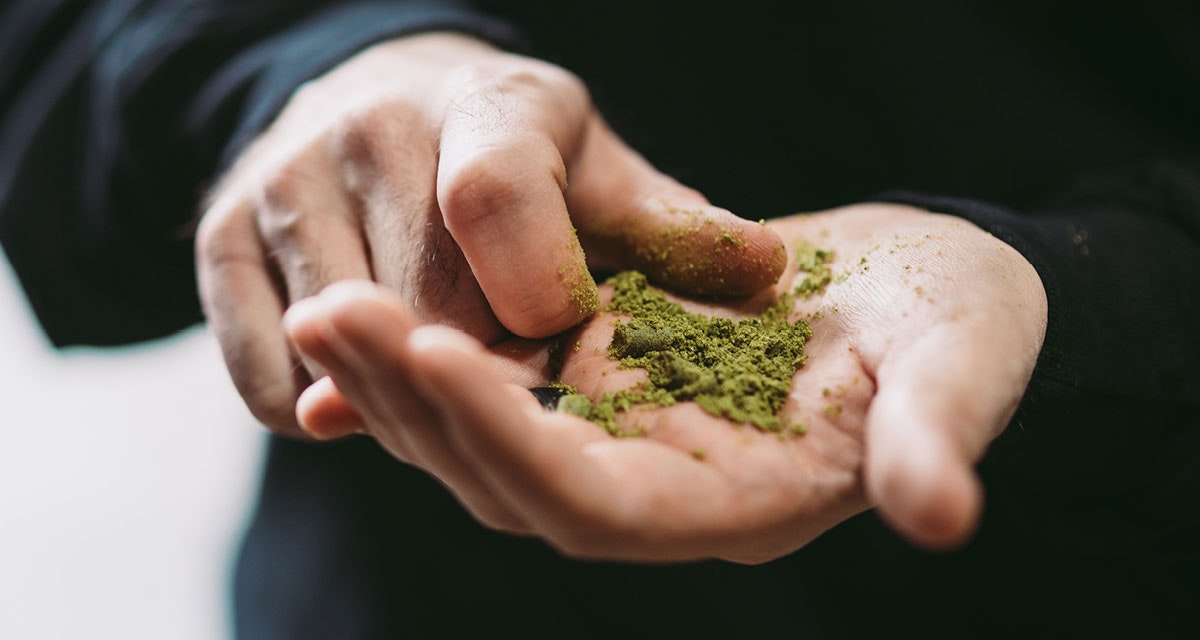 Part of what Zimmer and La Rose have learned, since their early days of homebrewing, is how to tinker.
Zimmer says that as far as taking risks and going for big character, their approach to brewing hasn't changed much. The rest is fine-tuning.
There are a surprising number of ways to go about brewing hazy IPAs. Hop Butcher has found theirs through trial and error. They have tweaked along the way to make this beer a little drier, that one a little sweeter, give this one more punch. They have worked on increasing protein content without muddling the beer and ensuring adequate pitches and aeration to get enough attenuation ( thus avoiding overly sweet beers).
"And I think what we've found is that we have six different approaches for a hazy beer that have nothing to do with ABV. And once we felt like we were in a good spot with the grain, and the yeast, and the hops that we would combine and use, we found ourselves wanting to kind of create different avenues for those double IPAs, so that all our double IPAs didn't necessarily taste the same."
If that sounds complex, the overarching philosophy is not.
"I think we found that a lot of times, you can remain on the simple side of things without over-complicating a recipe, and you get a better beer—especially when your goal is letting the hops paint the picture for you."
Listen Up!
Tune in to the Craft Beer & Brewing Magazine® podcast episode 84 for more thoughts on hops and blending from the Hop Butcher team.
beerandbrewing.com/podcasts
Photos: Courtesy Hop Butcher for the World