KC Bier has been brewing since 2014, but it's okay if you've never heard of them. They're not making the kind of flashy beers that tend to excite the can-stacking geeks on social media, and their footprint is small—just the Kansas City area, plus bits of Missouri and Kansas. That's it.
Yet just after the New Year, the Kansas City Bier Company—that's their full name, which nobody uses—made an announcement: It had produced 15,500 barrels of beer in 2019. That was an increase of 20 percent over the previous year. By Brewers Association standards, that makes it a "regional brewery" (even if it's just a local one). Those numbers also put it among the top three percent of breweries nationwide by volume.
How did KC Bier get there? In short, by making very drinkable beers—the kind where you want to drink more than one or two (hence, volume)—and by concentrating efforts on their local market.
"Our whole philosophy on growth has been small area but deep penetration into the market," says Steve Holle, KC Bier's founder and managing partner. "So we work hard to develop a good foothold, especially in Kansas City.
"It's important to build some brand loyalty, and that's very hard these days."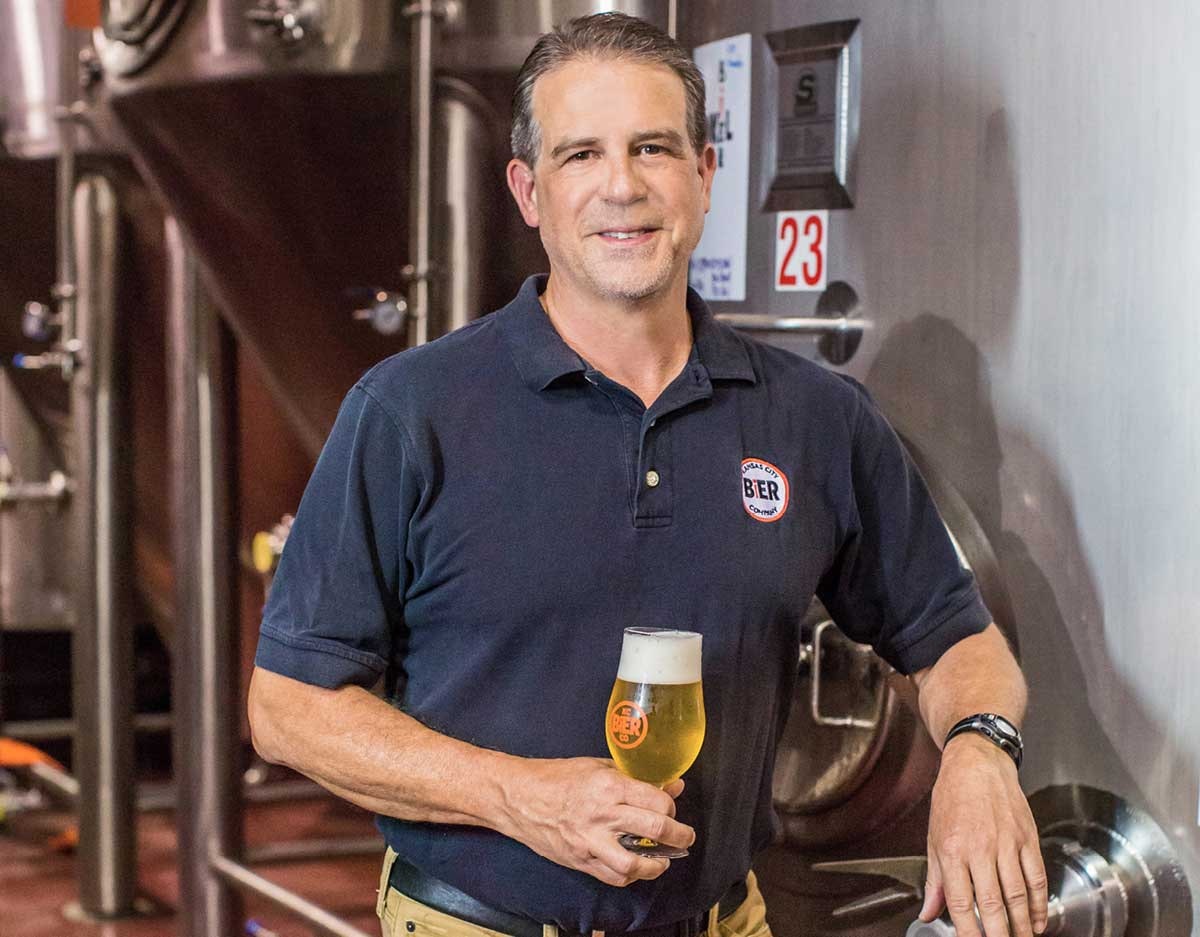 Impressively, they have done it at a time when the number of breweries continues to grow—more than 8,000 in the United States now, and about 35 in the Kansas City area—while the size of the beer market has gone virtually stagnant. Holle says he is not sure that he would be as ambitious if he were launching the brewery in 2020. "If I were restarting today, I don't know if I would want to do a big regional brewery that does wholesale," he says. "There are just so many other breweries out there."
Many of the newer, smaller breweries cater to novelty-seekers and try to keep up with the latest trends. KC Bier, however, has not built its business on novelties—it's built them on flavorful, balanced, approachable flagships. Novelty-seekers have never really been KC Bier's target audience (although they're welcome, too).
"I wanted to do German beers," Holle says. "That's sort of nîche. Beer as good as you get in Germany, and as fresh as you get in Germany. We thought there'd be a market for that."
But First, You Need a "German" Brewer
Karlton Graham had recently graduated from the Siebel's Master Brewer Program, which included a five-month stint at Doemens in Munich—he was still there, in fact—when a slip of paper tacked to a cork bulletin board caught his eye. Among a bunch of German words, which he didn't totally understand, he saw the words "Kansas City." His hometown.
Someone there named Steve was looking for a German-trained brewer to help launch a new brewery. "He was looking for a student at Doemens who would be willing to relocate to Kansas City and become the head brewer," Graham says. "This posting was not intended for Americans."
He went for it anyway, meeting Holle at a bar in Kansas City and answering various questions about German technical brewing. Graham passed the pop quiz and got the job. "Steve also allowed me to invest in the company, so I luckily became a partner as well."
That was how Holle found a head brewer for his "little retirement project."
Holle's previous career was in commercial real estate investment, though he's been involved in beer for years—as an avid homebrewer and a writer for magazines such as Brew Your Own and Zymurgy. For the Master Brewers Association, he wrote the Handbook of Basic Brewing Calculations and cowrote the Beer Steward's Handbook. Along the way, he studied at Doemens in Munich and the Institute of Brewing and Distilling in London.
When he retired from the real-estate work, he knew that he wanted to open a brewery. And he knew exactly what kind.
Holle loves Germany, and he loves German beer. He speaks German—even in the brewery, sometimes, with their Bavarian-born partner and sales manager Jürgen Hager, and with any German-speaking guests—having studied it in high school and college and visited Germany multiple times.
Holle's simple idea—that the locals would enjoy fresh German(-style) beer as much as he does—has taken on a life of its own. "We make almost twice as much beer as I thought we would at this time," he says.
Deutsches Bier, for Midwesterners
There are occasional playthings—such as Hop Sticke, a seductive, Mandarin-hopped India pale lager. That and other one-offs can be found on draft in their German-beer-hall-influenced taproom and beer garden, a popular spot in Kansas City's laid-back Waldo neighborhood.
But for the most part, KC Bier makes just a handful of beers: Dunkel, Helles, Pils, and Hefeweizen are the year-rounders, then a rotation of four seasonals: bocks for spring and winter, Festbier for fall, and a dry-hopped saison for summer.
The Dunkel is a crowd-pleaser, and it's the top seller by far. It's the beer that has grown the brewery, accounting for about 60 percent of its production. Its tap handles appear in places such as Kansas City barbecue joints and back-road Missouri dive bars—places where craft beer is not a priority and where proprietors don't necessarily want to deal with constantly changing beers.
Like all of KC Bier's lineup, the Dunkel is totally convincing—by that I mean that it tastes like an excellent German dunkel, with round malt character—gently sweet, with notes of toffee and toasted bread—yet well attenuated, dryish in the finish, and easy to drink in quantity. It makes a fine match for Kansas City barbecue or all sorts of tailgate food and pub grub. In a city where it can be tough to compete with Boulevard Brewing for taps, KC Bier Dunkel has pulled a Midwestern "Ope, gonna sneak past ya."
Its success has taken Holle and his brewing team by surprise. They've watched its upward trajectory with bemusement.
"I don't know why it is so popular," Holle says of the Dunkel. "It used to frustrate me because I think we make a lot of other good beers. All the brewers drink Pils or Helles, pretty much, and hardly any of us drink the Dunkel. But it's a really good beer, too, and people love it. We're lucky the Dunkel is popular and that people ask for it."
Like the Dunkel, the Helles would be right at home in Bavaria—light, easygoing, but with a plumper malt flavor than those attempted by many other U.S. breweries. Its character, consistency, and addictive qualities are why we at Craft Beer & Brewing Magazine® named the Helles among our Best 19 Beers of 2019.
The Helles is patiently lagered, taking at least five weeks to make from start to finish. It is probably the beer that Holle pictured most when he envisioned his German-style brewery. "Our brewery is basically built to brew this beer right here," he says, pointing at the Helles.
Meanwhile, the Pils arguably deserves every bit as much attention as the Dunkel and Helles. It's carefully modeled after some of Germany's more flavorful examples—elegant, bright, with lasting foam, herbal hops shining in aroma and flavor, firmly bittered to 35 IBUs, and with an attenuated, light malt sweetness that serves to enhance the hop flavor.
After the Dunkel, their seasonals are about 15 percent of sales. The classically brewed Hefeweizen is about 12 or 13 percent of sales, while the Pils and Helles are six or seven percent each. Graham puts it in perspective: "I think a lot of brewers would be jealous of how much Helles we sell at this point."
The Discipline of Avoiding Compromises.
A fact that can't be separated from the quality of these beers is the reverence with which they are brewed. Led by Graham, the brewers adhere stubbornly to German ingredients and methods. For all practical purposes, this is a German brewery that happens to be based in Missouri.
KC Bier imports its malt from IREKS, based in Kulmbach. "It's my opinion that malt, like grapes, has terroir," Holle says. The climate in Germany is cooler and wetter. "I think you get a plumper seed corn," so that there is relatively less husk and more endosperm. The endosperm is where barley stores its starch, which becomes sugar during the mashing process. "I always tell people that one's not better than the other, but they are different." (Later, when I'm discussing the Helles recipe with Graham, he says simply, "You must use German malt, or this beer will not taste right.")
Their hops come from Seitzfarm, a family-run operation near Wolnzach, in the heart of the Hallertau. Holle sourced the yeasts—both lager and wiessbier—from the Klosterbrauerei Andechs.
The lagers and wheat beers all get decoction mashes—an old-fashioned method in which part of the mash is separated and boiled, then returned to the main mash. The moderately modified malt they get from IREKS is well suited for it; besides adding richness and deepening the malt flavors, other benefits of the decoction mash include improved foam and stability. Most of the beers get single decoctions, but the bocks get double decoctions—that is, two successive portions of the mash are boiled. They carbonate the beers naturally via spunding—using CO2 from the fermentation process, rather than forcing in extraneous gas. This helps to create a softer texture and denser foam.
Graham, although a Kansas City native, is one of those German-trained brewers for whom Celsius and degrees Plato come more naturally than Fahrenheit and specific gravity. He describes their typical regime: steps at 62°C (143–144°F), 65°C (149°F), 72°C (161–162°F), each for 20 minutes; then two-thirds of the mash is pumped away, and the remaining one-third boiled for 15 minutes. Then the mash is reunited to reach about 76–77°C (168–170°F) for mash-out. He says that this process leads to relatively less-attenuated beer with a rounder, fuller malt character.
He and his brewing team are open to additional tweaks. In fact, they are adding a wrinkle to their mash regime after recently brewing an Uerige-inspired altbier. Following the Uerige recipe as closely as possible, Graham mashed in at 47°C (117°F) then did a short protein rest at 52°C (126°F). They didn't really know whether the step was important; based on their analysis of their malt, there should be no need for a protein rest. They did it anyway, and they ended up with some of the best foam stability and attenuation they had ever gotten in a beer—and in this brew-house, that is saying a lot. "This head was so distinctive," Holle says. "It was this really dense foam. It wouldn't go away."
As a result, Graham is now experimenting with that regime in some of their other beers, including their Winterbock. "It came out great," he says. They also adjusted the other mash steps for the Pils. "It comes out drier and with a better head, so it looks like we will switch Pils permanently. It's hard to argue that drier with a better head is not improving a pils."
However, they like the round malt character of the Helles as-is. They won't be fussing with the Dunkel, either. "We didn't want to change that beer in any way," Graham says, "because it's kind of the backbone of the company."
When asked why American-brewed attempts at German-style beers often fall short of the mark, Holle blames an "accumulation of small things" or "death by a thousand cuts"—or, rather, death by a thousand shortcuts. "We have a huge cellar for the amount of beer we make. That's another thing people don't get. It's how many tanks and space and how much time it takes to make lager the proper way."
Rhetorically, Graham asks, "Could we cut one thing and keep all the others and have people not notice? Probably. But the point is, you do all of them. Could you cut one of them? Yeah. But you're on a slippery slope.
"So why compromise? Just do it the way it needs to be done to get it the way you want."
One traditional method they're not using—yet—is open fermentation. But Holle says they are considering it for a future second location.
They don't have that location yet; given their growth, it's just a matter of when, not if.
Photos: Courtesy Kansas City Bier Company