Some brewers are chemists, some are engineers, some microbiologists, and others mechanics. Brian "Stillwater" Strumke of Stillwater Artisanal Ales is a musician—more specifically a DJ.
To Brian, crafting a beer recipe is like composing an electronic song, in which malt sweetness is the baseline and hops aroma hits a high treble note. If he is talking about the brewing process, it is likely a conversation riddled with allusions to electronica.
Under the name Brian Stillwater, Brian traveled the globe for a decade producing and spinning progressive house music. He didn't discover his love for craft beer until he retired from his DJ career and moved back to Baltimore. In his neighborhood watering hole, The Brewer's Art brewpub, he acquired a taste for Belgian beers. "House beers were $1.75 during happy hour, and I'm talking a double abbey and a Duvel-style beer, 7.5–8 percent beers," he remembers. "I'm was in my twenties and cheap, so I thought, 'I'll learn to like beer.'"
And so Brian's love affair with Belgian beer styles began. "They seemed more different and more creative than any other genre of beer—they could go in so many directions."
Naturally, he took up homebrewing. His first recipe was a standard pale ale. "It turned out good, but what I realized is that I didn't save any money by making my own pale ale," he says, "and it could have been cheaper considering the time, the effort, and the ingredients I put into it."
After that first batch of pale ale, Brian knew he'd never be a brewer who cared about beer styles. "I didn't want to put the time or energy into producing something I could already find out there. I didn't want to make cover songs. I wanted to do something radical."
Brian often refers to Stillwater Ales as "hybrid beers," implying they borrow nuances from other styles but don't belong to a category of their own. The only thing that they tend to have in common is farmhouse yeast. "I got really into saison yeast because I wanted to brew year-round," he says. "My house gets really hot, like 80°F [27°C] even in the basement. The only way I could brew in summer was to use saison yeast. I learned to brew with those yeast strains out of necessity."
So out of resourcefulness, Brian developed great knowledge of farmhouse yeast and a brewing philosophy to boot. "Farmhouse [especially saison] is a kitchen-sink style of beer," he says. "Historically, not every Belgian farmhouse followed one recipe—it could be dark beer; it could be light beer; it would have hops or not; it might use spices. The farmhouse ale is a philosophy and not a beer style because it's brewing with what's available however possible."
Become a Breakout Brewer in your own time. Check out the CB&B online classes, the world's best online learning resource for homebrewers.
Armed with the belief that saisons are a philosophical category of beer and not a stylistic one, he has presented the world with some of the most multifaceted and unexpected beers it has ever tasted.
The visionary Brian has been called an artist, a Renaissance man, and of course, a nomadic brewer. Since the inception of Stillwater Artisanal Ales in 2010, he has trotted the globe, crafting his beers at breweries in Belgium, Denmark, Holland, Sweden, Italy, England, Scotland, the Netherlands, Spain, and France—just to name a few. In 2010, The Washington Post might have put it best when it called Brian "the modern equivalent of the minstrels who crisscrossed Europe during the Middle Ages."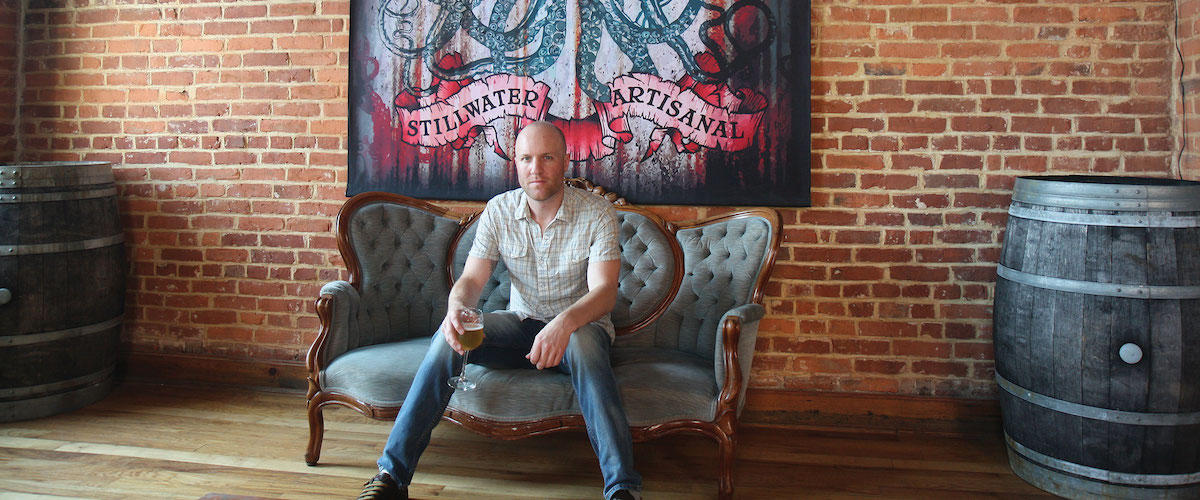 Stillwater Artisanal Ales started out as more of an art project than a brewery. "I was doing it for creative release. The medium of the art switched from music to beer, but the business concept pretty much stayed the same," Brian says in a Brewmerica episode, adding, "I'm using breweries now like I used studios in my music days."
On the rare occasion that he's home in Baltimore, Brian can be found at his pub, Of Love and Regret, a 23-tap beer bar that proudly has zero IPAs on tap. "We purposefully have no IPAs, but we have hops-forward beers," Brian says. "We're here to educate people. If people go straight to IPA, they don't have to think about it."
Brian makes a beer specifically for those IPA lovers called Why Can't IBU. "While most IPAs are normally 6 to 7 percent ABV, I made this one only 5.7 percent. There are only 23 IBUs, but it's still extremely hoppy in aroma, floral, and fruity, and still dry. It's an elegant hoppy beer."
Next up, and all within the first half of 2014, Brian will head to Tokyo Beer Week, and he'll brew beers with indigenous ingredients in Japan, Brazil, Australia, New Zealand, and Canada. "This year is really going to take things to a serious next level. These are all places I've never been," he says. Also on his agenda is the possibility of a new brewpub in San Francisco, which he's now fondly referring to as the Stillwater Test Kitchen.
"I want to build a brand in which you trust the name. I want to create beers that carry a hallmark, but don't all taste the same," Brian says. "I keep wondering, 'How far can I take this?'"
Signature Beers
Stillwater's farmhouse beers—Stateside Saison, Cellar Door, and Existent—are some of their best-known, and Classique now delivers that farmhouse experience in cans.
Art Projects
Vol. 1 Of Love & Regret (brewed with heather, chamomile, lavender, and dandelion) brewed at 't Hofbrouwerijke, Belgium
Holland Oats (amber ale brewed with toasted oats and appelstroop, or apple syrup) brewed at Brouwerij Emelisse, Netherlands
Raritea (wild ale brewed with Earl Grey tea) brewed at Cabinet Artisanal Brewhouse, Virginia
Stateside Saison (aged in Chardonnay barrels and re-fermented with Brettanomyces) brewed at Pub Dog Brewing Company, Maryland
Availability
Stillwater beer is available in the United States in Arizona, California, Connecticut, Florida, Georgia, Idaho, Illinois, Louisiana, Maine, Maryland, Minnesota, Missouri, Nevada, New Jersey, New York, North Carolina, Ohio, Oregon, Pennsylvania, Rhode Island, South Carolina, Vermont, Virginia, Washington, Wisconsin, and Washington, D.C. It is available internationally in Australia, Belgium, Brazil, Denmark, Germany, Italy, Japan, Netherlands, Norway, Singapore, Spain, Sweden, and the United Kingdom.