Tripping Animals is your archetypal American dream story … as long as that story includes fruited sours and a cartoon octopus.
The brewery's four cofounders—Daniel Chocron, Iker Elorriaga, Ignacio Montenegro, and Juan-Manuel Torres—started homebrewing together 11 years ago in Caracas, Venezuela. They had an abundance of curiosity, but everything else they needed was in short supply: ingredients, examples of the latest international beer styles, and reliable shipping.
"It was very hard to buy ingredients, pay for it in bolivars, and then with all the inflation that was happening in Venezuela… in those two months, you already lost the money you put up at the beginning," Chocron says.
Montenegro had attended college in St. Louis, and he believed that he and his friends should relocate their passion to the United States. Doral, Florida, was a logical home base for their nascent brewery: Not only was the craft-beer scene in nearby Miami still relatively small, but Doral has more Venezuelan-Americans per capita than any other city in the country. It felt like home to them—all the more so after they opened their brewery in late 2018.
Within a year, Tripping Animals was appearing on "hottest brewery" lists and collaborating with the likes of Finback, Untitled Art, Aslin, KCBC, and Vitamin Sea. Its rise from new to nationally known was meteoric, yet they remained rooted in the local scene. For example: Tripping Animals' popular annual invitational festival, Irie Jungle, makes a point to include Miami-area breweries as well as more hyped ones from outside the state.
"No one is getting left out—it's not just a cool-guy club," says Mauricio Arratia, head brewer at Miami's The Tank Brewing. "They haven't turned their noses up to the Miami beer scene. If anything, they're a driving force to make it a scene like Philly or San Diego."
The fraternal attitude is sincere—the cofounders refer to each other earnestly as "family"—and it's also created a fun place to be. Awash in Florida sunshine, with triple IPAs flowing and dominos clacking, Tripping Animals' taproom patio is often described as a party where everyone feels like a guest of honor.
"It's unreal, the respect that they have for the industry and their peers. They're just aces," says Dino Funari, founder of Vitamin Sea in Weymouth, Massachusetts. "Plus, this is a fun business, and they've really taken that and run with it. I joke that there's going to be a Netflix documentary about them because they're just maniacs."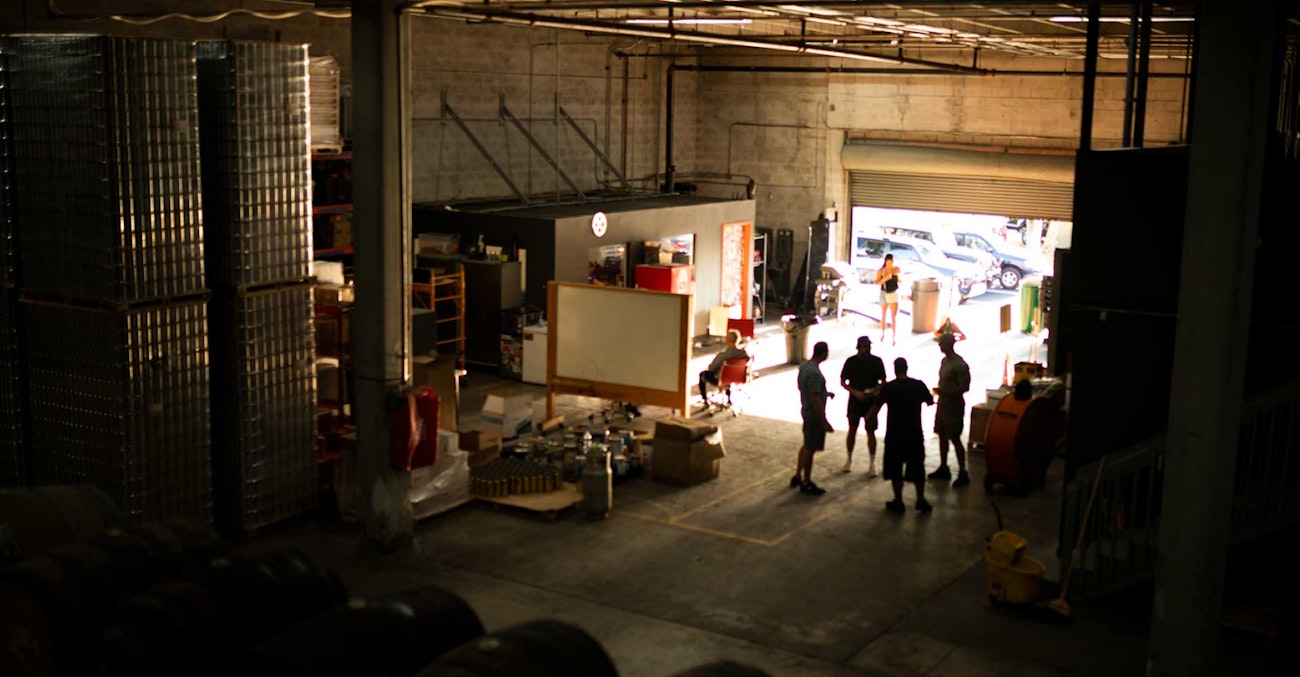 Fruit Loopy
Since their homebrewing days, the founders of Tripping Animals focused on IPAs and lagers. However, shortly after opening their brewery, some guest kegs of Burley Oak's J.R.E.A.M. series of kettle-soured fruit beers changed their trajectory. Elorriaga says those beers were an "eye-opener," not only because of the heavy fruit flavors and pulpy texture, but also in terms of how fast they sold.
The Tripping Animals team saw heavily fruited beers as a natural fit: They're in South Florida, after all, where citrus and tropical fruits such as pineapple, mango, and passion fruit are synonymous with the region's cocktails, smoothies, and desserts. Today, tart fruit beers are half the brewery's production, distributed in limited quantities to a dozen states.
Packaging heavily fruited beers for distribution demands shelf stability—something the brewers say has improved since they began canning more during the pandemic. The centrifuge is the solution for the Limonada series, inspired by Latin-style flavored lemonades. For fruit beers with pulpier texture, such as their smoothie-like Hero Dose series, the brewery instead relies on a four-day cold crash to drop the yeast.
When these beers were taproom-only, Tripping Animals' brewers could push fruit puree proportions to their upper limits; now, they're a bit more restrained. That's ultimately a good thing, they say. It requires more attention to detail, including keeping the brewery's original Lactobacillus strain (which it uses to this day) in peak health. "We want to guide people into what the correct style is," Chocron says. "We don't want to serve them a soup of fruit."
As Tripping Animals' fruit beers evolve, drinkers appear to have an insatiable thirst for all their permutations: dessert-inspired Banana Cream Pie; smoothie-like Moskittle with strawberry, peach, lime, passion fruit, and tangerine; and The Return of the Tripping Dead, with cherry, coconut, almonds, and vanilla.
"Now, we're looking to show the entire country that we also do other beer styles pretty good besides sour," Elorriaga says.
Lager Rhythm
Lagers have slowly grown more popular with Tripping Animals' customers, and the brewery has found ways to put its own spin on styles that go down easily in the Miami sun.
Cooler Than Polar Bear's Toenails, which debuted last summer as a "Venezuelan-style pilsner," is inspired by Polar Pilsen, their home country's popular and widely consumed lager. The brewery's flagship lager—the corn-accented, Mexican-style lager No Mames—has its own mascot in the form of the heavy-lidded chihuahua on its label. One of the brewery's latest releases, Eagle Has Landed, is an American light lager of 4 percent ABV; the founders expect it to be a spring and summer favorite.
While Tripping Animals' fruit beers are driven by iteration and ingredient remixes, the lager program is focused on consistency. They're dialing in their carbonation, for example, with a Wild Goose device called the Bubble Butler, fully automating the carbonation in the tanks to hit the desired targets. It also allows for small, simple tweaks to achieve the desired volume and texture.
The founders say that consistency will be more of a focus for them this year, as they pare back new releases in their taproom from, say, 16 to 18 new beers per month to something more manageable. "This year will be our last year doing so many different beers—it can get to be a lot," Chocron says. "Lowering the [number] of beers we do will allow us to be more on top of every single one."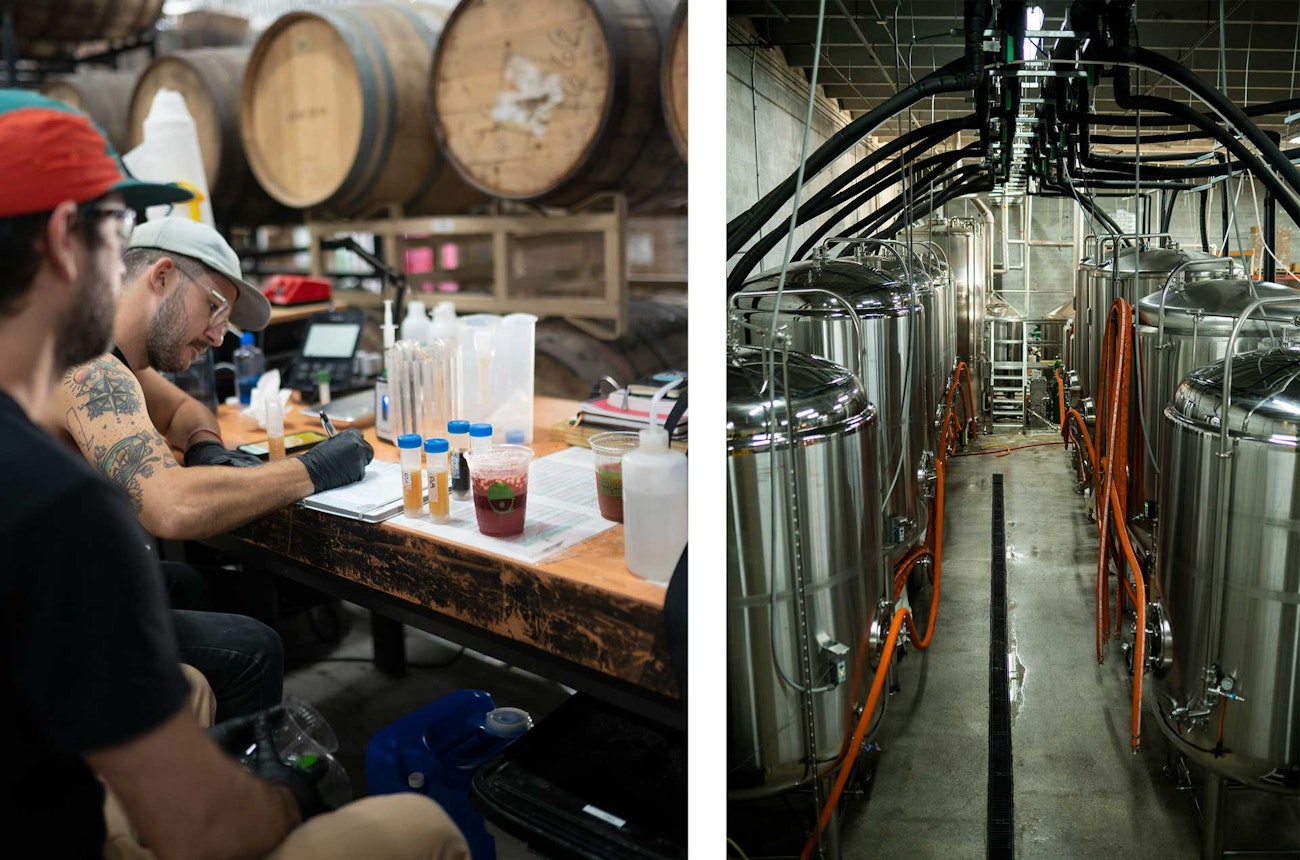 "A House for Everyone"
Regardless what's on tap, Tripping Animals' taproom has become a gathering place for a range of customers, from beer geeks to the area's Hispanic community to drinkers just looking to hang out on the dog-friendly patio.
"When we have a group of people in and one says they don't drink beer, we ask, 'Do you like juice? Do you like alcohol?'" Elorriaga says. "Three months later, they're crushing IPAs and drinking barrel-aged stouts. It's about that first beer that opens the doors."
Arratia from The Tank says he hangs out at Tripping Animals a few times a month. He says he's noticed a genuine camaraderie among front-of-house, back-of-house, brewers, owners, and customers. "I wish I knew [their secret] because I'd do the same," he says. "Their staff turnover rate is very low. They have a lot of people who have been there since Day One. … It legitimately feels that they care about each other and hang out all the time. You really feel that when you walk in."
The Tripping Animals team says that loyalty—from customers and staff—is what got them through the pandemic that came just a year and three months after they opened.
"We've tried to make this a house for everyone," Montenegro says. "Tu casa, mi casa."