Thanks to its Black Is Beautiful stout, Weathered Souls is now essentially a household name among craft-beer enthusiasts. Nearly 1,200 breweries have taken their own cracks at that open-source recipe—a worldwide collaboration—agreeing to donate proceeds to organizations supporting police reform or legal defense to those facing injustice.
But before Black Is Beautiful, before Weathered Souls, before his first homebrew kit, co-owner and head brewer Marcus Baskerville didn't even like beer. However, once his older brother introduced him to craft beer—and he developed a taste for West Coast IPAs and bold stouts—he began brewing them with the fervor of a religious convert.
"I [was] in a car accident, and instead of buying a new car—which I should have—I took the insurance money and bought homebrew equipment," Baskerville says.
Even in his early homebrewing days about the beginning of the 2010s, Baskerville preferred to make big, flavorful beers, the type for which he'd eventually become known at Weathered Souls. The problem? His early homebrews weren't very good. He began listening to homebrewing podcasts and volunteering at breweries in San Antonio, Texas, where he'd moved from Sacramento, California, seeking feedback on his beers. But it was a tip he heard from Annie Johnson, the American Homebrewers Association's Homebrewer of the Year in 2013, that changed everything: Don't drink while you're brewing.
"I used to be one of those people who drank the entire time while I was physically brewing," Baskerville says. "I took Annie's advice into account and made my first actually good beer."
Two years later, he won his first homebrew competition with a golden stout. He began to think about one day opening his own brewery, filling what he perceived to be a gap in San Antonio's beer scene: new, trendy beer styles.
A City Catches Up
At the time Weathered Souls opened in fall 2016, the city—the country's seventh largest by population—was home to only six or seven breweries, most of which made traditional, German-inspired lagers and classic ales. Even the few IPAs Baskerville could find around town were English-style. Weathered Souls blew the stylistic door wide open, and Baskerville says the brewery was the first in San Antonio to brew a hazy IPA, a pastry stout, and a heavily fruited kettle sour.
The taproom menu reflects that creativity: Drinkers can still find a classic Vienna lager or a blonde ale, but they might also choose a tangerine-pineapple sour or a stout brewed with hazelnuts, fudge, and pretzels. It's those indulgent pastry stouts and sumptuous barrel-aged barleywines that have put the brewery on the map—and they're how Baskerville wants to build a reputation for San Antonio beer.
"There is a very old soul to San Antonio's beer scene," he says, adding that three or four of the breweries opened there in the past few years also focus on "outside the traditional" styles.
Customers are flocking to them. Before COVID-19 forced taprooms closed, Weathered Souls' adjunct stout releases sometimes sold out in minutes. Baskerville brushes aside the criticism that brewers who make pastry stouts, hazy IPAs, and heavily fruited kettle sours don't know how to brew technically well-made beers.
"There are always going be haters, right?" he says. "I find the brewing process of nailing the balance [among] four or five ingredients in a beer that already has robust flavors in it … I find that more difficult than making a clean American lager."
Adjuncts & Barrels
For Baskerville, recipe development for pastry stouts starts with the adjuncts. He draws on nostalgic foods or childhood flavors for inspiration: peanut butter and jelly, graham cracker and marshmallow, macadamia nuts and white chocolate. He's adamant about not using extracts, which is why he's struggled to ever brew a stout with pure caramel—not only is it sticky and messy, but true caramel ferments out and leaves hardly any caramel flavor.
Working backward from the adjuncts, he builds the base stout recipe modified to those ingredients. If he's using coffee, for example, he'll dial back the roasted malts so as not to take the stout into smoky territory. If he's using cocoa nibs, he might add more chocolate malts to enhance it. If the stout will contain vanilla, he'll often dial up the caramel malts to accentuate those baking flavors. His goal is to weave that grain bill into a recipe with an original gravity between 1.140 and 1.160 and a finishing gravity from 1.035 to 1.058.
"Think about balance. You're using a lot of ingredients with high sugar contents, so take that into account," he says. "Start small [with adjuncts]. You can't take away from ingredients, but you can always add more."
He typically adds adjuncts toward the end of fermentation, then allows the beer to free rise to make sure any viable yeast works itself out. Weather Souls also clarifies its stouts with the clarifying agent Biofine and holds them anywhere from four to six weeks, to reduce the risk of refermentation once they're packaged. Baskerville also tastes the beer throughout those weeks, making sure the ingredients are layering well with each other but are still distinct enough for drinkers to identify.
Another tool he's been using to impart flavors to stouts is barrel-aging—but again, not in the way most breweries are doing it. Weathered Souls is about a year and a half into its single-barrel program, which rests beers in one-of-a-kind barrels that were "store picks" (private barrels selected by a restaurant, bar, or liquor store). These barrels are said to display different flavor characteristics from those that produce a standard-release bourbon. His favorite beer so far: BA #BIL, an English-style barleywine rested in a four-year-old New Riff bourbon barrel chosen by a local whiskey enthusiast group.
"The overall experience of the bourbon within the physical beer wasn't hot; it was very mellow," Baskerville says. "We had it in the barrel for 13 months, and the barleywine's dark fruit character, the prune and fig, did well in there. Plus, it's fun to say you have this long-aged barrel that no one else has."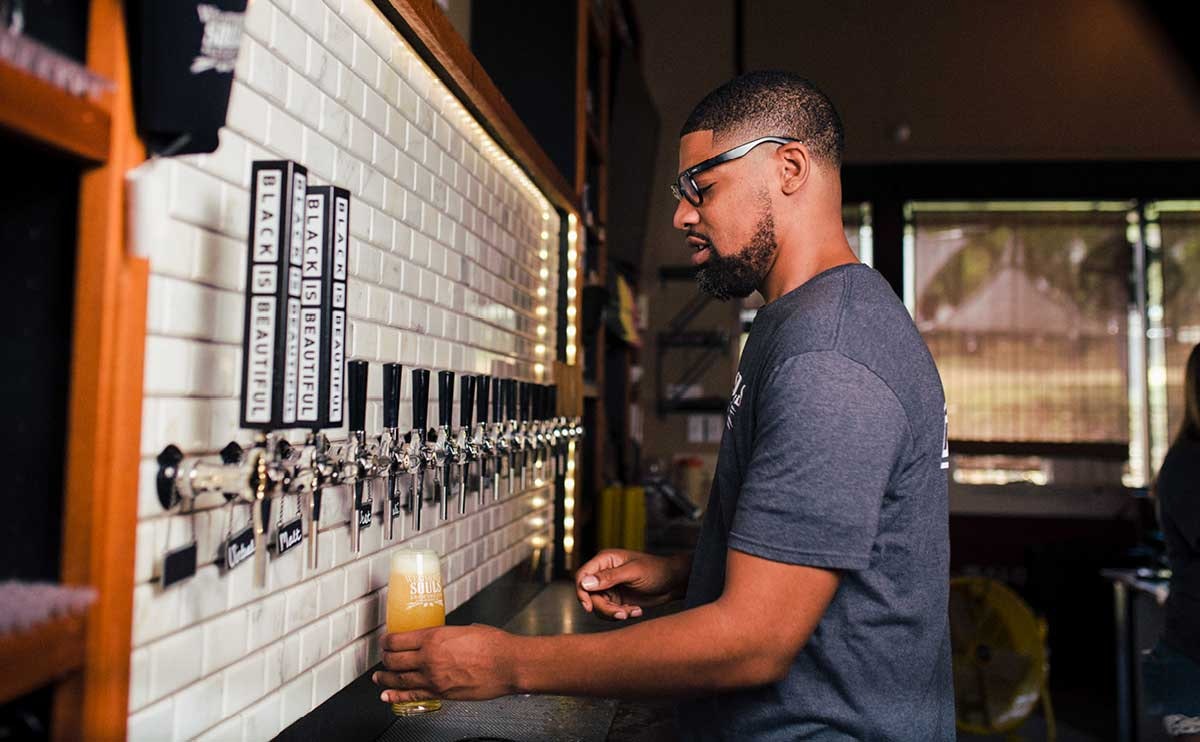 Widening the Welcome
Baskerville says he's confident that San Antonio drinkers are ready for a new guard. That goes not just for the styles of beer or their ingredients, but for the people making that beer. He says Weathered Souls and fellow San Antonio brewery Islla Street Brewing—whose beers and taproom celebrate the owners' Hispanic culture—are helping to welcome more minorities to the craft-beer scene.
"Beer's never been marketed to people of color," Baskerville says. "People are deterred from even wanting to pursue it because they think it's not inclusive," he says.
He knows that firsthand: Until his brother invited him to try different beers, Baskerville was solely a liquor drinker. He hopes that the lasting legacy of Black Is Beautiful is not just the money raised by the beer releases, but the conversations that it starts—about why minorities are underrepresented among beer drinkers and brewers. He wants brewers to think hard about how they can better welcome people of color into the industry.
"We want breweries and communities to understand that the beer is only one aspect of it. It's what you do in the long haul," he says. "We know inequality and racism aren't going anywhere anytime soon."
In a thin silver lining to the COVID-19 pandemic, Baskerville says that because events are now happening virtually, the online format could make them accessible to more people beyond beer's traditional bubble. He's planning a virtual anniversary party for Weathered Souls this November. He hopes it'll draw a diverse group of drinkers from across the country.
"Hopefully, we'll get a lot of people who normally can't come," he says. "Now everyone gets to join in."
Photos: Kevin Hobbins