There have been a lot of conversations about diversity in craft beer over the past few years—specifically about how the industry needs to be more inclusive and expand its consumer base beyond the middle-aged white men (beards optional) who make up the majority of sales. Steps have been taken by the Brewers Association as well as individual breweries. Notable are the creation of a diversity committee and the hiring of J. Nikol Jackson-Beckham, PhD—better known as "Dr. J"—as diversity ambassador.
But everyone involved with and committed to the cause knows there is still a long way to go.
Citing a recent Harris Poll study, Brewers Association chief economist Bart Watson compared numbers between 2015 and 2018 when it came to race and ethnicity among craft drinkers.
"In 2018, the percentage of white drinkers dropped to 85.5 percent (from 86.3 percent), with non-white increasing slightly to 14.5 percent (from 13.7 percent)," he writes. "Lining that up with the total population/craft-drinker data, that means that from 2015 to 2018, 81 percent of new craft drinkers were white, and 19 percent came from minority groups. Given that only 68.7 percent of the 21+ U.S. population is non-Hispanic white, that's not progress."
Minority craft drinkers are growing, he continues, "but only because the total population of craft drinkers is growing, not because craft drinkers are getting more diverse along racial lines."
As the number of craft breweries has grown in America, the number of minority-owned breweries has also grown, but overall they account for a very small number in the big picture.
A Different Perspective
"Craft beer has been looking at diversity in the wrong way," says Four Cities Brewing Company's Roger Apollon, Jr.
Four City Brewing opened in August in the heart of Orange, New Jersey. Orange and its three neighboring towns, which comprise "The Oranges," are a mix of leafy suburbs and hardscrabble city streets. It's one of the most densely populated areas of the state and still largely underserved by breweries. Once upon a time, the city of Orange was home to larger breweries, specifically Rheingold. It's predominantly an urban area but since the 1970s hasn't been home to a brewery.
"As craft-beer guys, we know how the beer should taste and what we want to put forward, but putting the business plan together, we really needed to think about the demographics of the area," says Apollon, one of the brewery founders. The residents of Orange and East Orange are predominantly African-American, while the residents of South Orange and West Orange are predominantly white.
"We're not looking to be a gentrifier. We are coming in to be a part of this community. I'm black, and I'm not here for lip service.
"Breweries might set up in a city or an urban area, and they think that just because they are there, the local folks will come in. But the local folks don't always feel welcome. Maybe it's the music, maybe it's the attitude, or maybe they just walk past, look inside, and don't see black folks inside, so they don't want to go inside. Our job as craft brewers is to go to where the people are, to go into the bodegas and the barbershops and introduce them to the beers we're making and our business and then let them know they are welcome and encouraged to come in. After that, it's our job to actually demonstrate that."
Apollon, who lives in neighboring West Orange, says Four City Brewing will include activities, art exhibits, and other regular events that will seek to form ties with the brewery's new neighbors. The plan is also to offer beers that can ease people into craft and not immediately assault them with over-hopped beers or outlandish flavors.
"The beers need to be approachable for people who are coming off of Corona or Heineken," he says.
Christopher L. Harris, the founder of Black Frog Brewery in Ohio, started off as a homebrewer but quickly found himself in the same position as others who have taken up the hobby.
"I had more beer than my friends and I could drink," he says. So he put together a nano system and went pro from the garage in his house, later moving up to a formal brewery space and taproom outfitted with a 2.5-barrel system.
He's seen the key to his success as having diversity with the beers he offers. IPA still makes up the majority of sales, but having amber ales, traditional stouts, porters, brown ales, and other styles on offer helps bring a diverse clientele through his doors.
"Some people come in because of who I am, and they want to try the beers, but really it's more like nine out of ten people come because they heard about the beer versus hearing about me. That's what I want. I'd rather be known for the beer I make than for being an African American in craft beer." Harris admits that he might be seen as a "unicorn because there are not many of us."
That has had some advantages. Through festivals such as Fresh Fest, which is billed as the country's first black brew festival, he's been able to meet others who are interested in getting into the craft-beer industry and has become a mentor to some.
"In the beginning, when I got into professional brewing, it was a little intimidating," he says. "I didn't know where to reach out. The BA is great, but maybe there should be something in between to help out the little guy who is coming from a different background."
It's a sentiment that is repeated by many of the other minority-owned breweries interviewed for this piece.
It's hard work, but determination is key, and the more you can tell your story, the more you can inspire others to follow, says Alisa Mercado, the founder of Connecticut's Rhythm Brewing, which contracts a lager through Black Hog Brewing in Oxford, Connecticut. She and others cite beer as a vehicle for employment in areas that need it as well as economic stability.
"Mentorship is key," says Apollon. "I don't have a playbook for it, but I'm learning as I go, and even though opening and running a brewery is mind melting, I want to pass on this information because there is a feeling that if I can do it, others can do it. If this brewery can inspire a few people to learn about beer, to start brewing beer, then maybe they will start to do their own thing."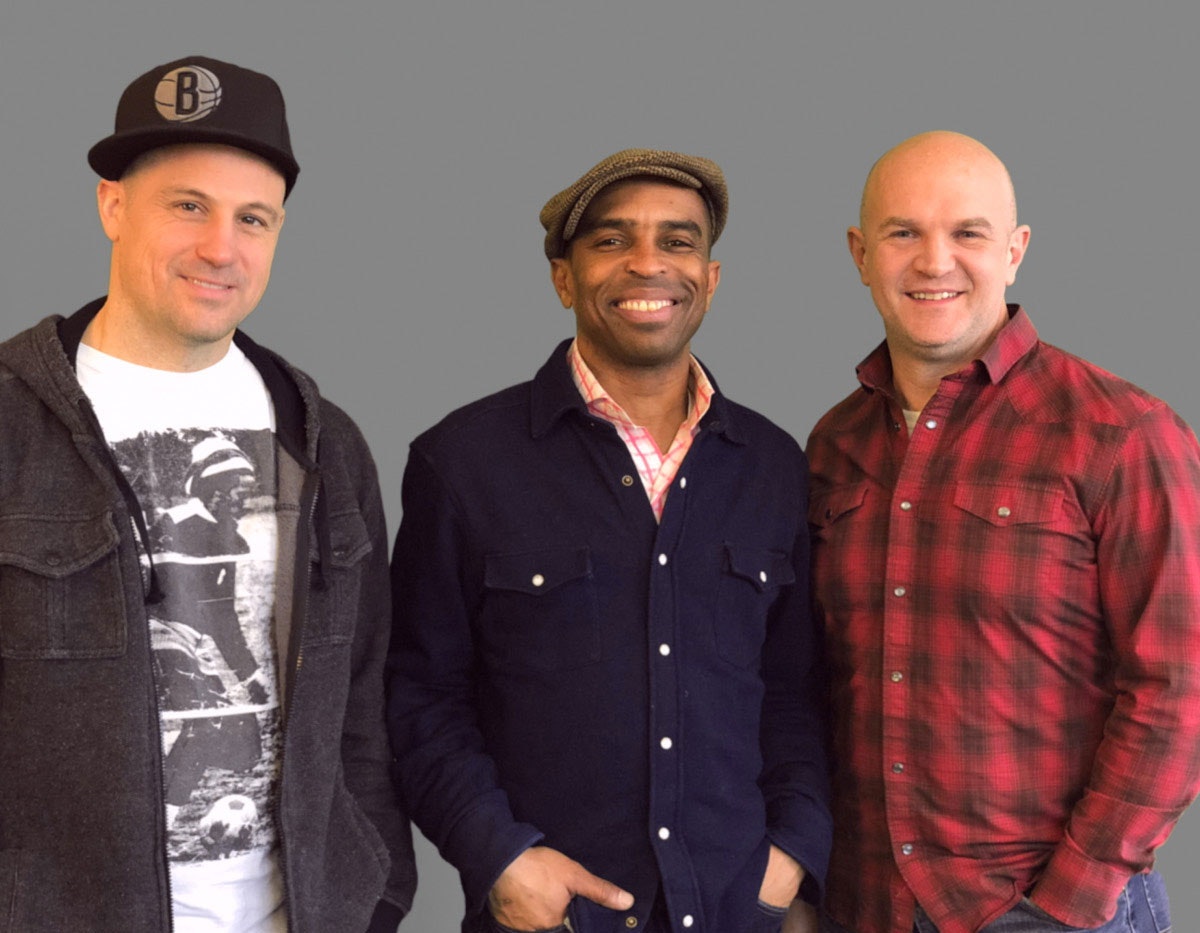 The founders of Four Cities Brewing.