SPONSORED CONTENT
At ABS Commercial, we are incredibly proud to have been your full-service brewery outfitter for the past 10 years. We're in this business because we are brewers—and we approach everything from that mindset. And for a full decade now, we've been fully committed to the growth of our industry.
So, Let's Celebrate
To mark our 10th anniversary, we want to give back to YOU. We're offering 10% off all fermentors and brite tanks. Plus, receive a free Viking keg washer with the purchase of a new brewhouse. Learn more about our 10th Anniversary Sale here.
All of our tanks are fully equipped and ready for service. We have some of the quickest lead times in the industry, along with a huge inventory of tanks between three- 90-barrel in stock. All of our U.S.-stocked tanks will get to you in one to two weeks, letting you turn the tank twice or more in the time it would take to wait on shipping from abroad.
Our ABS Keg Viking is a state-of-the-art keg washer that provides fast, efficient cycle times to make the keg-cleaning process as simple and as thorough as possible. The ABS Keg Viking is a one-of-a-kind design—created by brewers, for brewers—so it includes features such as:
heated caustic holding tank with independent temp controls
sanitizer holding tank
touchscreen control panel
eight-minute cycle times
dual-head keg washer
works with standard couplings
stainless steel system
adjustable keg holders, so multiple keg sizes can be cleaned simultaneously
status light system for monitoring across the brewery
once started, the system can be left unattended until the cycle is complete
standard power single-phase, with three-phase also available
Giving Back
As we look forward to our next 10 years, we want to continue to give back to the industry and help you as brewers grow and prosper. ABS Commercial has been giving away keg washers since the start of the COVID-19 pandemic; our team jumped at the chance to help out independent brewers—because we're brewers too, and we truly care about the future and well-being of our industry.
As the world flipped upside down in March 2020, we talked to countless customers who were worried about their businesses, their livelihoods, and their families. After hearing so many of these stories, we wanted to do something about it. We wanted to find a way to give back to the craft beer community, to bring joy and hope to brewery owners, and we wanted to find a way to put a smile on people's faces.
The ABS Giveback Campaign is something that the members of the craft beer industry can look forward to, with no strings attached. We wanted to give back to everyone, not just our customers, which is why we kicked the campaign off by giving away an ABS Commercial Keg Viking Keg Washer. No matter the size of the brewery, a keg washer is almost a necessity. We wanted to give back something that would increase productivity, reduce headaches, and be a tool to achieve a higher level of success.
The ABS Giveback Campaign has been a huge success. So far, we have received nearly 6,000 entry submissions and have given away six Keg Vikings to lucky brewers from different parts of the country:
It has been so much fun seeing and hearing the excitement from all of the winners. So with all of that said, we are super excited to announce our SEVENTH giveaway on December 5, 2022.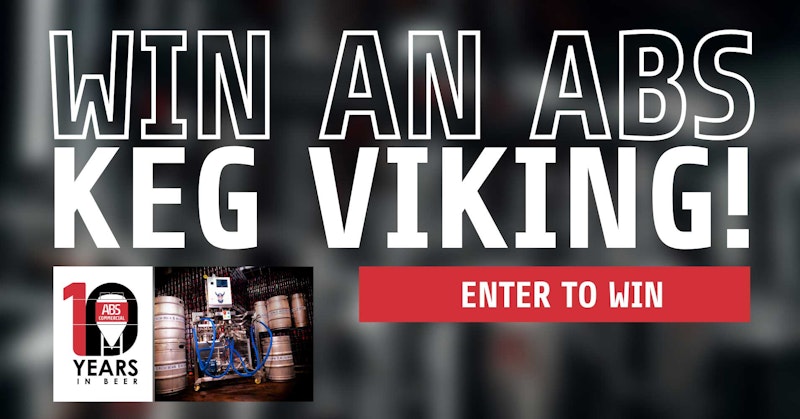 This contest is open to anyone who works for a brewery in the United States. Whether you're the head brewer or the bartender, as long as you're employed by a brewery, you could win. All you have to do is fill out the entry form.
Looking Back, Moving Forward
Our main goal over the past 10 years has always been to continuously improve. We do this by getting constant feedback on our brewhouse and tank designs from our sister company, Raleigh Brewing, which operates a 20-barrel brewhouse within the same building. We also offer small-batch ingredients and draft equipment via homebrew outfit Atlantic Brew Supply, and we stock a full range of equipment for real ale, including casks and beer engines, at neighboring business Cask Supply.
With this constant feedback, we're able to build brewhouses to your exact specifications. We know the ins and outs of the process, and we can design the perfect set-up for you—whether you're just starting out or looking to expand.
To reach out or learn more, follow us on Facebook and Instagram, visit www.abs-commercial.com, request a quote, or email us at [email protected].
SPONSORED CONTENT