From now until October 4, trips to Denver International Airport just got a whole lot more interesting—so interesting, in fact, that you might want to leave a little early for your flight out or stick around once you get there.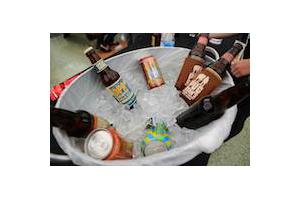 In celebration of the upcoming Great American Beer Festival, Denver's airport is hosting Beer Flights at DIA, a multi-day craft beer festival that takes place in the center of the Jeppesen Terminal. Eleven Colorado craft breweries—Avery Brewing Company, Breckenridge Brewery, Bristol Brewing Company, Dry Dock Brewing Co., Great Divide Brewing Company, Left Hand Brewing Company, New Belgium Brewing Company, Odell Brewing Company, Ska Brewing Company, Pug Ryan's Brewery Company, Telluride Brewing Company—will be pouring beer from 11 a.m. to 7 p.m. each day.
DIA partnered with the Colorado Brewers Guild to select this year's breweries, and the Beer Flights garden offers a diverse collection of [craft] brewers and beer styles that represent the entire state: large craft brewers, smaller brewers, and brew pubs," says Laura Coale, DIA's media relations director.
DIA Beer Flights 03Beer Flights will include eight picnic tables decorated by local artists, live music, talks by local craft brewers, and beer trivia.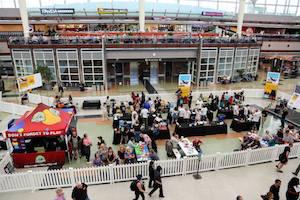 En route to or from Beer Flights, don't miss the Colorado On Tap exhibit in Ansbacher Hall on the way to Terminal A. This display area features regularly rotating exhibits about the state of Colorado and its history.
Subscribe to Craft Beer & Brewing Magazine™ today and lock in 6 issues for the price of 3!
As DIA's Art and Culture department, we try to take an artful approach to all of the exhibitions we put together, and we also highlight the culture of the state," says DIA exhibitions coordinator Tim Vacca. "On average, the Ansbacher Hall draws about 235,000 people through a month. The display runs through December … so approximately 750,000 people will see this exhibition."
There are roughly 100 Colorado breweries included in the Colorado On Tap exhibit. "We embarked on an ambitious call for brewery participation," Vacca adds. "We contacted every registered craft brewery in Colorado."
Colorado On Tap features tap handles, glassware, growlers, crowlers, t-shirts, bottles and cans, stickers, hats, beer making ingredients, and more. The exhibit explains the beer-making process, describe beer styles, and give statistics about the craft beer industry. The exhibit debuted on September 20 and will run through the end of the year.
"Colorado is believed to be in a craft beer renaissance," says Coale. "The idea is to educate our passengers about what Colorado has to offer."