Weltenburger, an abbey brewery in Bavaria, Germany. Although the Belgian Trappist breweries have become justly famous worldwide, they are not the only monastic breweries in Europe. Among the others are the followers of St Colombanus, who established a religious settlement on a bend in the River Danube in northern Bavaria in the 7th century.
The abbey has been abandoned on a number of occasions because of flooding and was also relinquished by the monks during Napoleon's period of monastery secularization. After some time in private hands, and later in the care of the Bavarian state, it was returned to the brotherhood in 1843.
The Weltenburger Abbey today is a major tourist attraction, drawing 750,000 visitors a year, many of whom arrive by leisure boat from Kelheim. Its highly ornate Baroque church is open to outsiders, as is the beer garden in the courtyard, where beer brewed in the small brewhouse opposite is served.
According to abbey literature, brewing has taken place here since at least 1050 ad, but it is no longer in the hands of monks. In 1973, with investment needed in the brewhouse, the brothers assigned brewing rights to the Bischofshof Brewery in nearby Regensburg. This means that Bischofshof employees man the abbey's brewhouse and produce dark lagers and a dark wheat beer for sale under the Weltenburger Kloster name. The best known is Asam bock, a dark lager matured for 12 weeks and named after two brothers who built the abbey church.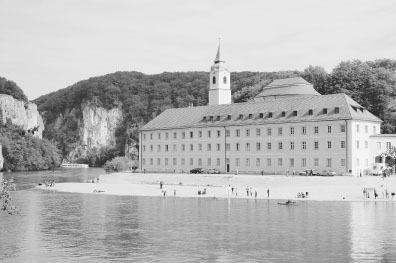 Bischofshof also brews beers for Weltenburger at its Regensburg brewery. These include Barock Hell and are sold under the differentiating "Marke Weltenburger" label.
See also abbey beers and trappist breweries.