Pilsen (Plzeň) is a city in Western Bohemia in the Czech Republic and the birthplace of the pilsner beer style. The term "pilsner" originally meant "from Pilsen," and the most popular beers in the world are based upon the original pilsner. Beer has been brewed in Pilsen since its founding in the Middle Ages, but it was the development of a clear, golden-colored beer that has taken the city's name around the world.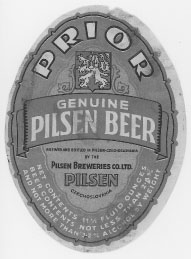 Founded in 1295 by King Wenceslaus II of Bohemia, the city's square is dominated by the gothic cathedral St Bartholomew. From here can be seen the renaissance city hall built in 1554, regarded as one of the most beautiful buildings in Bohemia.
Underneath the city lies a labyrinth of cellars, tunnels, and springs. This underground world provided ideal conditions for the citizens to store food, shelter in times of siege, and make and store beer. On October 5, 1842, Bavarian brewer Josef Groll, working for Pilsen's Bürger Brauerei (later Plzeňský prazdroj, or "Pilsner Urquell"), brewed the first batch of the golden lager that came to be known as pilsner beer.
Pilsen is an historic city with many museums, art galleries, and theatres, but beer unsurprisingly provides many places of interest for today's visitors. The Brewery Museum tells the story of beer from ancient to modern times. It includes a reconstruction of a gothic malt house and Josef Groll's office. Within the complex is a bar serving unfiltered Pilsner Urquell. Visitors can be taken on a walking tour of the city's underground medieval cellars.
The Pilsner Urquell brewery is home to the Pilsner Urquell Brewery Visitor Centre with its tour of the brewery and also the Patton Memorial Pilsen, the only museum in Czech Republic dedicated to the events of 1945, when the American Army fought to liberate the area. The brewery is the site each September for a beer and music festival.
See also czech republic.