An old saying claims that Bend, Oregon, receives more than 300 days of sunshine per year. While the official number falls shy of that mark, visitors can expect this guarantee all year round: awe-inspiring outdoor adventures and a seemingly endless supply of craft beer are within easy reach.
The Deschutes River flows through town, beckoning kayakers, standup paddlers, and even surfers, thanks to a man-made whitewater park. Within the city limits and beyond, cyclists, runners, and dog walkers flock to trails that unfurl through towering forests of ponderosa pine and Douglas fir. At nearby Smith Rock State Park, climbers test their holds on almost 2,000 routes up volcanic rock. And thirty minutes to the west, the Cascade Range invites hikers eager to explore alpine lakes, while skiers and snowboarders are drawn to Mt. Bachelor, which receives an annual snowfall of almost 500 inches.
Back in Bend, beer is ubiquitous. Draft pints or growler fills are available at a ski shop, bike shop, men's clothing store, butcher shops, and gas stations. Locals can also drink draft beer while getting a car wash, a haircut, or groceries. Fueling this beer-thirsty city are roughly twenty breweries, giving Bend the most breweries per capita in Oregon. "Bend is a pretty cool epicenter for beer," says Ty Barnett, cofounder of GoodLife Brewing Company. "We get to see it all—everything from a national brewery to an AB InBev house to a little pilot brewery brewing up on the side of a mountain."
The Pioneers
Upon opening in 1988, Deschutes Brewery blazed the trail for brewing in central Oregon, making its downtown public house on Bond Street a natural first stop in Bend. From the dimly lit bar, visitors can peer through a window to the original brewhouse where the brewery developed staples such as Black Butte Porter and Jubelale. Today, the pub keeps locals happy with a steady supply of Bachelor Bitter and experimental pub-only offerings, with recent examples including a pear-and-bergamot sour and an IPA brewed with Earl Grey tea. The food menu pleases carnivores, vegetarians, and gluten-free diners alike, with a variety of salads, pizzas, and burgers. Don't be surprised to spot Founder Gary Fish eating lunch at the bar midweek.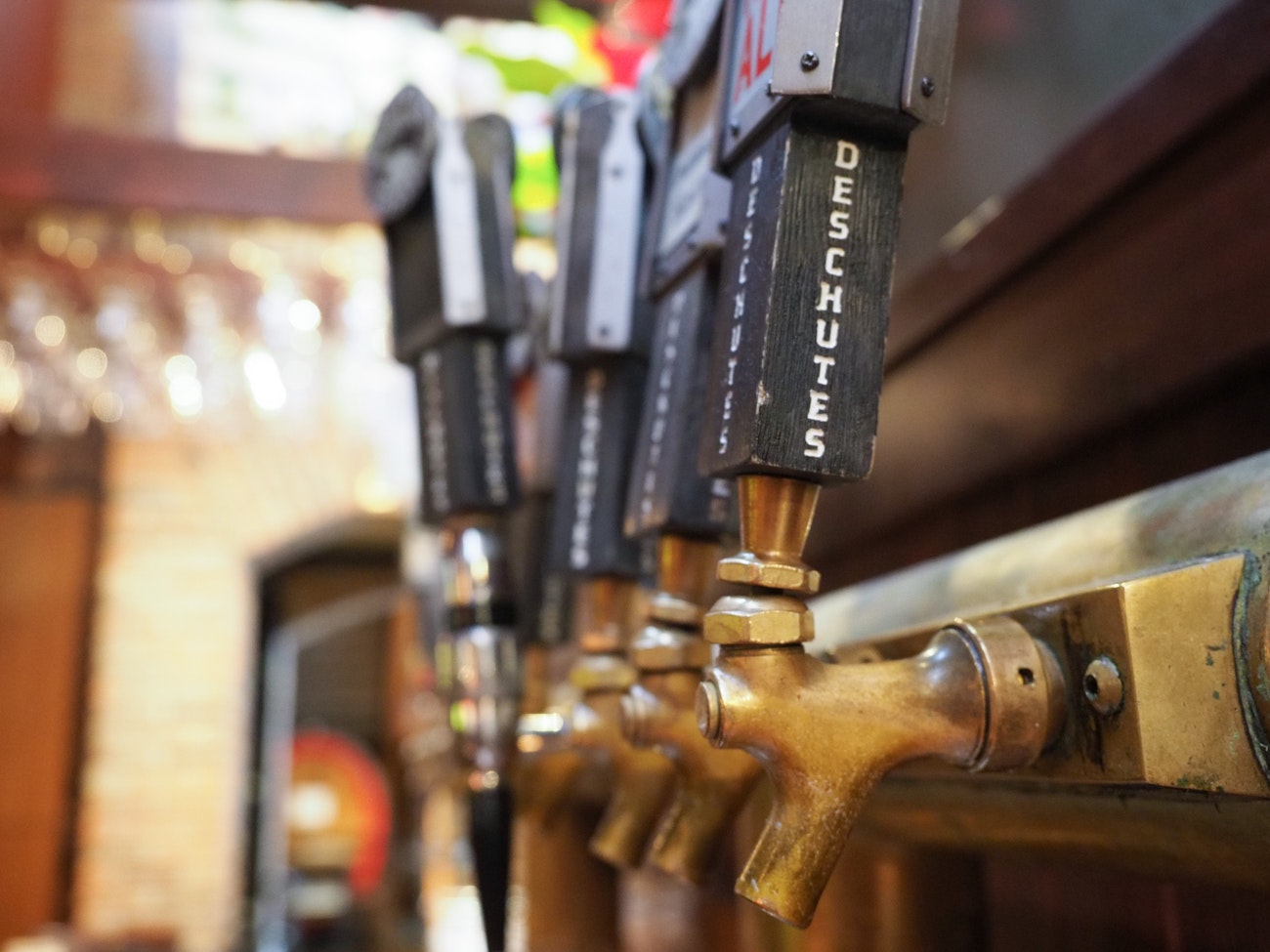 One mile from the pub, Deschutes has a tasting room at its production brewery, where it offers pints, half pints, flights, crowlers, growler fills, and bottles to go. Among popular options such as Mirror Pond Pale Ale and Fresh Squeezed IPA, the tasting room also pours beers from a recently installed pilot brewery. The 2-barrel system allows brewers to easily split from the lauter tun into two kettles to create two distinct 1-barrel batches from the same mash. "We can test different hopping regimes and different yeast fermentation profiles and know that we're getting the same thing from the mash," says Brewmaster Veronica Vega. "We can walk a keg 200 yards from the pilot brewery to the tasting room, get immediate feedback, and change the recipe on Monday." The brewery also offers tours seven days a week at a cost of $5 per person, with reservations recommended via deschutesbrewery.com.
Walking the Bend Ale Trail
The city of Bend established The Bend Ale Trail in 2010. Visitors collect stamps along the route to collect prizes, such as a silicone pint glass from Bend-based Silipint and a Bend Ale Trail bottle opener. Trekking to some of the breweries requires transportation, but many are walkable, including three breweries located within blocks of the Deschutes pub.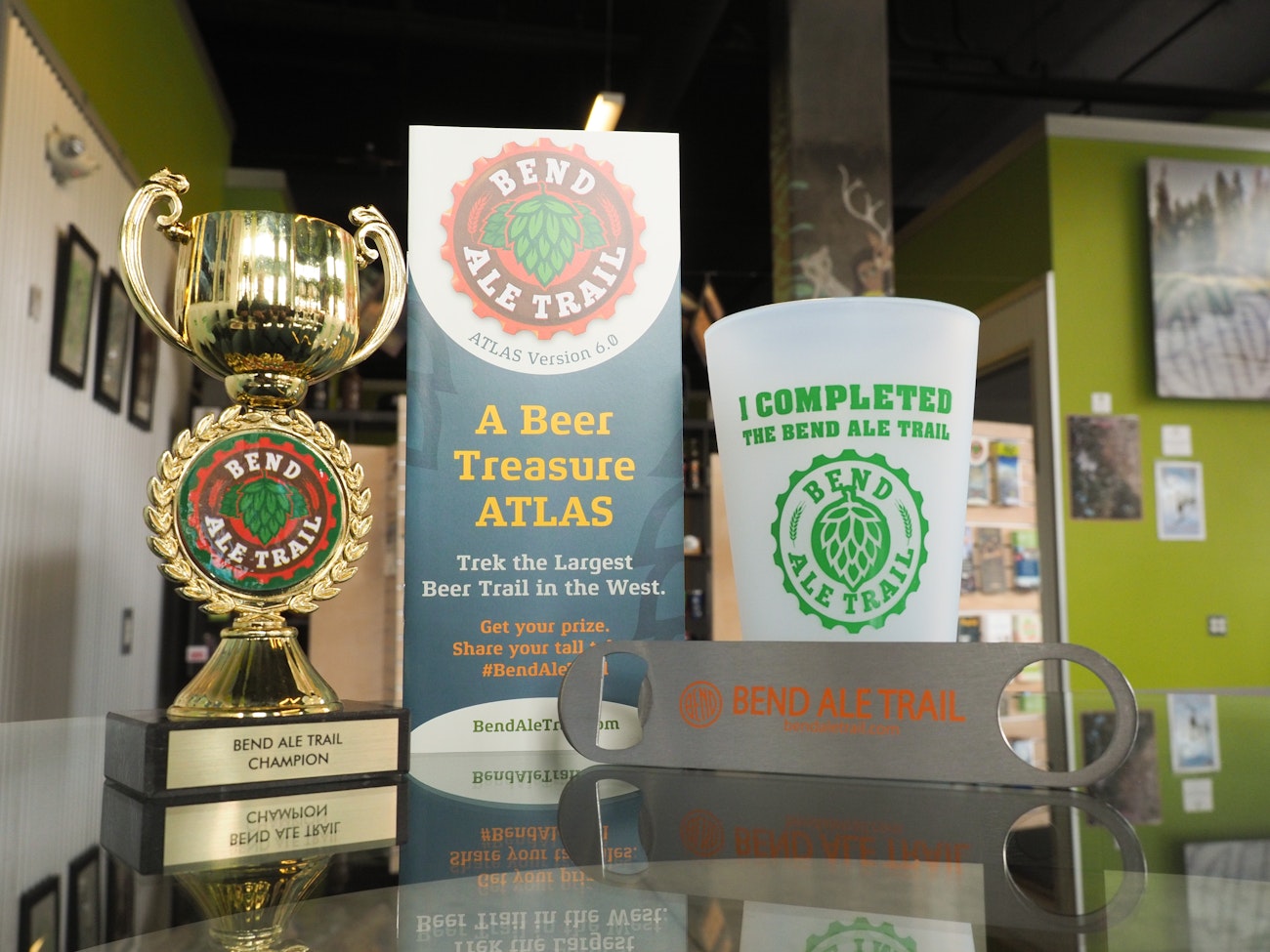 Known locally as BBC, Bend Brewing Company was the second brewery to open in Bend (in 1995). The second-story brewery rests atop a tasting room and pub with twelve taps, including a handful of seasonal releases. On a recent wintertime visit, it was a popular evening hangout for millenials, and a bartender was overheard saying, "I've been dying to shred some pow," a reference to hitting the ski slopes. Several blocks to the south, McMenamins Old St. Francis School draws an older crowd to its pub filled with eclectic art. The property includes a hotel, movie theater, soaking pool, and a speakeasy-like bar with a broom-closet entrance. On the northeastern edge of downtown, Silver Moon Brewing is a popular venue for live music. The brewery offers more than a dozen beers, including IPA 97, a citrus-heavy 7 percent ale named after Bend's main highway.
Half a mile south of Silver Moon, a humble building houses the tasting room for Boneyard Beer, with an emphasis on tasting. This location eschews pints in favor of 2-ounce tasters, crowlers, and growler fills. But anyone hoping to enjoy a proper pint of the brewery's flagship RPM IPA, a dank 6.5 percent hops-forward beer, can find it on tap at numerous restaurants and bars in Bend. Cofounder and former Deschutes brewer Tony Lawrence has long promised that the brewery delivers "no burgers, just beer," but he says Boneyard will open a pub in the northern part of town, closer to its production brewery, later this year. In another pleasant surprise, the brewery recently released a Belgian-style, lambic-inspired ale called Gooze Cruze, which was aged in Seguin Moreau foeders.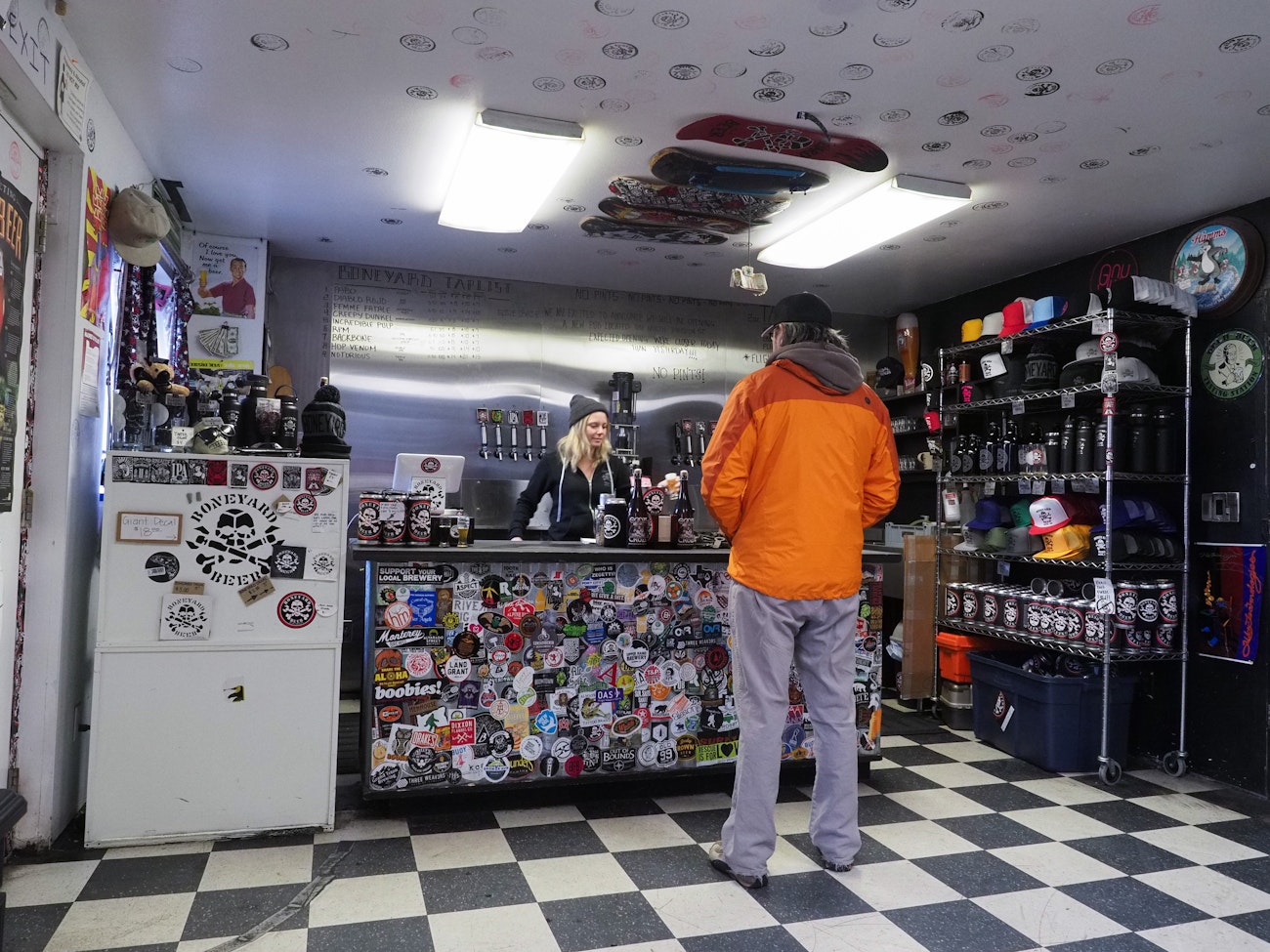 A 10-minute walk from Boneyard's tasting room leads to another stellar brewery founded by another former Deschutes brewer, Larry Sidor. Inside a former AAMCO transmission shop, Crux Fermentation Project is likely to please any drinker's palate with two dozen artfully brewed beers on tap. The 5.2 percent Crux Pilz is a refreshing, biscuity Pilsner and a perfect post-adventure beer to enjoy on Crux's lawn while the sun sets beyond the Cascades. It's worth sticking around for dinner (the Grilled Cheesy is a delicious blend of three cheeses, bacon, and pickles) and dessert in the form of Crux's Banished Series of limited concoctions. Recent standouts include Wild Farmhouse, a wonderfully funky barrel-aged saison with hints of sour orange, and Tough Love, a rich, chocolaty 11.5 percent barrel-aged Russian imperial stout. Crux is one of the most consistently crowded breweries in Bend, and it recently announced plans to double the size of its tasting room by summer.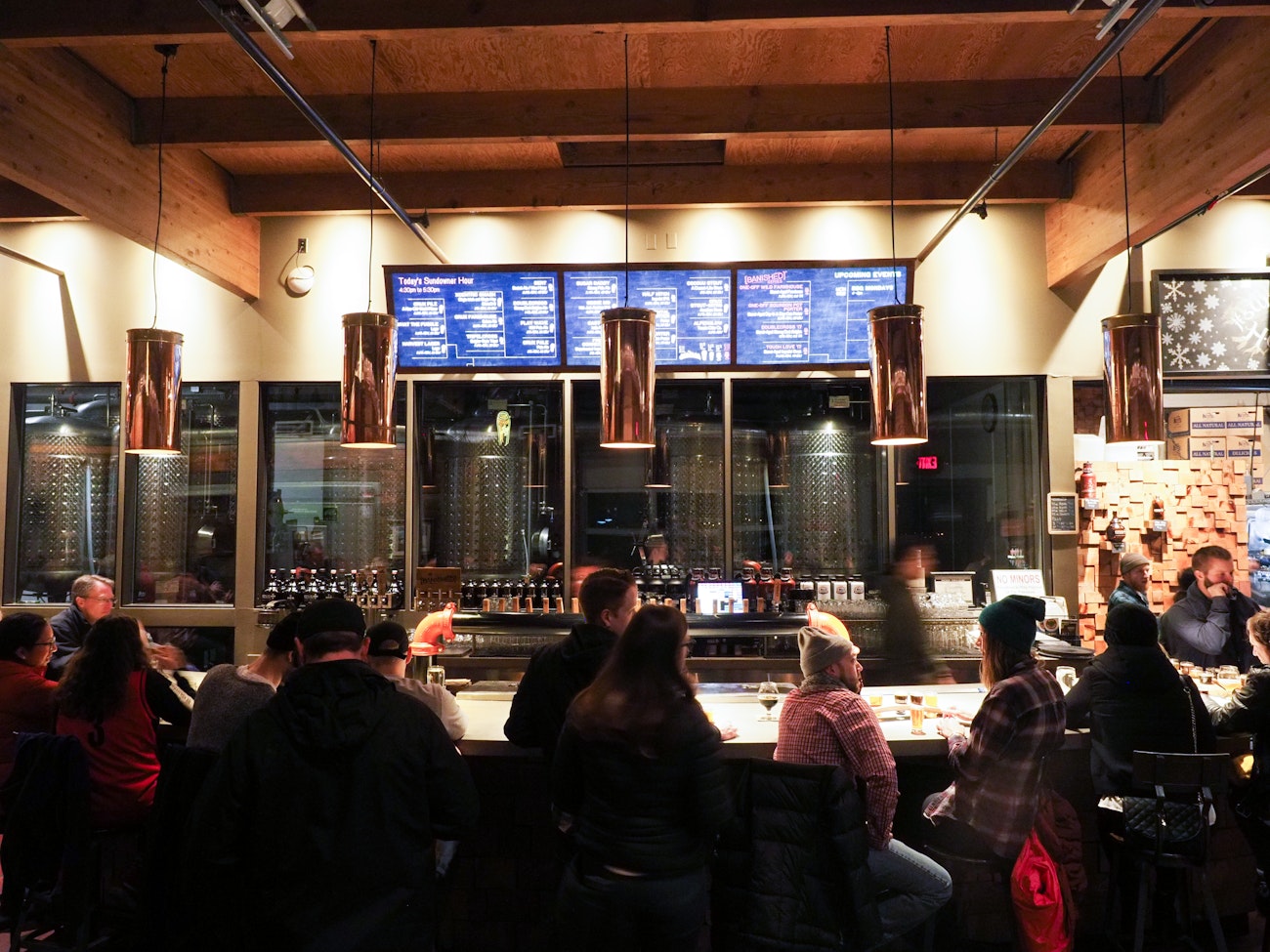 A short walk from Crux leads to Immersion Brewing, Bend's only brewery with a brew-on-premise operation. In a chic industrial complex near Bend's Old Mill District, 2-hour brewing sessions start at $180. Atlas Cider Company is located next door, making this area a must-stop for beer lovers traveling with gluten-free companions.
A unique experience awaits across the Deschutes River at The Ale Apothecary. The brewery—which is located on a mountain road and is closed to the public—opened a tasting room in town on Century Drive last year. Founder Paul Arney (yet another former Deschutes brewer) combines mostly Oregon-only ingredients with wild and open fermentation to create marvelous sour and funky ales. Each beer spends about two years aging in barrels. "Instead of trying to define the beer when we're making it, let's set it up in a way where we're doing the best things we think we can for the beer," Arney says. "In the end, it will be representative of this place and our efforts, and hopefully you can't duplicate it anywhere else." Carefully plan your trip here, as the small tasting room is open only Thursday through Saturday from 2–7 p.m. A flight of three 4-ounce pours costs $18 and is worth every penny to savor sips of the flagship beers La Tache, Sahalie, and El Cuatro. Bottles are also available for on-site consumption or to go, starting at $25.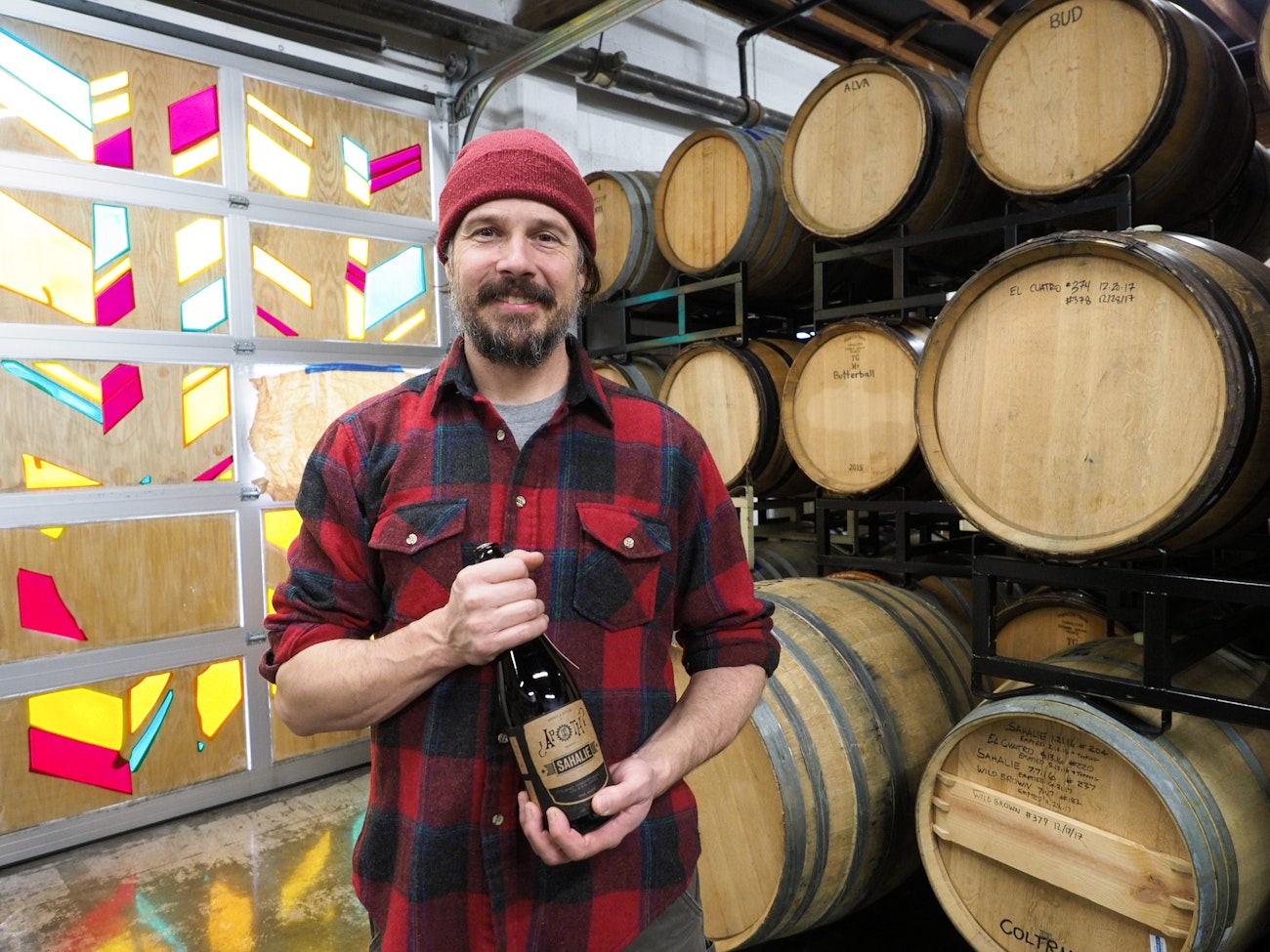 A few doors away from The Ale Apothecary, GoodLife Brewing occupies a building that started as a mill for balsa-wood airplanes and was later converted to an indoor tennis court. Today, the brewery produces 20,000 barrels of beer per year. More than half of its volume is dedicated to cans, including Sweet As! Pacific Ale, winner of a 2017 gold medal at the Great American Beer Festival in the American-Style Wheat Beer category. Cofounder Ty Barnett says the brewery was drawn to cans early because of Bend residents' adventure-driven lifestyle. In the same spirit, large canvas photos of local skiers, paddlers, and cyclists hang prominently on the walls of the pub. And while neither establishment would or should advocate for mixed use, it's worth noting that GoodLife is located about fifteen steps away from the cannabis dispensary Oregon Euphorics (Oregon voters legalized recreational marijuana in 2014).
Half a mile from GoodLife, Galveston Street is home to an outpost of the 2017 GABF award winner for small brewing company of the year. Based in the nearby small town of Sunriver, Sunriver Brewing Company also claimed gold medals for its Fuzztail Hefeweizen and Cinder Beast Imperial Red at the most recent GABF, and Fuzztail earned the brewery a World Beer Cup gold medal in 2016. Sunriver's brewers are also dabbling with hazy IPAs, and the brewery's Cocoa Cow is a 7 percent chocolate milk stout that is an excellent example of the style. The pub's interior feels like a cozy garage, and a large patio provides a welcome hangout during warm months.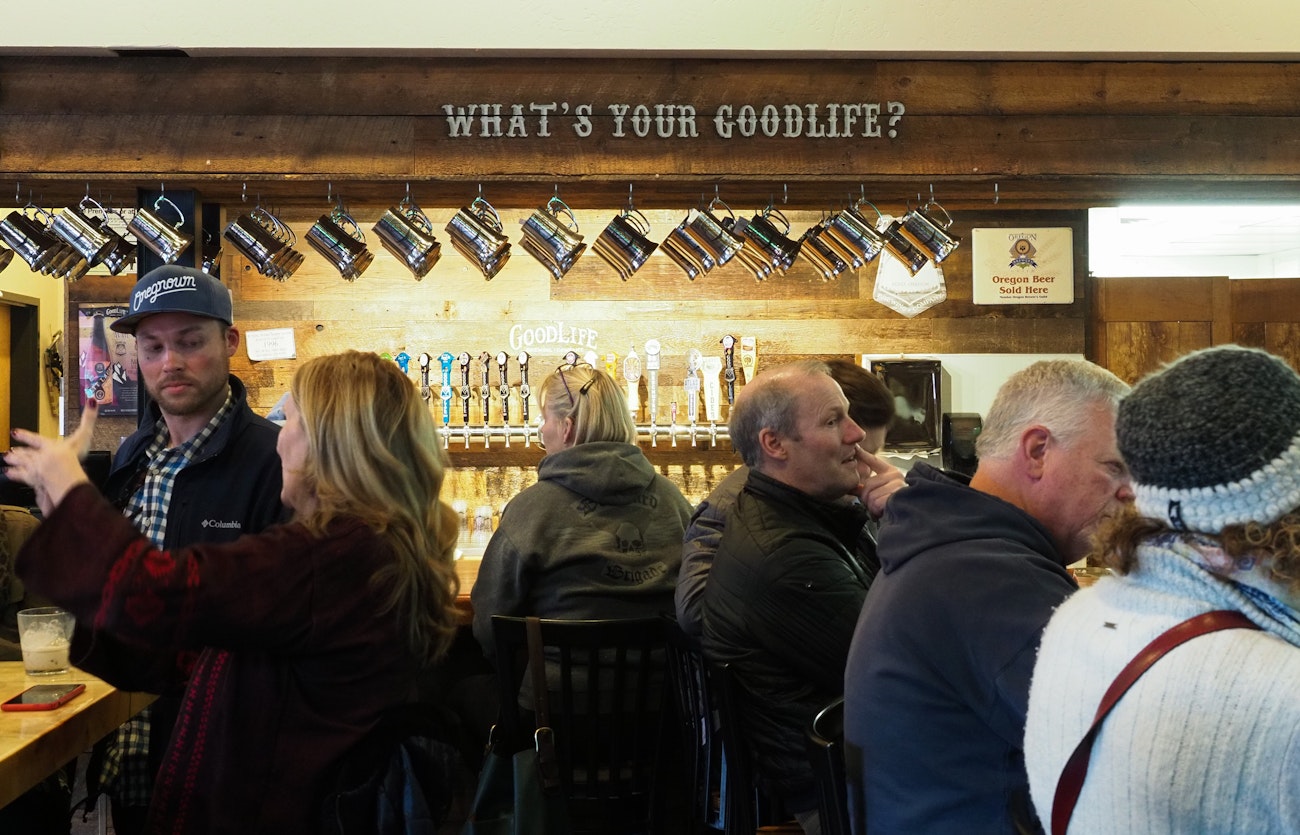 The Brewery with a "Strategic Partner"
When talking to brewers and locals in Bend, there is an elephant in the room in the form of 10 Barrel Brewing, which was acquired by AB InBev in 2014. It is impossible, however, to ignore the brewery's presence and the fact that it continues to brew outstanding beers. Tap handles for 10 Barrel beers such as Apocalypse IPA are prevalent in Bend bars, and 10 Barrel beers are pervasive in the lodges on Mt. Bachelor during ski season.
The brewery—which also has brewpubs in Portland; Boise, Idaho; San Diego; and Denver—has two main locations in Bend. It's original west-side location (near Sunriver Brewing) was open for limited hours at press time while undergoing renovations, and it was scheduled to reopen in March. On the east side of Bend, 10 Barrel recently added a large building that serves as packaging line, brewpub, office, and event space. The spacious pub was crowded with a mix of locals and tourists on recent visits.
The Outskirts of Bend and Beyond
Even more breweries are located in Bend and its neighboring towns. In Bend, Monkless Belgian Ales brews Belgian-style beers, including Dubbel Or Nothing, a well-executed 7.2 percent dubbel. Additional breweries on the edge of town include Redmond-based Cascade Lakes Brewing Company, Oblivion Brewing Company, Riverbend Brewing Company, Bridge 99 Brewery, and Craft Kitchen & Brewery. On the far east side of Bend, Worthy Brewing Company includes an observatory, with open viewing nights Thursday through Sunday.
Thirty minutes northwest of Bend, the town of Sisters is home to GABF-winning Three Creeks Brewing Company. In addition to Cascade Lakes Brewing Company, Redmond is home to Kobold Brewing, Smith Rock Brewing Company, and Wild Ride Brewing. With so many companies brewing beer in and near Bend, along with the plethora of adventures awaiting in the outdoors, a proper visit here should last no less than a long weekend or a full week. Consider it a bonus if the sun shines each day of your visit.