SPONSORED CONTENT
Founded seven years ago by passionate plant scientist Dr. Susan Wheeler and her husband Kerry Skilton, Hop Revolution has roots deep in the early rebellion in New Zealand beer culture. Back in 1980, a feisty South Island craft brewer named Terry McCashin came out of the hills of Nelson and single-handedly took on the two big breweries that controlled nearly every aspect of New Zealand's beer production and distribution. Terry and Susan met and together realized they had a shared desire to change the New Zealand hop industry.
Today, Hop Revolution grows and delivers premium New Zealand hops straight to the hands of the world's inspired craft brewers.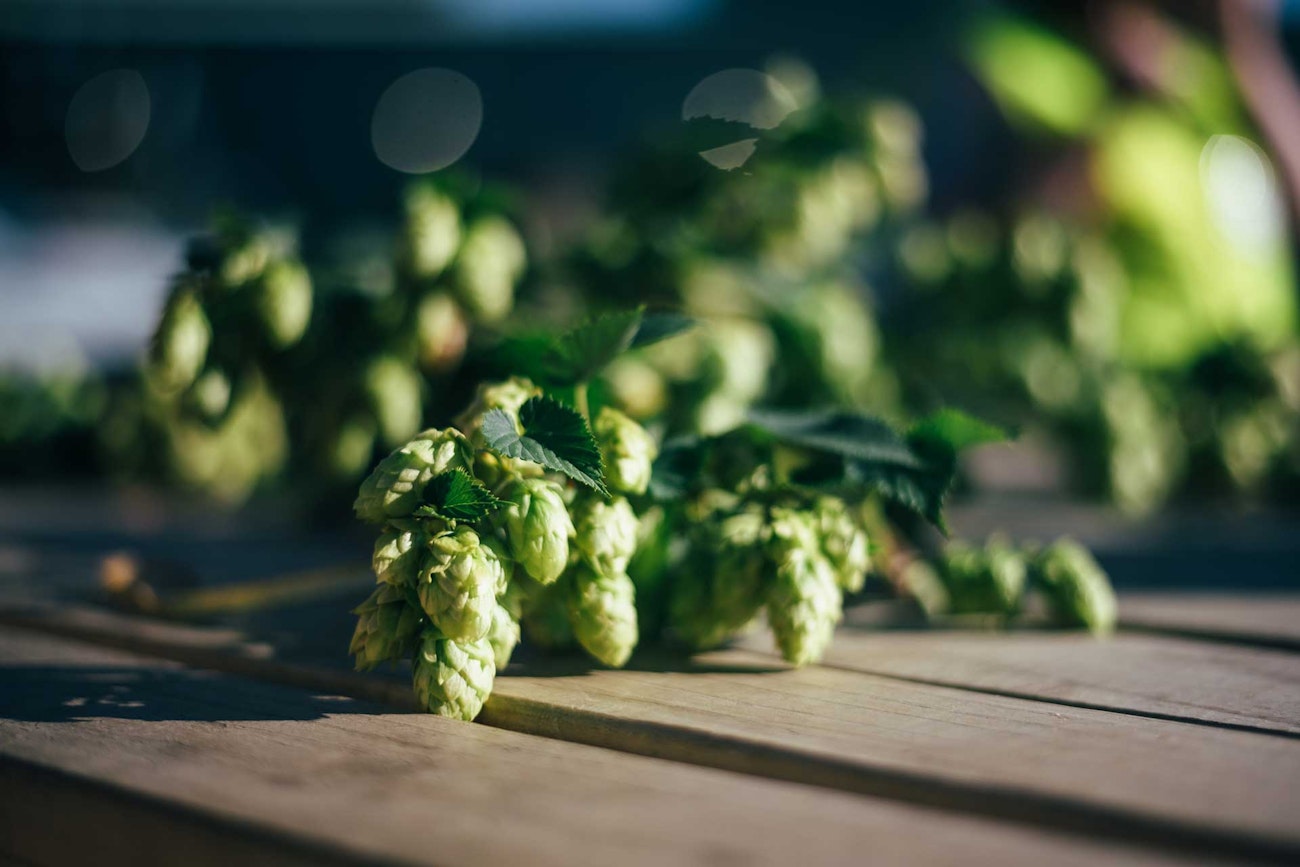 Flavor Bombs
With their unique cool-climate flavors, the aroma hop varietals produced exclusively in New Zealand have achieved an almost cult status among craft brewers. This was kick-started by Nelson Sauvin™, which that brought passion fruit, gooseberry, peach, and lime aromas of the Southern Hemisphere to the brewing world. New Zealand hops have become renowned for their exotically fruity, savory, distinctive character, and their varieties can be used create clean or funky, hop-forward or really hop-forward beer styles.
"Our farms have a unique advantage due to their isolation from other hop-growing nations and are free of most hop-growing pests and diseases that challenge the crop's growth," Wheeler says. "Like wine grapes, hop cones are a result of their terroir, and alpha-acid accumulation is impacted by total sunshine hours, amount of rainfall, as well as the timing of ripening. The Tasman region's cooler summer temperatures over burring appear to result in greater alpha-acid levels at harvest, as well as total oil content."
These factors along with passionate people, world-class research, and cutting-edge processing facilities allow them to produce quality hops with flavors and aromas not replicated in any other part of the world.
The Brewer Connection
Hop Revolution's mission is always to provide a super-premium product that will inspire craft breweries and enable them to brew top-quality beer. Their drivers are a balance between brewer-led needs and what works on the farm from a grower's perspective.
New Zealand has been fortunate to have produced hop varieties over the past 30 years that continue to resonate with the craft brewers. Since New Zealand produces less than 1 percent of the world's hop crop, its varieties are highly sought-after. These varieties—such as Motueka™, Riwaka™, and Nelson Sauvin™—have been used in beers since the craft-beer boom began in earnest in the 1990s. They are as well-matched for today's craft brewers as they were for those early innovators.
On Hop Revolution's farms, growing decisions on varietal selection are driven by multiple factors. "For us, this is a collaborative process," says Jason Judkins, Hop Revolution CEO. "We study industry data, and through conversations with brewers, we keep on top of trends. Brewers are always looking to try something new and experiment with flavors. At the same time, flagship brews often take priority, so it's a fine balance between delivering new and exciting hops, but also keeping supply of the established varieties consistent and of the highest quality."
Along with new variety development in house, they work closely with brewers to help determine whether a hop has starring potential. The overall profile is always important, but they seek specific sensory characteristics based on brewer feedback and craft industry developments. These insights were instrumental in the decision to grow Pacific Sunrise™. This New Zealand bred variety had fallen off the radar of growers and brewers, until Hop Revolution planted it at large scale in 2018. They are the only commercial grower of this hop that has already gained a loyal following for its unique aroma profile.
Hop Revolution's model is built on direct relationships with breweries, rather than trading through intermediaries. To them, brewer expertise is invaluable to better understand what brewers need from hops to produce outstanding beer. For the brewer, the value of this direct relationship includes lot selection, education, consistency, quality of supply, and contracting opportunities. Spot allocations also provide smaller breweries with the same service and premium quality product.
That direct-to-brewer advantage is something appreciated by Nick Betzner, head brewer at Metazoa Brewing in Indianapolis. "Our goal at Metazoa is to always connect with the people who grow our ingredients, and our relationship with Hop Revolution is one of the best examples of that," he says. "All of the people there are an absolute pleasure to work with, and best of all, the hops that we have used from Hop Rev are top quality. The Nelson is exactly what we are looking for, but Pacific Sunrise in particular has been a game changer for us since we first brought it in. It has been a while since a new hop has energized my creativity the way Pacific Sunrise is doing now—10/10, would recommend."
The close brewer-grower relationship also provides new breweries with access to select hops right from the get-go. Co-founder of Return Brewing in New York, Mikey Lenane explains, "For our first IPA release we really wanted to make a bold impact on folks. There's no better hop for that than the Nelson Sauvin, with a flavor profile that's simultaneously accessible, delicious, and distinctive. What we've noticed in working with Hop Revolution's Nelson Sauvin is that we get an immense amount of our desired characteristics—tropical fruits, stone fruits, elegant white wine notes—while not getting any of the undesirable characteristics that can sometimes be found in other examples of the hop we've used. Namely, notes of onion, garlic, and storage-related off flavors are noticeably absent from Hop Revolution's product. This is turn allows us to add a ton of Nelson to Heathenous while still retaining its dangerous drinkability. Cheers!"
Next Up...
Hop Revolution's third harvest kicks off the last week in February 2022 through the end of March. From their original four hop varietals—Nelson Sauvin™, Riwaka™, Motueka™ and Pacific Sunrise™—they have expanded their product portfolio to nine varietals by adding Moutere™, Kohatu™, Waimea™, Wai-iti™, and Rakau™ to the mix. This increase in varieties and volume offer even more options to their brewers.
Their latest hop garden development made this expansion possible. Nestled in Kohatu, just a few short miles from their Tapawera Hop Garden, Wairua will kick into gear with a world-first, state-of-art processing facility.
Their innovation does not end here. In addition to developing new farms, Hop Revolution has identified several sites across New Zealand where trials are under way to determine suitability for commercial hop growing.
The birth of Hop Revolution is a genuine revolution in the entirety of how New Zealand approaches hop farming, hop quantity, and hop quality on the international stage. Direct relationships and collaboration are at the core of what they do.
Really, they are only here for your beer.
SPONSORED CONTENT