CB&B's Jamie Bogner talks with some leading brewers to get their take on how barrel-aged craft beers are produced.
Lauren Salazar's notebook is legendary—a run-of-the-mill composition pad with tasting and blending notes on New Belgium's numerous wood-aged beers dating back to 2001. Some brewers use spreadsheets with color codes and extensive notes, but Salazar—chief blender and brand manager for New Belgium's specialty beers—prefers pencils and her own shorthand with acronyms for beers in various states of readiness. And smiley faces.
But don't let the simplicity of her organizational strategy deceive you—the wood-beer program she's largely responsible for creating mixes equal parts art and science to achieve a sum greater than the individual components. And she's one of thousands of brewers who have breathed new creative life into the U.S. craft beer market by exploring these time-honored yet creative brewing techniques.
Despite the rapid ascent of barrel-aged beer over the past decade, there's no clear textbook on the subject or recipe for success. The techniques for barrel aging have remained the subject of oral history—passed from brewer to brewer as a time-honored secret or learned the hard way through trial-and-error.
Don't Call It a Comeback
Wooden barrels have been the vessel of choice for beer fermentation and conditioning for more than two millennia, with fully-enclosed barrels dating back to 800–900 BCE. Over that time, brewers have embraced a wide variety of approaches to barrel use, coating them internally with brewer's pitch to prevent the beer coming into contact with the wood, or leaving them uncoated to impart wood flavor to the beer. The rise of industrial production in the twentieth century led to the widespread use of steel in commercial breweries, largely due to its improved capacity for cleanliness and sterilization. But for many breweries in Europe, the lineage of using wooden vessels to ferment and age beer is a long and unbroken one.
So why are barrel-aged beers now in such vogue? Some credit Goose Island's Bourbon County Stout, which ushered in the most recent era of barrel aging in spirit barrels to impart flavors from liquor. The Chicago brewer first released its hefty Russian imperial stout in 1992, and over the past two decades the beer has become one of the most highly rated and regarded in the country. Others, such as Russian River's Vinnie Cilurzo, began experimenting with beers aged in wine barrels in the mid-to-late 90s, integrating his family's winery experience with his own passion for brewing. But the U.S. barrel-aging trend didn't hit full steam until the early 2000s, as a general cultural interest in artisanal products pushed more and more North American craft beer enthusiasts to seek out the unique experience that these small-batch brews afforded.
One of the more interesting elements of the barrel-aging trend is the ecosystem that craft beer breweries have built with their barrel suppliers. Many of these barrel-aging programs are a product of place, with Goose Island's (Chicago, Illinois) proximity to the bourbon-producing state of Kentucky facilitating a natural and symbiotic relationship, while Deschutes Brewery's proximity to Willamette valley wineries makes its barrel-aged beer a similar part of the local terroir. Still others, like New Belgium Brewing, have approached wood-aged beer as a natural extension of their mission to explore traditional European beer styles.
It's Not the Size of the Barrel, But the Magic in It
Barrel programs can be broadly characterized by their focus on either sour beer or non-sour beer that is typically spirits-barrel focused, and many breweries produce both. Scale can vary, from local breweries with a handful of barrels to full-scale production programs. Captain Lawrence Brewery in Westchester County, New York, has built a strong reputation for its barrel program with about eighty barrels in use at any given time. Perennial Artisan Ales in St. Louis has several hundred filled (plus two large oak tanks referred to as "foeders" on the way).
Avery Brewing had about 300 filled earlier this year but announced plans to expand that program to more than 1,000 barrels this year. "We have a little over 300 barrels aging right now, and we have a bunch more coming in," says Adam Avery. "We're putting a huge focus on the barrel side."
Goose Island's 2013 Bourbon County Brand beers alone accounted for a reported 2,500 whiskey barrels. Deschutes Brewery's wood-aged sours and spirits-barrel beers account for about 2,000 barrels. New Belgium's recent addition of thirty-two foeders will bring their program to a capacity of 8,000 hectoliters, which is the equivalent of about 3,500 wine or spirits barrels, later this year.
Foeders and Barrels
By the time most brewers put beer into barrels, it has been fully fermented in steel tanks, and the barrel is simply used to add character as the beer conditions. There are some exceptions where brewers conduct primary fermentation in wooden tanks, but production breweries typically demand more efficiency than that would allow.
"We fully ferment and fully filter every beer before it goes into our wood foeders." says Salazar. "All we're doing is feeding the barrels with a dark or light beer matrix. We're not looking for wood flavor itself in the beer—these foeders are so old that all the flavors, all the tannins are gone. There's no char. The only things these are, are homes for bugs and basically we're just feeding the bugs."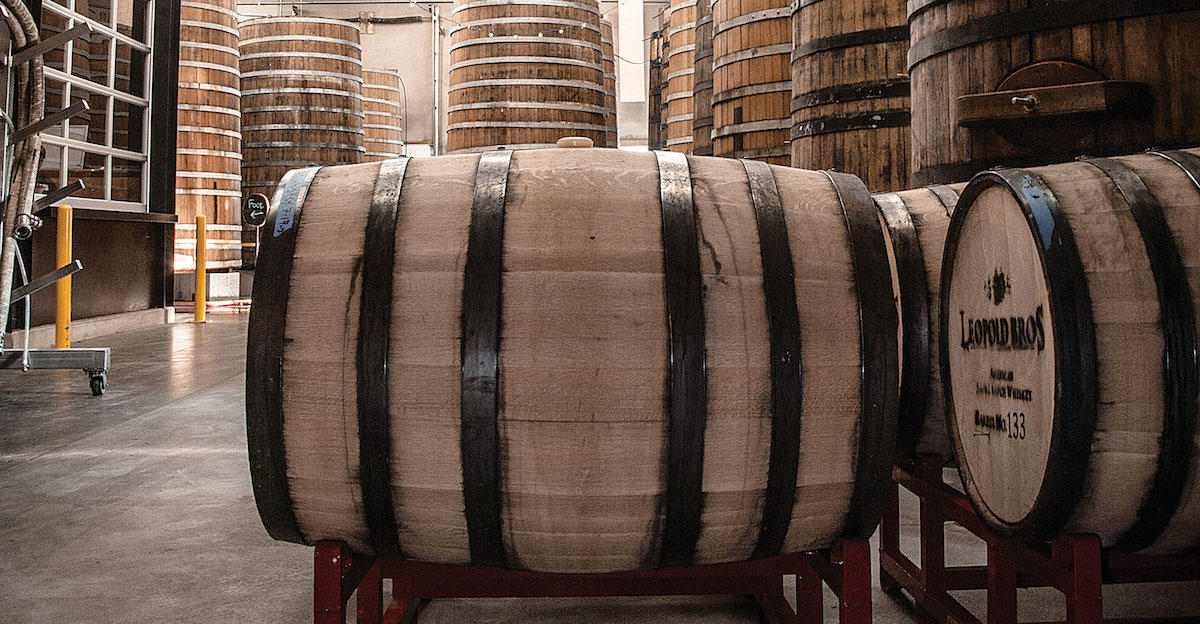 Brewers using spirits barrels have a singular option for their beer conditioning—first-use (and sometimes second-use) barrels that have contained spirits. For those brewing sour beers, there are more options—barrels or large oak foeders—depending on whether the goal of the brewer is to extract flavor from the barrel or simply use the wood vessel as the ideal environment for souring bacteria like Lactobacillus and Pediococcus and funky yeast such as _Brettanomyces. _Foeders are ubiquitous among Belgian sour beer producers, and the wood capacity of brewers like Rodenbach, with almost 300 foeders, dwarfs even the largest U.S. wood-aged brewer.
A decade ago, acquiring barrels was less challenging for a brewer interested in barrel aging. Distillers in the U.S. often use barrels only a single time (sometimes forced to by law, in the case of bourbon), and for many years the used barrels were seen as by-products without value. But the rapid growth of the barrel-aged craft beer market, combined with the extended time that spirits like Kentucky bourbon typically spend in barrels, has led to more market constriction.
"There's competition," says Perennial's Cory King. "When you call a [barrel broker], they're like 'well, I've got someone else who wants them,' then the price goes up. I don't like middle men, but that's all we can do right now."
Many brewers fall back on personal relationships with like-minded craft distillers to secure access to barrels. "I love Todd Leopold [of Denver craft distiller Leopold Brothers] so much," says Salazar. "To be able to get all of his apple whiskey, blackberry whiskey, and peach whiskey barrels is really great. We fill those barrels the same day he dumps them."
Preparing and Caring for Barrels
Understanding the pedigree of the barrel or foeder is the first step in barrel aging. "You really need to know where your barrels are coming from or else you don't know what you're getting yourself into," says Salazar.
Barrels are best when used immediately after a vintner or distiller empties them, and excessive processing or sanitizing regimens can take valuable flavor out of the barrel or break down the wood itself. "We fill barrels with 185°F (85°C) water to clean and swell the barrel before using it, and have found that the water doesn't impact the flavor of the barrel," says Captain Lawrence Brewery founder Scott Vaccaro.
Some brewers, such as Deschutes and Placentia, California's The Bruery, have invested in steam guns for sterilizing barrels to prevent contamination, but Salazar won't let steam near her barrels. "You can't have the water over a certain temperature or you start breaking down the cellulose in the wood," Salazar says. "Some people steam barrels, but that's an incredibly destructive method of cleaning. So then you've basically says, 'I don't want to use this barrel very often'."
That's not an issue for one-and-done barrels, but brewers with foeders have to be more careful about protecting that longevity. A number of New Belgium's foeders are 50 years old, and could last another fifty or more.
The choice to keep a barrel or retire it is generally made on a case-by-case basis. "Some of them are just one-and-done," says Avery. "Sometimes we keep them. We have a sour program that has neutral barrels because I want to see what our sours taste like without any—or with minimal—barrel influence. But typically the bourbon and rum barrels are one-and-done. I want a lot of that flavor in the beer and to use them again doesn't work very well."
"We'll use a barrel once on the clean beer side," says Deschutes Brewery Brewmaster Cam O'Connor, "then we'll move it over to the sour side, and use it as long as we keep getting good beer from it."
Captain Lawrence's Vaccaro agrees. "We use spirits barrels one or two times, and we use wine barrels until they go bad. The moment we get acetic acid from them, we empty the barrel and destroy it immediately."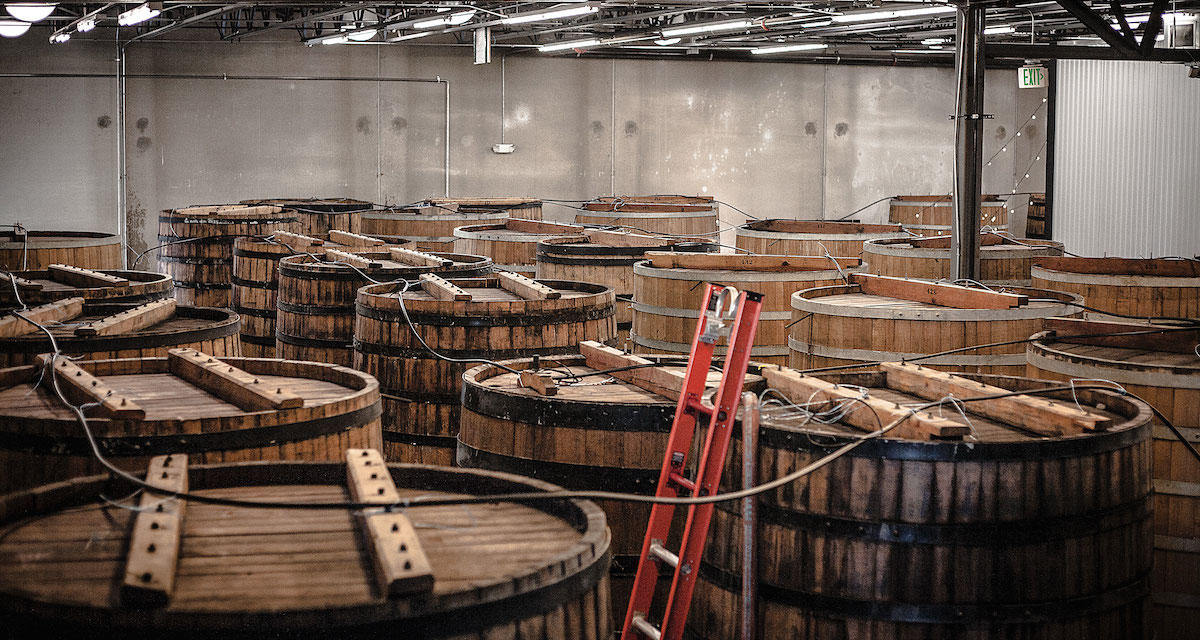 In dry climates, keeping the barrel environment relatively humid is important. "In the morning, everyone gets a bath," says Salazar. "We take hoses and spray everybody down and spray the floor down."
Designing Beers for Barrel Aging
Most brewers engaged in barrel aging have a limited number of "base beers" undergoing the aging process, and the finished beers they release are blends of these base beers, often subject to additional conditioning with additives such as fruit, cocoa nibs, or coffee either in barrels or in steel after the barrel-conditioning process. "[We brew] two base beers that we can manipulate in different ways to create different beers. Oscar, a dark, and Felix, a light, both brewed with lager yeast," says Salazar.
Similarly, Perennial's barrel-aged stouts use a common Russian imperial stout base, and the difference between their Abraxas and Sump stouts is the additives on which they condition the beer. "With barrel-aged Abraxas, we had fourteen oak barrels of it, and picked out our favorite eight," says King. "And that's where barrel-aged Sump came from, and barrel-aged 17 as well."
"From a commercial perspective, this gives us more options for blending and creating different beers," Vaccaro says.
"I'm most excited about coming up with beer that matches a barrel and making it a better beer because of what was in that barrel or what those bugs can do to a beer," says Avery.
In each issue of Craft Beer & Brewing Magazine® you'll find exclusive interviews and advice from world-class brewers, in-depth coverage of brewing trends, and much, much more. Subscribe today!
Time in the Barrel
There is no perfectly prescribed amount of time for a beer to spend in a barrel. It's a subjective process that's based primarily in routine tasting and sensory analysis, but as a general rule barrel aging with spirits is much faster than souring.
"The biggest thing I've learned is that there's no substitution for time," says King. "You can't rush these things, and that's what I love about them. You're not going to make a barrel-aged beer in three months that tastes like it was in a barrel for a year."
"[For NBB Loves Leopold], we take an already sour Oscar and all we're trying to do is extract all the whiskey flavor from the barrel. It takes about a month, and the first couple times I did it I thought 'what would happen if I did it longer,' but it doesn't work. It starts becoming vinegary," says Salazar.
Deschutes's Green Monster "spends as much as thirty-nine months in the barrel," says O'Connor.
"We've done some blends that are 3-year old, 2-year old, 1-year old," says Avery. "Typically it takes about a year to get the right acid content. But then, we've had beers sour in less than six months."
"Our Rosso E Marone [sour brown aged with grape flesh and skin] spends about two years in the barrel," says Vaccaro.
Brewers know when the beer is ready by regularly tasting the contents of each barrel and taking notes. "The problem with a sour barrel is that a sour barrel is a hungry barrel," says Salazar. "Those bacteria don't mind being hungry, but after a while they get 'hangry' and do not-nice things. There's that moment where you're like 'this is the perfect sour' and you know something bad is going to happen if you wait."
Watching the pH can be incredibly useful for brewers monitoring sour development. "We check pH at fill time, then at bimonthly intervals," says Vaccaro. "We also track gravity when the barrel is filled, because Brett eats sugar nonstop. Low gravity means Brett did its job."
"[We] are tasting sours at most monthly because there's not a lot of change going on," says Avery. "So we take pH readings, but monthly is probably the most we would do it. Maybe every two months. But in the Saccharomyces beers, such as Uncle Jacob's and Rumpkin, we're tasting those at least a couple of times a month because all we're looking for in those beers is to pick up the maximum amount of flavor from the barrels while limiting the oxidation process. You don't want to leave them in too long because then you have adverse effects. At a certain point, you're stripping all the flavor out of that barrel that you're going to get, then you put it in a bright tank and stop the oxidative process."
Sour beer inevitably passes through what Salazar calls "pedio sick phase," where Pediococcus generates excessive amounts of diacetyl. "Right when it's going sour, they go all butterscotch and slick because the diacetyl is doing its thing. Pedio throws off so much diacetyl. The beer is in a phase where it's still oxidizing, and that rips esters apart, causing alcohols and acids to be exposed. So you have to wait for the Brettanomyces to bind them back together. As long as the yeast can reabsorb it, you're good to go. Simple as that."
"But the second you start tasting a sweet tinge instead of sour, that's acetic acid," says Salazar. "And there's no going back from there. There's no such thing as buffer time once that happens—you've got to blend that, as you don't want that flavor to develop."
"Tasting the barrels as they progress is the fun part," says Vaccaro.
When Barrels Go Bad
Barrel aging can be unpredictable, despite brewers' best efforts to control the process. Barrels will do what they will do, on their own time frame, and the results don't always match up with the brewers' intentions.
"We haven't dumped anything yet, but there's still a lot of stuff we're watching to see where it goes," says King. "We've had a few barrels that didn't hit what we were planning for them, so we put them in the back to see how it goes. We may never do anything with them, and we'll figure that out soon. But we're never going to try to polish it and make it something it's not. Just because you put a beer in a barrel doesn't mean it's going to be better. And that doesn't mean you should sell it. Dump that thing out."
Vaccaro agrees. "I tell homebrewers they should either have enough to blend, or be ready to dump a barrel down the drain."
Every brewery aims to reduce the amount of wasted beer, but even a program the scale of Deschutes ends up with bad barrels. "We filled 300 barrels of 2013 Green Monster, and couldn't use about twenty of those barrels that didn't work out," says O'Connor.
Blending Barrel-Aged Beer
As a subject, blending beer is highly subjective and merits a feature-length article of its own, but understanding how brewers blend barrels is key to understanding the barrel-aging process. Each barrel or foeder has a slightly different "personality," and the flavors it creates can vary significantly. The key to a great barrel program is a brewer with a highly refined sensory palate, who can blend portions of the various barrels to make the finished blend stronger than any individual barrel itself.
"We might fill thirty barrels, then grade all of them individually," says Avery. "And the thing about grading them is that it's just a conversation. Then you sit down at a blending station and you start blending things. Typically what will happen is that we'll do a blend of all the A barrels or maybe some of the A barrels and some of the B barrels. Almost always, there's a C barrel or something that will add something to all those As and Bs that enhances or maybe mutes something that you didn't like in one of those A barrels. And it makes a better beer. The Belgians have been doing that forever. They don't waste beer over there. Even an acetic bomb that's totally crazy, they'll still use that in small portions to make a better blend. That doesn't make sense in a 1+1 kind of equation, but that's not what's going on. There's a different equation going on. Obviously, your palate is telling you what the equation is."
"We're not shooting for the same beer every year; we're shooting for the best beer we can make with the base beers we have," says Salazar. "One year, we had a really great Brettanomyces bloom through the cellar that made these really crazy spicy, clovey flavors. It was something that you couldn't put your finger on, but it was there in the background. Peter [Bouckaert, New Belgium's Brewmaster] tasted the barrel it came from, and was like 'Oh, this is horrible.' Then when he tasted the final blend, he said 'This is your best work yet!'"
"Orphan projects" can add additional depth to blends. Whether it's the barrels that King has stashed in the back of Perennial or misfit barrels from some of Avery's various projects, adding the contents of some of those barrels to other beers can yield unexpected and interesting results.
"One of the next projects that's coming out is Rufus Corvus," says Avery. "It's two major projects, and they started out as separate projects. One we nicknamed Ginger, one we nicknamed Raven. They are both really good beers by themselves but we blended them together and it was much better. We also had several orphan barrels from around the brewery and adding those into that mix made a better beer as well. Now we have this beer that's basically two big major projects, and we added three orphan barrels, and that made it better. So you're talking about fifty oak barrels, and adding three barrels from completely different projects made those fifty barrels better. The only way you know is to sit down at a table and start tasting."
"We blend for acidity/funk and alcohol," says Vaccaro. "Acidity can be acetic or lactic, hard or soft. We keep ongoing batches and blend multiple aged versions of same beer to produce the optimum mix of acidity and heat when blending."
"The beauty of barrels is blending," says Salazar. "They each have different things going for them, and each barrel is missing stuff."
To Pasteurize or Not
Whether to pasteurize is an ongoing question with supporters on either side of the question. In a nutshell, pasteurizing is the process of heating beer to a certain temperature for a certain amount of time to kill any yeast or bacteria that might still be at work in the bottle.
Breweries such as New Belgium and Deschutes choose to pasteurize for several reasons. "We've run blind tests and found that our pasteurized samples performed better than the unpasteurized ones," says O'Connor.
New Belgium pasteurizes for safety—their sour beer is bottled on the same bottling line as their non-sour beer, so pasteurizing everything ensures that there is no cross contamination. But they also do it for flavor. "For me it's a happy thing—I like the fact that we locked in a blend," says Salazar. "I have a great passion for drinkable sour beers. We already aged it for you."
For breweries that don't pasteurize, maintaining safe conditions for their non-sour beer is important. "We basically sterilize the bottle lines after bottling sours," says Avery. "We bring steam in. We do a double steam and double chemical afterward. It's actually good that we do the sour beers because at least once every few months, we're doing a complete steam clean."
Smaller breweries like Captain Lawrence, who don't pasteurize, won't put their sours through their standard bottling line, hand-bottling them instead. It's a work-intensive process but one they find necessary to avoid cross-contamination. But they don't do it to allow the bugs to continue to grow. "I don't know if sours really benefit from additional aging. We bottle them when they're ready," says Vaccaro.
For Love of the Craft
Most brewers today produce barrel-aged beers not because they're moneymakers, but because they're incredibly passionate about the product. "Barrel-aged beers are about 2 percent of our total production, but 15 percent of our floor space," says Vaccaro. When asked whether they would have a working business model producing all sours, he answered, "absolutely not."
Still, craft beer barrel-aging programs continue to grow unabated. "People ask me what my best advice is," says Salazar, "and I always say 'Get more barrels than you think you'll need, fill all of them at the same time, don't taste so much, and it's going to take a lot longer than you think." A ragged notebook filled with more than a decade of tasting notes doesn't hurt, either.