SPONSORED CONTENT
How often has this occurred at your brewery: A customer stops by for a beer but soon leaves, because your brewery doesn't offer a dining-in food menu.
It's as simple as this: Breweries that don't serve food are losing money.
Breweries can open their own kitchens. However, when you factor in the costs—hiring a chef, obtaining the right licenses, rent, ingredients, equipment, construction, and so much more—adding a kitchen is a big hassle.
The cost of a custom kitchen buildout can range from $250,000–$350,000.
What are some alternatives? Some breweries have food trucks nearby, but that's not always the best option. Food trucks may not show up, they break down, they're seasonal, and their food offerings aren't always fresh.
Some breweries that don't serve food allow customers to bring it in, which isn't a bad option, but what's stopping people from picking a place that serves both drinks and food in one stop?
Enter 2ndKitchen. With 2ndKitchen, you cut out the middleman. You don't need a kitchen to serve food.
What is 2ndKitchen?
2ndKitchen connects kitchen-less breweries and taprooms with local neighborhood restaurants. Customers order food directly from the brewery, keeping customers in taprooms longer.
2ndKitchen works with the brewery to find what type of food experience they want, and pairs them with a perfect restaurant, preferably within walking distance. 2ndKitchen then takes care of creating a custom-branded menu for those businesses that creates an entire dine-in experience.
2ndKitchen also takes care of all the technical aspects involved in the partnership, including ordering (which can be done through kiosks or on customers' smartphones), payment processing, delivery, customer support, and customer spending and order preference data.
4 Reasons You Should Already Be Using 2ndKitchen at Your Taproom
Whether you are starting a new brewery or already manage a successful taproom, 2ndKitchen can help take your business to the next level. Here are four reasons to get started today:
Your Brewery Will Grow
Customers will spend more on alcohol when they order food. As a result, breweries today serve food because they have to keep their customers happy.
However, there's no need to go through the hassle of building a kitchen, hiring a chef, etc. Partnering with 2ndKitchen will encourage your customers to stay at your brewery and order more drinks while they enjoy local restaurants' food.
Customers are spending nearly twice as much time and money at breweries serving food with 2ndKitchen. For example, Chicago-based Hopewell Brewing Company uses 2ndKitchen to serve food, and they've seen positive ROI from it. This is a common theme across many taprooms.
Customers will stay longer, spend more, and are overall happier and likely to give amazing reviews about your brewery—such as on Yelp or through word-of-mouth. Local restaurants will also be more than happy to connect with your brewery because it's a great free marketing strategy for them (win-win).

And the best part? It costs nothing for your brewery and provides an incredible experience for the customers, and you'll still see a positive return on investment.
2ndKitchen Is Free to Use
Did we mention that 2ndKitchen is free to use? There is absolutely no cost to connect 2ndKitchen with your brewery. There are no strings attached, there are no monthly fees, there are no delivery or setup fees. It's 100 percent risk-free, and you're free to use it to craft your perfect menu.
Similar to how the cloud software movement offers a flexible, low-cost way to get started, breweries are using 2ndKitchen to experiment, serve, and test food without a big investment, but they can see their profits grow.
This new business model will cost your brewery nothing, since 2ndKitchen's revenue model is commission-based, earning a small percentage of each order from the partner restaurant.
You Customize Your Brewery's Food Menu
You are 100 percent in control of the menu—from having your brewery logo and design on the menu, to what food you offer or don't offer. You can even offer pairings and keep it simple, such as a cheeseburger with an IPA.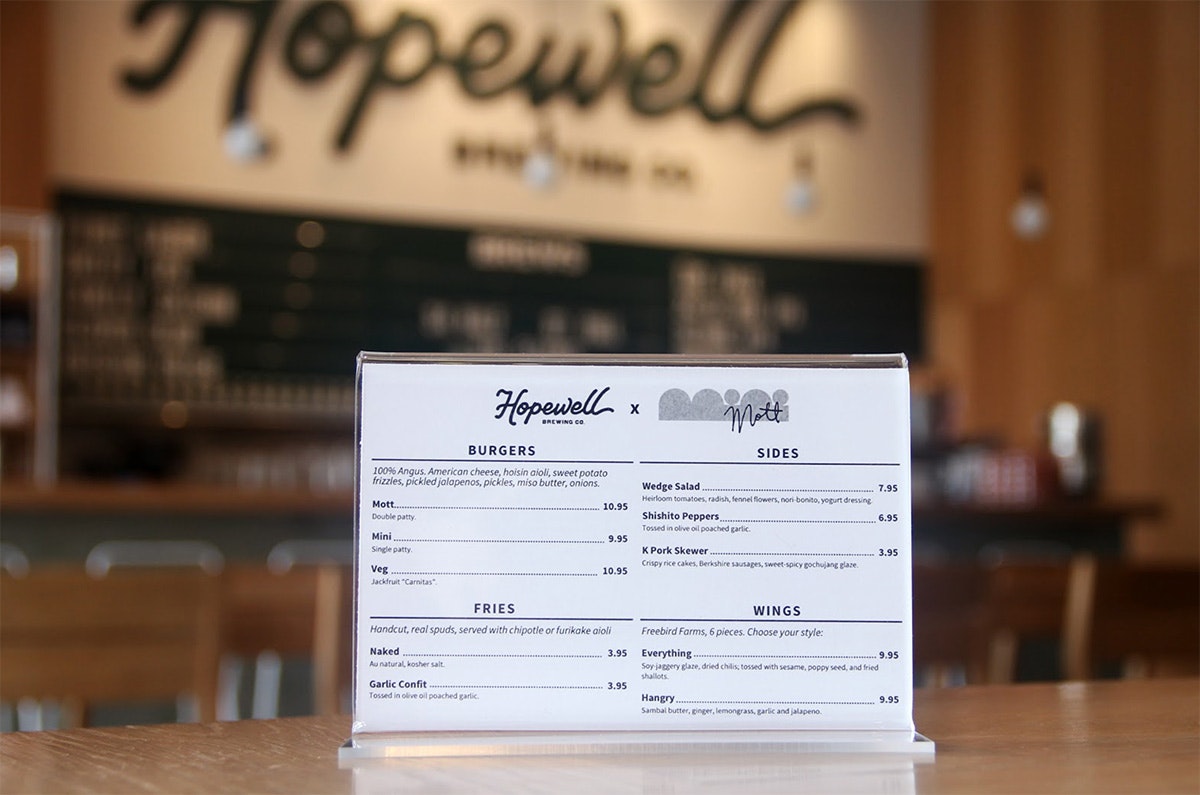 How you want to organize your menus is up to you. You're always free to experiment and change things up according to season or how items/pairings are selling. Some popular items include shareable pizza, tacos, and appetizer trays.
You are can also offer unique ethnic food such as Chinese, Indian, or French depending on your local restaurants. And, of course, you're not limited to teaming up with just one restaurant. You can connect with multiple restaurants within your neighborhood and once an order is placed, it will be delivered directly to your brewery.
It's Easy To Install
Installing 2ndKitchen at your brewery business is as easy as 1-2-3, and you can start getting orders today. They manage it all (payments, fulfillment, and support). And as a sweet bonus, breweries receive data, insights, and reports that provide valuable information, such as how much your customers are spending on what items, and what their personal preferences are—do they prefer the cheeseburger with an IPA pairing over just empanadas? Good to know!
You can set up today and serve food today—immediately.
So drop the hassles of owning a kitchen—you don't need it! Keep your customers at your brewery longer, happy, and fed. This is the new way of serving food!
Click here to find out how your brewery can start serving food without a kitchen.
SPONSORED CONTENT