SPONSORED CONTENT
Imagine a seamless customer experience related to your tab at a brewpub or taproom—a situation where your tab follows you when you decide to go from drinks at the bar to a sit-down meal, expedites tasting flights to your table, eliminates the need for a bartender to hold on to your credit card, and much more.
As the owner or manager of a brewery (or winery, cidery, meadery, distillery, food hall, etc.), imagine the seamless experience from your end—a situation where you can make service adjustments based on the needs of the day, expedite food service with guest tracking, simplify splitting or merging tabs, and much more.
In 2020, as we navigate through a global pandemic, venues have had to temporarily close. Many were able to embrace a takeout-only model, then add back outdoor seating, if possible, and eventually re-open limited indoor seating (often with the temporary loss of bar seats) around strict mitigation standards to protect customers and staff, alike. Contactless or contact-limited transactions are now the norm.
A good point-of-service (POS) system has the potential to handle all of that and more. Below, we hear from Arryved Chief Growth Officer and President Nancy Trigg, an associate member of the Brewers of Pennsylvania. Her company has been working with industry movers and shakers since 2016 to create a POS system to delight everyone: customers, front of house, back of house, and corporate. These POS systems use real-time data and on-site mobile devices.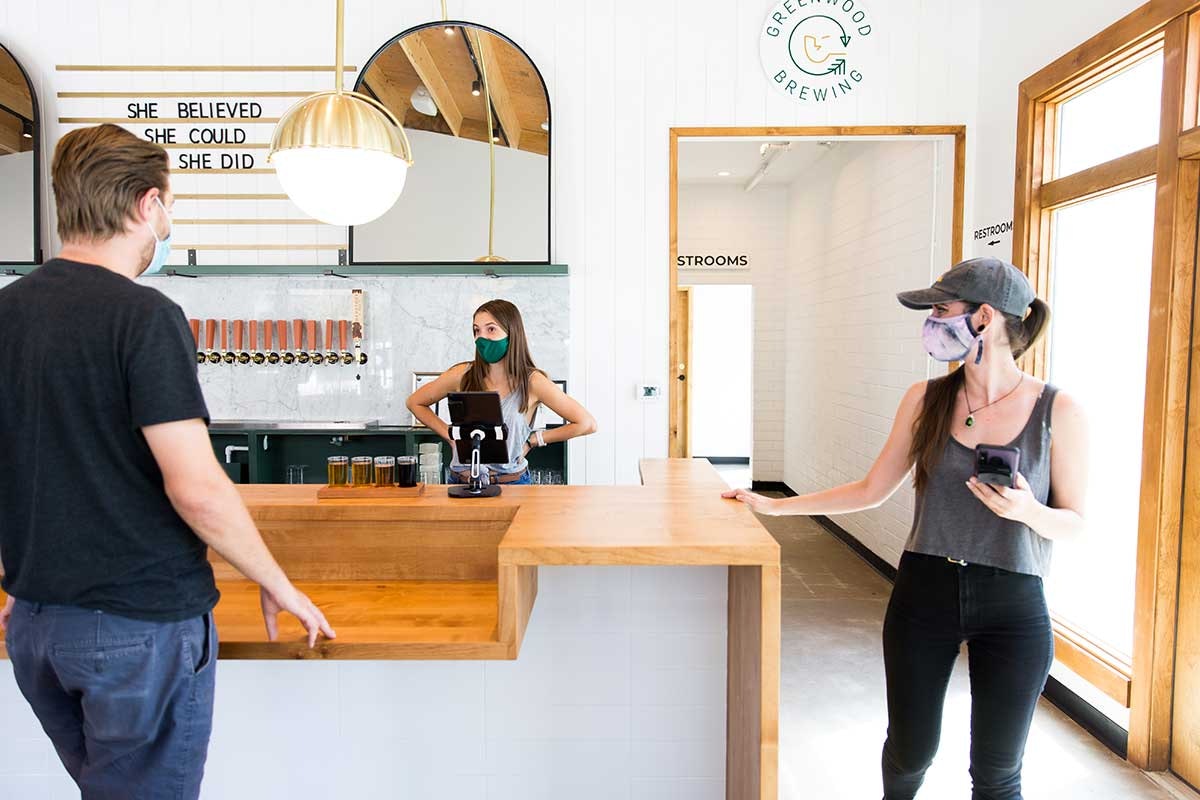 Let's start with what can go wrong with a POS guest experience.
Nancy Trigg, Arryved CGO and president: "The majority of POS systems were built for one of two situations: counter service for retail or a single person (server, bartender) owning a guest's tab at a restaurant. When you think about a brewpub, Tuesday's lunch, Friday's happy hour, and the volume that results from an event like a charity run, [these] are different types of experiences. Many traditional POS systems weren't built to flex, which can create long lines and slow service, making it hard to navigate changes in the taproom.
"From the server's end, a customer moving from one situation to another would mean closing out a tab at the bar, then another server reopening it at a table. At some taprooms, the bartender has to keep cards behind the counter until it's close-out time. Those original assumptions can create a cumbersome work environment, and feel sluggish to the customer."
What are next-level assumptions for a robust POS?
Trigg: "Flexibility for the unique needs of brewpub and taproom service are key. We worked with people on the front lines and corporate decision-makers, from brewery staff to CFOs, to create a service model that puts every tab on every tablet. In the brewpub or taproom, for example, this gives managers the ability to expand service by moving or adding tablets; there's nothing hard-wired.
"A great system also gives your servers the chance to be your most educated and product-focused people (along with bartenders, but they have direct access to your craft beverages behind the bar). My favorite service experience is talking to a server about certain beers, and while we're still talking the server enters the tasters into the POS and a runner brings them out so we can continue the conversation uninterrupted. This helps to expand customer palates, plus they'll try more if it's easy and you'll sell more.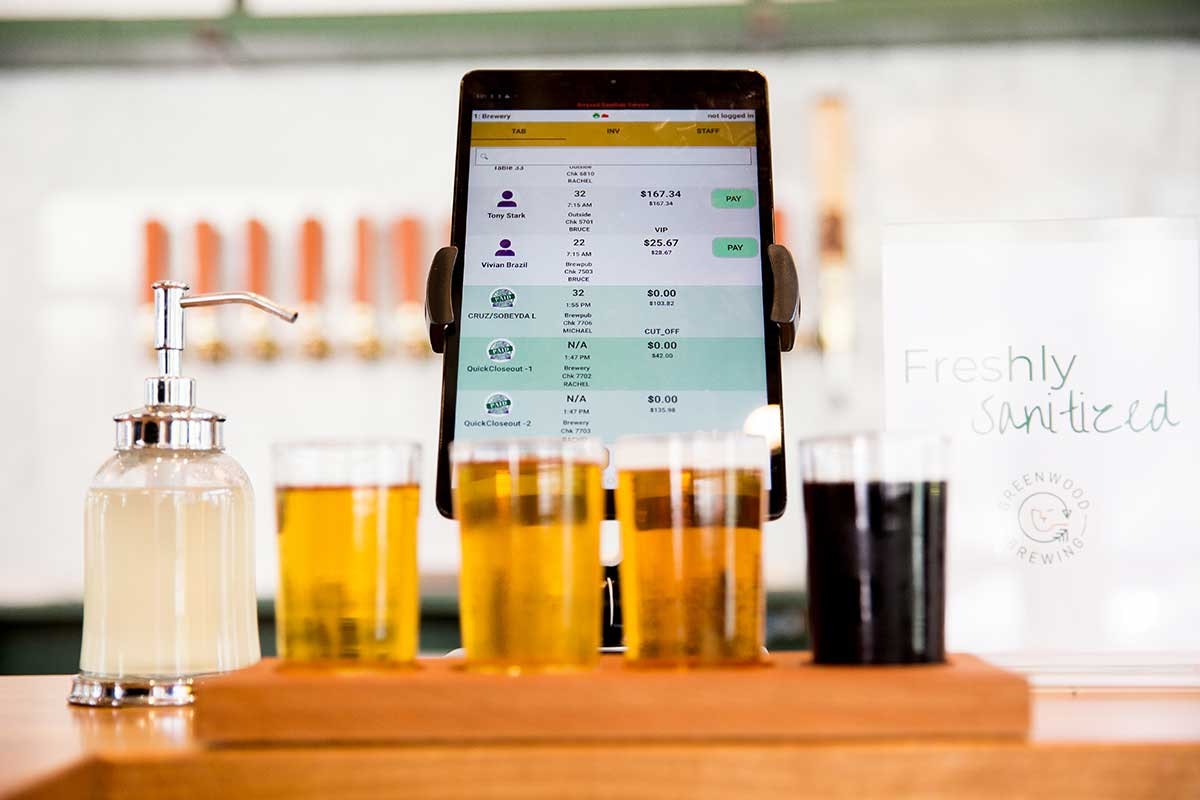 How does a good POS system tie brewery operations to service?
Trigg: "Taprooms are showrooms for the production and distribution side (in addition to being great places to enjoy craft beverages!). A comprehensive POS system gives decision-makers access to data on the fly, essentially testing things and getting immediate reactions to beverage selling: how quickly, at what price, at what time of day, the impacts of seasonality, and more.
"A good example: What sizes are customers buying, by type of beverage? Are half-pours of a certain style selling like hotcakes? Is another style selling mostly in tasters, not pints? This useful data drives production, marketing and distribution.
"The benefits are the same when a new player enters the game. When you're starting out, you need a system that's going to scale and one that you can afford. You want a flexible system that will adapt as you grow and provide the data you need to make informed decisions about that growth.
"There's also human resources potential in a POS system that tracks employee performance data. Who's selling the most to-go? Who's converting tasters to pints? Who's pushing merchandise? That data can inform staff training and trigger rewards, as well."
What are other efficiencies found with a good POS system?
Trigg: "The biggest thing that we haven't talked about yet that impacts everything is line-busting. Long lines of people waiting to purchase a beverage are inconvenient for customers and can be a nightmare for staff. A nimble, tablet-based POS system means any staffer can be deployed to pull people out of line, take the order, and run the credit card."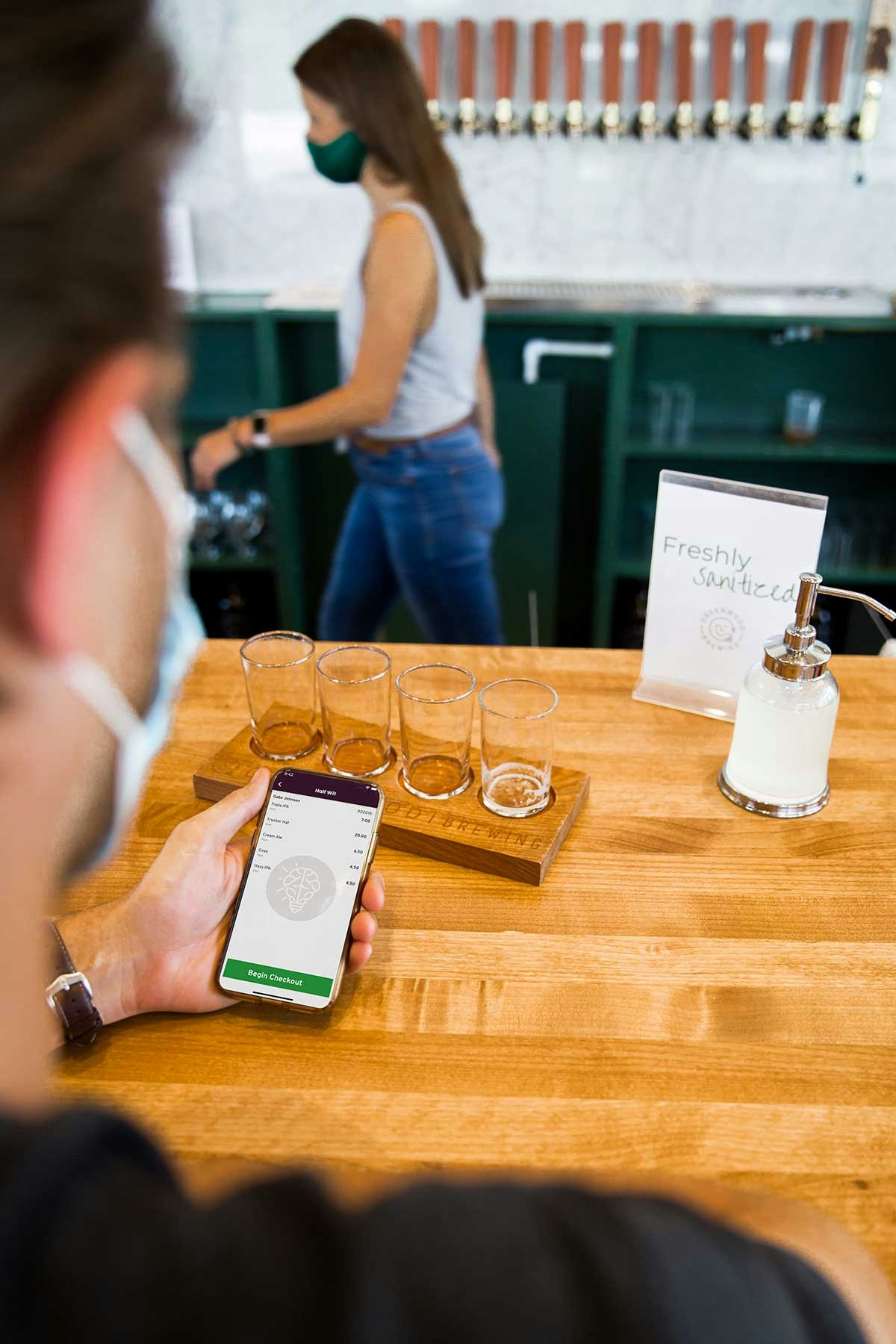 What's the next big thing in POS?
Trigg: "Paying on an app, as you do with Uber or Lyft. This gives the customer the ability to control the experience and, as we've seen during the global pandemic, offers hands-free payment solutions. Rather than having to find a bartender or server, an app allows you to pay your tab on your phone and leave.
"As the stay-at-home and other rules around the pandemic changed, we saw the need for simple, online, takeout ordering. That eliminated the need for staff to field calls and take credit cards over the phone, and gave the customer control over the transaction with easy ordering, too."
What types of customizations can be built into a POS for a better customer experience and to enhance the business side?
Trigg: "Venue size and types of service—just a bar, separate restaurant and bar, patio with jockey boxes (portable bars)—can look like different systems in different places. Maybe you frequently customize menus, or want to highlight merchandise so staff will upsell it. What's your tipping model—tip pool, server owns specific tables, tip on shift or hours worked, tipping-out policy? Building all of this and more based on individual needs into the POS system smooths transactions on the business side and makes the customer experience seamless.
"Let's face it, variations from brewpub to distillery to food hall are vast. A POS system will start with what most are doing and then allow the venue to customize."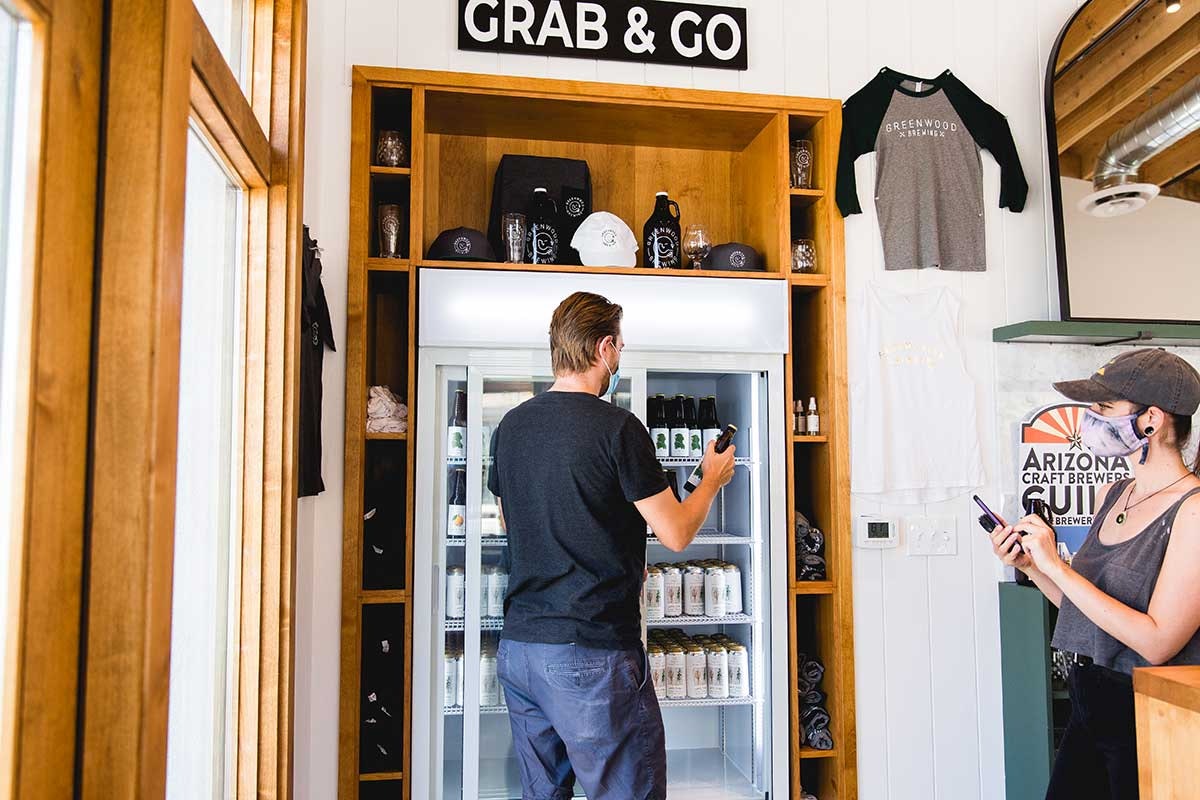 How is a loyalty program built into POS?
Trigg: "First and foremost, loyalty programs have to support the laws in each state. We work with members of each state's guild to stay on top of those laws which impact what can be offered as rewards.
"A traditional loyalty program is rewards-based, which doesn't take much management, but also doesn't provide much data. Customers earn points and then redeem those points for things like swag, free food, etc. Members-only swag seems particularly popular because people like to be part of a culture, and earning special swag others don't have can be a badge of honor.
"Other programs are offer-based, and these really provide the venue with the information needed to drive and control traffic. You may send less offers in mid-July because you're busy, but in late-November you might find you need more traffic. We built this into our system so you can keep track of offers for customers. You can access customers' offers through the POS so there's no printouts or "show me your screen" needed."
For breweries that aren't yet using solid POS systems, what's the one thing you want them to know?
Trigg: "Ask yourself: What's important in the service experience that you're trying to create, and does your POS system support that? Are you the kind of service and hospitality space you should be?
"Data matters—a lot—and if you can't get to the data, then you don't know what's working. To truly understand what is effective in your space you need that information. Bottom line: If you can improve your efficiency, customers will be delighted, and you will sell more products. It's worth taking the time to get something better."
Founded in 2016, Boulder, CO based Arryved is a point-of-service based software company specializing in the craft beverage service industry: breweries, cideries, distilleries, wineries, brewpubs, and non-brewery taprooms. In four short years, it grew from being an idea on a taproom coaster to a revered platform serving hundreds of satisfied accounts. Arryved is a team of tech geeks with relentless passion for, and extensive experience in, the craft beverage industry, as both employees and consumers. The goal is simple: Deliver a flexible, reliable, team-centric platform that puts service first in every way. Evolve the archaic Point-of-Sale system from being a much-maligned obstacle into a flexible Point-of-Service tool that elevates guest experiences, fosters enhanced server relationships, and provides owners and managers with robust and easily digestible insight to make informed decisions.
The Brewers of Pennsylvania is a nonprofit trade association that brings together leaders of Pennsylvania-based breweries in order to promote and protect the brewing industry in the state. Established in 2011, the Brewers of Pennsylvania serves the consuming public of Pennsylvania by encouraging brand diversity in the market. We believe in the nobility of brewing and hold dear the great traditions and history of Pennsylvania brewing.
Words by Nina Malone. All photos of Greenwood Brewery by Bisetti Photography.
SPONSORED CONTENT