Oktoberfest beer, also called Märzenbier, is an autumnal favorite of commercial brewers and homebrewers alike. Perfectly paired with grilled sausages and fluttering leaves, Märzen is just the thing to mark the arrival of fall.
Märzenbier was historically brewed in March (März in German), lagered all summer long, and served to thirsty revelers at the Munich Oktoberfest. And while Märzen is no longer the star of the Theresienwiese's beer tents (a strong Helles replaced it ages ago), the style's blend of fleeting sweetness, toasty malt flavor, and a supremely quaffable dry finish remains unsurpassed.
The problem for homebrewers reading this is that March is well behind us, and October is sneaking up fast. But fear not! The window for brewing an authentic Märzen may have come and gone, but you can still serve a great knock-off at your Oktoberfest party—and your guests might not even know the difference. It's time to fake it till you make it with Mocktoberfest, an Oktoberfest beer in every sense but yeast and process. You may not have eight or more weeks to brew a legitimate lager, but you can crank out an ersatz ale in a month or so.
Malz und Hopfen
The malt and hops for a Mocktoberfest ale are the same as for a traditional Oktoberfest lager. Malts should consist mostly of varying amounts of Pilsner, Munich, and Vienna, with optional small amounts of crystal malt to round out the flavor and supply a little upfront sweetness.
Hops are traditionally noble German varieties such as Hallertauer Mittelfrüh, but Mt. Hood and Liberty are good domestic substitutes. Avoid U.S.-grown Hallertau hops, though, which aren't even close, despite the name.
Yeast
The yeast is where Mocktoberfest says Auf Wiedersehen to German lagers. The key is to use a clean ale strain and to ferment on the low end of the recommended temperature range. Clean ale yeasts are strains of Saccharomyces cerevisiae that produce fewer esters and fermentation by-products than other varieties. The lower the fermentation temperature, the closer you'll approximate true Märzenbier. Good yeast options include
American wheat (Wyeast 1010)
Chico (Wyeast 1056, White Labs WLP001, Safale US-05)
CL-50 "Denny's Favorite" (Wyeast 1450)
Nottingham ale (White Labs WLP039, Danstar Nottingham)
You might be tempted to use a California Common strain, which is a true lager yeast (Saccharomyces pastorianus) that can comfortably tolerate temperatures as high as 68°F (17°C). But such strains produce inappropriate esters that are better suited to San Francisco than Bavaria.
Lagering
Okay, so Mocktoberfest isn't technically a lager in the strict microbiological sense. But the German word lagern, meaning "to store," still very much applies: If you have time, cold condition your Mocktoberfest ale for two weeks or more. Those who keg can lager their beer in the keg as it carbonates, but those who bottle need to include at least two weeks at room temperature to ensure proper carbonation.
Brewing Schedule
Munich's Oktoberfest starts in late September, lasts sixteen days, and ends the first weekend in October. But Americans don't usually think about Oktoberfest until Munich's festival is winding down. So let's assume you're planning an Oktoberfest party for the weekend of October 3–4, 2015 (if you start this weekend, August 19–20, you can plan your party for October 7–8, 2017;just plug in the right dates for the current year). The chart below has two schedules to get you there.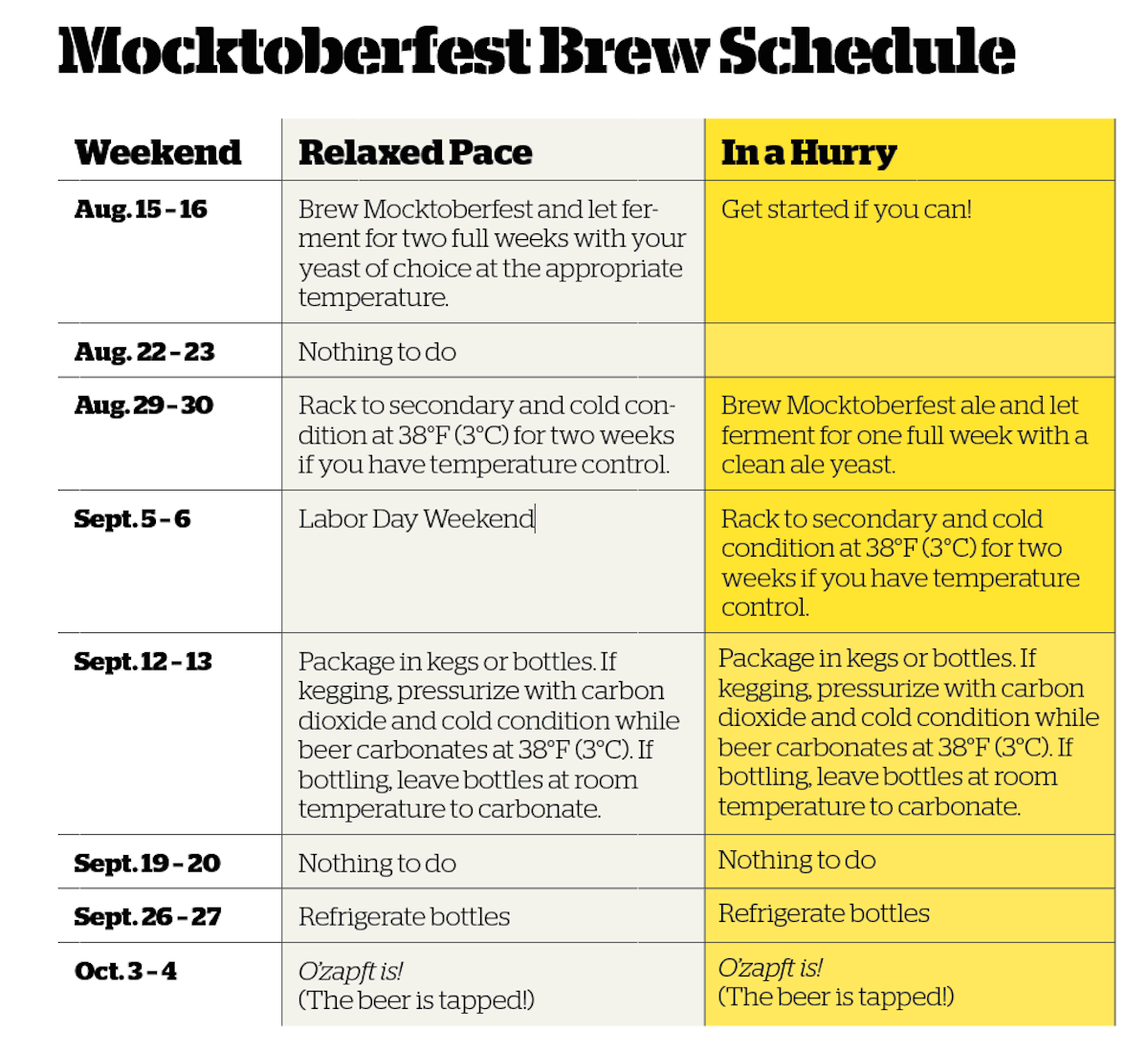 The relaxed-pace schedule is the most lager-like and requires six weeks. You can use just about any yeast you like, even true lager strains if you're careful. The second schedule can be completed in just four weeks and is for those really in a rush. You'll need to stick to fast-acting ale yeasts to get the job done in time, but better to brew a good ale than a poor lager.
The schedules are arranged so that you need to take care of brewing chores only on the weekend.
Oktoberfest is about spending time with friends in a spirit of shared Gemütlichkeit. If the beer is good and plentiful, nobody will care that you faked it with an ale.
Prost!
Learn how to create the right environment to cold condition your Pilsner with Craft Beer & Brewing Magazine®'s Introduction to Lagering online class. Sign up today!