SPONSORED CONTENT
New Realm Brewing Company considers creativity and innovation so vital to the brewery that these are included on their list of seven core company values. After years of experience within the brewing industry, the three cofounders created New Realm Brewing to be a company with no boundaries, pushing the limits and breaking the paradigm of what a brewery should be. Mitch Steele, one of the cofounders, talks about how the New Realm brewing team approaches innovation.
What excited you the most about the opportunity to create a "new realm" within the brewing industry as one of the cofounders of New Realm Brewing Company?
"It was really my first opportunity to start something from the ground up and build a brand. One of the things I like about brewing at New Realm is that, with our two restaurants, we can brew both classic styles and really innovative beers and have an audience for both. My goal in our restaurants is to have at least one beer that works for every single person that walks in the door. That's been liberating for me."
As a brewer, what is your personal philosophy on what innovation looks like in the brewing industry?
"Innovation has been a hallmark of craft brewing since Day One. Anchor was the first to feature Cascade hops in the 1970s. The first brewpub and microbrewery brewers in the 1980s were trying to make beers that you couldn't really get in the United States at that time. Later, as brewers discovered high hopping rates, brewing with fruit, Belgian beers, and barrel-aging, innovation took new forms. And lately, as hop varieties have been developed that have so many new flavors, the new hops are driving a lot of innovation. Craft brewers have always innovated. That's what has driven the growth of the business. More recently, hazy IPA was a serious innovation. These beers are brewed with so many traditional brewing rules broken yet employ serious science and biochemistry to get the appearance and the flavors that are recognized in these beers. They have become huge, and it's a challenge to brew one well.
"Innovation takes many forms. Inspiration can come from anywhere. I really believe that as a brewer, the biggest key is that you really have to pay attention. There is so much information flying around media and social media, but you have to listen to see what beers are creating excitement for brewers and beer drinkers. Pay attention to any "buzz" beers at beer festivals that are getting a lot of chatter. It doesn't mean you have to brew something similar, but it's good to understand why people are excited about it. Pay attention to supplier communications and talk to suppliers about their new offerings. And talk with other brewers and beer fans. Collaborations are a great way to get out of your comfort zone.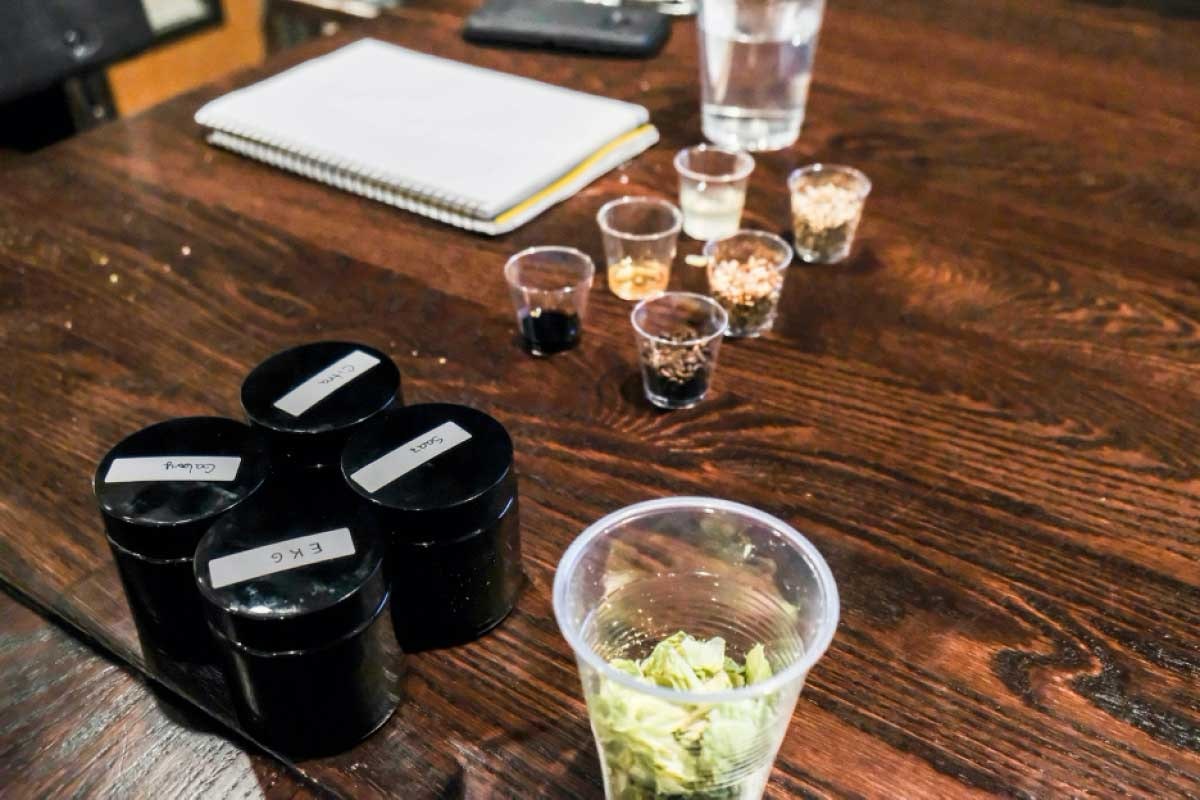 "One of my oddest inspirations that I remember was to make a certain beer while I was watching an old Star Trek episode-that beer became Quadrotriticale, a quadrupel brewed with triticale and wheat. As soon as I saw the first post about brut IPA, we started making plans to brew one, and we're the first brewer in Georgia to brew one. Several of the beers I have been involved with creating over the years have come from dry-hop trials with new, exciting, and even old-guard varieties that today's brewers have largely forgotten about.
"Inspiration can come from anywhere, and anybody. It's a daunting task at times because of information overload and the constant pressure to stay relevant with new and exciting beers. So, pay attention, and then the key is to put your own spin on it and not copy anyone else. I love putting twists on classic styles. Always ask: What has never been done before, and can it be done without the beer being a train wreck? Being first with innovation is a company-wide philosophy. You are either a leader or a follower."
How does that philosophy translate to how the brewing team at New Realm approaches innovation?
"We talk often with our sales team and restaurant teams to understand what is being asked for in retail, and what beers of ours that people are excited about. Because our entire brewing team are fans of craft beer, and are foodies too, those components also drive a lot of innovation-our team pays attention. I very rarely veto a beer idea for our pilot system. Being naturally curious, I prefer to say "let's see what happens," versus mandating sticking to brewing rules and traditions-to an extent. Although I did veto the addition of meat once."
How do you encourage innovation within your brewing team?
"All of our brewing team has the ability to develop beer concepts, suggest beer ideas, and brew beers on our five-barrel pilot system. We keep a master list of all the beer ideas we have, and we pay attention as a team to what innovations we are seeing from other brewers that might inspire us. I'm also a strong believer in the value of brewing and nailing classic styles-this process builds all of our brewing expertise and understanding and allows us to develop your own ideas within a framework that has worked for a long time."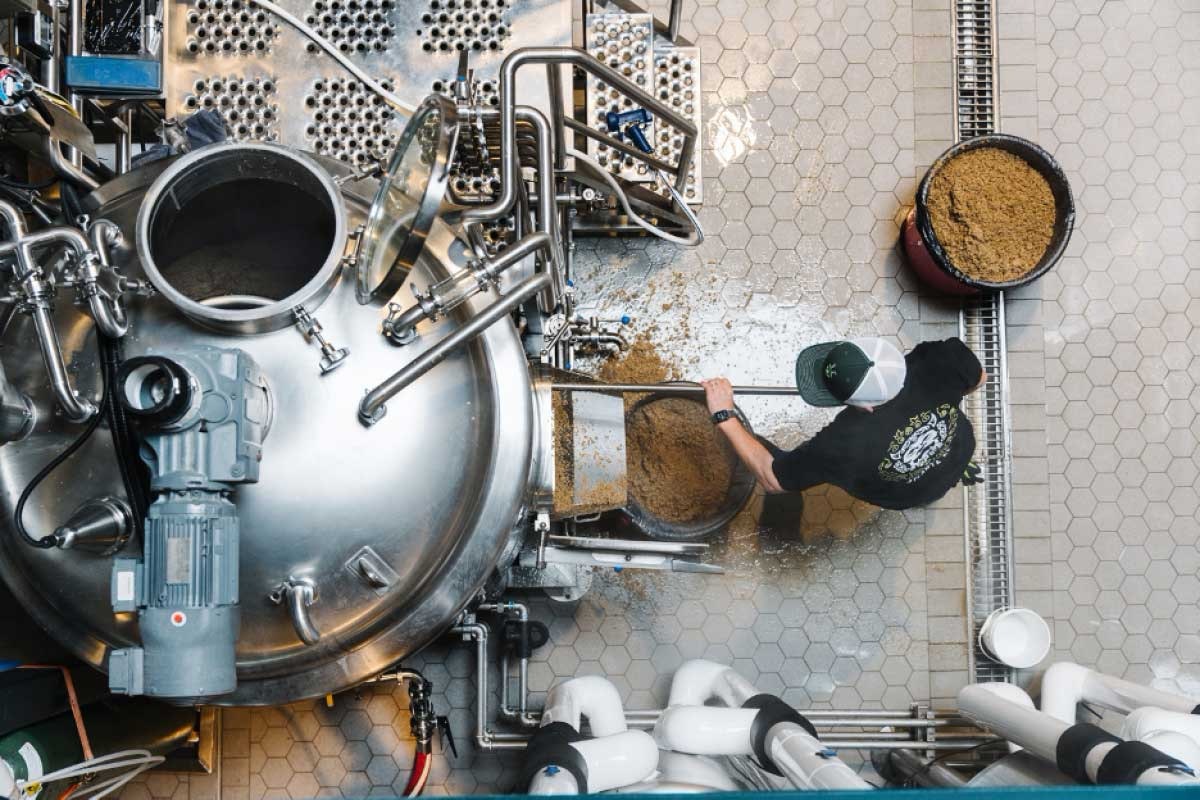 Euphonia Pilsner is New Realm's most award-winning beer and employs a hop bursting technique. How does hop bursting work and what effect does it have on the finished beer?
"Hop bursting is a homebrewing technique that I learned from my friend Jamil Zainasheff-host of several shows on the Brewing Network, and owner of Heretic Brewing in Fairfield, California. Essentially, it involves minimizing bittering hop additions and loading up on the late kettle and whirlpool hops, so that you get bitterness and loads of flavor from the hops. Most hazy IPA brewers use a hop-bursting technique. It's pretty common now."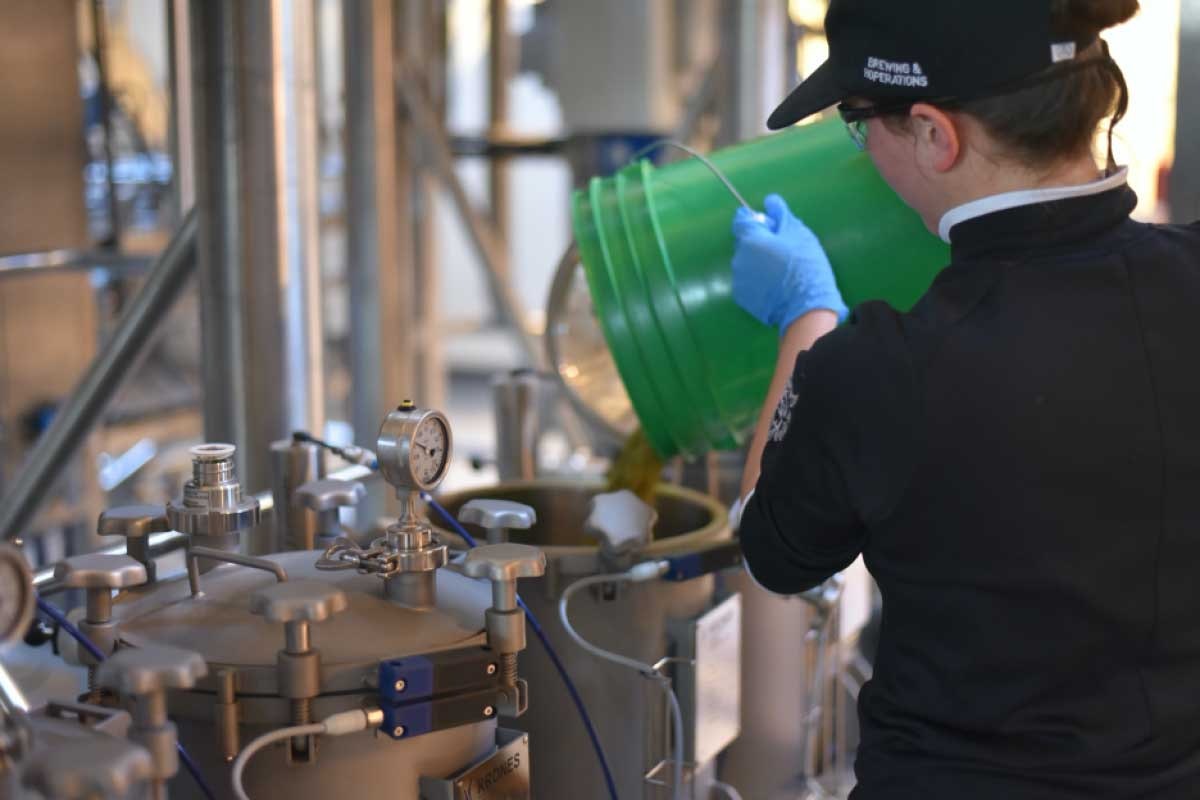 What are some of the other innovations the brewing team has employed in creating New Realm beers?
"Our team in Virginia Beach has come up with some great small-batch beers using extra beer and adding things to it. They also do most of our barrel-aged beers and came up with the Golden Pastry Stout idea that we released last year. They are a very food-oriented and very creative group.
"Atlanta Head Brewer Tyler Downey's grain recipe for Munich Dunkel raised my eyebrows a bit-and it turned out to be one of our best beers and most popular. We have worked with a lot of different yeast strains, including several beers made with kviek yeast, which is used in T Flex DIPA among other beers we brew. Tyler really has figured out how to balance the tropical flavors of that yeast with the hops.
"We recently brewed a hazy IPA with Kaiser Kölsch yeast, which we never would have thought of without our friends at Bale Breaker telling us about it. It's a great yeast for biotransformation.
"A lot of our innovation has come from using new or experimental hop varieties. We have a pilot series called 'Hop Audition' which is a single-hopped IPA with a new or experimental hop. And we have partnered with John I. Haas twice now in brewing Transcendental IPA, which features experimental hops."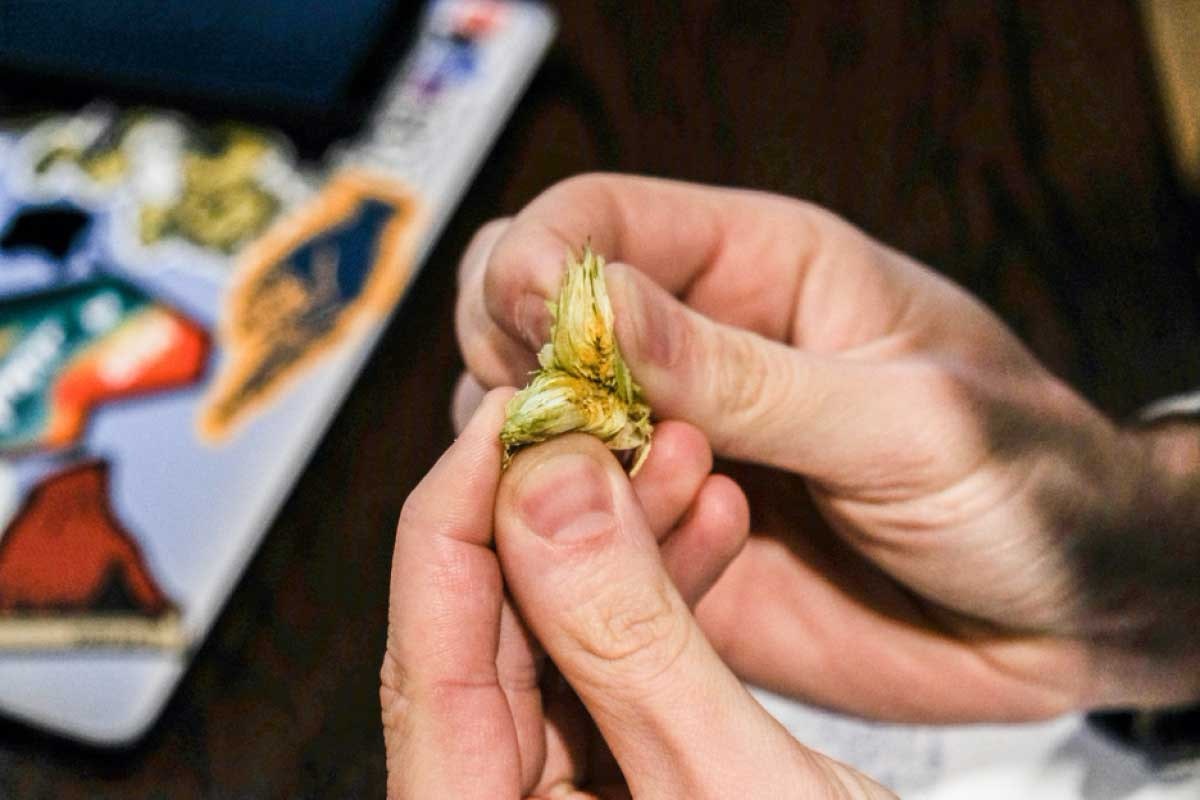 What are some of the challenges or roadblocks you've found in implementing innovation within the brewery?
"Some innovations require technology we just don't have, so that stops the process dead in its tracks. Lack of interest is another challenge-sometimes, no matter how much we brewers believe in a beer, we can't do a good enough sell job to get others excited about it. The biggest one though, is probably lack of time and capacity."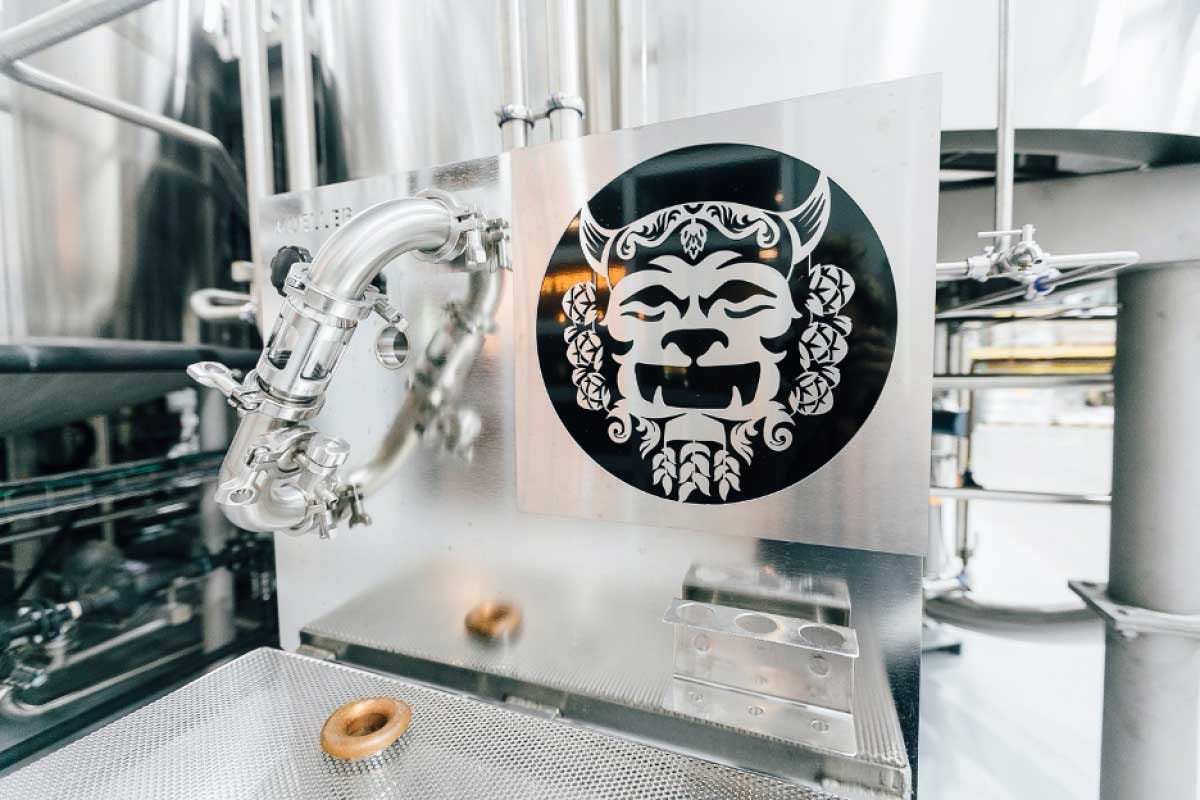 What new brewing innovations are you excited to learn more about?
"I'm really hoping we get our sours program going. We need another space to effectively brew beers with added microorganisms. I haven't done a ton of this in my career so I'm looking forward to the day when we can really put some focus on these wonderful beers.
"And any time someone comes up with a new hop variety or a new way to use hops in a beer, I get pretty interested."
What are some of your favorite resources for learning more about new brewing techniques?
"My favorite is just talking with my peers in the business. I've been fortunate that I've made so many friends in this business, and us old-guard brewers still love to share ideas with each other. That's become tougher this year-I'm not traveling, but just hanging out with other brewers and chatting about brewing over a couple of beers is a great way to get inspired. And I kind of hate to say it, but Facebook has been pretty effective. I have a lot of brewer friends on Facebook and it's not unusual for me to reach out to someone if I see they are doing something really cool. And reading trade magazines, especially the ones that focus on how brewers are making their beers-that's been huge over my career. I've always been very curious about how someone else is making their beer."
Where do you think the brewing industry will see the most innovation in the coming years?
"All I can say is that I hope it's beer. We are in one of those cycles where other forms of alcohol are becoming popular and eating into the brewing business, and that is driving a lot of us to brew other things besides beer. I'm a beer guy."
---
New Realm Brewing is located at 550 Somerset Terrace NE in Atlanta, Georgia (30306) and 1209 Craft Lane in Virginia Beach, Virginia (23454). For a complete list of hours, information on private events and public tours, as well as additional information, visit newrealmbrewing.com.
About New Realm Brewing: New Realm Brewing Company is an American craft brewery started in 2016 by cofounders Carey Falcone, Bob Powers, and Mitch Steele. On a mission to rethink tradition and bend the rules, the team planted their first production facility in a 20,000-square-foot space on Atlanta's east side Beltline trail in December of 2017, featuring a 25-hectoliter brewhouse, 3,000-square foot restaurant, rooftop patio, and beer garden. A second location opened in Virginia Beach in the middle of 2018, enabling New Realm to increase their ability to innovate and create new beers. The Virginia Beach location is a 58,000-square-foot space with a 50-barrel brewhouse. Like Atlanta, the second location features a large outdoor beer garden, private event space, and restaurant. New Realm's core principles are quality, creativity, authenticity, and striving for perfection, all with a customer-centric commitment and approach. New Realm's awards include: Brewbound's "Rising Star" brewery, Ratebeer's "Best New Brewer in Georgia," Ratebeer's 11th "Best New Brewer in the World," and Virginia Craft Beer Cup's gold medal and "Best in Show" for Euphonia Pilsner. Brewmaster Mitch Steele was awarded the Russell Scherer Award for Innovation in Brewing and co-authored the book IPA: Brewing Techniques, Recipes and the Evolution of India Pale Ale.
SPONSORED CONTENT