Leaning into 100 percent alder-smoked malt means that brewing and drinking stjørdalsøl requires a deep commitment to extreme smoke character—and yet, according to many who've done it, the beer can turn out surprisingly drinkable.
"It balances out to me completely," says Jan Chodkowski, head brewer at Our Mutual Friend in Denver. "But I'm totally a smoked-beer head." The beer is "unctuous" and complex, he says, with flavors of tobacco, leather, coffee, and chocolate, besides the intense campfire. "Once you're into it, it really mellows out. And it really has been a favorite among some of the brewers in town."
Stjørdalsøl is not exactly a common beer style to find anywhere outside of its home in a corner of western Norway. Besides its obscurity, there is the tricky matter of malting all the barley over an alderwood fire. However, it's a style that Chodkowski has embraced—along with friend Josh Cody, owner of the Colorado Malting Company and Colorado Farm Brewery in Alamosa, about 230 miles south of Denver.
Chodkowski and Cody visited Stjørdal together in 2017, and they watched as local brewer Børge Barlindhaug kilned his barley over a smoky alderwood fire. Now, Chodkowski and Cody get together and brew their own stjørdalsøl at each other's breweries ahead of the winter holidays each year. "Certainly, as it starts to get dark early, it'll kind of warm you up and help you settle into winter," Chodkowski says of the beer.
Inspired by the såinnhaus of Norway, Cody smoke-kilns the barley for their beers at their maltings in Alamosa. That's the only malt that goes into their stjørdalsøl. The malt isn't uniform in color—much of it is pale, with the occasional darker grains, but the latter are enough to contribute a rich, dark brown hue to the beer.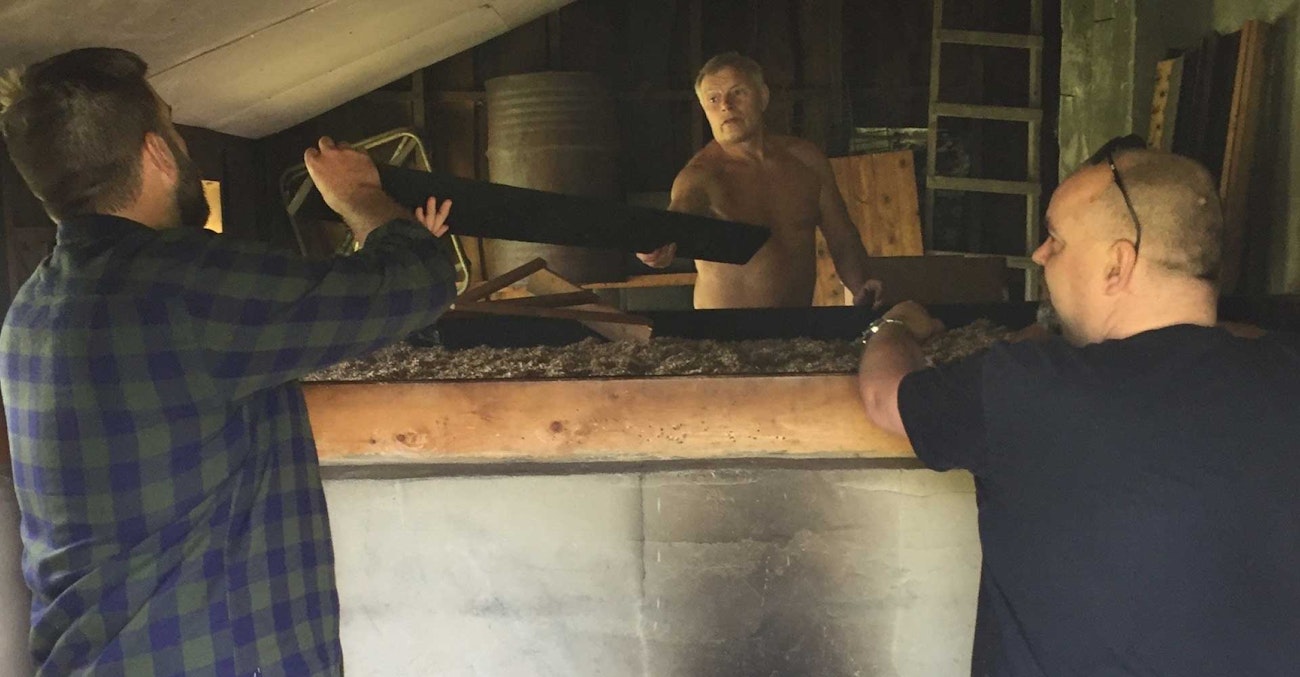 The hops are an afterthought—just a small addition of a local variety—because the smoke will be the star of the show. Nor is the choice of yeast especially critical. If the brewers of Stjørdal once used their own kveik, these days, they tend to rely on baking yeast or commonly available brewing strains. Chodkowski and Cody opt for the clean-fermenting Chico strain, to minimize risk and keep the malt in the foreground.
"On paper, it's not that complicated," Chodkowski says. "But getting the smoked malt to where you want it, that's the fun part of it."
One option, of course, is to set up your own kiln, get some fresh alder and barley, and try it yourself. It's not that far-fetched, since stjørdalsøl is very much a DIY homebrewing project by tradition. However, while rare, it may be possible to buy some alder-smoked malt from a craft maltster. Sugar Creek Malt in Lebanon, Indiana, is an unusual example, having a special line of Nordic såinnhaus-inspired malts—including a product called Stjørdal Malt Barley: "Traditional Nordic malts are dried over alderwood fires," the company says. This is "two-row barley that is floor-germinated and kilned with a bit of heat to produce more melanoidins and Maillard reactions, to produce a deep red color."
Here is Chodkowski's best advice for anyone who wants to take a stab at stjørdalsøl, whether at home or commercially, and whether or not you're smoking your own malt: "Don't stress too much," he says, "because it's already a variable product to begin with in Norway.
"Just enjoy making it. That's the fun of it."