SPONSORED CONTENT
NZ Hops Superdelic
"There's a perceived sweetness, an aroma that's much more tangible than other hops. You feel you can reach in and grab the flavor."
—Max Schafer, brewmaster at Pure Madness Brewery Group, Wyoming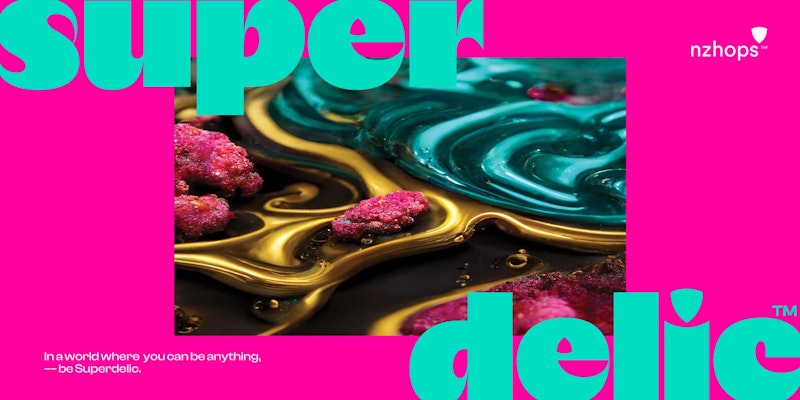 Max Schafer, brewmaster at Pure Madness Brewery Group—which includes Wyoming's Roadhouse and Melvin—says Superdelic is so good he'd like to use it "in every beer we make."
Roadhouse is part of NZ Hops' acclaimed Bract Brewing program, so Schafer has been brewing with Superdelic since it was known as trial hop NZH-102. He's used it in a couple of beers for the Roadhouse taproom—a hoppy lager and an IPA—as well as a full production batch of Superdelic Kush, which has proved so popular it's just been re-brewed.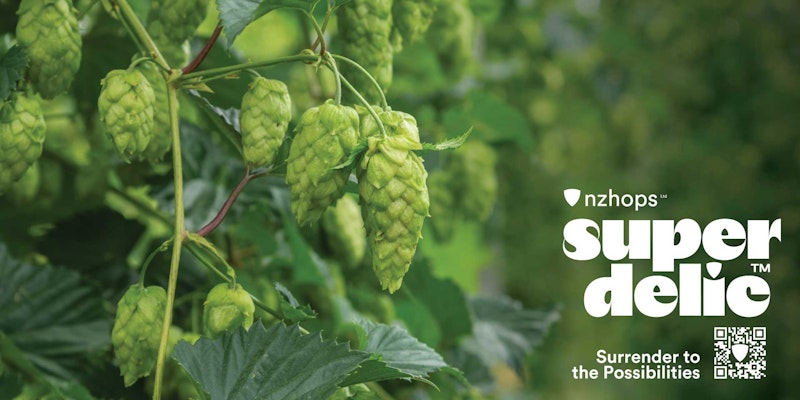 Superdelic Kush is done in the cold IPA-style, fermented with the brewery's house lager yeast and, as the name suggests, it delivers big West Coast–inspired IPA flavors.
"I love the punchiness and the assertiveness we get from Superdelic," Schafer says. "Superdelic Kush is stylistically a cold IPA, and we just loved how the lager yeast really lets the Superdelic shine."
Embedded content: https://youtu.be/6wQ_JAeKIwk
Commercially released by NZ Hops in 2023, Superdelic has many of the hallmarks of its predecessor, Nectaron, including alpha acids in the 9 to 12 percent range and a high volume of total oils (1.5 to 2.2 percent). However, the flavor profile is quite different. Rather than the pineapple and stone fruit notes for which Nectaron is famous, Superdelic—depending on how it's used on the cold side—delivers ripe mango and passion fruit when used post-fermentation, yet it delivers sweet berries and bright citrus when dry-hopped through active fermentation.
A Tangible Sweetness
Schafer says he gets passion fruit, guava, and cotton candy, "plus a mouthfeel that's snappy, minerally, and sharp. It really does stand out in a beer."
He says that while some hops can have a "confected" flavor of hard candy ("like Jolly Rancher"), Superdelic's candy flavor feels more real. "There's a perceived sweetness, an aroma that's much more tangible than other hops," he says. "You feel you can reach in and grab the flavor."
Schafer says he also loves the versatility of Superdelic, noting that it pairs extremely well with other hops without ever disappearing into the shadows. "We've paired it with Nelson Sauvin, Riwaka, and Motueka as well as Citra, Mosaic, and Strata, and what we've discovered is that when we use big hops like Mosaic or Nelson, they really dominate—they bully the other hops into submission.
"But with Superdelic," he says, "no matter how much we threw at it, we still got this incredible Superdelic expression. Whereas some other hops sit in the backseat when they're with other hops, Superdelic becomes more expressive and bigger. It's like the other hops you pair with lift it up further.
"We find with New Zealand hops that—using them at even 10 to 15 percent of the hop bill—you can taste them and smell them, and you know they are there. But Superdelic is even more elevated. It's so bold—I'd put it in every beer we make if I could."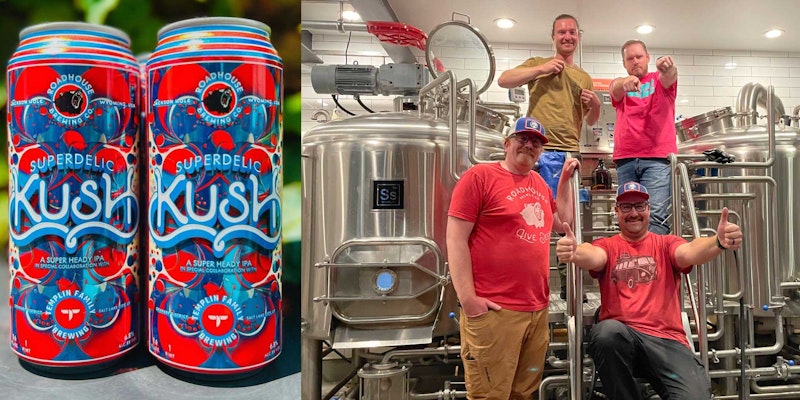 Drinking Pure Hops
The feedback from patrons in the Roadhouse taproom is similarly positive. "One of things that got people excited about Superdelic is that it was something they hadn't tasted before—a flavor they had never tried or experienced in beer," Shafer says. "It had a wow factor. People told us they loved the raw and natural expression of the hop. One person said, 'I feel like I'm drinking pure hops.'"
"And one thing I really love about Superdelic is when you open the bag and smell the raw product that then transfers into the beer," Shafer says. "When you drink the beer, it really does feel like a fresh bag of hops."
Superdelic's versatility and ability to shine amongst other varieties is one of the standout characteristics of another NZ Hops star, Motueka.
Released in 1996 as Saaz B and renamed in 2007, Motueka is renowned for its bright lemon-and-lime notes, often described as delivering flavors of a mojito. It punches hard with myrcene (60 to 69 percent) and farnesene (6 to 10 percent) for those distinctive citrus-woody-herbal notes.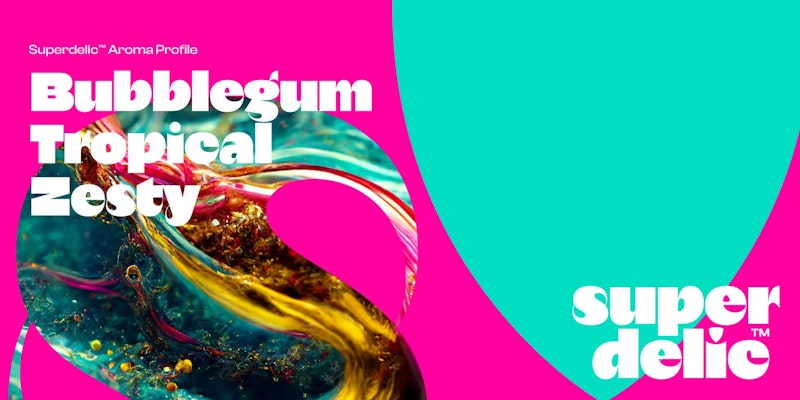 NZ Hops Motueka
"Nothing can deliver a true lemon-and-lime character like Motueka™ can."
-Jude La Rose, cofounder of Hop Butcher for the World, Chicago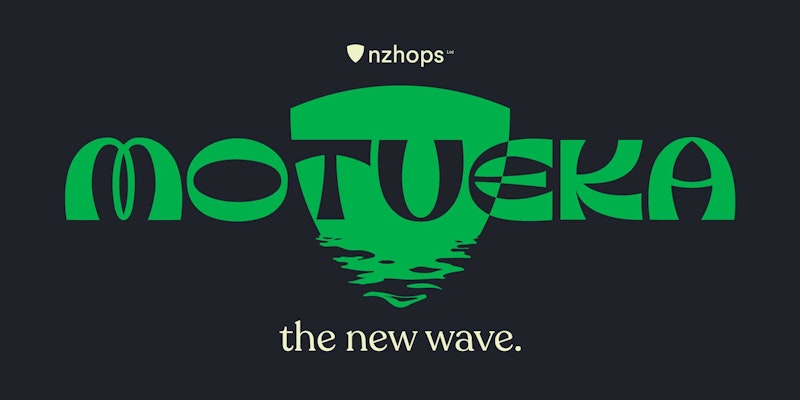 Jude La Rose, cofounder of Chicago's Hop Butcher for the World, is an unabashed fan of Motueka, saying it works in every style of beer and makes every beer better.
"Nothing can deliver a true lemon-and-lime character like Motueka can," La Rose says.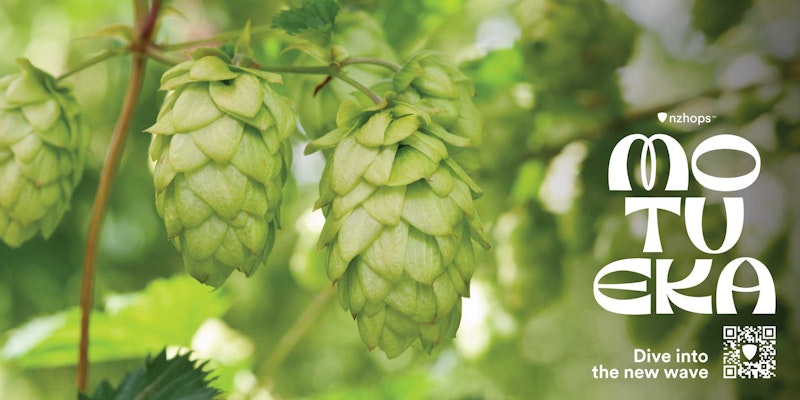 One of the great virtues of Motueka is that it can stand out on its own as well as adding value when used with other hops.
"If you were to make a beer and feature just one hop that can entirely carry the character of the beer ... Motueka can do that," La Rose says. "But if you're looking to add some complexity or edge, or another kind of 'color' to the aroma-flavor palette, Motueka can do that—it has no problem taking a back seat and brightening up or augmenting whatever is around it."
Embedded content: https://youtu.be/v2bglcadN7o
La Rose talks about hop flavors in colors—describing Citra, for example, as orange and yellow. "Citra is undeniably a great hop and is unmistakable. It produces these big orange and yellow flavor colors. If you wanted to add more yellow and green to that mix, to us, there's no other hop but Motueka to do that. It adds this top note—like the treble in music—of lemon and lime that sings a little bit higher."
He also loves the creamy tang that Motueka can add, making it a great hop in wheat beers. "I think that there is a common thread all New Zealand hops are tethered to—a wild sense of New Zealand terroir, of grassiness, of earth-driven flavor and aromatics. Motueka has that plus a vanilla, creamy character to it, almost a Greek yogurt type of flavor."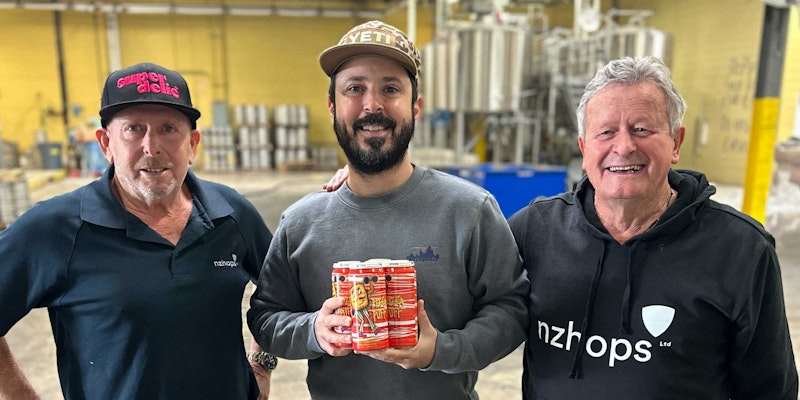 La Rose says the first time he tried Motueka, it was in a "crushable" wheat pale ale from fellow Chicago brewery Half Acre. "It was the first time I had read the word 'Motueka,' and it was such a great aroma and such a great beer, I still remember it 10 years later.
"Motueka can also work well in a lager with cracker-like pilsner malt. It can play well with big juicy hops in a hazy IPA, and it can work in a pale ale. It can work when it's dialed up, and it can work when you want it dialed down.
"And you can use it in all phases of the brew: timed additions, whirlpool, dry hop."
Motueka's versatility is the reason it's the base hop for all trial brews done by the renowned breeding team at New Zealand's Plant & Food Research. And, as Plant & Food's leading hop scientist Kerry Templeton says, "If you don't like Motueka, you don't like hops."
SPONSORED CONTENT