Portland, Maine, has been home to breweries stretching back to the birth of the craft-beer movement, and many remain top of mind for locals and seasonal travelers alike. Still, in recent years, the city has been an incubator for new and exciting breweries, each trying to carve its own niche from what has become a crowded marketplace. Travelers are greeted with a kaleidoscopic approach to beer from gruits to gose, Old School wits to futuristic IPAs, and all offer a true sense of place, so you'll leave with an authentic Maine experience each time.
The City
Even the locals who are plugged into the beer scene have a hard time keeping up with all the new entrants to downtown Portland's scene. For the history buffs, a nod to Gritty McDuff's, Shipyard Brewing, and Sebago Brewing Co. is in order.
If you want to impress your friends on social media, options abound. Liquid Riot Bottling Company is on Commercial Avenue (parking is tricky, so consider a walk from your hotel) and offers an expansive array of beers, including a sessionable dry stout that is as perfect on a cold winter's afternoon as it is on a summer's evening. Plus, spirits distilled in house offer some great cocktail options during brunch or for that last drink of the evening.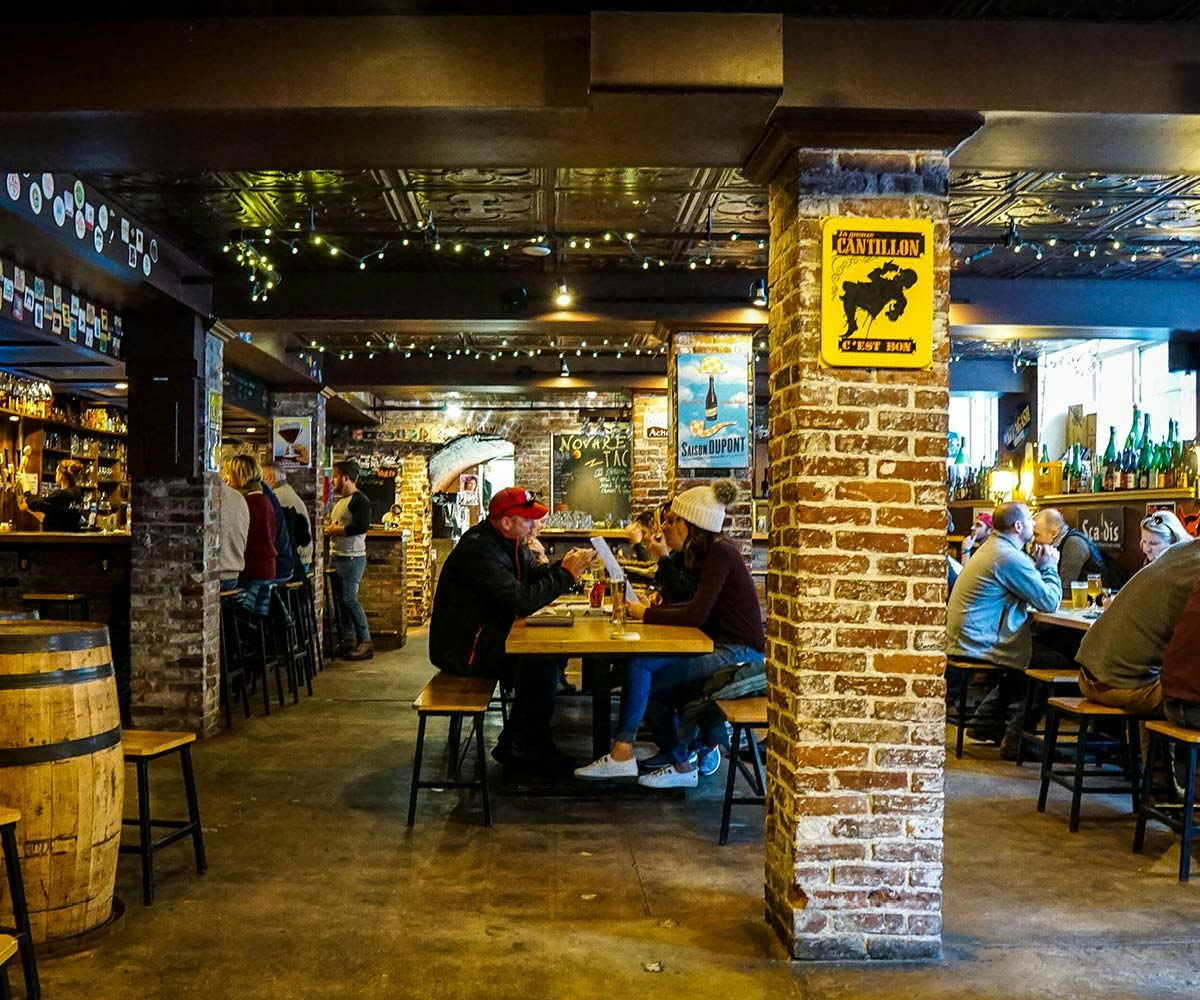 Farther away from the waterfront is Oxbow Blending & Bottling (pictured above), a lively space that celebrates mixed-culture beers, good things from wood, and lagers for those looking for a palate cleanser. The brewery also has its farmhouse location about an hour north, in Newcastle.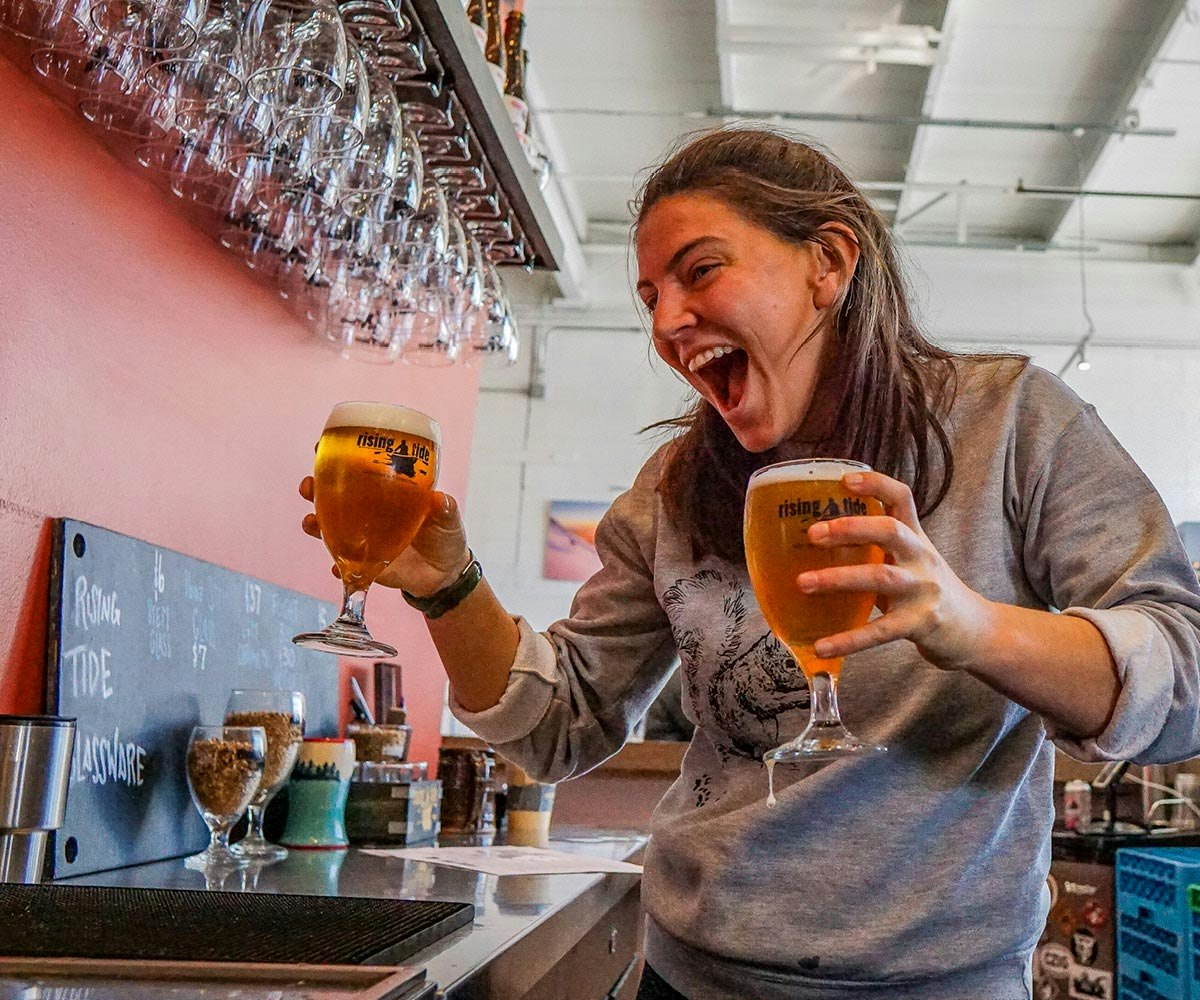 Rising Tide Brewing Co. (pictured above) has become one of the best-known breweries in the state and is a must-visit, thanks to Nathan Sanborn's and his team's commitment to quality. With a healthy focus on rotating and seasonal beers, a bent toward using local ingredients, and snappy goses that make you yearn for a ride at sea, the brewery has become the anchor to a thriving brewery district since they opened a few years back.
The district includes the nearby Goodfire Brewing Co., which, on a recent visit, was pouring a saison that made a perfect companion for sitting on the patio. Across the street is the Urban Farm Fermentory & Gruit Brewing Co. There, in the cave-like taproom, you can sit under the ingredients, such as bog myrtle, that are hanging and drying from the rafters. The cider, mead, and kombucha listed on the chalkboard menu are all also made in-house.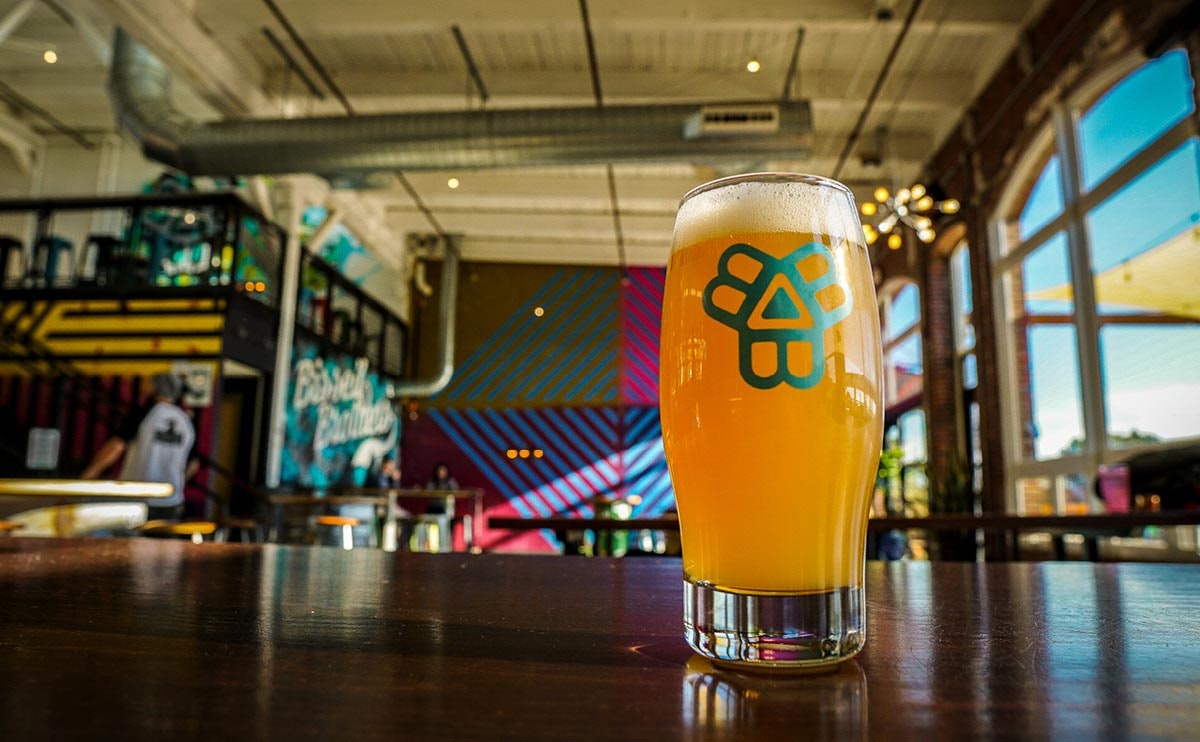 Just outside of downtown, and across the bay from the Jetport, is the house that haze built. The excitement buzzing from fans lined up outside of and around the taproom of Bissell Brothers Brewing Co. (pictured above) is palpable. While there's a focus on the special releases, there's something special about drinking their flagship, The Substance Ale, where it was made or the sessionable Baby Genius, which makes an appearance during the warmer months.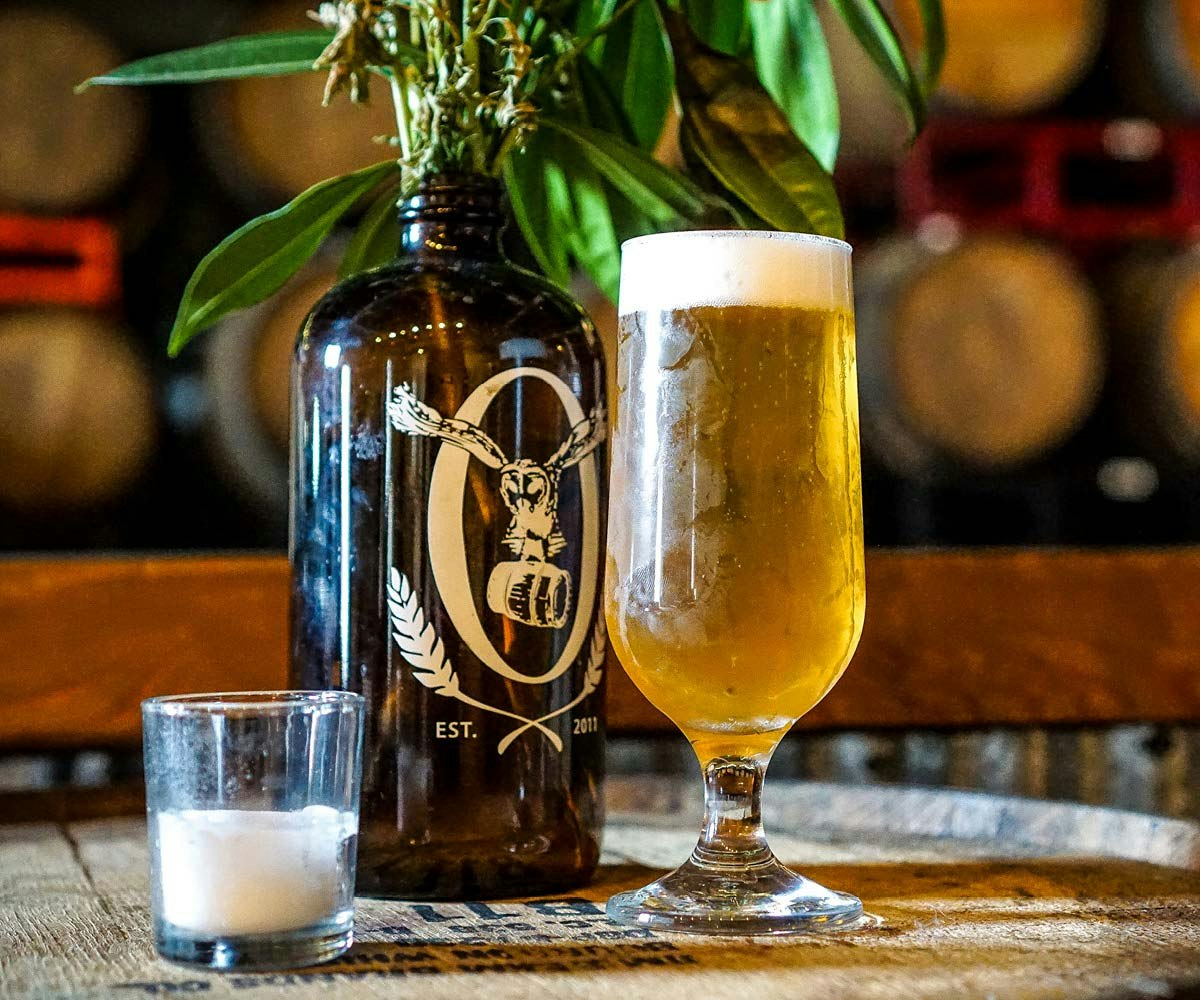 On the bar front, any visit should include a stop at Novare Res Bier Café (pictured above), the city's classic beer bar that boasts one of the best tap lists in the state, a bottle list to match, and is usually the place to find the rare beer you've only heard about but never seen in the wild.
Riverton
A visit to Allagash Brewing Company (pictured at top and above) shouldn't even be a question. The state's largest craft brewery, the one that inspired a generation of drinkers and continues to push the boundary of natural fermentation, is a sight to behold. Free tasters are offered in the taproom and gift shop (there's a daily limit), and the tour takes you through the massive facility and packaging line and into the spontaneous facility where you can see a piece of U.S. beer history with their coolship, now housed in a hushed awe-inspiring building.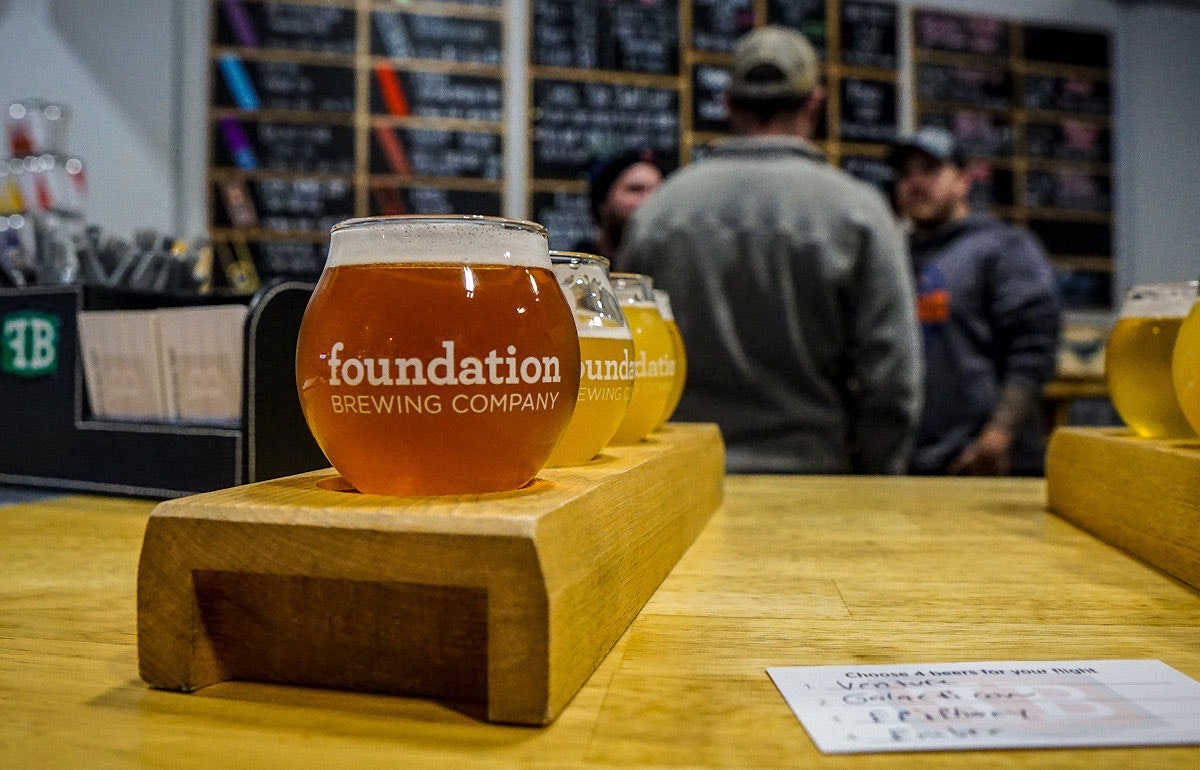 Across the street from the brewery on Industrial Way is a warehouse space that has served over the years as a turnkey location for several breweries (including Bissell Brothers) that quickly outgrew the space and moved to bigger pastures. These days, it's home to Foundation Brewing Company (pictured above), Austin Street Brewery (pictured below), and Battery Steele Brewing. Next door to them is Definitive Brewing Company.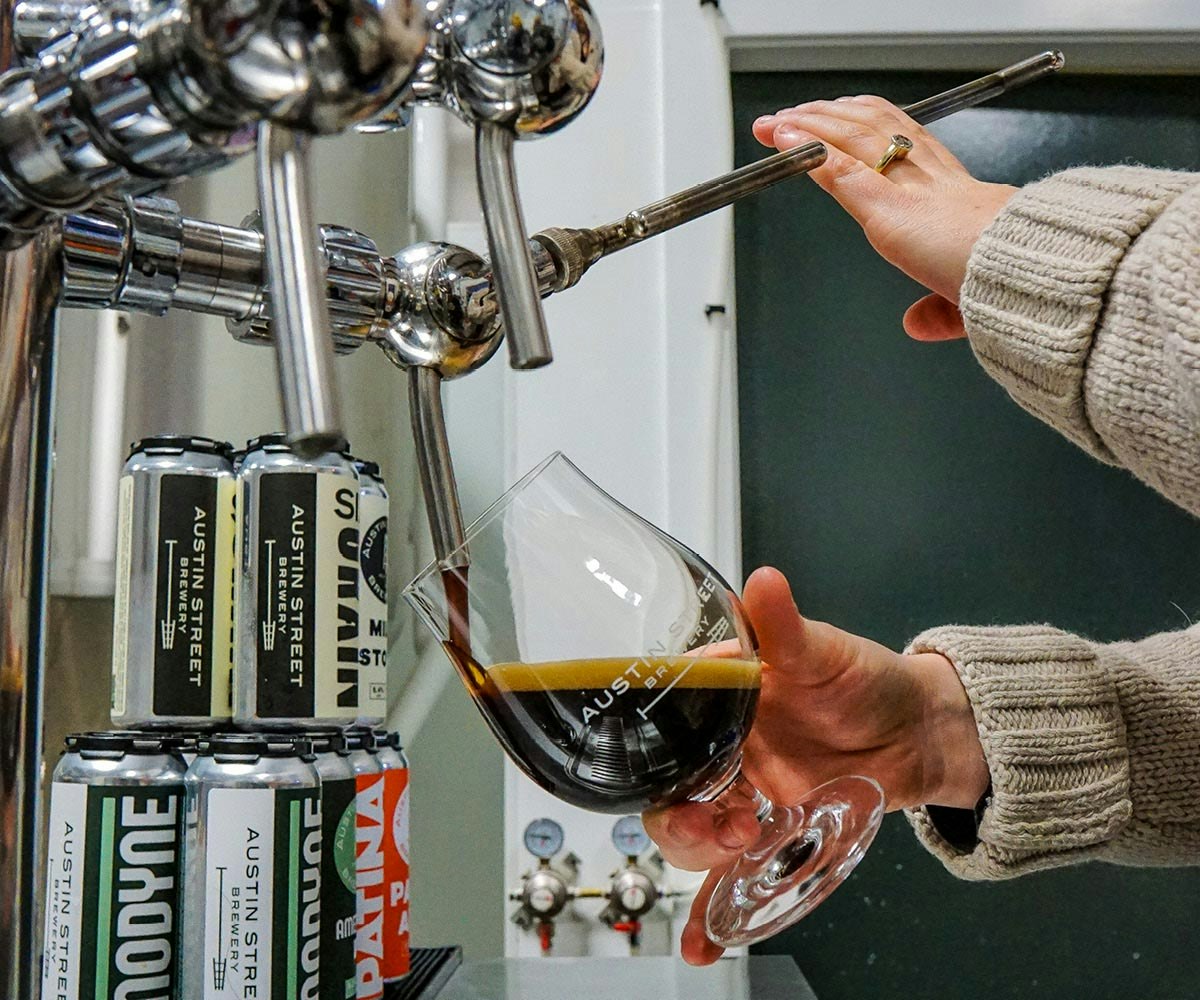 Outside the City
While it can be fun to get absorbed in the life of the artistic port town on vacation, don't forget about the rest of the state. Even if you fly into Portland, rent a car and explore all this state has to offer. Nature-based tourism has become a big industry here, and whether you're fishing, camping, hiking, or biking, there's a good bet a brewery isn't too far away from where you'll be.
To/From Boston
A lot of folks headed to Portland come up Interstate 95 from Boston. While the city of Portsmouth, New Hampshire, also has its fair share of excellent beers stops, Maine welcomes you with open arms, and your first stop should be Tributary Brewing Co. in Kittery. It's the brewery that Tod Mott opened a few years back after helming some of New England's better breweries for a career's worth of time. Here you're going to get solid, traditional, clean, and inspiring ales in an open and bright setting that warms you up even on the coldest of Maine days. His famed imperial stout recipe, once known as Kate the Great, has a home here now but has been renamed Mott the Lesser.
Twenty miles up the road in Wells is Hidden Cove Brewing Co., which has been experimenting with different Italian wine barrels to age everything from porters and stouts to simple blonde ales and then adding everything from fresh strawberries to chile peppers.
The town of Kennebunkport has become a beer destination as well. A handful of breweries are relatively close together, making it perfect for a weekend afternoon excursion. Check out Banded Brewing Co., Nuts & Bolts Brewing, Dirigo Brewing Company, and the Run of the Mill Public House & Brewery located on the island of Saco.
Inland
Further north, Baxter Brewing Co. in Lewiston has been a local favorite and an ambassador across state lines thanks to IPAs such as Hop Tryst or Stowaway. And their lagers and session beers, including a pre-Prohibition porter called Per Diem, are all canned and just right for your next outdoor excursion.
In recent years, the capitol city of Augusta has been catching up to "the other big city" but still has a bit of a way to go. Still, as you wander around town soaking in the history and ambiance of the area, stop into the welcoming The Liberal Cup, a brewpub, or the modern-meets-Main-Street vibe of Cushnoc Brewing Co. where the pizzas are as good as the pints.
If you're headed to Canada, a stop in Caribou should lead you to Northern Maine Brewing Co., which might be the last brewery before you hit the border and is an excellent place for lunch or dinner.
Northern Coastal
Coastal Maine is stunningly beautiful, and it quickly captures the hearts and minds of first-time visitors who often long for a return visit even before the first is over. On your way into this part of the state, a stop in Freeport (home to L.L. Bean where, yes, you can pose with a giant boot outside the entrance) and Maine Beer Company is in order. Well-known hoppy beers such as Lunch or stouts such as Mean Old Tom just taste better at the source, and you can see in person how this brewery is working to make not only their community, but also the planet a better place.
On Route 1, as it turns east toward the sea, there are three breweries in quick succession, Moderation Brewing, Flight Deck Brewing, and Bath Brewing Company. They can tick up your overall count, if you're the type of traveler who keeps track.
This area, while largely seasonal for travelers, seems to be the most robust when it comes to new brewery options. But, if you visit the popular area of Boothbay, visit the Boothbay Craft Brewery, which has been delighting travelers for a few years now and is rapidly growing to new areas of the state through packaged offerings.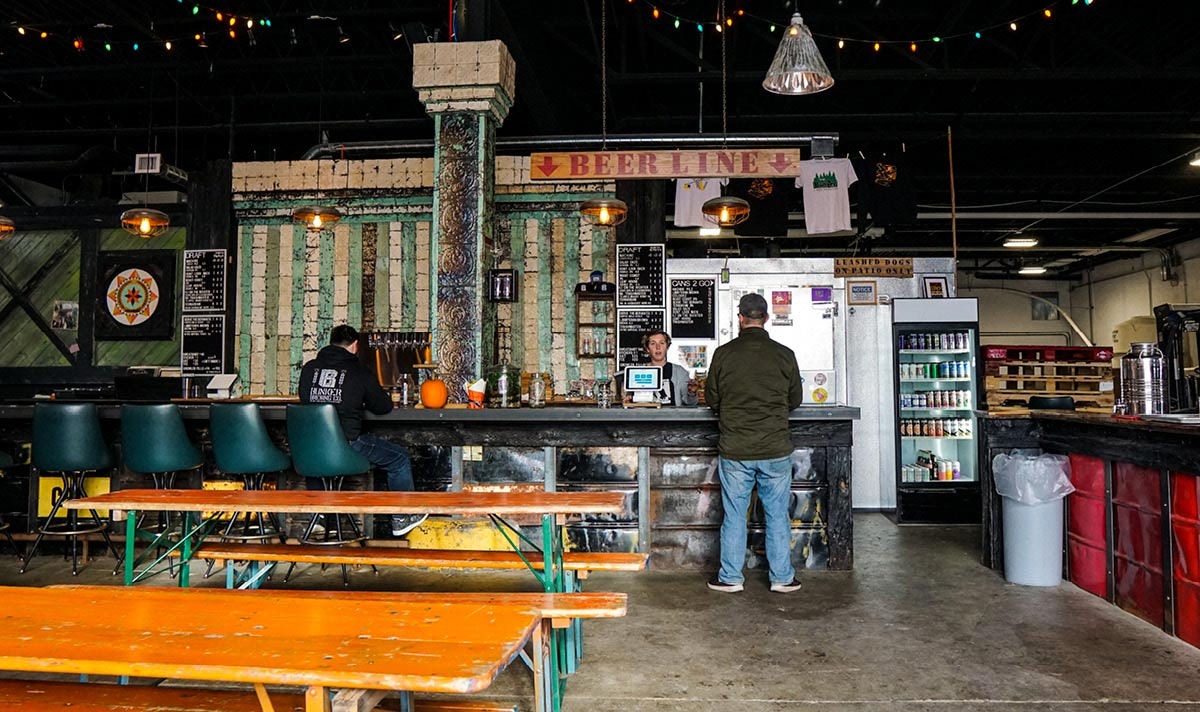 Photos: Mike Sardina