The beer had to be poured through a piece of cheesecloth to strain out crumbled bits of ancient cork. After 15 minutes and four different corkscrews, it became apparent that holding back 10 percent ABV beer for more than 145 years had been too much for the aged stopper. This bottle of the vaunted Ratcliff Ale, a barleywine brewed by Bass in 1869, just four short years after the end of the American Civil War, must have had an Encino Man-moment being poured out into this radically changed world. This bottle was the first (reported) one opened in more than seven years, and accounts of previous tastings were all varying degrees of positive—a notable achievement for any beer aged more than a century. Ratcliff is one of the rarest and most highly sought after vintage beers in the world, not only because of its age, but also because it tastes really, really good.
The English Barleywine
Ask a beer lover his or her favorite cellar-worthy beer, and chances are it's a barleywine. The style is a broadly interpreted one, though, and the various types age differently. The hoppy American barleywines typically show some benefit from a short stint in the cellar, developing pleasant sherry notes and hints of toffee. However, it's the malt-forward English varietal with its wealth of potential aged flavors that has earned barleywines their vintage reputation. Chock-full of fruity esters and initially harsh fusel alcohols, given time these elegant ol' chaps have the building blocks to develop a myriad of flavors such as Madeira, amaretto, figs, and tobacco.
Well-made English barleywines have been known to hold up for decades and, in rare cases, for more than a century. Some of the best-known examples are the Bass Corkers, a series of barleywines crafted by England's famous Burton-On-Trent brewery and of which the Ratcliff Ale is a part. Named such because they were sold in champagne-style bottles with elaborate wax and lead corked seals, Corkers were only made every few decades to mark special occasions and were carefully crafted with the intent to be saved for generations.
Ratcliff was brewed in celebration of the birth of Harry Ratcliff, son of a prominent brewery partner. Other Corkers followed over the years, most notably the 1902 King's Ale, but also lesser known bottles such as the Prince's Ale (1929), Jubilee Ale (1977), Princess Ale (1978), and the Prince William Ale (1982).
According to beer historian Ron Pattinson, these beers were probably around 9–10 percent ABV and almost syrupy with 7–9° Plato of residual sugars. As any beer cellarer knows, high ABV is one key to enabling a barleywine's slow development and, hence, aging potential. The high residual sugar content is another key, as aging beers are prone to thinning. Basically, the Bass brewers knew what they were doing.
Bottle Lineage
The stories behind the acquisition of 100+ year-old beers are often good ones, and this Ratcliff was no exception. In 1924, not long after World War I, a retired British soldier first began work at Bass as a brewery mechanic. He remained a loyal employee his entire life, and as a token of appreciation during the brewery's bicentennial in 1977, he received a bottle of Ratcliff from the brewery cellar stash. He proudly kept the bottle his whole life, even taking it with him when he moved to a retirement home. Sadly, he never drank the gift before his death in 2012, and it ended up at an estate sale.
Enter Kirk Sadler, a beer connoisseur, who happened by the sale. Sadler recognized the bottle and rescued it from ending up at a London antique shop. An international beer trader, he put a feeler out to his American trading partners, Jonah Edwards and Corey McAfee. After short negotiation, forty-five bottles of American beer (the first two years of the Crooked Stave Cellar Reserve and a few miscellaneous whales) were en route to England.
The Tasting
Beer that is aged for more than a century undergoes extreme changes. It will thin, darken, take on sherry and port notes, lose all bright malt or hops flavor, and be left flat with no carbonation. In the best case, it will resemble a fine Amontillado sherry; in the worst, watery soy sauce.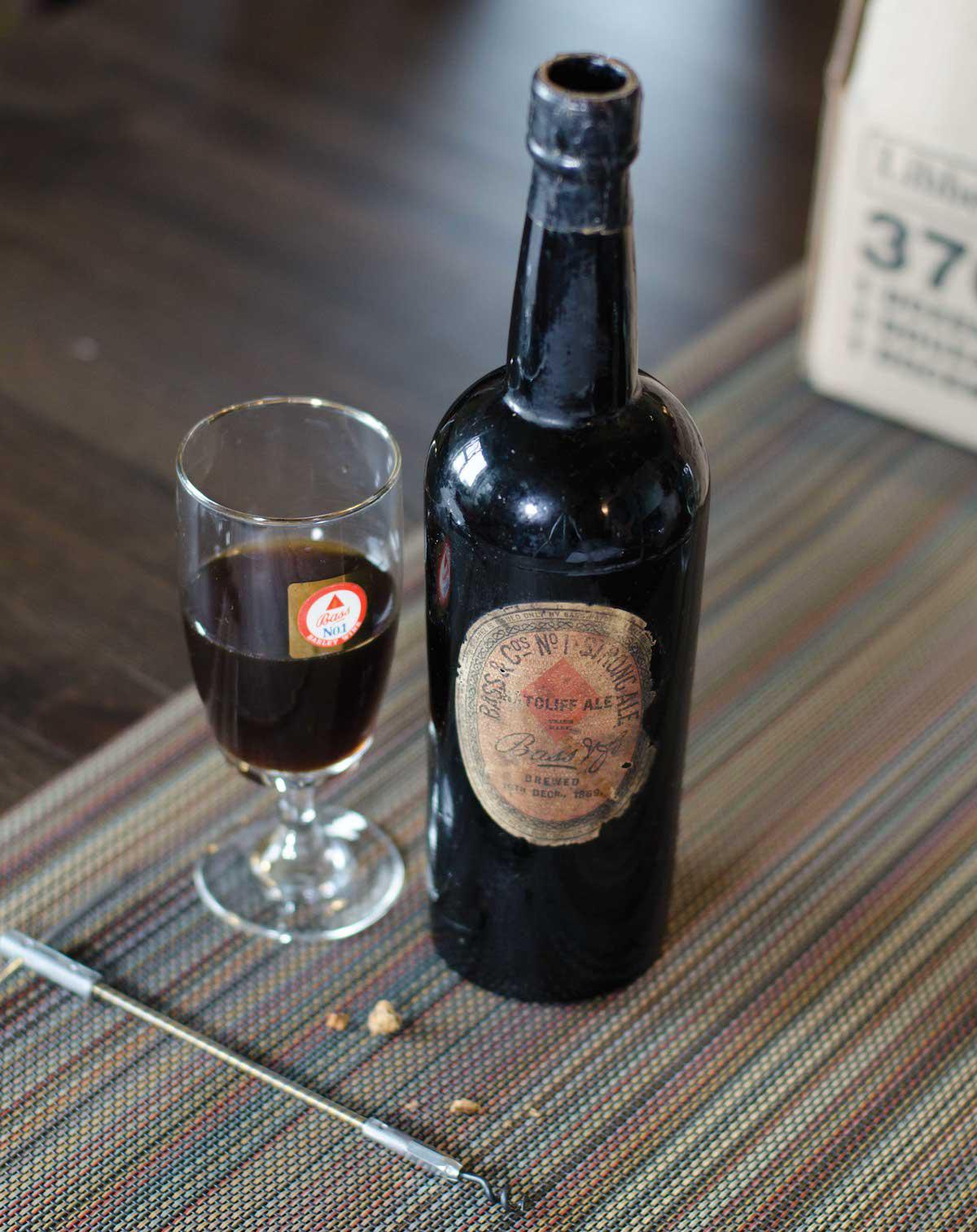 The bottle of Ratcliff was deemed exceptional. Pouring a dark mahogany, a bouquet of blackberry jam, pipe tobacco, and sherry immediately wafted from the glass. The taste profile was dominated by a tart, vinous red fruit presence of merlot and cherries, along with a hint of dried fruit rounded out by a smoky molasses base and a tannic finish. Tasters remarked on the relative lack of stale, papery flavors, describing it as "bright." Overall, it was deemed an extraordinary snifter-worthy beer.
Cellar conditions can mean huge bottle-to-bottle variation in 100+ year-old beers. So it was perhaps due to living most of its life in the cool dark brewery cellar that this beer held up so well.
Beers such as the Ratcliff Ale are a testament to the longevity of superbly crafted barleywines. As the world rediscovers "real" beer, concepts such as cellaring are being revived, and vintage beer is once again beginning to flourish. One can only hope that the beers of our generation will tell our story 150 years from now.
Keeping Good Company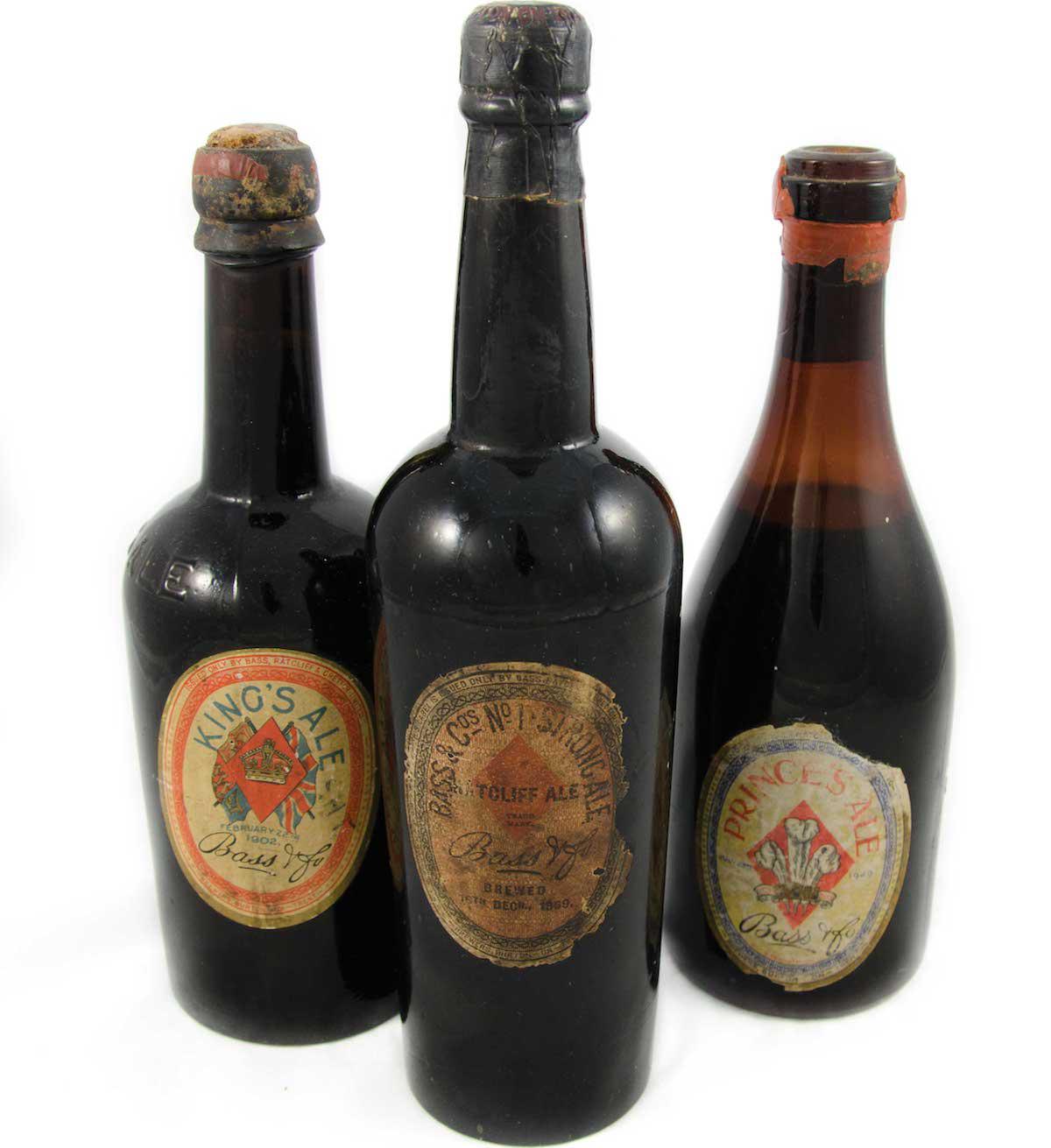 Three Bass Corkers were opened at the tasting. Here are the tasting notes.
Ratcliff Ale (1869)
Aroma: None of the initial mustiness that usually needs to be decanted off beers twenty-plus years old. Pipe tobacco, stewed plums, blackberry jam, marmalade, and a hint of brine.
Flavor: Quick stab of cherries, followed by port, molasses, smoke. Umami presence with a tannic red wine finish.
Overall: Aged impressively well. One taster noted, "I just want to savor this; it's so good." Co-bottle owner Jonah Edwards said, "I couldn't be happier . . . that it was a great bottle."
King's Ale (1902)
Aroma: Initially herbal with a spritz of chlorine, but after decanting for twenty minutes became dominated by compost, beef broth, and black currant.
Flavor: Oversteeped black tea, ocean water, and molasses, but as it had time to breathe the profile took on prune, wet tobacco, and balsamic vinegar.
Overall: While other bottles of Kings Ale have reportedly aged well, this one did not. "Smells moldy, with a rhino cage kind of flavor," said one taster.
Prince's Ale (1929)
Aroma: Pecans, prunes, raisins, steeping tea, and touch of marmite.
Flavor: A malty base with notes of cellar must, salted caramel, and lightly tart finish. Syrupy mouthfeel.
Overall: Distinctly beer-like as opposed to the sherry/port nature of many very old vintage beers. "This one actually tastes like a barleywine," remarked Corey McAfee.
Get more comprehensive features on beer styles, ingredients, and techniques, dozens of beer reviews, advice from world-class brewers, and tips for getting the most out of your brewing in every issue of Craft Beer & Brewing Magazine®. Subscribe today!