Butcher & the Boar
Minneapolis, Minnesota
No matter where you look on the menu, you'll find thoughtful and tempting offerings. Parings are celebrated but not forced, and it's a restaurant that is just right for that next special occasion.
What it is: Butcher & the Boar is a celebration of meat, great beer, and comradery. With a menu that is designed for table sharing as well as a personal dining experience, this well-known and well-loved restaurant in downtown Minneapolis is near the top of every local beer lover's list for out-of-towners. The beer list is broken down with broad strokes and is a mix of local, national, and international offerings. The wine list is worth a look, and if you're taking the next day off from work, don't pass up the cocktails.
Why it's great: A lot of restaurants call themselves a steak house. It doesn't always mean that you get the full experience. Here, you do—from the choice cuts, hand selected from local farms, to the decadent sides built for sharing and the attentive service that knows every angle of the menu and can offer expert pairing suggestions. It can certainly ding the wallet, depending on how deep you go, but knowing that going in should lead to satisfaction at the end of the night. Oh, and did you like that sausage on the sampler platter? You can buy some to take home. —John Holl
Shoes & Brews
Longmont, Colorado
Combining two passions led to the creation of this hybrid bar and nanobrewery. Cool your heels with a pint or outfit your feet for the next run so you can earn future beers. This bar has you covered.
What it is: Whether Shoes & Brews is a shoe store with a beer bar in the back or a taproom with a running store up front depends on your perspective (and which door you enter). Shoes & Brews was founded by some beer-loving runners from Colorado State University, and their passions are fifty-fifty as both halves of the operation are taken quite seriously and appeal to the consumer who loves only one of the facets. So even if you're averse to moving faster than walking, the twenty-tap bar and nanobrewery (there are always two to four house-brewed beers on draft) are just your speed.
Why it's great: The focus on all the wares is hyperlocal. You'll find shoes from Colorado's shoe manufacturer (Newton Running) but not the biggie with the swoosh. Likewise, all the taps are devoted to Colorado breweries, and they even have a fan-turned-employee who carts in his single-barrel system to brew anything he wants, such as a Lime-Coconut IPA or Norwegian gruit. Wednesdays and Thursdays, they host social runs (starting and, more importantly, finishing at the bar). The patio is for everyone, including kids and canines. —Brian Yaeger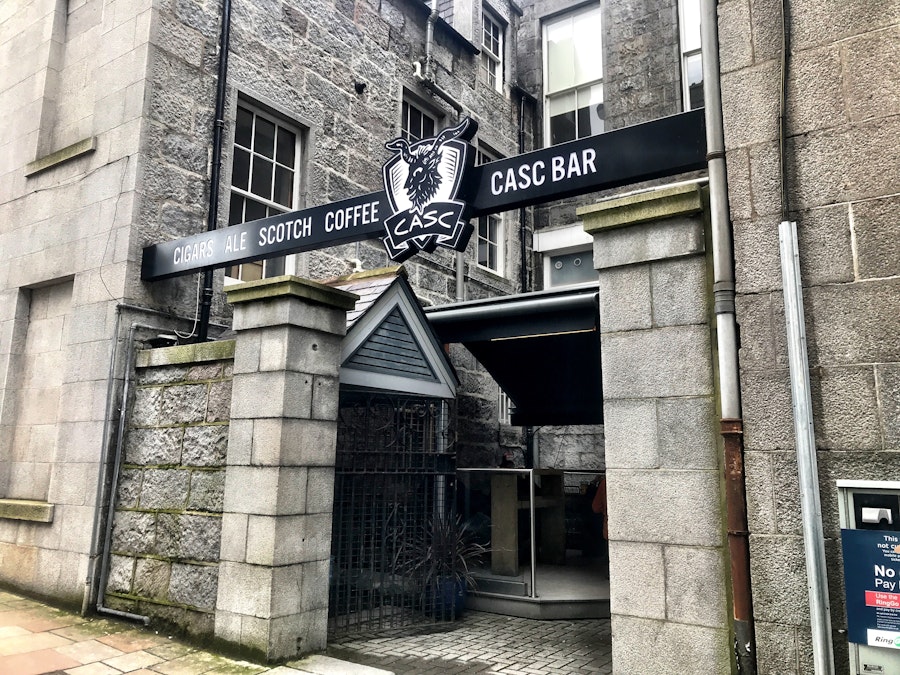 CASC
Aberdeen, Scotland
A place to indulge many vices at once. An extensive beer list, drams of whiskey, and cigars are all under one roof to create a spot that you won't soon forget.
What it is: "CASC" stands for cigars, ale, Scotch, and coffee. In a city that has been home to people for more than 8,000 years and located in its historic Merchant Quarter, CASC brings modern hedonism to the people of Aberdeen. Food is restricted to simple cheese and charcuterie platters, but the focus of CASC is life's more sensuous pleasures.
Why it's great: The first modern beer bar in this northeast Scottish city features twenty-eight taps of (mostly) Britain's biggest names in craft beer. The electronic beer list is color-coded to help you find a beer to your liking. In addition, dozens of canned and bottled beers are available to have at CASC or to take away. And if that weren't enough, there are more than 200 whiskies (not just Scotch) and a selection of coffee beans and brewing methods. About 100 cigars are kept in a walk-in humidor and can be smoked on the outdoor covered patio. —Don Tse