It's our favorite time of year once again—Girl Scout Cookies are here! We've added new editors' picks of great beers to celebrate the season with and a collection of cookie-and-beer pairings we compiled from around the web. Let's hear your favorite pairings!
S'Mores
S'Mores comes in two versions based on local availability. One is a graham cookie that's been dipped twice in a crème icing before it's covered in a delicious chocolate blanket, and the other is a graham cracker sandwich filled with chocolate and marshmallow filling. While you could complement the chocolate, graham cracker, and marshmallow with a sweet or roasty stout, we recommend going with a contrasting pairing of a tart, fruity sour.
Upland Brewing Blackberry
Epic Sour Brainless on Peaches
Breakside Brewery Passionfruit Sour Ale
Caramel de-Lites /Samoas
Match the toasted coconut of these cookies with even more toasted coconut and the roasted caramel flavors in these beers.
Westbrook Brewing Co. 4th Anniversary Chocolate Coconut Almond Imperial Stout
Dragon's Milk Reserve Coconut Rum Barrel
Prairie Artisan Ales Prairie Paradise
Modern Times Beer Monsters' Park (Bourbon Barrel w/ Coconut & Cocoa Nibs)
Thin Mints
These dark and roasty stouts deliver a mouthfeel that pairs well with the crisp, minty crunch of the wafer cookie (especially if you keep your Thin Mints in the freezer). Consider yourself warned, though, as these beers range from 9—20 percent ABV and you'll likely find yourself reaching for a second sleeve of cookies in record time.
Great Divide Oak Aged Yeti
Lemonades
The shortbread texture of the cookies and lemon flavors in the icing make an excellent contrasting duo for these citrusy IPAs and pale ales.
New Belgium Citradelic
Maine Beer Company Lunch
Green Flash Brewing Soul Style
Lagunitas Citrusinensis Pale Ale
Shortbread/Trefoil Cookies
Stick with tradition by pairing these classic cookies with traditional beer styles such as Baltic porter's cheek-warming notes of dark fruits and coffee or a Scottish ale with notes of cocoa and coffee and a dash of smoke.
Uinta Brewing Company Sea Legs
Fat Head's Brewery Battleaxe Baltic Porter
Founders Brewing Co. Backwoods Bastard
Surly Brewing Simpson's Scottish Ale
Alaskan Brewing Smoked Porter
Do-Si-Dos/Peanut Butter Sandwich
Let the flavors of the Do-Si-Dos dance with the balance and rich texture of these malty lagers.
Karbach Brewing Mother In Lager
Mikkeller American Dream
Devils Backbone Brewing Vienna Lager
Kansas City Bier Company Dunkel
Savannah Smiles
Push aside that lemon wedge you occasionally put in your beer and, if you must add a wedge, consider accenting your beer with a Savannah Smiles instead. The lemon-flavored cookie wedges have been dusted with powdered sugar and pair well with these witbiers and bières de miel.
To Ǿl Wbeer Witbier
Door County Brewing Big Sister Witbier
Avery Brewing Liliko'I Kepolo
Side Project Brewing Bière Blanche
Cranberry Citrus Crisps
Try these bières de garde for toffee notes and a subtle spice from farmhouse ale yeast that plays nicely with the cranberry inundated cookies. Make sure to let these beers warm up a little for maximum intensity.
Ponysaurus Brewing Co. Bière De Garde
Jack's Abby with Stoneface Brewing Friend Request
Scratch Brewing Chanterelle
Creature Comforts Before the Wood
Tagalongs/Peanut Butter Patties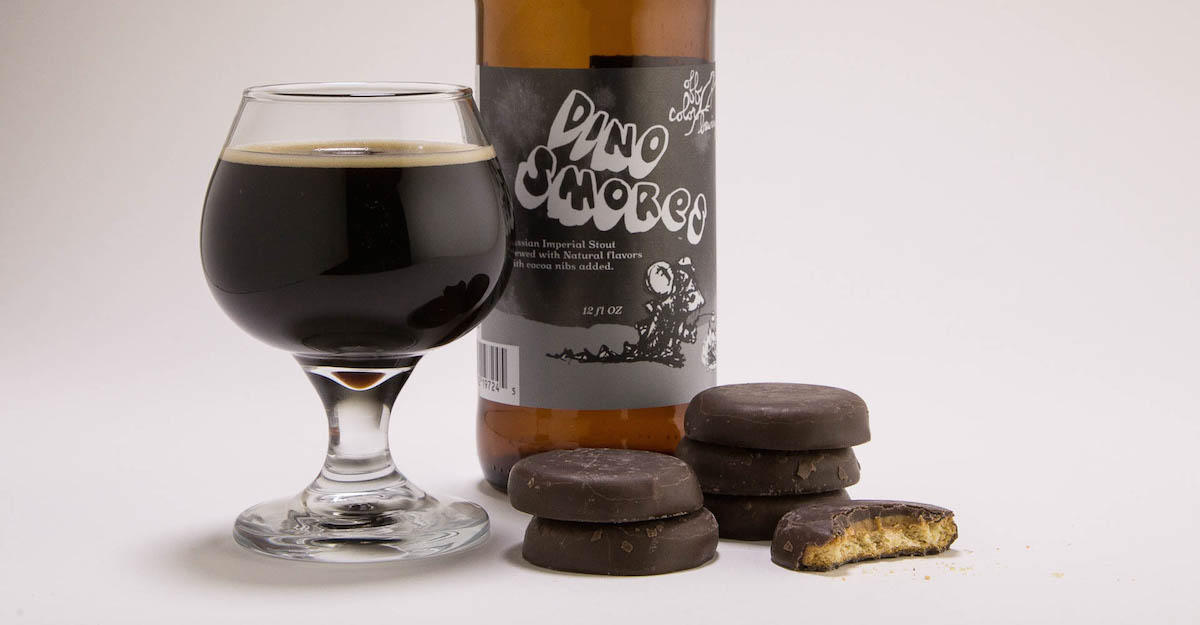 The vanilla, chocolate, and peanut butter flavors from the Tagalongs sound like adjuncts in a stout. So grab these flavor-filled stouts to heighten the insanity of this pairing.
Funky Buddha S'mores Stout
Belching Beaver Brewery Peanut Butter Milk Stout
Evil Twin Imperial Biscotti Break
Horse & Dragon Brewing Sad Panda
Rah Rah Raisins
You'll definitely be cheering when you pair these oatmeal cookies loaded with raisins and Greek yogurt–flavored chunks with these complementing sour brown ales filled with dark fruit flavors.
Monk's Café Flemish Sour Ale
Bruery Terreux Gypsy Tart
Stone Brewing Barrel-Aged Brown Ale w/Balaton Sour Cherries
pFriem Flanders Red
Thanks-A-Lot
These shortbread cookies have had one side dunked in chocolate fudge. Keep the two-faced theme going by pairing with a contrasting beer such as these imperial IPAs.
Great Lakes Brewing Co. Lake Erie Monster
Harpoon Brewery Leviathan IPA
Ska Brewing Decadent Imperial IPA
Or reinforce the cookie flavors with the roasted goodness and creamy mouthfeel of these milk stouts.
Elysian Brewing Split Shot
Flying Monkeys The Chocolate Manifesto Triple Chocolate Milk Stout
Dangerous Man Brewing Co. Chocolate Milk Stout
Trios
These gluten-free whole-grain cookies are made with oats, chocolate chips, and peanut butter. Pair these with a gluten-free or a gluten-reduced beer for a gluten-less spectrum of flavor.
To Ǿl Reparationsbajer
Wicked Weed Brewing Gluten FREEk
Ghostfish Brewing Company Peak Buster
Shubrew Glutenous Maximus with Ethopian Espresso
Toffee-tastic
These gluten-free butter cookies, offered only in select areas, are loaded with bits of toffee, and beer lovers can harmonize with the bread and toffee flavors of the cookie.
Or they can stray away from full-on gluten abstinence with these beers.
Deschutes Not the Stoic
Elevation Apis IV
Suggestions from The Beer Chicks include these pairings:
Central Track's Melissa Mackaly suggests these pairings:
Suggestions from the Brooklyn Brewshop include these pairings:
And finally, Flying Dog Brewery includes the following pairings with its own beers:
Trefoils with Pearl Necklace Oyster Stout
Do-Si-Dos with Lucky SOB Irish Red Ale
Samoas with Raging Bitch Belgian-Style IPA
Tagalongs with Gonzo Imperial Porter
Thin Mints with Kujo Imperial Coffee Stout
Find a Girl Scout, order some cookies, and let us know which beer you pair with your favorites. Like Craft Beer & Brewing on Facebook to stay up to date with all of the latest in beer & brewing.