Oud Beersel Oude Geuze Vieille
(Beersel, Flemish Brabant, Belgium)
The sensory experience of a great gueuze can electrify new synapses for those who've never tasted it—the first astral journey, personally unique. The complexity is such that no two people perceive gueuze in the same way—and even for one, the rocket-ship ride often takes a totally different route the next time you board. That makes it all the more impressive that we, as drinkers—using different words to describe our experiences—all return to Earth and agree on its excellence.
Oud Beersel's flagship is one of the most award-winning drinks on the planet over the past couple of decades. Owner-blender Gert Christiaens rescued the brand from purgatory in 2002 and has guided it down an increasingly confident path. While aging and blending lambics brewed to his recipe at Boon, he's added a few creative flourishes along the way—such as lambics with rhubarb or green walnuts—but he never stopped fine-tuning the classic flagship product.
Our judges this year—as always, not knowing what they're drinking—described notes of black pepper, peach, tart cherry, lemon, papaya, guava, light leather, and wet hay, with a moderate, balanced acidity. Your own journey will vary, but the panel confirmed what we already knew—"fantastic start to finish … incredible, an amazing beer"—while awarding it a top score of 100.
Fonta Flora Double Decoy
(Nebo, North Carolina)
Fonta Flora has a knack for making off-kilter beers with unexpected ingredients, yet they do so in a way that's as crowd-pleasing as it is creative, imbuing these quirky choices with layers of relevance not always perceptible to the consumer. From Mexican-style lager with lime (made with locally grown corn) to oyster pils to hazy double IPA with honey and earthy spiced and fruited farmhouse-style beers, they've built a wide ingredient canon that ultimately serves their flavor philosophy.
The not-so-secret secret is, of course, intention, as cofounder Todd Boera and head brewer Jeremy Inzer build beers that not only express principles, but also offer captivating flavors. That flavor magic is at work in Double Decoy, a decidedly mainstream double barrel-aged stout from the farmhouse brewery in the Blue Ridge Mountains, about an hour east of Asheville.
Despite hewing closely to more established norms in the barrel-aged stout space, Double Decoy expresses a level of polish and elegance not often found in such beers. We noted rich leather and molasses, vinous red fruit, and nutty chocolate roast in the aroma, but it's not simply the notes themselves but the tight concert in which they play. A light honey sweetness in the sip is balanced by a dry-roast peanut note. It swells and ebbs with thoughtful and considered dark intensity—brooding, yes, but exquisite in execution.
Otherlands Haładuda Specjal
(Bellingham, Washington)
While more American brewers embrace lager these days, few do so with the aplomb of Otherlands, open only since 2020. Karolina Lobrow and Ben Howe have built a destination brewery in the far northwest corner of the lower 48, offering a homey café, family recipes, and flavorful, foam-topped lagers that fellow brewers can't stop talking about.
With a crystal-clear idea of what he wants to drink and a willingness to avoid modern shortcuts, Howe is using his favorite continental malts and old-fashioned methods—yes, this is a house of decoction and side-pulls—to brew lagers that could hold their own with the best of Czechia and Franconia. Or, in this case, Poland.
Celebrating Lobrow's Polish family, the Haładuda Specjal combines Czech malts with Polish hops in a light frame—just 4.4 percent ABV, drinking easily despite its depth. A strand of pure, lightest-honey malt balances perfectly with a quick, fine bitterness, binding seamlessly with aromatically sweet, freshly floral Lublin hops, swirling together into a dry finish that simply leaves you wanting more. Immaculate and characterful, this beer is a delicious testament to knowing what works and brewing it the hard way.
Also see the print edition, available now, for a homebrew-scale recipe from Otherlands!
Halfway Crooks Sanguine
(Atlanta)
In the history of our Pick 6 department, one of the beers most often selected—up there with Sierra Nevada Pale Ale and Orval—is Taras Boulba, from the Brasserie de la Senne in Brussels. It is the consummate brewer's beer, delivering a flavor that brewers love but can't seem to find elsewhere. When you drink one, you think, "Why aren't there more dry, bitter beers that pack in this much Noble-hop flavor?"
Then, when you drink a Halfway Crooks Sanguine, you think, "No, really, why aren't there more dry, bitter beers that pack in this much Noble-hop flavor?"
A consensus pick at our Best in Beer panel, nobody was shocked when the brewer turned out to be Halfway Crooks. Our only surprise was that our highest-marks Halfway Crooks beer wasn't one of the lagers, for which they've developed a justifiably strong reputation. Sanguine, instead, balances moderately expressive fermentation—some fruity esters and a light touch of spice—with zesty hops. Lemon, lime, herbs, and pepper sprawl across the canvas of lightly sweet pilsner malt, before the bitterness takes charge and keeps you coming back. Honestly, we can't wait to drink it again.
Phase Three P3 Czech-Style Dark Lager
(Lake Zurich, Illinois)
A Phase Three beer makes this list, but it's not a stout? There would be plenty of reason to expect one, since their Eunoia series has produced some utterly captivating expressions of barrel-aged stout. Yet, while cofounder Shaun Berns is known for his biggest beers and more hype-focused styles such as hazy IPA, he's also been quietly and methodically focusing on the brewery's lager program, winning praise for them in a metro area that's dense with great craft lagers.
Phase Three's Czech-style dark lager strays a bit from the purely Czech playbook, engaging the aroma with a bit of porter-like roast and chocolate and just a bit of sulfur. But those stronger aromas don't manifest in the flavor, leaving bread crust, milk chocolate, and a toasty malt note with a pleasant floral and spicy hop edge that's more structured than crisp. Darker malt notes remain more insinuation than enunciation, a firm hug rather than a deep dive. It finishes dry, of course, adhering tightly to the European idea that the best beer is one that can be consumed several at a time, yet it's anything but forgettable.
While the beer-trading world may overlook this beer in favor of Phase Three's more extravagant offerings, it's every bit as much a showcase of their intensive focus on quality in ingredients, recipes, and techniques.
Highland Park Competition IPA
(Los Angeles)
Let's get this out of the way: This beer, as with all Highland Park IPAs, is fermented with a version of the classic Weihenstephan 34/70 lager yeast strain. They quietly started doing that a few years ago because they loved what that yeast does for these hop-forward beers when fermented on the warmer side (warmer for lager yeast, anyway). Lower esters, a tad more sulfur, and a clean, direct expression of hops are hallmarks of their IPAs, and their process has inspired others, such as Firestone Walker, to explore IPA fermentations with lager yeast.
Does this make them lagers? Let's bypass that pedantic argument for the time being and instead focus on what makes a beer such as Competition IPA—or their World Beer Cup gold medal–winning Hello, LA, for that matter—so compelling. For us, it's the ripe interplay of bright and light tropical fruit notes—tangerine and mango—with an almost deceptively clean bitterness that's so precise it virtually sutures as it cuts. Pine forest plays with tropical fruit in the aroma for a bit of nostalgic grounding, but the effect is light and airy, like minimalist Scandinavian modernism. Their approach clearly works, and it highlights everything we love about West Coast IPA.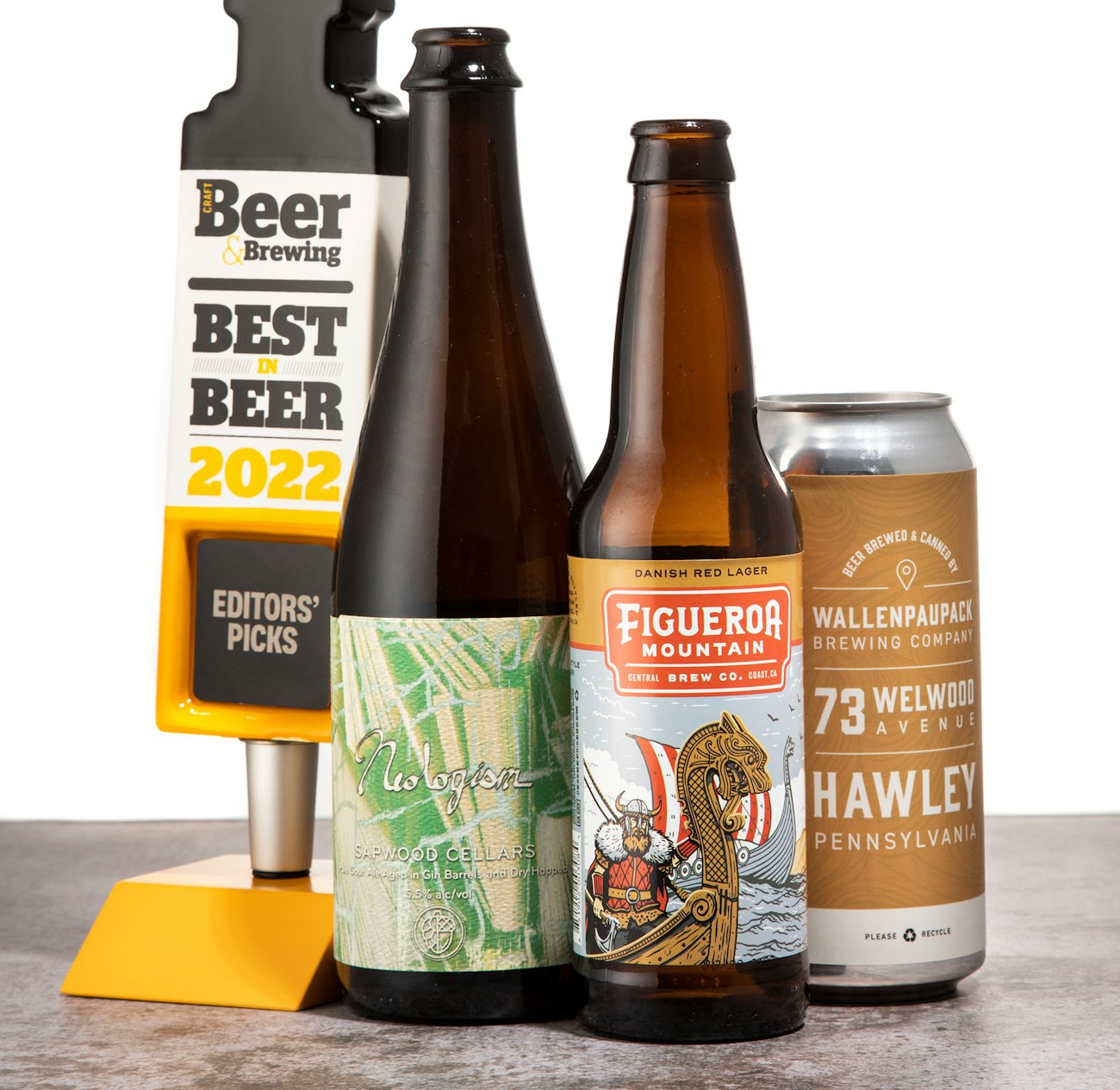 Sapwood Cellars Neologism
(Columbia, Maryland)
From a brewery that combines the knowhow of cofounders Scott Janish and Michael Tonsmeire—authors of The New IPA and American Sour Beers, respectively—comes this stunning amalgam of their expertise. It's a mid-strength (5.5 percent ABV) golden ale aged in gin barrels with a mixed culture, then dry hopped with Cascade Cryo and Simcoe Cryo; there are all sorts of places where things could have gone wrong or where any single element might have poked out more than the rest, sending the whole ship careening out of balance.
In the nose, pine needles, orange peels, a squeeze of lemon, apricot, and white wine—disparate products of hops, Brett, and gin botanicals—all dovetail into a cohesive and enticing aroma. The flavor is tangy—tart, moderate, quenching—evoking a fresh-lime long-drink cocktail, juicy through the middle, titillating, yet never sharp. A wisp of tannin is just the faint memory of oak. Despite the intensity and complexity, not only is the beer beautifully balanced and integrated, it also happens to be highly refreshing.
The scary thing is, we suspect these guys are just beginning to find their rhythm.
Figueroa Mountain Danish Red Lager
(Buellton, California)
Already a highly decorated beer—with one World Beer Cup and three Great American Beer Festival medals to its name, among others—this smooth malt showcase strolled into our blind-tasting chamber earlier this year and sashayed out with one of the highest scores in our lager issue. A few months later, when our Best in Beer panel tasted it again, there was simply no doubt that it belonged here.
With its brilliant copper-red body topped with a cap of resilient foam, the nose politely suggests almonds and graham crackers, verging toward a hint of berry. The flavor is a master class in round balance, with a moderate malt sweetness kept honest by a low, smooth bitterness and clean, dry-enough finish. (Its double-decoction might have a little something to with how it packs plenty of toasty, toffee-like depth into such a drinkable, gravity-defying frame.) A wallflower with an edge, the beer offers plenty of character if you slow down, zoom in, and pay attention—yet it's so undemanding, you might be two or three pints in before you remember to do so.
Wallenpaupack Hawley Hefeweizen
(Hawley, Pennsylvania)
This is only the third time in seven years that a hefeweizen has made our best list, and Hawley Hefeweizen is in great company—the other two were Sierra Nevada and Weihenstephan's Braupakt, and Live Oak Hefe. While Wallenpaupack's unfiltered wheat strays a bit from the classical structure of the other two, with light tropical-fruit and a floral lavender tinge, it keeps the fluffy malt flavor firmly under control with light peppery phenols and a brisk finishing dryness. Hefe can get a bad rap for excessive banana and clove in the fermentation, but Hawley Hefeweizen skirts that debate entirely with its tropical-floral-herbal orientation and smart structure.
We've had some great beers from Wallenpaupack over the past few years, from traditional implementations—such as Talkback Saison and No Frills Pils—to more boundary-defying beers, such as the coffee-infused IPA Lake Haze #15. Yet their dogged approach to execution makes for great beers, no matter where they land on the creative spectrum.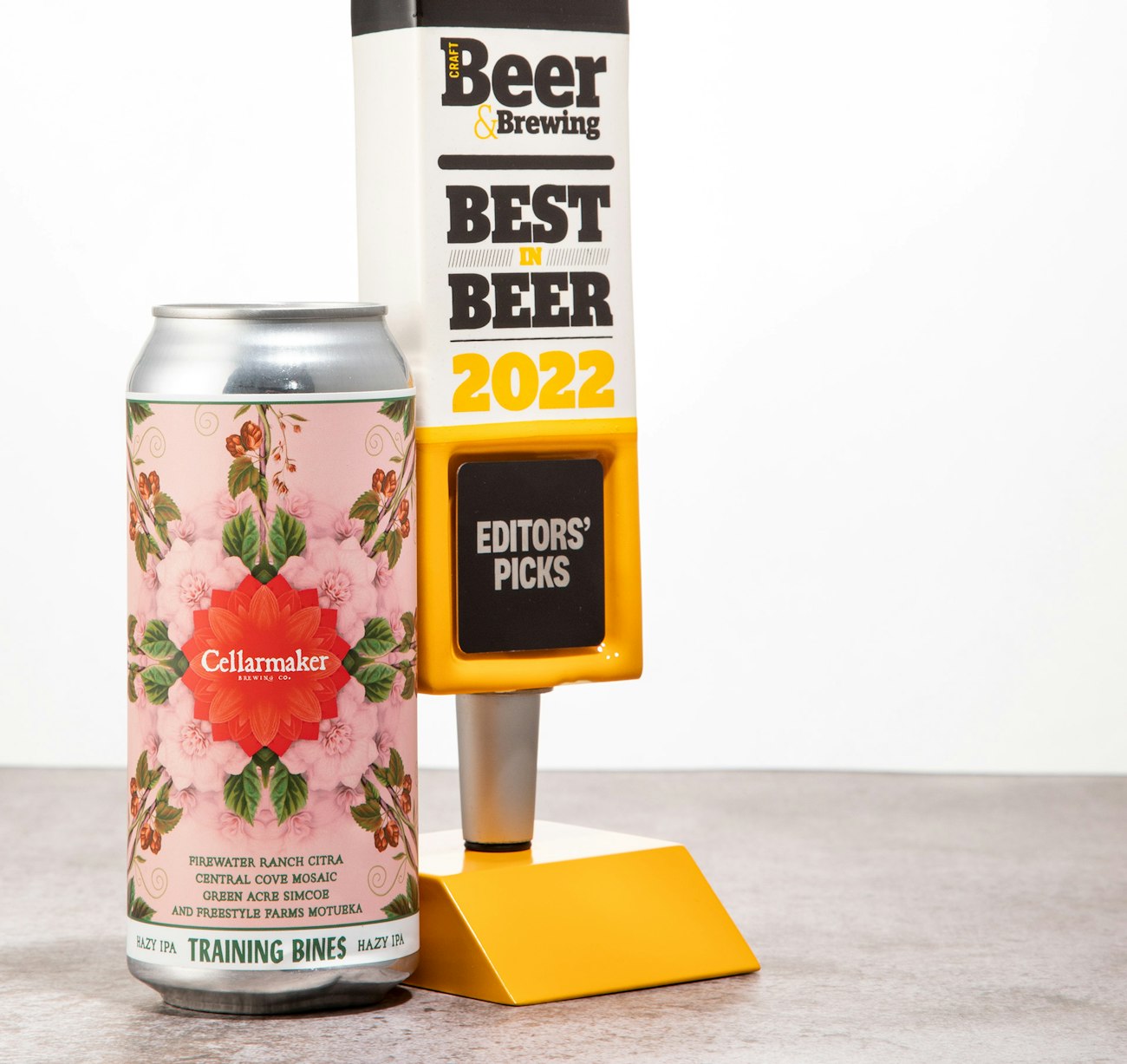 Cellarmaker Training Bines
(San Francisco)
Culturally speaking, collaboration beers are a cornerstone of the craft movement. Few things sum up the spirit of camaraderie and mutual improvement like collabs. However, while many achieve—how should we say it?—moderate goals, at best, certain team-ups rise above the noise and become things of note.
The crew behind this collaboration series—Pinthouse, Green Cheek, Cellarmaker, Cloudburst, Alvarado Street, and Highland Park—are no strangers to Craft Beer & Brewing Magazine® Beer of the Year honors, individually. In fact, our inclusion of this beer, this year—and Highland Park elsewhere on this year's list—means that every one of them has received such a nod. As such, it's reasonable to have high expectations. This group has collaborated before—they take turns, each brewing a marquis recipe from one of their breweries—and past iterations of this brewing brain trust have resulted in strange effects, such as Pinthouse winning GABF silver for Highland Park's groundbreaking Timbo Pils. It's in that spirit that we give the nod to Cellarmaker's take on Training Bines, a recipe and beer that came from Pinthouse.
Of note: For the past two iterations of this collaboration, the entire group has sent their beers to Craft Beer & Brewing Magazine®, and we've placed them all in front of our blind panel for head-to-head judging. In 2021, it was Cellarmaker's You've Got Pale recipe, and our judges chose Cloudburst as their favorite version. This year, the submissions arrived with those for our IPA issue, and we committed to printing only the top scorer of the six in the magazine. In a fascinating turn, it was Cellarmaker's iteration that captured the imagination of our judges, and the score of 99, among some very pointed competition, earned it top honors—not just among the collaborating breweries, but also among all the hazy IPAs we tasted for the issue.
The idea was to explore the impact of hop and malt selection on a recipe, and this verison of Training Bines does just that—highlighting not just the quality of Cellarmaker's hop selections, but also their expressive way of capturing the very best that great hops have to offer. As of this writing, we're drinking a six-month-old can of the beer that's been lingering in the office fridge. While the bright melon and yuzu notes have softened with a touch of spicy berry, it's as fresh and vibrant in the aroma as ever—a testament to the integrity of ingredients and process.
Cellarmaker's use of hops routinely surprises and delights us, and this iteration of Training Bines is a perfect example of why.
Also see the print edition, available now, for a homebrew-scale recipe!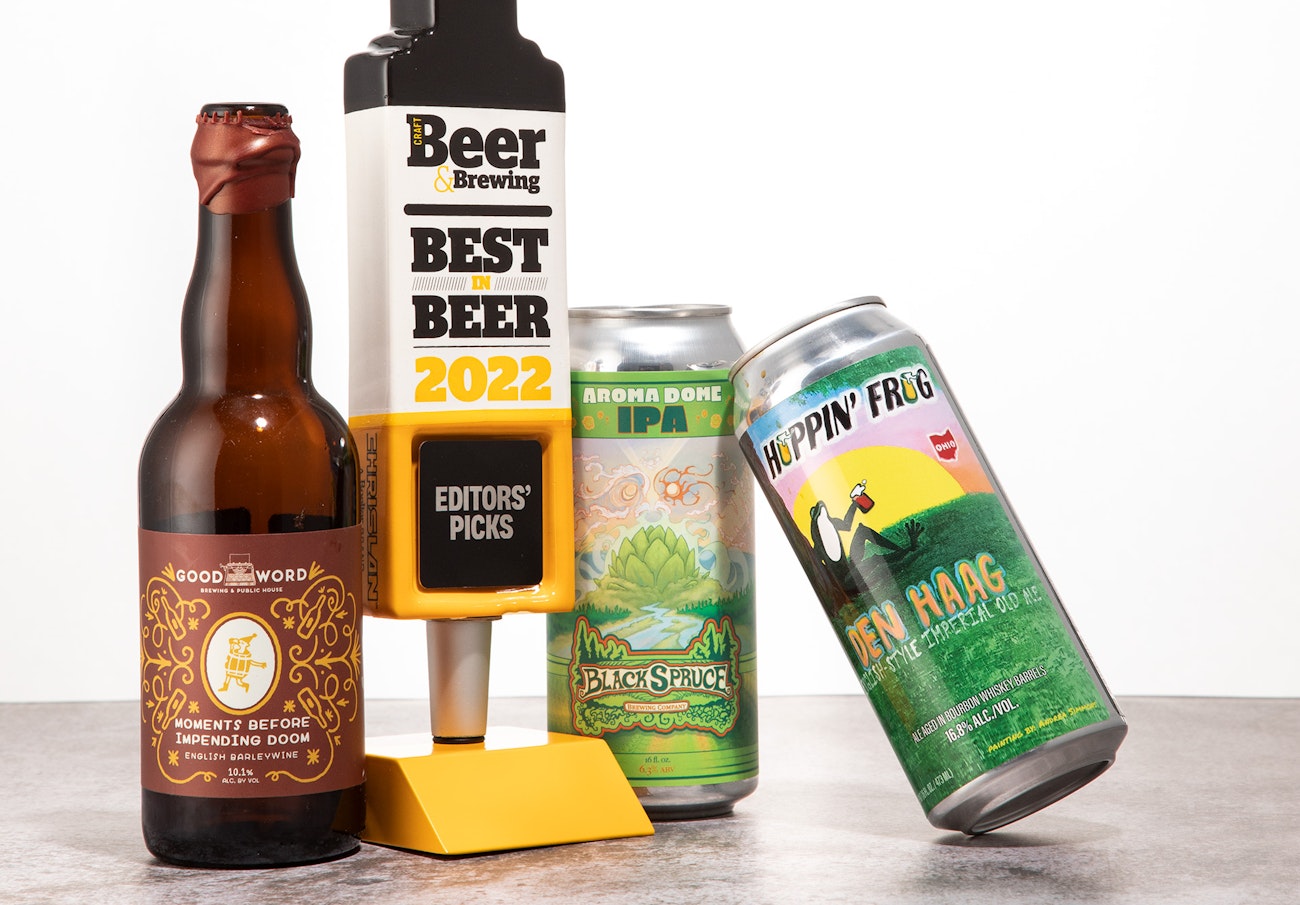 Hoppin' Frog Den Haag Old Ale
(Akron, Ohio)
Few brewery names evoke that old-school vibe of late-oughts blowout bottle-shares with the buds as Hoppin' Frog—maybe Duck-Rabbit and Närke Kaggen could join the chat, but few others. What the Hoppin' Frog team does, and what they have always done, continues to work for them, and there is an admirable unrepentance in the way that both assertive bitterness and malt heft tend to crank the dial until the knob pops off, and you either endure that volume or you unplug the whole machine. As mature drinkers these days who wax loquacious about helles and pray for the comeback of mild, we admit there are times when we simply unplug, to either go to bed early or fix the knob and put on the Mozart.
In this case, however, the nose draws us in first: an impressively cohesive blend of caramel, prunes, black cherries, and cocoa, with none of it overdone. The flavor brings waves of weighted-blanket malt comfort and Christmas cake, with an artfully balanced (and/or perfectly aged) combination of no-bullshit bitterness with fruity-caramel sweetness, so that the whole thing ends up round and bittersweet but still big. The bourbon and the barrel add warming, woody accents, but they never take over the flavor—the beer remains in charge of the turntables, flipping through familiar flavors like old tracks you didn't know you needed to hear again, remixed. But you still remember the words.
Good Word Moments Before Impending Doom
(Duluth, Georgia)
In the initial review of this rum barrel–aged barleywine, our own notes and those of our blind-panel judges suggest an exquisitely crafted sweet-savory experience. "Caramel with marshmallow and a spirits-filled Christmas-store nose. Rum-soaked panettone, aging barrel cellar, light buttered toast, and a pervasive woodiness." Upon revisiting, these hold up, with a leathery bitter, wet-wood nose pushing rich layered grain, while the sweeter rum-barrel highlights holiday-like spice with an almost curry-like undertone. Yet, despite the veritable cacophony of aroma and flavor, it remains focused and undistracted.
Moments Before Impending Doom in many ways bucks the recent trend toward barleywine as treacly dessert. Despite clever suggestions of sweetness, it's not sweet. Instead, we get hardy leather with funky rum depth, quirky and characterful spice, all wrapped in a smooth, high-strength package. With all the moving pieces, it would be easy to default to guaranteed crowd-pleasing sweetness, but it's a credit to Good Word that they trusted their own ability to structure these big flavors without such a crutch.
Also see the print edition, available now, for a homebrew-scale recipe from Good Word!
Black Spruce Aromadome
(Fairbanks, Alaska)
Generally speaking, hazy IPA tends toward heftier fruit flavors that can weigh it down—thick guava and passion-fruit nectar, orange smoothie, and the like. Aromadome stood out to our blind-panel judges with its lightness and embrace of more vivacious, spritely fruits—honeydew melon, cucumber, yuzu—and that focus is welcome in a style with a reputation for girth.
The beer itself is designed to highlight those flavors with the best possible success—while not lean, per se, the malt sweetness is kept in firm check by a light but present bitterness, slightly tropical and complementary, but structuring in a way that pushes those more delicate fruit notes forward. Light spicy hop notes show up in the form of peppery arugula, dank weed, and earth, grounding with a firm foundation for the lighter melon and citrus.
Expectations bear a heavy weight with more established makers of hazy IPAs, but this left-field approach from Black Spruce widens the discourse with an artful and energetic take.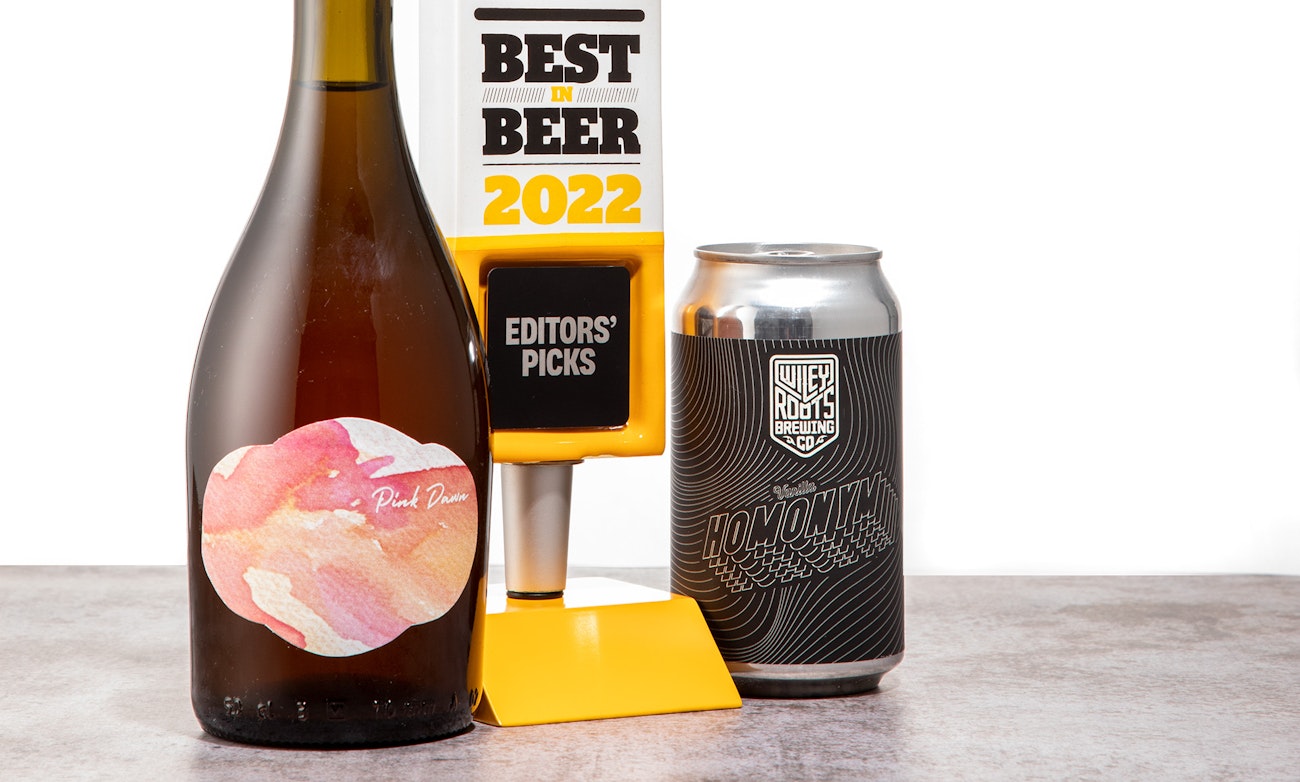 Creature Comforts Crop Colors: Pink Dawn
(Athens, Georgia)
To summarize: Some tart ale had been in barrels for one to two years when it went onto some local grape pomace for six months, then onto some local strawberries for eight weeks, then into bottles with a bit of lavender simple syrup that the brewers made themselves. How much of that, if any, was planned when they brewed the first of this beer back in 2018? Yet that's often the story of mixed-culture beers these days. What should we do with this stock? What's in season? Sound good? Sounds good.
In this case, sounds great—and looks, smells, and tastes stunning. Beneath some surprising foam over an orange-gold beer, the nose is full of pulpy, seedy, fresh strawberry—real, mashed-up fruit, not jam. The sip is gently tart with a long stream of fleshy berry through the middle, just a touch peppery, drying out beautifully without ever getting sharp or austere. The grape and herb are complements here, supporting the fruit with structure—and it works so well, we're forced to suppose that it might have been the plan all along.
Wiley Roots Vanilla Homonym
(Greeley, Colorado)
Wiley Roots made a particularly strong showing with stouts this year, scoring 99 for Cryptonym, and a perfect 100 for this focused bourbon barrel–aged vanilla stout. Achieving this depth of flavor, with stouts less sweet and indulgent than the norm, was a particular feat—while it's often easier to crank up body and residual sweetness to achieve the idea of richness, it's much harder to find that decadence in carefully structured flavor. Wiley Roots' centrist take on stout body stands in stark contrast to the multi-mash, long-boiled, inky-thick take that has become de rigueur in more hyped stout circles.
As a flavored stout, it's also an expression in restraint, as the single ingredient—vanilla—works with the malt to evoke chocolate, roasted nuts, Hershey's syrup, coffee, and cocoa.
While our panel's perfect 100 score for this stout will hardly usher in a new era of leaner-bodied, more flavor-focused barrel-aged dark beers, it does suggest that there is more than one path to success. As much as thick fashion drives the more hyped corners of the beer world now, delicious alternatives abound.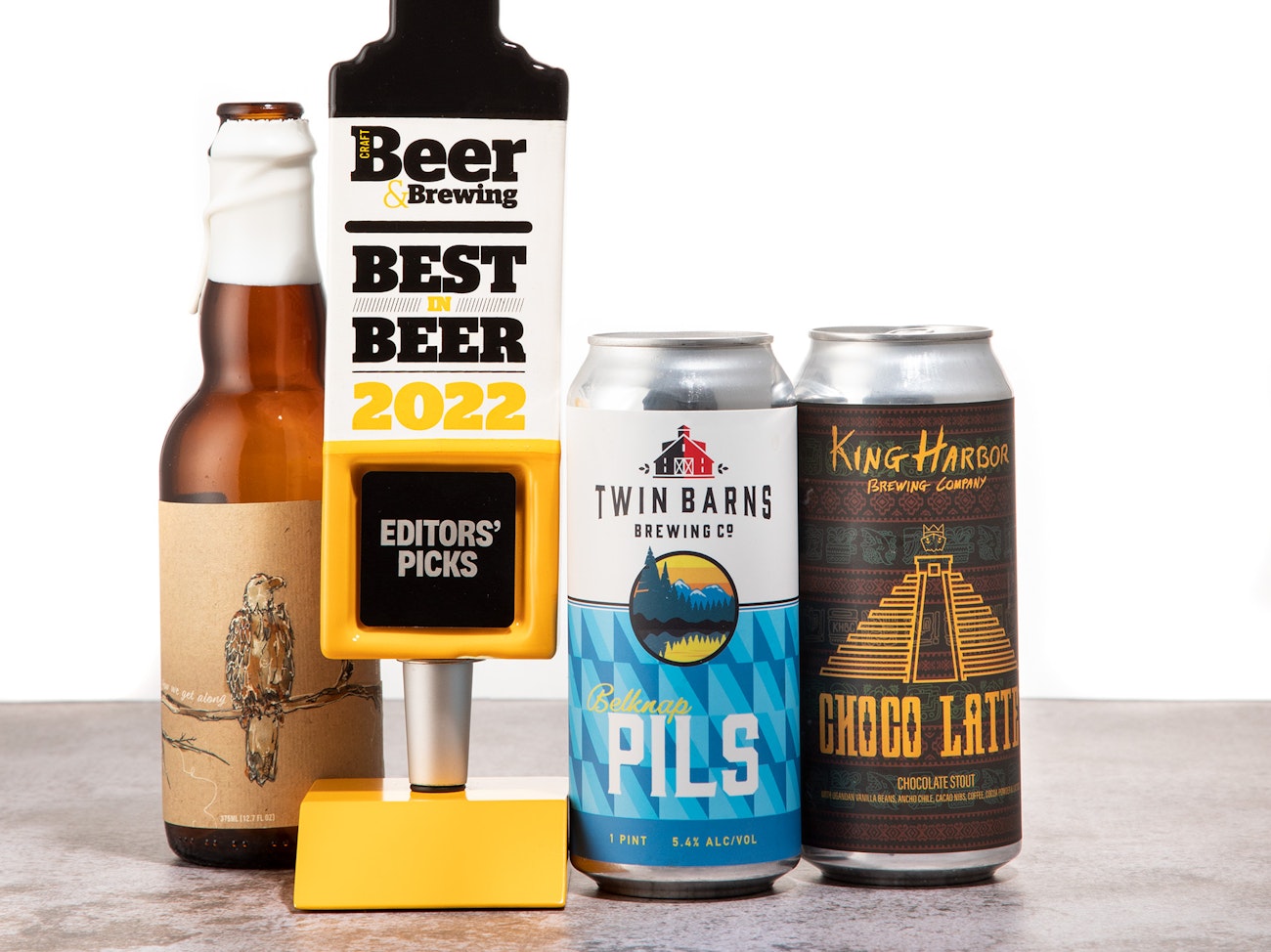 Pulpit Rock & Horus Aged Ales How We Get Along
(Decorah, Iowa)
The small but growing trend of blending huge, barrel-aged imperial stouts with barleywines sounds odd until you try a great one, and then it all makes perfect sense. We're fully on board, even if these new behemoths ought to have their own name. (Stoutwine? Blackwine? Sure, whatever.) This standout comes from Decorah's other excellent brewery, in collaboration with journeyman moonlight brewer Kyle "Won't Quit His Day Job" Harrop of Horus Aged Ales.
The first thing we all see is the legs—dark brown waves that stick to our glasses as we swirl, slowly seeping back down the walls—foretelling not necessarily greatness, but certainly some combination of alcoholic strength, residual sugar, and body. In the nose and on the palate is a gestalt of dark chocolate and figgy dark fruit—thick and hefty yet fluffy, rich, and sweet but tangy—weighing heavy on the tongue while tickling it with alcohol. Those dark-fruit flavors—chocolate-covered figs and cherries—bring a bright dimension that, against all odds, manages to keep this monster drinkable.
Stan was ready to pour How We Get Along over his blue-corn pancakes, while the rest of us just sipped and embraced a beautifully gluttonous sort of oblivion.
Twin Barns Belknap Pils
(Meredith, New Hampshire)
In a rehabbed old barn near the shores of Lake Winnipesaukee, Twin Barns has been doing its thing for the Lakes Region since 2018. Local kid Randy Booth studied journalism—we like him already—but after a couple of brewing stints that included Colorado's Wiley Roots, he's back home, working as head brewer at Twin Barns for more than three years now. The beers, meanwhile, suggest they're going steadily from strength to strength.
A top-scorer from our lager issue, Belknap is a German-style pilsner, beautifully executed. The elements are traditional, assembled from German malt, Hallertauer Mittelfrüh hops, and Czech Saaz. The nose is brightly floral and herbal, as wisps of bready malt sneak through. The flavor brings an evident, crisp bitterness lined with that floral hop flavor, finely harmonized with a light malt sweetness that melds the whole package together through a clean, tight, dry finish. That effortless balance belies its technical achievement, and we look forward to seeing that barn near the lake for ourselves one day.
King Harbor Choco-Latte
(Redondo Beach, California ) Mexican-style mole stout isn't new territory in craft beer, but we more commonly find the expression at imperial strengths—the greater residual sweetness that's possible at higher ABVs helps offset the drying effect of the spices. Yet King Harbor eschews that sweeter take for a lean, tightly balanced 6.2 percent ABV beer—bold, yet designed to be as accessible for those new to craft beer as it is intriguing for those of us with more rings in our beery tree trunk.
Vanilla is the glue that holds it together, as light pepper spice and nutty coffee, bittersweet chocolate, and cinnamon all pull together in its energetic glow. Despite Choco-Latte's hefty competing flavors, King Harbor massages everything into a smooth and firmly supported flavor that feels more stout than sweet—a confident and beer-first approach that employs flavor psychology to convince you that the beer may be sweeter than it is. A Mexican-style chocolate stout that we drink pint after pint? Yes, please.
North Park Birdie to Bogey
(San Diego)
"California pils" is the perfect nomenclature for this hoppy lager, a mashup of lighter West Coast IPA hopping with familiar, pilsner-ish, sulfur-kissed fermentation notes. White grape, pear, and fresh-cut grass play against peppery tropical bitterness, buoyed by a strong effervescence that keeps the body light despite the fruitier notes. Yet the real magic is North Park's deft touch with hops—they've developed a particular mastery over the years that has won them extensive accolades in hoppy categories, from GABF through the World Beer Cup. That experience is at work in Birdie to Bogey, recontextualized for a lager, with a bit less IPA indulgence and slightly more fresh green notes, cutting the implied sweetness imparted by fruity hops. Yet despite the clear structural work, the beer never loses its youthful and optimistic energy, like a Ramones song that purposely feigns innocence, since embracing the energy itself is more compelling than sophisticated dissection. There's a beautiful future in West Coast pilsner, and North Park is on the leading edge.
Urban Artifact Teak
(Cincinnati)
These masters of the modern American fruit beer have been honing their craft for years, confidently shifting from a mixed-funk focus to putting huge fruit up on high pedestals—allowing acidity to support it, while unleashing these familiar flavors for broad appeal. Their popular berry bomb The Gadget was easily one of our favorites of the past year, with its jammy flavor and quenching, balancing tartness. Yet this is the beer that had our judges donning Hawaiian shirts and leis, and we're happy to join the party.
Tiki-toned Teak drops pineapple, pink guava, and limes into the blender, only suggesting the smooth coconut of piña colada via an umbrella-drink mind trick. If the nose promises sweetness, the sip deftly avoids it, keeping all that bright pineapple and earthy guava integrated, full, and balanced, with a sharp, zesty accent from the lime. It all tastes natural because it is, whipped up in the vacation rental's Vitamix by your cool drunk aunt, while following the proven Urban Artifact blueprint of refreshing tartness and a drying finish.
Photos: Matt Graves/www.mgravesphoto.com