Denny Foster was a few days into an extended road trip through Florida that saw him and his assistant brewer, Brandon Bischoff, doing collaborations. In theory, it was about the beer and community, but he also wanted to get a closer look at some brewing equipment and see firsthand how other brewers were running their breweries and brewhouses.
Foster, the co-owner (with his father Barry) and brewer of Main & Mill Brewing Co. in Festus, Missouri, is getting ready to open up a large expansion to the business that he and his father opened two years ago in this small town south of St. Louis.
The original plan, designed to cater to locals—not necessarily the larger beer universe—revolved around a seven-barrel brewhouse tucked into 420 square feet, inside a rehabbed building from the 1880s, converted into a brewpub model.
Word got out anyway, especially for the rich pastry stouts Main & Mill were creating. Soon enough Foster had an invitation to Other Half Brewing's Pastrytown beer festival in Brooklyn, New York.
"We met a bunch of brewers, and we started talking," Foster says. "Even though our brewery is so tiny right now, they invited us to come collaborate."
That's how he wound up brewing with Florida breweries Civil Society (Jupiter) and J. Wakefield (Miami).
From the start and during the three years it took to open his doors, the goal was "to create a place that the locals in the area can be proud of," he says. "We're in Anheuser-Busch country, so we were still going to be introducing craft beer to people."
When the brewery did a few small releases—small being about 230 bottles—that wound up on trading sites and getting rave reviews, the outside attention came pouring in, leading to the festival invitations and collaborations.
"We didn't have a preconceived notion about how this was going to be," Foster says. "The market changed. We were making big stouts, and that's what people wanted, and we're just going to roll with it."
Foster, however, still has his sights on making sure the local community comes first. From the start, the brewery offered a mug club program, which quickly sold out and continues to have demand. It follows a traditional method: For a yearly fee, members get a 20-ounce mug for the price of a pint, discounts on food, merchandise discounts, invitations to try beers that have yet to be released, and of course, the chance to get access to special bottle releases before everyone else.
"It just blew up," Foster says. "And we have people from outside of the state who signed up just for the opportunity to buy a bottle. There are members in like 30 states right now."
A Respect for Stouts
Scanning the tap list at Main & Mill, you're going to see more than just the stouts that traders and enthusiasts from afar are going nuts about. It has, dare we say it, balance. You'll see saison, IPA, Berliner weisse, and a blonde called Clyde's Ale, which is a 4-percent-ABV, 6-IBU easy-drinker named after Clyde Foster, "my grandpa, and an instrumental part in our renovation and opening, making it a perfect fit for our flagship ale."
"Diversity in our tap list is really important," Denny Foster says. "We can't ever forget the people who helped us get off the ground and still come in every day."
But it's the pastry stouts that have brought him the most attention and one of the reasons the brewery is getting ready to open a big expansion just two blocks away. Foster is matter of fact when talking about the dark, viscous ales.
"To us, it's about balance rather than super sweetness," he says. "We're not adding tons of lactose to our stouts because we don't want them to be sugar bombs."
It comes down to the grain bill and adjusting accordingly so that the final result still has all the hallmarks of the style and a "smooth, velvety mouthfeel."
Foster is always adjusting when he brews a new stout. If, for example, they are brewing with coffee, he'll change the grain bill, dialing back black-patent malts and kicking up the caramel malts because he knows the final beer will have the roast flavor imparted from the java.
"We think about what we want the end result to be first and then work backward," Foster says. "If it were just one base imperial stout recipe where we added stuff afterwards, these would be different beers, and I'm not sure we'd like them. So we tailor each stout to the ingredients in the process and usually we can meet our end goal."
To illustrate his point, he points to a recent release of Carpathian, a stout that regularly has high reviews. "Carpathian is our non-adjunct BA imperial stout, and it's essentially the best barrels in our cellar in a given year and can end up being a blend of multiple base stouts based on what we enjoy most in the barrel cellar."
Two Blocks Down
When they opened the brewpub, the idea was to draw people in with food. It was a model that worked in the early microbrew days of America and still rings true today.
"We knew there would be people who came in and said 'we don't like craft beer,' so we needed to have a good burger for them. We couldn't expect to make a 100-IBUs IPA and expect them to adapt to us. We needed a business model that appealed to them."
With that space firmly established and thriving, Foster has turned his attention to a 20,000-square-foot space two blocks away that will house two new brewing systems—a 20-barrel brewhouse and a three-barrel brewhouse—that will allow Main & Mill to expand its distribution and experiment with smaller batches. He plans to keep the seven-barrel brewhouse at the brewpub to service those taps but admits he's looking forward to higher yields and more space to move around when it comes to brewing those big stouts.
The new space will also house a canning line. Although the brewery currently sends out a very small number of kegs, there's been demand for more. With cans, "we can push out as much as makes sense."
He says he's really looking forward to the experimentation. By purchasing three-barrel fermentors, he plans to brew full 20-barrel batches of beer and divide them among the smaller vessels, pitching different yeasts, and then trying different ingredients to find recipes that really shine and connect with customers.
"We'll put them on in the taproom and see what people like, but we are going to have a lot of fun with dry hopping, yeasts, and more."
They hoped to have the new brewhouse up and running by the end of 2019.
"Basically, at the brewpub and the new brewery, we're going to be able to do what people want and what everyone would like to see us do without overextending ourselves," Foster says.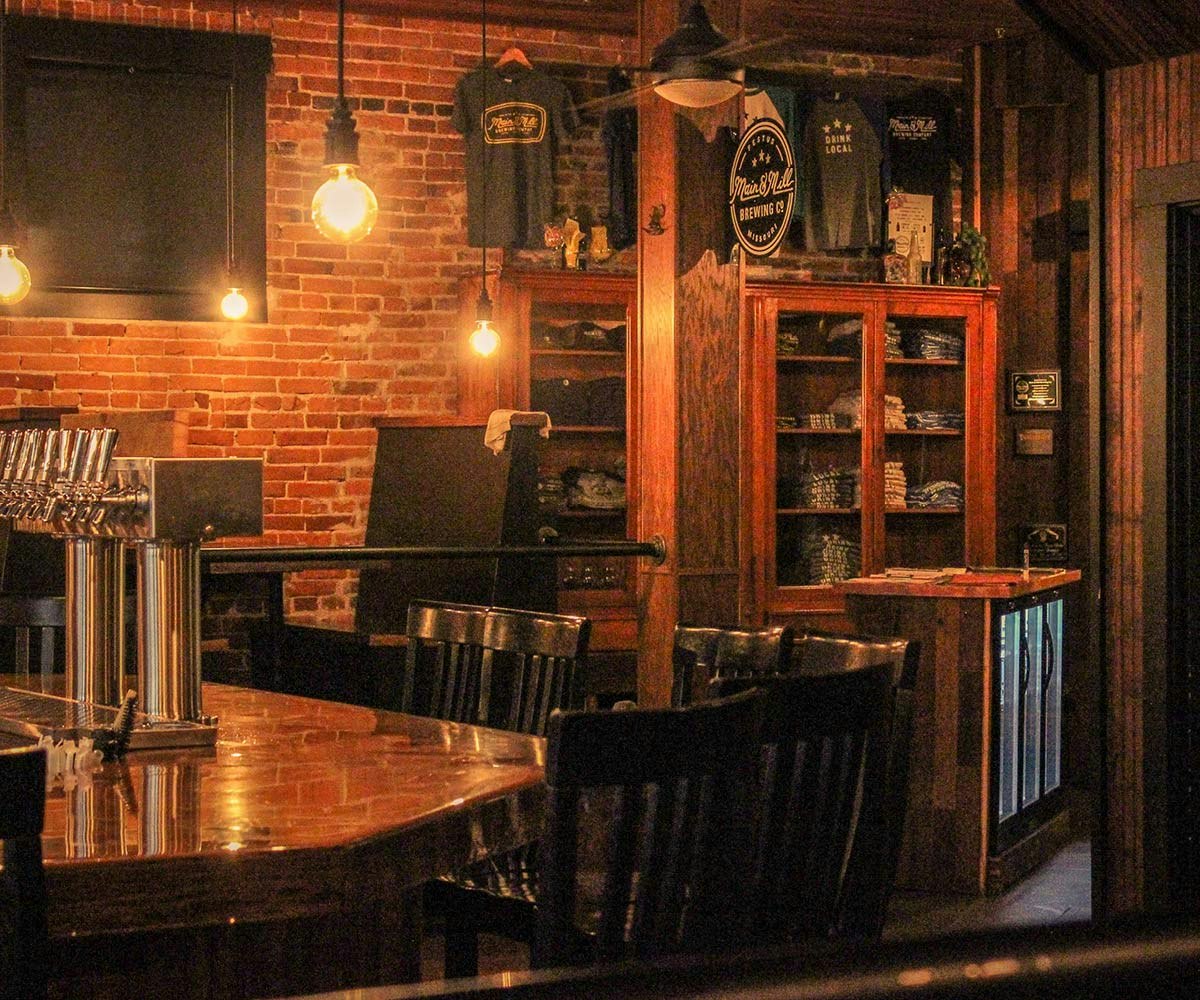 Starting Small to Make Something Big
Foster and Assistant Brewer Brandon Bischoff sat down with Jamie Bogner for a recent episode of the Craft Beer and Brewing Magazine® podcast and discussed the brewery's process for flavoring stouts.
"What's characteristic of the way we do things is that we're constantly blending," Foster says. So, if we're going to do our Breakfast Stout or any kind of coffee beer, we're always doing something on a small scale and then scaling it up," says Foster. "We have these half-barrel brinks, and they've been a lifesaver for us. We basically treat them as mini-brights."
The duo explained that after they rack a barrel-aged stout to the bright tank, they load adjuncts into one of the half-barrel brinks and purge it. Then they rack beer from the bright tank into that adjunct-laden brink.
Say they want cinnamon and coffee in a beer. They'll transfer beer from the main bright tank into a couple of the brinks, one loaded with cinnamon and one loaded with coffee, to perform a high-intensity extraction/infusion. In the end, they have brinks basically filled with concentrate, the duo says. In this case, they have brinks that are "just way too much" cinnamon or coffee.
Once the extraction/infusion is done, "we'll take little beakers of the base beer and blend in some of the infused beer, sometimes a milliliter at a time, to get the taste just right," Bischoff says. By measuring both the base beer and the addition, they have a blending ratio. Once they have that ratio, they can blend the beer from the brinks back into the main batch. "We just treat it as if we're just transferring from bright to bright," and that's how the brewery avoids some pitfalls such as oxygen pickup.
"This way, we're never doing nibs or any of that stuff in the total volume of beer. And that's been a game-changer for us," Bischoff says. "For one, I'm not having to fish 40 pounds of nibs out of a tank, and we can really just dial things in exactly where we want them."
With such a high-intensity infusion and extraction process, the brewers say they are confident in their use of ingredients to get maximum adjunct flavor infused in the final stout, while still retaining the beer characteristic. However, since they are dosing on such a small scale, they are able to easily add more of any flavor as needed after tasting the fully blended beer.
Listen Up!
Tune in to the Craft Beer & Brewing Magazine® podcast episode 94 for Jamie Bogner's hour-long conversation with Denny Foster and Brandon Bischoff of Main & Mill Brewing Co. beerandbrewing.com/podcasts
Photos: Courtesy Main & Mill Brewing Co.